Belgium 12 September: Brussels - Waalre
The days on the World Harmony Run vary like the seasons and sometimes you can have all seasons in one day. Today was such a day. There was sunshine, there was rain, there were clear skies, there were cloudy skies… it was an interesting palette of experiences.
Today we were to meet people in power - the politicians. We hoped to inspire them and for them to inspire others in harmony. We were joined by eight runners from France to swell our numbers.
Our day began by running to the first institution of power - the European Commission, where we met Mr Vladimir Spidla, former Prime Minister of the Czech Republic and now a European Commissioner.
The World Harmony Run had coincidentally met him in Prague earlier in the year, and Abhisar later arranged with him to meet the International Team in Brussels. With his assistant he ran with the torch to the European Parliament where Mr Jan Brezina (Member of European Parliament for Czech Republic) joined us.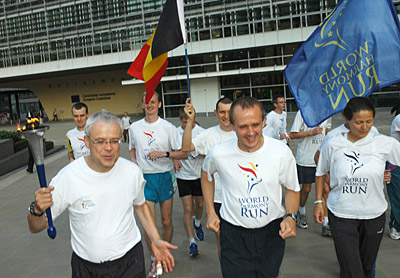 Holding the torch together they were filmed by Czech national television.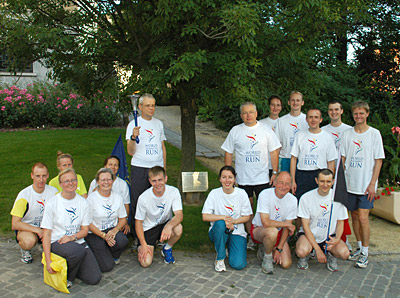 Mr Spidla wrote a message in our World Harmony Run book:
"Thank you very much for this exceptional event. The world needs a lot of good intentions to become better". (Translation from french)
After a short ceremony at we all continued running the 1 km to the United Nations elementary school, La Colombe de la Paix (translated means 'The Dove of Peace'). Mr Spidla and Mr Brezina got so much joy running into the playground with the children from so many different countries cheering them.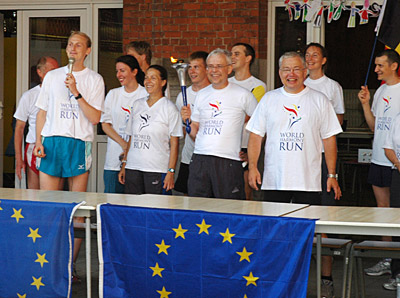 Everyone had a smile on their face, and even more so when everyone ran around the playground with the torch.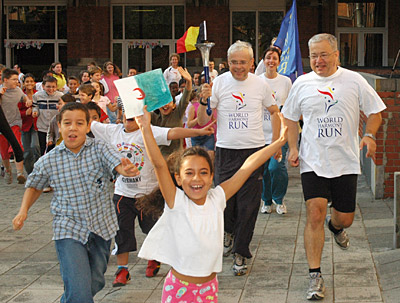 The children were so joyful and loving and the school truly represented the future of world harmony.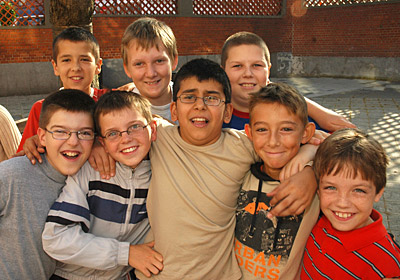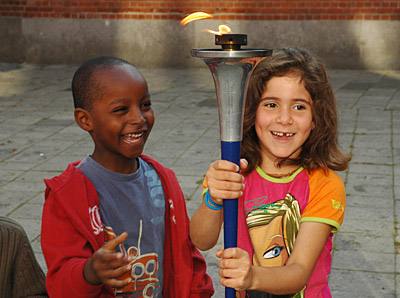 As we were about to leave, the children pointed up to the roof where a pigeon had settled, and they shouted that it was a dove of peace. It flew upwards and onwards. Similarly we also had to 'fly', and with children lined up on either side creating a corridor we ran through waving goodbye and shaking their hands. One African boy was crying as he said goodbye to us.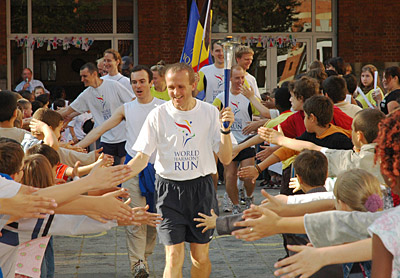 As we exited the school everyone commented what a wonderful and stimulating school - so many different nationalities, and such a great sense of energy and dynamism.
In front of the European Parliament we had an important meeting with representatives from different nations. There we met Mr Miroslav Ouzky, Vice President of the European Parliament, who wholeheartedly thanked us for the inspiration, and how most important and valid message for politicians the World Harmony Run is. We also met Mr Brezina again, this time dressed in his more formal clothes, who expressed his deepest thanks for such an enjoyable time he experienced whilst running with us.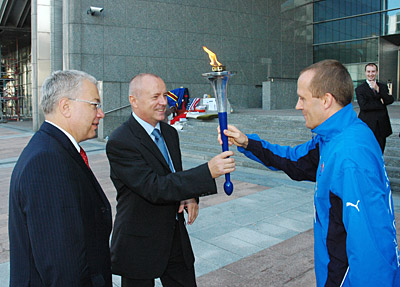 We were also joined by three MEPs from Slovakia, Germany and Ireland: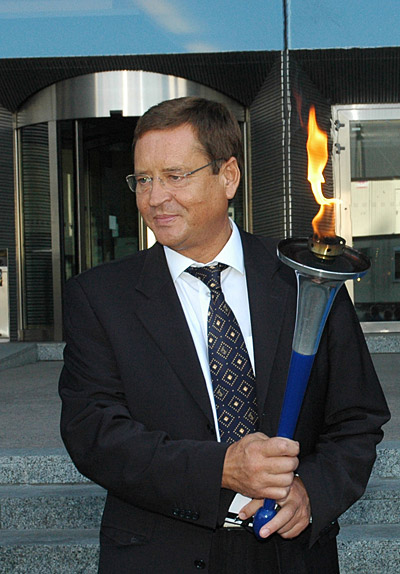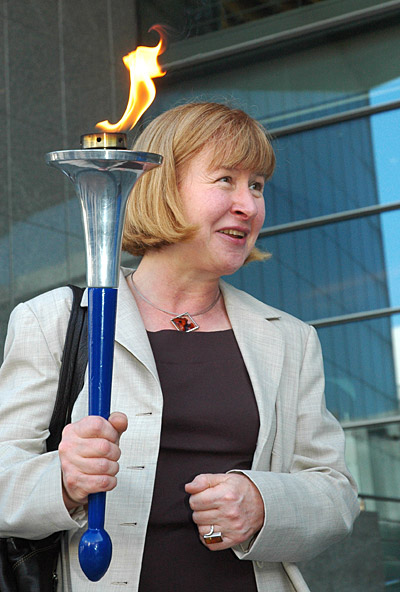 Ms Airil Doyle MEP for Ireland wrote an important thought in our message book:
"Thank you all for reminding us how simple the basic message of life is, but how difficult to achieve".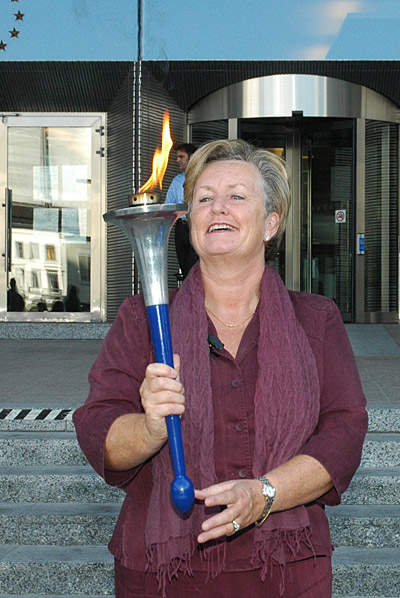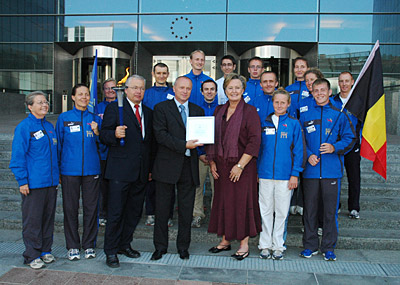 We took a tour inside the European Parliament.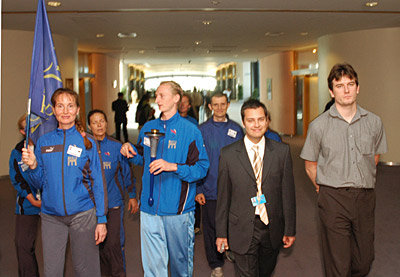 It is like a mini city; you don't really have to leave the building, as every facility for the MEPs is provided. We were very privileged to take a look in the main chamber of the European Parliament.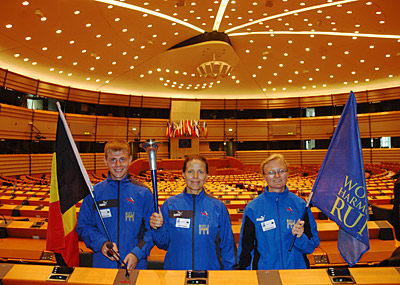 We also popped our heads into the Committee room where MEPs were debating Energy, Industry and Research.
Since we had to cover a lot of distance today, we decided to split the team and send one car with three boys off right after the elementary school meeting to run to the next town, called Mechelen. Meanwhile the rest of us stayed in Brussels to meet with members of the European Parliament, as described above. Then we split the team again, since some of us had to stay in Brussels to write press releases and do some media work, like contacting newspapers and television stations about the special meeting we had had with the MEP's. The remaining team drove to Mechelen to meet up with the three boys who had run all the way from Brussels… or so we thought and hoped. Well, we did meet them all right, but only two of them and at completely different places. But where was their car and where was the third person? Those questions had to wait for later, as dozens of kids from the elementary school "De Ham" were eagerly awaiting us and we were already running late (quite literally).
The children from the "De Ham" elementary school were extremely enthusiastic and cheerful. As it was a very international school with over 45 different nationalities, you could see that they understood and liked the idea of our global harmony run. The kids were really beaming with joy and it's always a thrill to share in their childlike happiness and joy. We are very grateful to Mrs. Veerle de Vos, who hosted us so kindly and generously.
Then off it was to the city hall, where we were expected by the city representative for culture, Mr Koen Anclaux. Still no sign of our lost friend and still no time for rescue operations. That had to wait until after the meeting. When we arrived at the town square we were simply awestruck by the beauty of the ancient, historic buildings circling the wide, spacious square and the huge outlines of a Renaissance-styled cathedral towering high above the city. Mr. Anclaux was very pleased to meet us in what he called 'the old capital of The Netherlands'. In days of yore Belgium and Holland were actually one country - The Netherlands - and Mechelen was its capital. Mr. Anclaux obliged to run with us around the wide square and thanked and encouraged us sincerely before leaving us. We did a few 'spontaneous' runs for the newspaper people so that they could take a nice action photograph and then we were on our way out of Mechelen, accompanied by the police.
Now we had time to occupy ourselves with things practical, like logistics and lost people. It turned out that the one French boy, Semba, who had gone missing, was still waiting in the car at the same place were the others had left him. He was supposed to wait for Jaromir, a Czech runner, but somehow Jaromir missed Semba and Semba missed Jaromir, so Jaromir continued running for an hour or so, until we - who were in the other van coming from Brussels - found him. Peter, the Dutch runner who had left Semba in the car, telling him to wait for Jaromir, had gone ahead, met with the police and ran his way to the elementary school.
So while we were doing our meetings in Mechelen, poor Semba was still waiting in the car. His phone didn't work and he couldn't drive, so he was quite helpless. Once out of Mechelen we had some time to think things over and decided to drive right back and have Peter go back in another car to rescue Semba from his dire predicament. Our hearts went out to him.
Because of the delay in time and because we now had only one van on the road it had become impossible to arrive at the next meeting in time if we had to run. So there was no other option but to drive the 70 or so kilometres to the next town, breaching with the sacred code of honour of the World Harmony Run that every kilometre of the way has to be run. It was hard to "cheat" in this way, but we - the Dutch organizers - promised to run the lost kilometres ourselves in the near future with our own torch. So we found a little loophole to keep the sacred code intact.
Since traffic was very bad, we hardly made it on time even when driving! We crossed the border with The Netherlands and in the very first town 8 children dressed in orange running shirts (our national colour) joined us to run 4 km to the next town, Bladel, where we were received by the mayor, Mr. Grem. He was very pleased to receive us and praised our efforts to try and create more cooperation and understanding in the world. Unfortunately we don't have any pictures from this meeting, since all the cameras were with the other van.
After that only 27 more kilometres separated us from our final destination: the house of Jenneke and Niek for the boys and the house of Agnes for the girls. They are all very generous people and friends of ours who invited us to their house, cooked a sumptuous and delicious dinner, washed and dried clothes for us and prepared a delicious breakfast in the morning. We all agreed that nothing beats a home-cooked meal! Complete with a lovely ginger cat!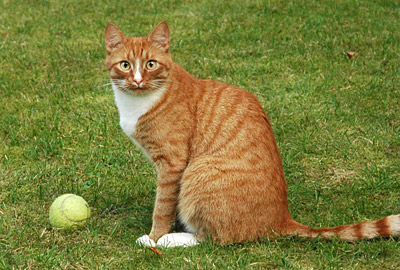 Our sincere gratitude to Niek, Jenneke and Agnes for hosting us so wonderfully.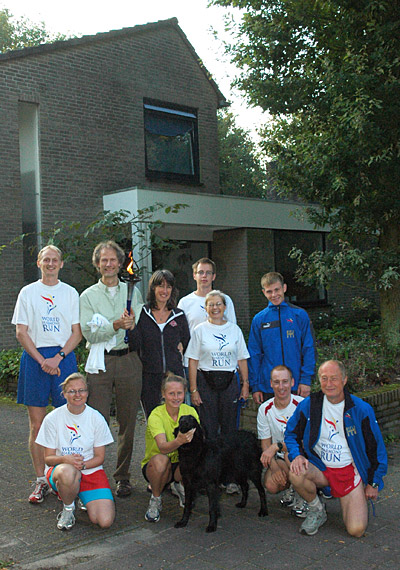 Today we had many runners, but as the hours passed after our ceremony in the European Parliament we gradually were reduced in size as the French guys returned to Paris, Sanjaya and Abhisar left to catch their trains home, and we said goodbye to Elke, Friederike, Sabine and Peter. Many thanks for Abhisar for his diligent work and efforts arranging the meetings with the politicians and being master of ceremony at all these meetings. And also special thanks for our roving reporter, Sanjaya for filming the events of the day. It was a very eventful day.
---
Distance: 135km
Team Members:
Abhinabha Tangerman (Holland), Abhisar Laza (Czech Republic), Annemarie Beumer (Holland), Elke Lindner (Germany), Friederike Makowka (Switzerland), Karin Wijnkoop (Holland), Klaus Schulz (Germany), Mark Collinson (England), Marton Fekete (Hungary), Nataliya Lehonkova (Ukraine), Ondrej Vesely (Czech Republic), Peter Zuidema (Holland), Sabine Meyer (Belgium), Sanjaya Spettigue (England), Vladimir Ilaysov (Russia).
Harmonemail:
You can send a message to the runners or read the messages.