Bosnia i Herzegovina 16 May: Border, Montenegro / Bosnia i Herzegovina - Border, Bosnia i Herzegovina / Croatia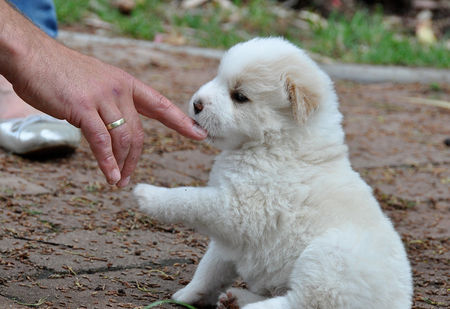 This morning we left Montenegro: Thank you, Montenegro, for all your hospitality and enthusiasm!
Our running route led us through three countries today: Montenegro, Bosnia i Herzegovina and Croatia!
Naša danasnja ruta nas vodi kroz tri zemlje: Crnu Goru, Bosnu i Hercegovinu i Hrvatsku.
Ujutro smo napustili Crnu Goru: hvala na gostoprimstvu i entuzijazmu!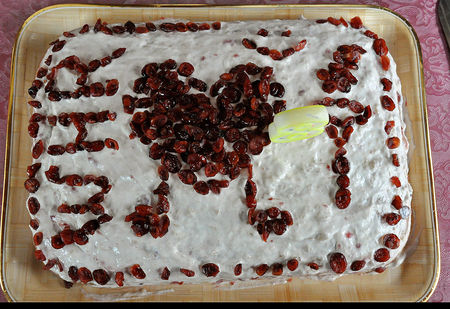 A home-made birthday cake for Manjula: she took up the challenge to eat a piece of cake in each of the three countries!
Domaca rođendanska torta za Manjulu: prihvatila je "izazov" da u sve tri države danas pojede po jedan kolač.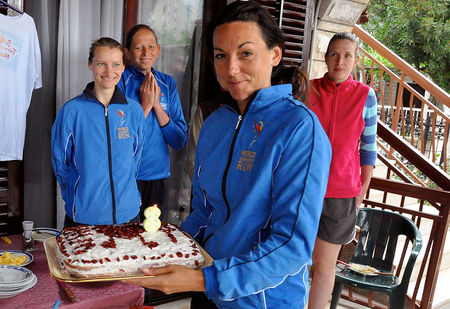 Happy birthday Manjula!
Sretan rodjendan Manjula!
Some of us got soaked running through the rain in Bosnia-Herzegovina, but it was beautiful, and downhill...
Neki od nas su danas u Bosni i Hercegovini pokisli do gole kože ali smo uprkos svemu uživali u prekrasnoj prirodi. Olakšavajuća okolnost je bila što smo trčali nizbrdo...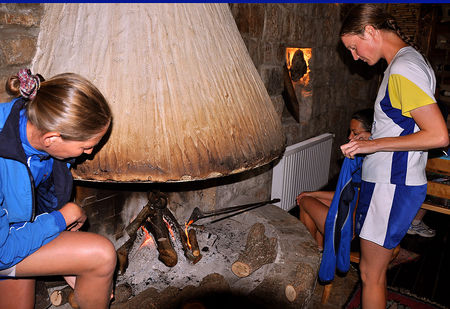 We stopped at a traditional restaurant to dry off and enjoy some hot drinks.
Kratko smo se zaustavili u jednom tradicionalnom restoranu da se osušimo i popijemo nešto toplo.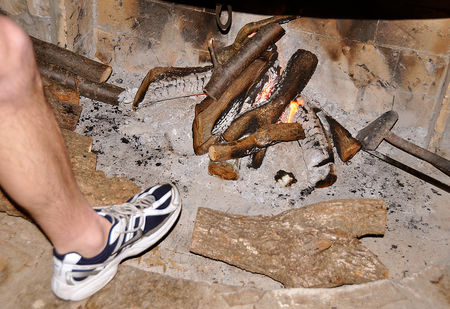 The shoes are the last to dry...
Patike se najduže suše...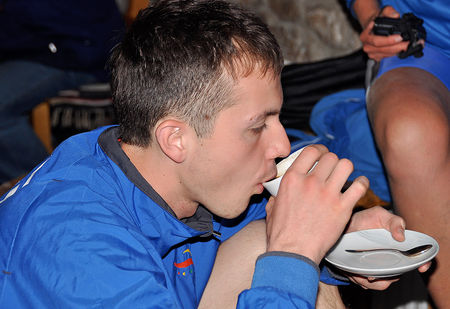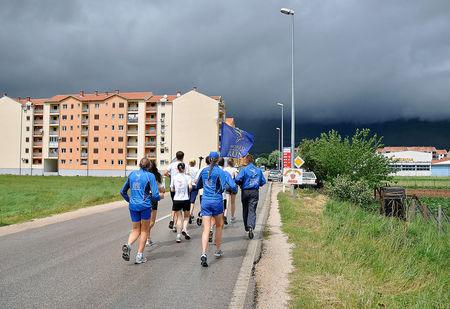 Around noon we approached Trebinje, a really beautiful city in the heart of Herzegovina!
Oko podne smo stigli u Trebinje, biser u srcu istočne Hercegovine.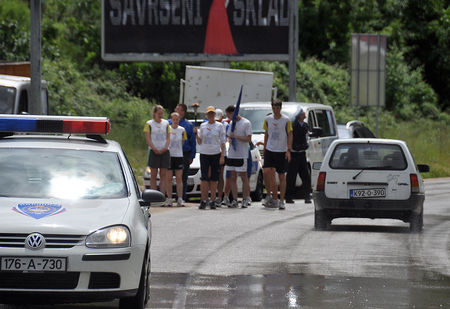 We appreciated the police of Trebinje escorting us safely to our meeting.
Zahvalni smo policiji iz Trebinja za pratnju i regulisanje saobraćaja sve do centra, gdje smo imali susret sa zvaničnicima grada.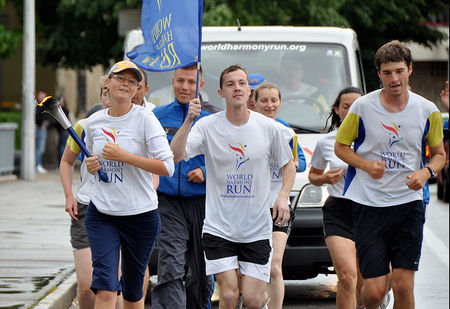 Thanks for joining us Bojan, we hope you can come back soon!
Hvala Bojanu na učešću. Nadamo se da ćemo se uskoro ponovo vidjeti.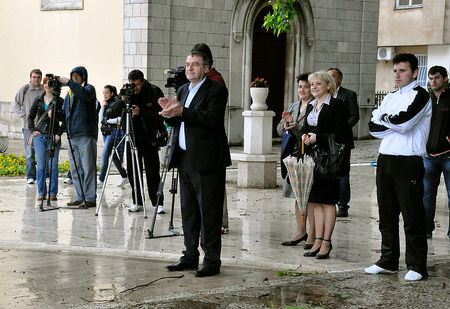 The Mayor of Trebinje welcomed us...
Gradonačelnk Trebinja nas je srdačno pozdravio...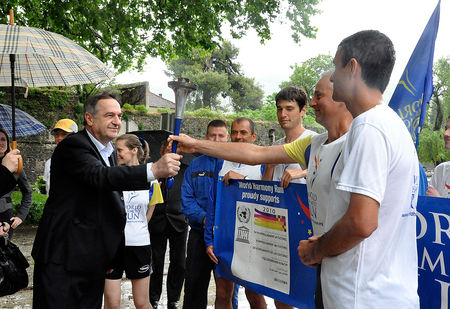 Our meeting with the Mayor of Trebinje was great, he really understood and supported our message of harmony.
Imali smo divan susret sa Gradonačelnikom - on je u potpunosti razumio i podržao našu poruku o harmoniji.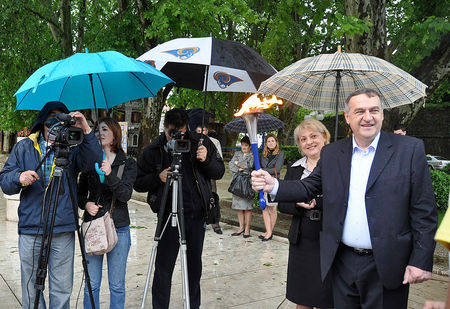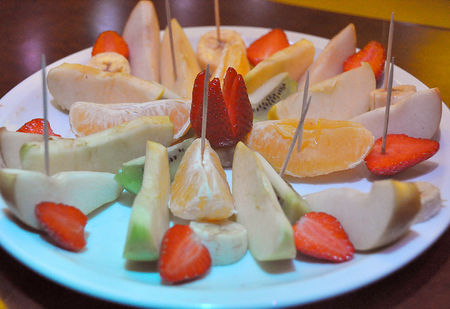 Refreshments are always much appreciated...
Osvježavajuće zakuske su uvijek dobrodošle...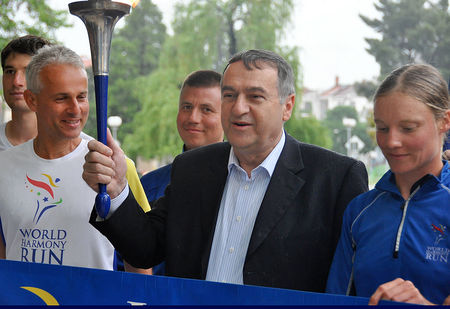 A final group picture...
Završna grupna fotografija....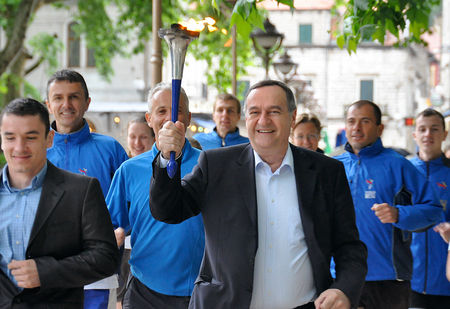 It was great to have the mayor run with us, especially considering it had just rained and he had a nice suit on...
Gradonacelnik je trčao sa nama iako je padala kiša, nemareći za svoje lijepo odjelo...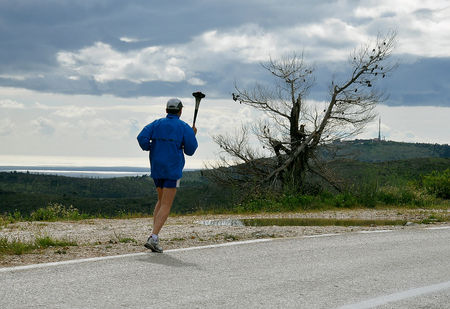 We left Trebinje and approached the border to Croatia.
Napustili smo Trebinje i stigli do hrvatske granice.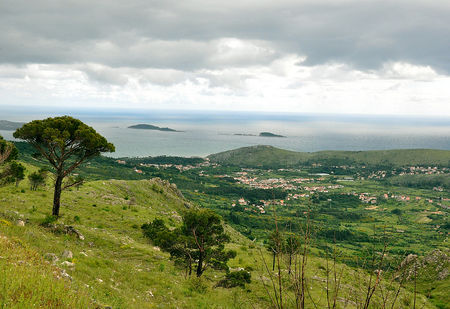 So long Bosnia-Herzegovina, thanks for the memories, and we will meet again!
Doviđenja Bosno i Hercegovino, hvala na lijepim uspomenama. Vidimo se uskoro!
---
Distance: 60 km
Team Members:
Dipavajan Renner (Austria), Luis Angel (Guatemala), Roos de Waart (Netherlands), Manjula Lecordier (France), Zoltan Theobald (Hungary), Zach Saltzman (USA), Sarah Newton (Canada), Aleksey Egorov (Russian Federation), Kastura Panenkova (Russian Federation), Marlen Bernhard (Germany), Namitabha Arsic (Serbia), Amur Basic (Bosnia i Herzegovina), Nisanga Mehikic (Bosnia i Herzegovina), Swetlana Gorshkova (Russian Federation), Bojan Cubrilo (Bosnia i Herzegovina)
Harmonemail:
You can send a message to the runners or read the messages.
Gallery: See more images!