Bulgaria 22 May: Sliven - Burgas
Today we had a whirlwind start: four meeting and some shorter encounters, all before breakfast! We were meeting with groups participating in the Tenth International Children's Folkdance Festival. The children from Novi Sad were the first to have the stage on the main square in Sliven to practice their dances. We had the chance to renew our acquaintance with them, as we had met some of them already when we had passed their town almost two weeks ago. As honorary members of our team they ran with us with great enthusiasm!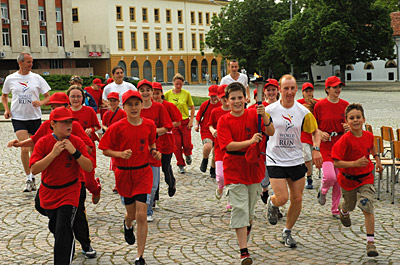 The children's group from Minsk in Belarus looked beautiful on the stage. They had done their hair in lovely style.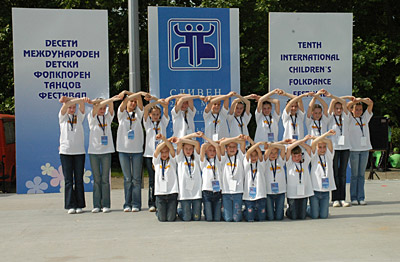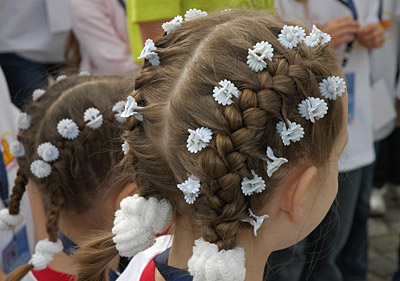 And did they enjoy hearing about the World Harmony Run, as Nataliya spoke to them!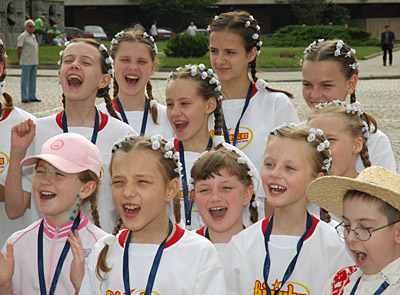 All the groups had their own colour T-shirts. Clad in orange were the children from Neszione near Tel Aviv in Israel. One of them commented, " Harmony is really what we need in Israel".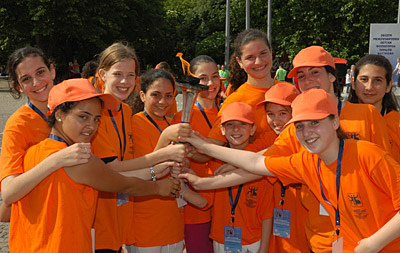 Ondrej was glad to meet the "blue" children from Cesky Tesin in the Czech Republic, so he could practice his Czech again. Being on the road so long, and English being the common language in the World Harmony Team, his Czech language skills had become a little rusty. To help him a little they also sang a beautiful Czech song for us.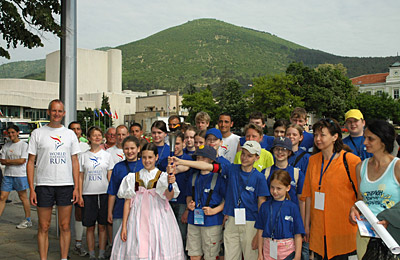 We also briefly met the children from Georgia, Slovakia and Macedonia. The children from Macedonia were from Skopje. We had been to no less than 22 schools in that city, so some of the children remembered us from our visit to their school.
In an hour and a half we met in this way children from no less than seven countries, all on the spur of the moment. The Festival appealed to us very much. Young people from at least ten countries meet in joy, and dance for each other, and together. A great example for all of us!
The day was hot again, as we left Sliven and its 1000-year-old tree. This did not bother Nataliya, who ran a lot of miles, all in red ski pants!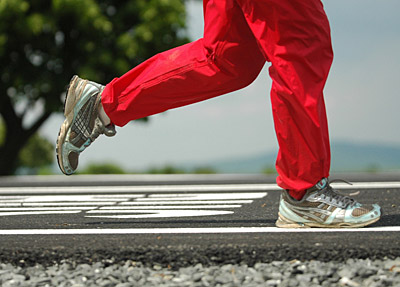 Petr was also doing well, but later confessed he had thought about jumping on the spare horse one gypsy family was bringing along on the road. On the back of their cart there was a cage full of rabbits and chickens.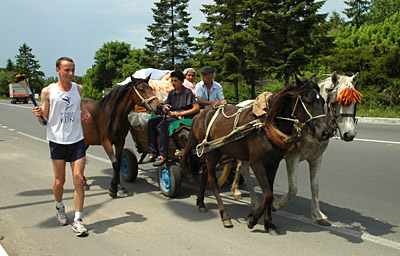 In between the running we had time to play some frisbee, and happily use the swings.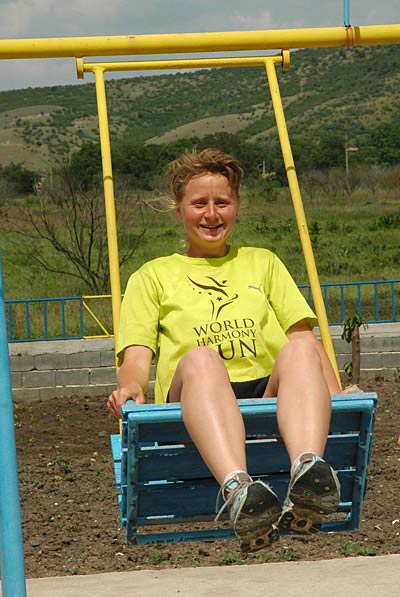 We were approaching Burgas so quickly that we had some extra time that we wisely used to cool off in the Black Sea. Tomorrow we go to Varna, also on the shores of the Black Sea, and we tried this boat for that trip but it had a few holes too many. Running again tomorrow!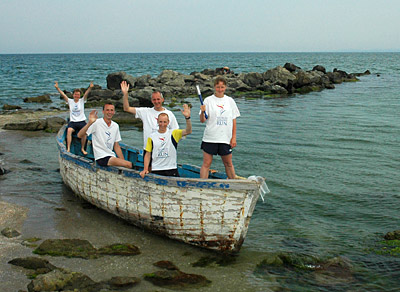 In Burgas we had a special meeting. Not only with the deputy mayor of the town, who presented us with nice blue T-shirts, but also with the other half of the European WHR Team! They had crossed Italy, Greece, Cyprus and Turkey, while our Team had been in Bosnia Herzegovina, Croatia, Hungary, Serbia and Montenegro, Macedonia and Bulgaria. It was a joyful moment when Dipavajan, Frank, Martin, Mark, Runar, Sara and Tatiana came running around the corner and we could greet each other and share our experiences.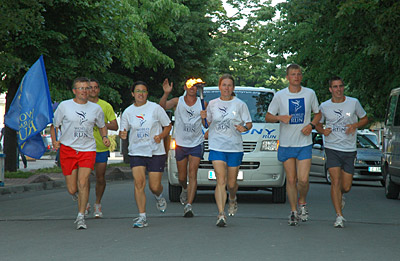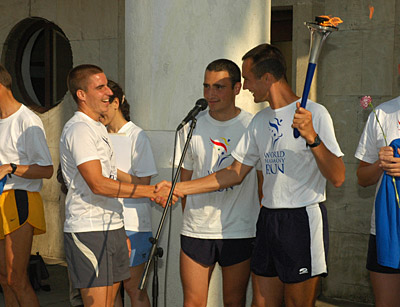 There was a real feeling that we were always one team that had only been separated by distance, and now came together again.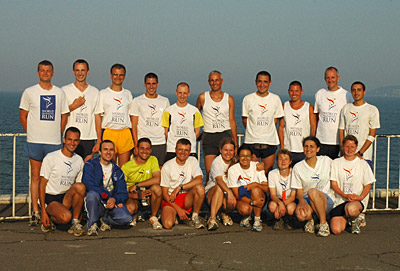 After tomorrow's day of running I will have to leave the Team. I want to thank my very special team members, the local organizers and all the people we have met on the way for a few fantastic weeks and great experiences. As a personal example of just how special the World Harmony Run is: my luggage never arrived. Yet "out of the blue sky" all the things that I needed came to me. Even Ondrej's size 46 shoes somehow fitted my size 41 feet, and I could run on them without any problems. Thanks everybody!
Frank (Netherlands)
---
Distance: 121km
Team Members:
Andrea Kevei (Hungary), Frank de Lange (Holland), Mark Collinson (England), Nataliya Lehonkova (Ukraine), Ondrej Vesely (Czech Republic), Petr Machacek (Czech Republic), Tillotama (Bulgaria)
Harmonemail:
You can send a message to the runners or read the messages.