Supporters
Our sincere gratitude to the many business from all across Canada for their very generous support to the runners.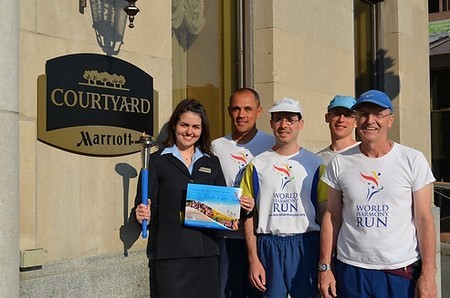 Hotel Marriott Courtyard in Quebec City receives thanks from the runners for their courteous, helpful staff along with a beautiful room. The quiet and spacious room was greatly appreciated after a long days run.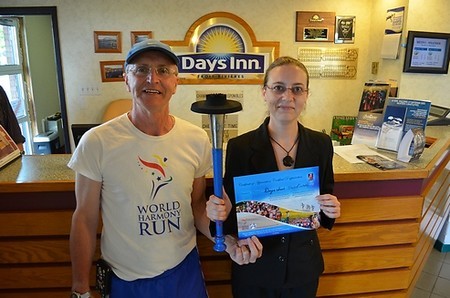 Our runners enjoyed super-excellent accomodations, incredible spacious rooms, confortable beds and our own little kitchen at Trois-Rivières' Days Inn. Hotel director Eve Lavallée receives a certificate of appreciation from Vidura.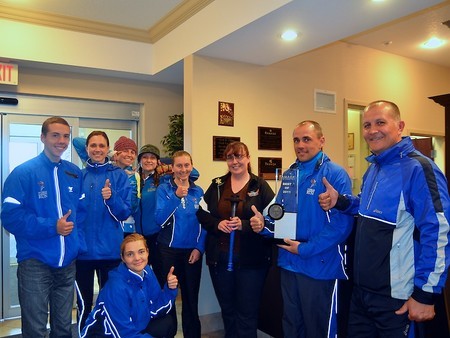 Pincher Creek's Ramada Inn was such a welcome stop traveling from the mountains and into the praries.  We are so grateful to the staff and management for their extra kind and generous support - providing our team with two complimentary nights in the modern and really comfortable hotel rooms. On top of the comfortable rooms they served us a most delicious prarie breakfast.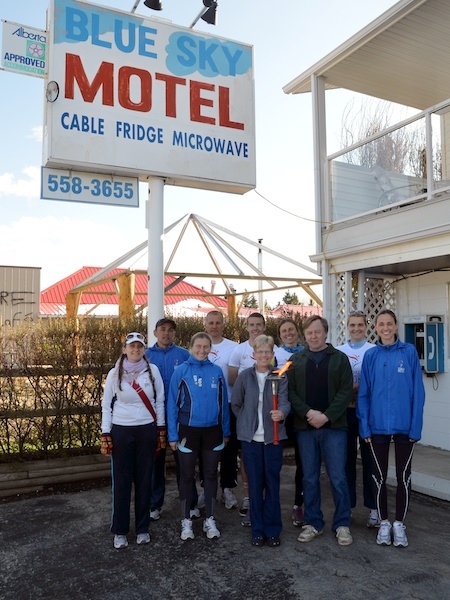 After a long day, we were delighted settle in at Longview's Blue Sky Motel.  Our sincere thanks to the business owners Lorna Culver and her husband, for their generous support to our team.  They seemed to make an extra effort to ensure that we were comfortable and happy. With the clean rooms, free wifi, comfortable beds and generous hospitality we had everything we needed! (We only wish we had enough time to take advantage of the huge DVD collection that they lend out for free.)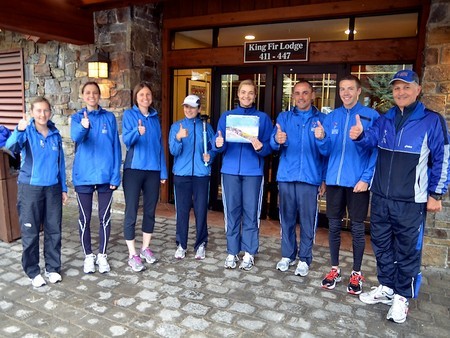 Fernie's beautiful mountain lodge the Juniper Lodge was our home for the evening. Our sincere gratitude to the Fernie Lodging Company for great rooms and fantastic services.  A couple of the boys were unable to open their room with the key provided and ended up staying in an "executive suite"! We felt so fortunate to stay so close to the mountains once again in these beautiful rooms.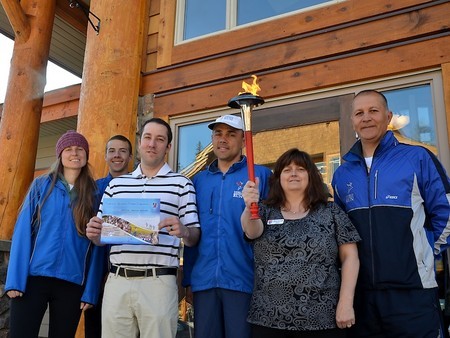 Marvelous accommodation in Kimberley, the Northstar Mountain Village, nestled right at the base of the ski resort. We are so grateful for this complimentary stay, which without any exaggeration, was the most fabulous, fancy and comfortable lodging so far on the run! Friendly staff, spacious lodge, modern comfortable and relaxing, each suite has a private outdoor hot tub backing into the forest.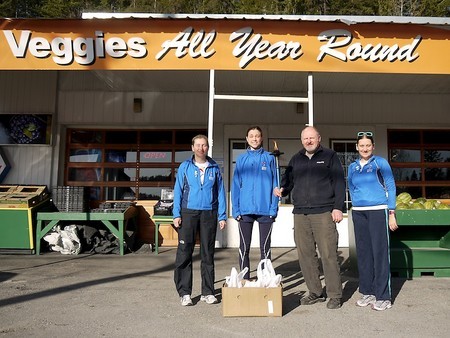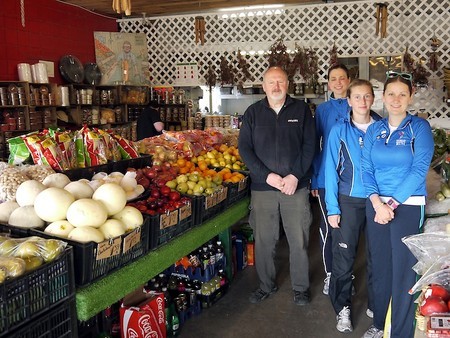 Bill Loebban from the Kimberley Fruit and Vegetable market generously offered each member of our team a bag of fresh fruits. The stacked shelves must be overflowing with the fresh produce in the summer growing season. What a great food centre for this beautiful town.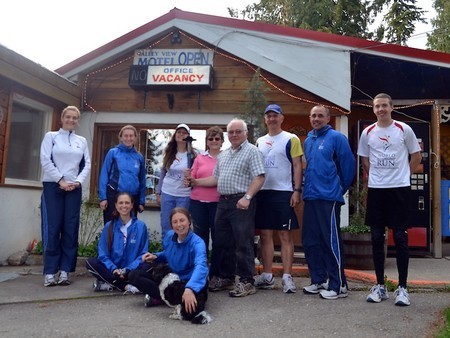 A very special thank you to Al and Sigrid Hert, owners of the beautiful Valley View Motel, for their generous support by way of complimentary cabins during our stay in Creston.  Welcoming, clean, quiet and comfortable - we loved our beautifully cared for cabins, felt like a home away from home.  It is the place to stay on your next trip to Creston, BC.!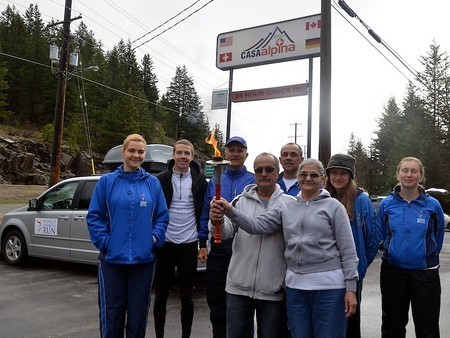 The Casa Alpina Lodge in Rossland is truly a friendly family place to stay.  We are so grateful to Avtar Powar and family for their warm hearted and generous support to the World Harmony Run - offering complimentary lodging and breakfast for the team.  Their lodge is fantasically located with great mountain biking, golfing and alpine skiing all nearby.  Our rooms opened to a beautiful snow capped mountain view.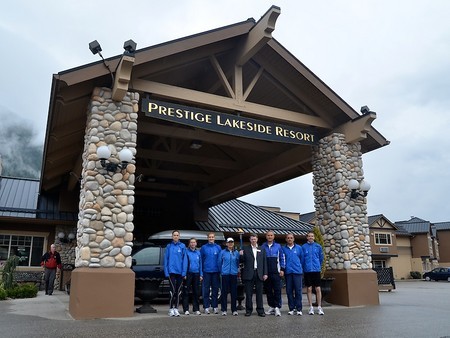 We are extremely grateful to Prestige Lakeside Resort in Nelson, BC for kind and generous offering of accommodations for the World Harmony Run team.  Truly wonderful service and amazing rooms, we also enjoyed the Jacuzzi and swimming pool to our heart's content. The staff and the manager were beyond friendly!   Many thanks to you all!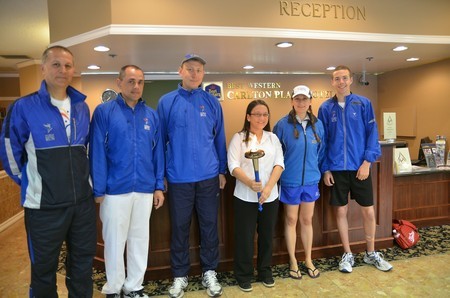 Best Western Plus Carlton Plaza - Victoria (642 Johnson Street, Victoria BC
Canada V8W 1M6) provided the team with complimentary lodging for their stay in Victoria. Great rooms - spacious and modern - the big bonus is the super friendly staff. Thank you for your fantastic service and support!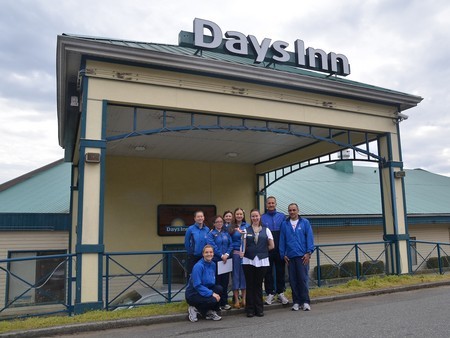 Days Inn - Nanaimo (809 Island Hwy South, Nanaimo, BC V9R 5K1 CA) offered complimentary rooms for the team. Great hotel with the friendliest staff anywhere, our rooms were clean, had all the modern amenities, great pool and hot tub as well.  Thank you so much for your generous support we enjoyed our restful night.


Smitty's in Port Alberni
Special thanks to the staff at Smitty's for a wonderful meal - gracious and generous even when we showed up at 10 minutes before closing. Thank you so much.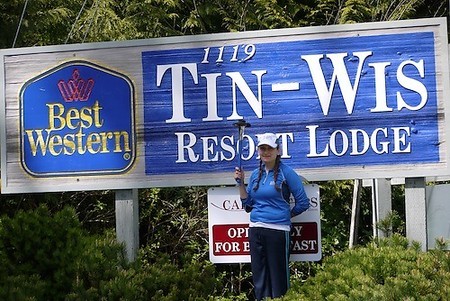 Tin Wis Best Western Thank you to the Tin Wis Best Western in Tofino for an absolutely beautiful welcome.  Fantastic ocean views right from our spacious modern rooms - with beach front walkout, friendly staff and a great restaurant.  We wish to offer you our sincere heartfelt gratitude for your generous gift of complimentary rooms for the World Harmony Runners. 
---