Hrvatska ruta 15 December: Zagreb
The international World Harmony Team arrived in Zagreb to meet Mr. Ivo Josipovic, President of Croatia. President Josipović is one of the most popular politicians in Croatian history, with strong and constant support of his citizens throughout his whole mandate. Before he took over his presidency, his was an esteemed lawyer, renowned and awarded composer  and lecturer on Zagreb's Academy of Music, where he teaches – Harmony.
Međunarodni tim trkača Utrke harmonije svijeta stiže u Zagreb, gdje se susreće s g. Ivom Josipoviće, hrvatskim predsjednikom. Predsjednik Josipović je jedan od najpopularnijih političara u čitavoj hrvatskoj povijesti, koji čitavo vrijeme trajanja svog predsjedničkog mandata uživa stalnu visoku potporu svojih građana. Prije nego je preuzeo predsjedničku dužnost bio je cijenjeni odvjetnik, priznati i nagrađivani skladatelj i predavač na zagrebačkoj glazbenoj akademiji, na kojoj predaje - harmoniju.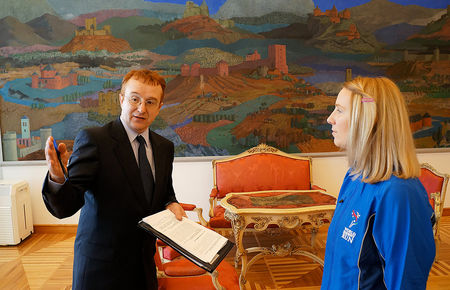 ...the chief of the protocol gives us last directions...
...predstojnik službe za protokol daje nam posljednje upute ...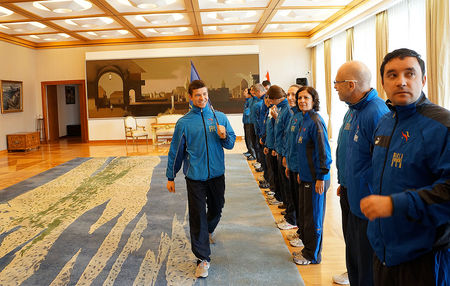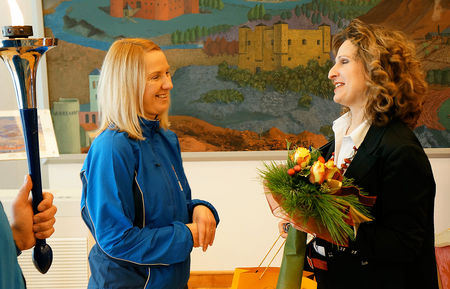 ...our special gratitude to Mrs. Sanja Ljubic for organising the meeting...
...posebne zahvale gđi. Sanji Ljubić koja nam je pomogla u organizaciji susreta...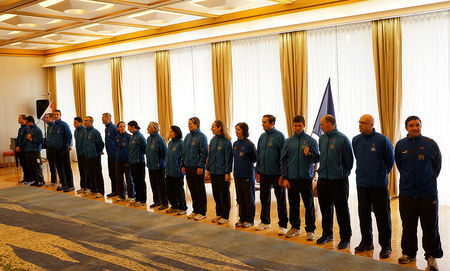 ...lined up...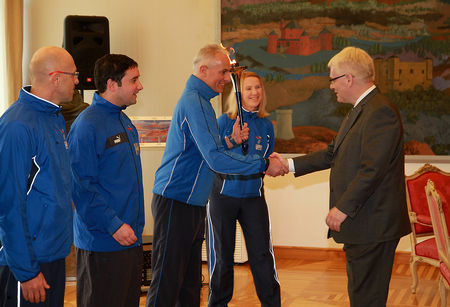 The President welcomed us and shook our hands as we announced our nationalities...
Predsjednik nas je uz rukovanje toplo pozdravio, a mi smo se mu se predstavili prema nacionalnostima trkača....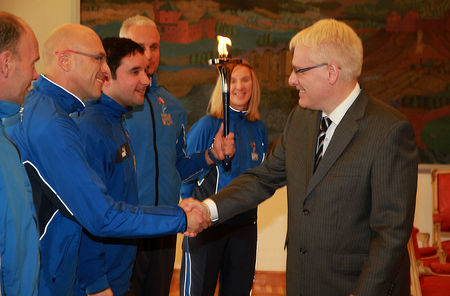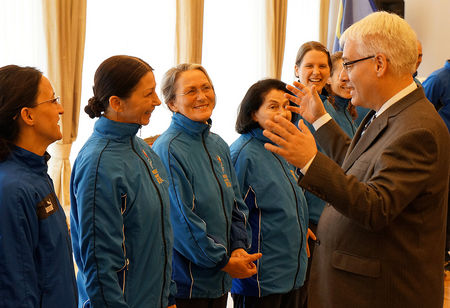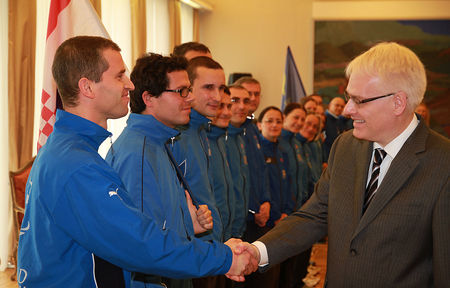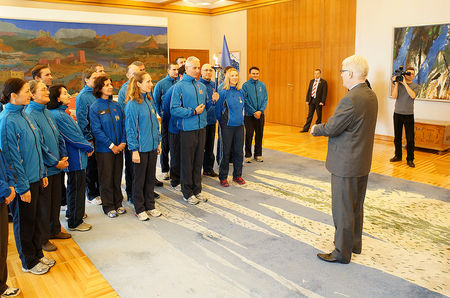 Dipavajan Renner, European Executive Director of the World Harmony Run, presents the Run to the President...
Dipavajan Renner, europski izvršni direktor za Utrku harmonije svijeta, predsjedniku je kratko predstavio našu manifestaciju.....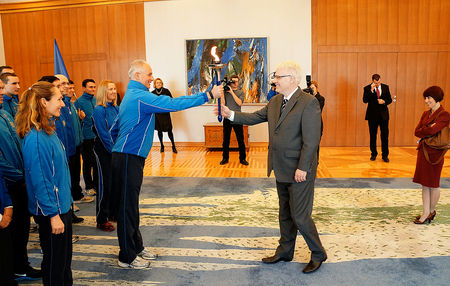 ...Mr. Ivo Josipovic receives the flaming torch on behalf of the people of Croatia!
... predsjednik Josipović prihvaća palmteću baklju u ime svih građana Hrvatske!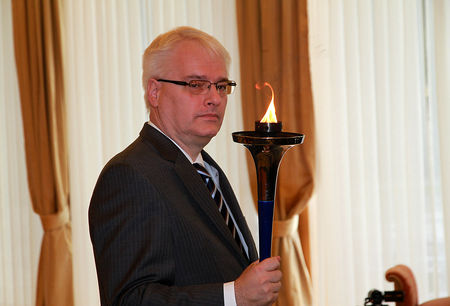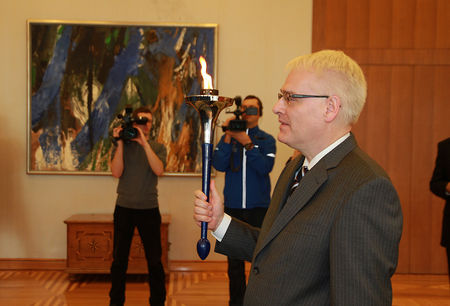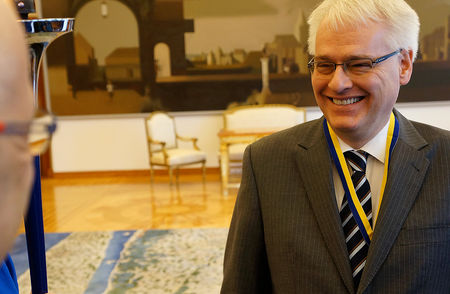 ...for being a man of Peace, we awarded the President with the Torch Bearer Award...
...kao poznatom zagovaretelju mira, predsjedniku smo uručili naše najviše odlikovanje - medalju bakljonoše....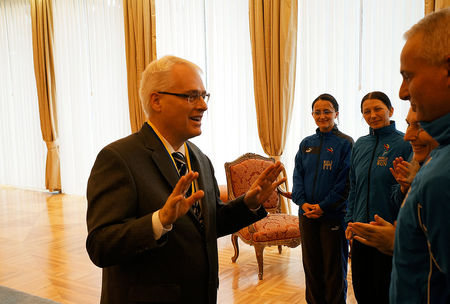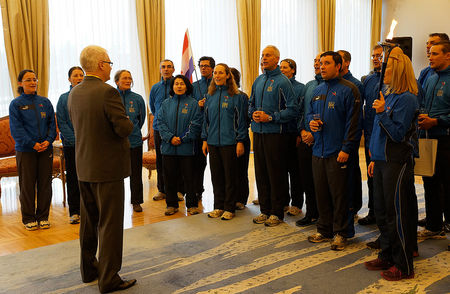 ...a small musical presentation of the World Harmony Run Song, which has been composed by the founder of the Run, Sri Chinmoy...
...muzička prezentacija  himne Utrke harmonije svijeta - skladbe koju je skladao utemeljitelj Utrke - Sri Chinmoy...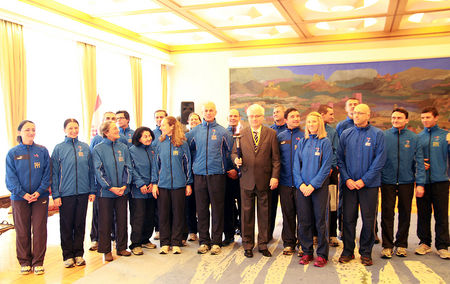 ...a final group picture...
...grupna fotografija za kraj...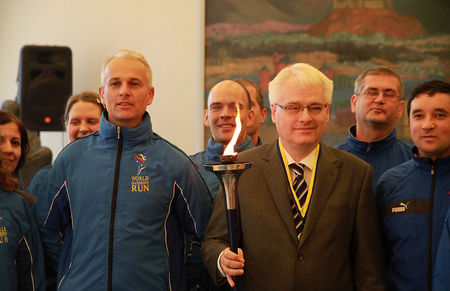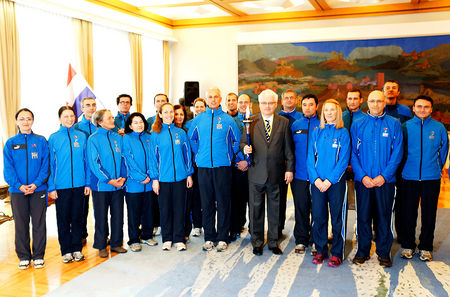 ...the President received also the World Harmony Run Book...
...predsjedniku smo u trajnu uspomenu ostavili knjigu o Utrci harmonije svijeta...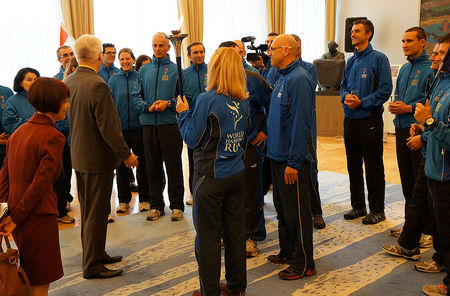 ...after some refreshments it was time to say Good Bye...
...nakon osvježenja uz sokove, došlo je vrijeme za oproštaj...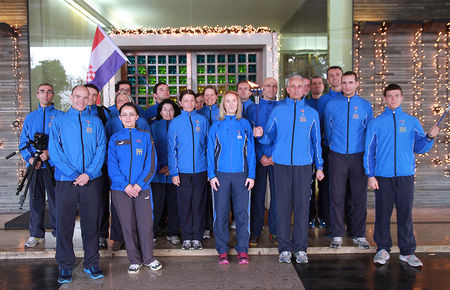 Thank you for this most inspiring meeting! We will keep your message in our hearts and spread it all over the world!
Hvala Vam na iznimno nadahnjujućem susretu! Vašu poruku s dobrim željama nosit ćemo u našim srcima i razaslati ju diljem svijeta! 
---
Team Members:
international runners
Harmonemail:
You can send a message to the runners or read the messages.
Gallery: See more images!