Artwork
Traveling Art Exhibit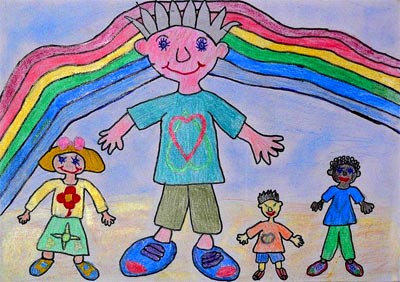 Each year thousands of children offer us beautiful artwork expressing their hopes and dreams for a more harmonious world. This year we will make a traveling exhibition of this artwork. See a small selection of paintings now...
Your art can be part of this international exhibition. You can make submissions of either original or digital artwork.
Original Submissions
If you would like to submit your original artwork for consideration to be included in the traveling exhibition please give it to the runners when they visit your school or send it to World Harmony Run 15035 86th Ave Jamaica NY 11432. Please include your name, age, schools and city on the back of the artwork.
Digital Submissions
Send digital artwork to: art [ at ] worldharmonyrun [dot] org
Please ensure artwork is no larger than 2 mb.
Please include your name, age, schools and city in an email accompanying the digital artwork.
Please note only original submissions will be eligible for inclusion in the traveling exhibition.