5. Ken Radford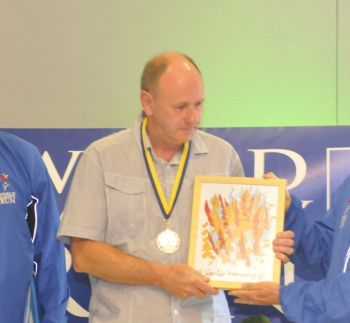 Ken Radford
People and Gardens
Torch-Bearer Award for running the People and Gardens project.
He has made a real difference to people's lives to assist people with learning disabilities and mental health issues to develop work and social skills to enable them to take control of their own lives. The thought of the project is one where, "It's not about waiting for the storm to pass but learning to dance in the rain".
People and Gardens based in Watering Lane Nursery, Pentewan, near St Austell, was established by Ken Radford eleven years ago.
The project aims to enable participants - whose lives have been affected by mental and physical challenges ranging from autism to Down's syndrome - to play a greater role in their communities.
The group has been growing a wide range of vegetables at the Watering Lane nursery and selling them in bags to Eden staff, Cornwall Council's Adult Social Care department and the friends, family and carers of those working on the scheme.
Recently Ken has helped start a fortnightly delivery of the Quality of Life veg bag scheme in the St Austell area, with all profits from this scheme going towards employing the disadvantaged.
The ultimate aim of the group is to enable people to take control over their own lives and find employment. People and Gardens works closely and in partnership with the Eden Project and the vegetable bag scheme was started to create jobs, providing real work for real pay for some of the participants.
Ken and his team have helped more than 150 people make real improvements in their lives through learning horticultural skills and growing food for the vegetable bags. Some of the participants go on to live independently, to study and to find jobs.
The group was initially based at the Lost Gardens of Heligan before moving to Watering Lane, where participants work closely with Eden's skilled horticulturists.
There are currently 45 people taking part, all coming from within a 25-mile radius of the nursery and with an age range of 16 to 70. The project has recently become a community interest company.