Lesotho 30 October: Maseru
Ten years ago when I was living in New Zealand, I was lucky enough to have my birthday on the World Harmony Run in Christchurch. It was quite a special birthday for me. Now 10 years later I was on the Harmony Run again in a different continent and country but it was a day that again I will never forget.
I spent most of the early part of the day visiting all the different media representatives in Maseru with Ntati Chaplin. Chaplin was extremely helpful as we visited everybody. He is gives of himself freely to all and seemed to be on good terms with everybody that we visited.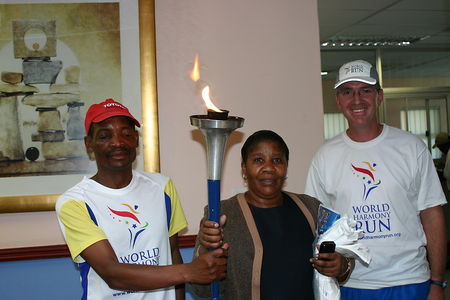 About mid morning we visited Harvest FM, a very popular radio station. They were very kind hearted and Station manager, Malichaba Lekhoaba, was very keen to hold the torch and make a wish for world harmony. She said that each year for her birthday she did something for a nearby orphanage. This year she was taking all the children (112) to Bloemfontein in South Africa to the Zoo.
Later that afternoon after the school visits were over, we passed their Harvest Radio office again and thought that we would stop to give the staff a chance to hold the World Harmony Torch and make a wish for world harmony. They loved the torch and the whole concept of the run and reported the run to their listeners a number of times.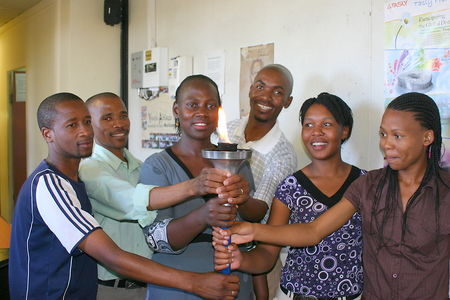 This is the staff of Harvest FM including Station manager Malichaba Lekhoaba in the centre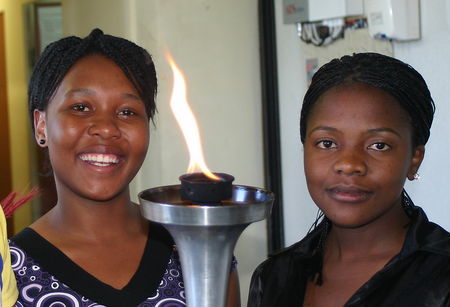 While at Harvest we met Mavis, otherwise known as the "Mother of the Motherless". She has been running a private orphanage since 1984 and now has over 60 children under her care. We later had the opportunity to visit the orphanage. It is very clean and the children were extremely well behaved. They all held the torch and chanted "Khotso" (meaning "peace") in Sotho when they held it.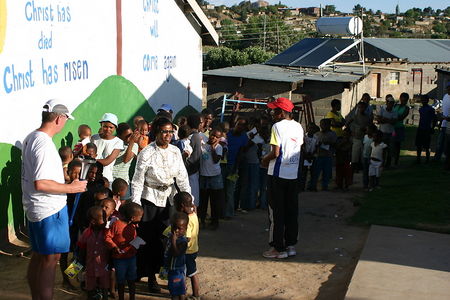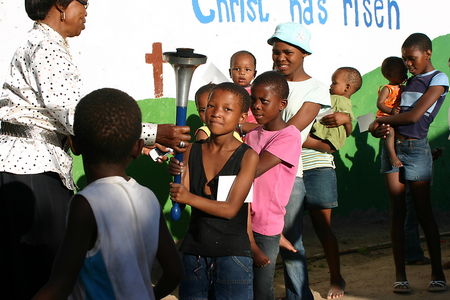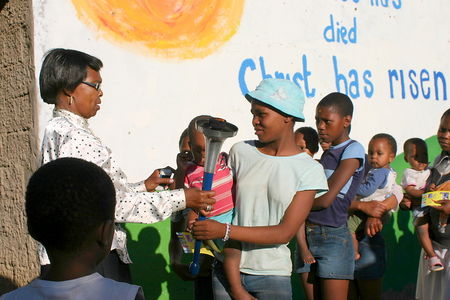 There was a real feeling of oneness in the orphanage and all the older children helped with the younger ones.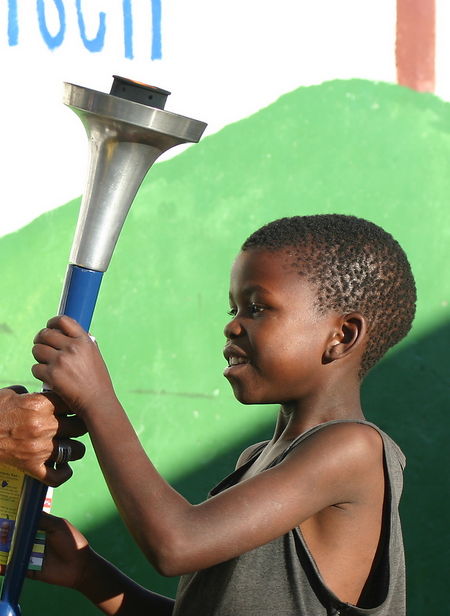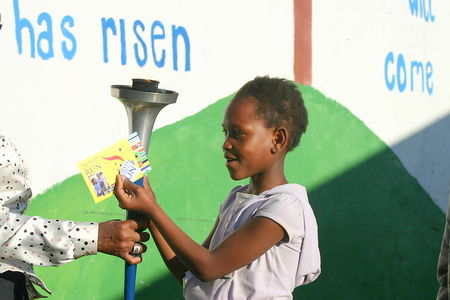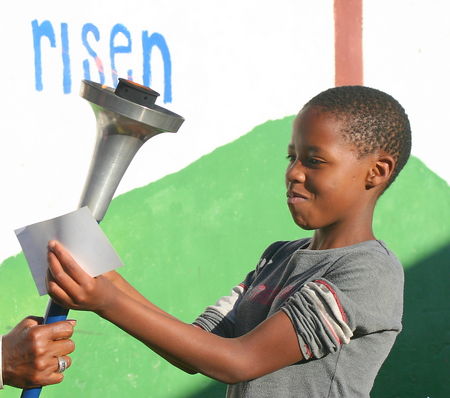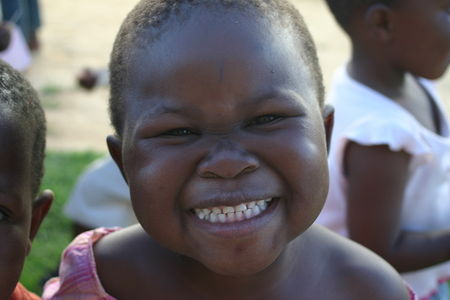 Mrs Mavis was so enthusiastic about the World Harmony Run that she even gave all the sleeping babies in the nursery a chance to hold the torch.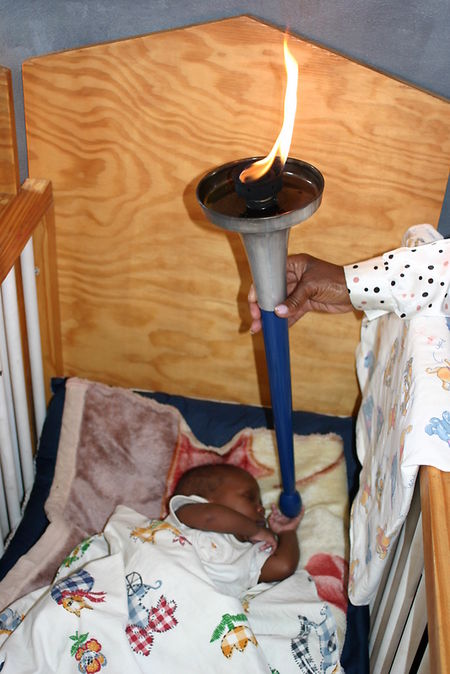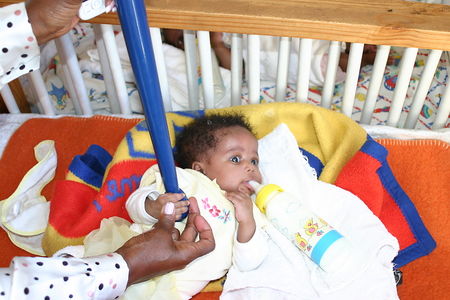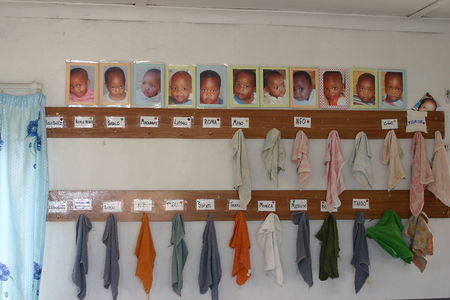 The children seemed very happy despite their outer circumstances and played with a skipping rope as we left.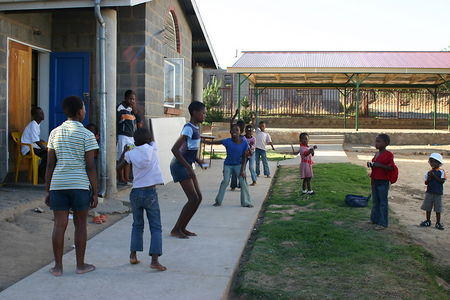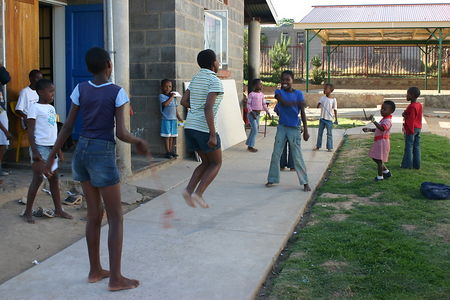 The orphanage had a large vegetable garden and even a soccer field where quite a few of the boys were playing.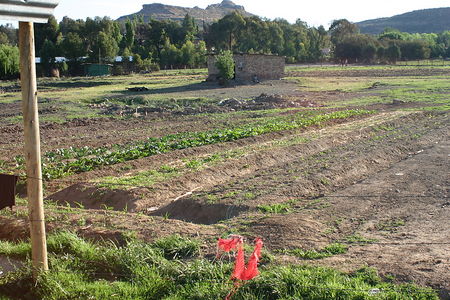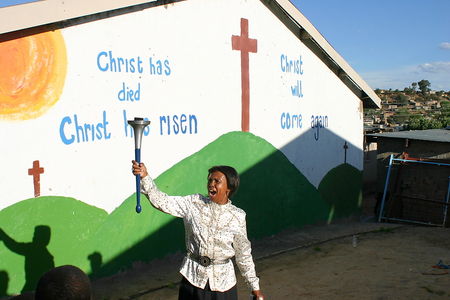 Director Mavis, holding the torch at the orphanage
It was a long but extremely inspiring day. Somehow, almost magically, the World Harmony Run seems to bring out the best in all of us and bring to life our hopes for a better and more harmonious world. Sri Chinmoy always managed to bring out the best in people, regardless of the situation, and his legacy lives on in this incredible event. What a great honour it has been to be on this first World Harmony Run in Lesotho. Could I have asked for a better birthday!
---
Distance: 10 km
Team Members:
John Marshall (New Zealand), Abhijatri Robinson (Zimbabwe)
Gallery: See more images!