Lesotho 31 October: Maseru - Teyateyaneng
Day 12, our last on this epic southern African World Harmony Run, dawned. Although we were a pretty well practiced team by now, the butterflies were still there when I woke up. All I knew was we had two multi-school events scheduled for that day and anywhere from one to four schools might turn up in each case - that could mean as 4000 children in one day! We had carefully gone over our plan the night before but with so many kids we just couldn't be sure what would happen.
We arrived at 8:00 am for the 8:30 am start and worked out where the four stations would be (we had decided that dividing the entire group into four smaller sub-groups might make the event more feasible). The first station would be learning the World Harmony Run song, the second, holding the torch, the third, focusing inside to feel harmony and learning the motto (harmony begins with me) and the last, the climax, running with the Torch.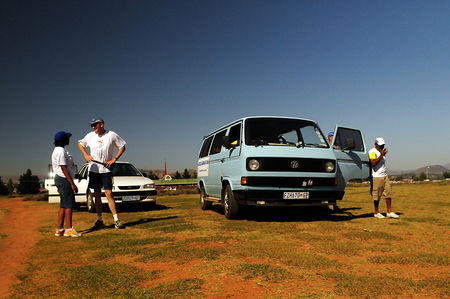 At 8:30 am we could still not see any children in the huge open area on the outskirts of Maseru, where we had gathered. Very soon, however, Ntati Chaplin, Lesotho's National Athletics Coach changed that. In the distance we saw a huge crowd of children approaching like an army of advancing soldiers and very soon we were swamped by teachers and students.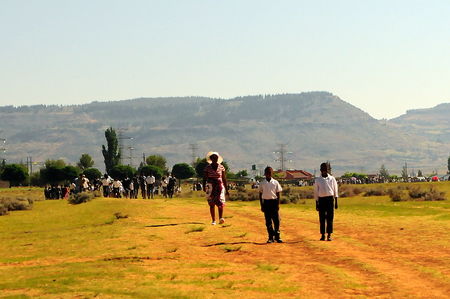 The children begin to arrive!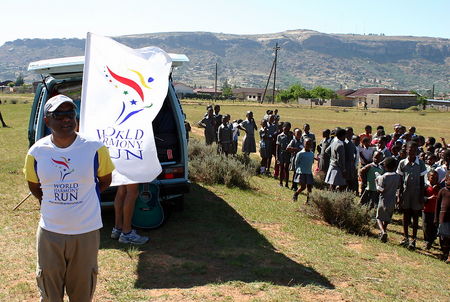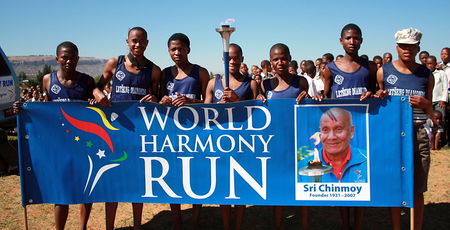 Ntati Chaplin had arranged for some of his best runners to join us.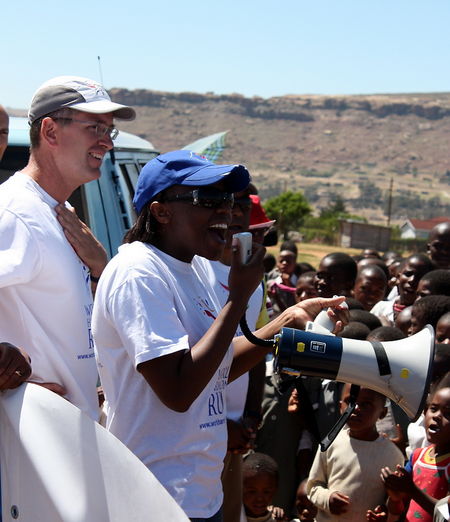 We were so grateful to have Moleboheng and Yvonne on the team.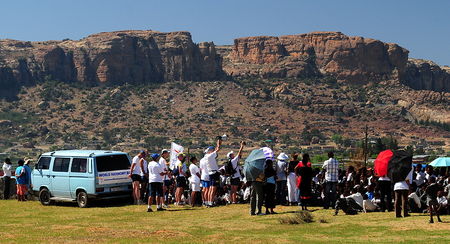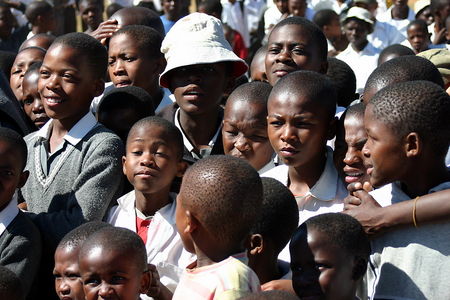 After an inital and brief presentation about the World Harmony Run, we split into four groups, by class.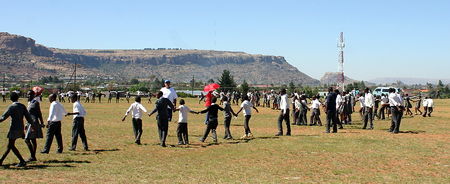 Group 1 - Holding the Torch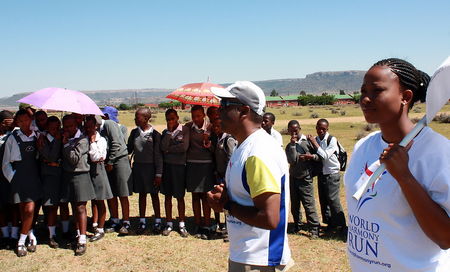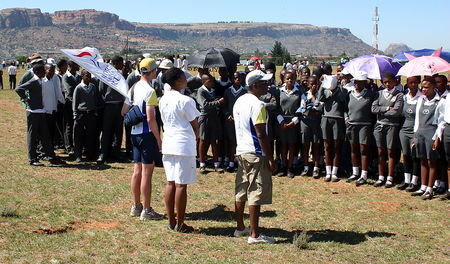 Group 2 - Harmony Exercise and Motto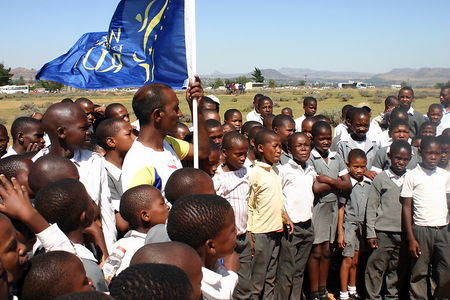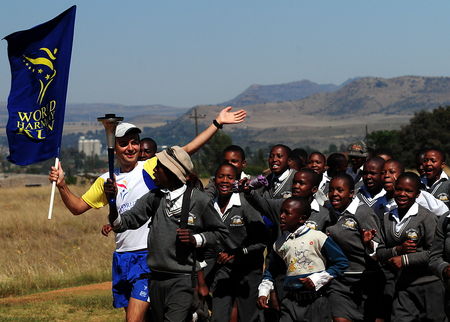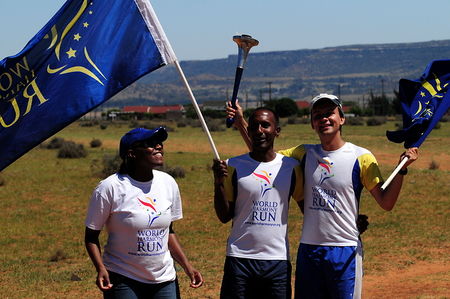 Group 3 - Running with the Torch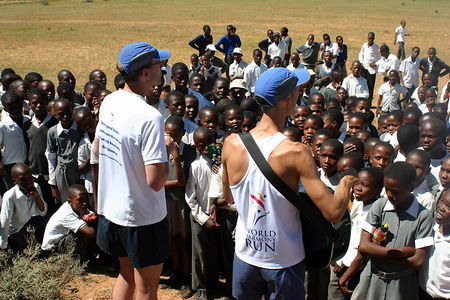 Group 4 - Learning the World Harmony Run Song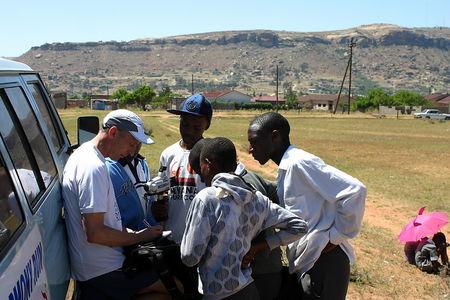 Our plan worked quite quite well and it seemed like the children had a lot of fun, as did we (we had about 1300 children altogether).
After finishing in Maseru we jumped into the van to drive 50km north-east to Teyateyaneng (TY), where our next school group had been scheduled to start at 11:00 am.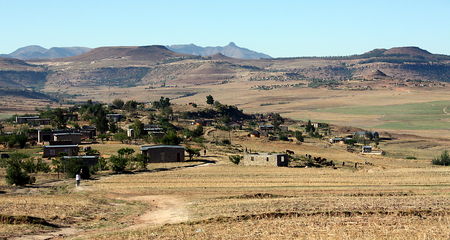 On the way we passed some of the famous sandstone quarries that are the source of the beautiful stone that is used in so many prestigious buildings in both Lesotho.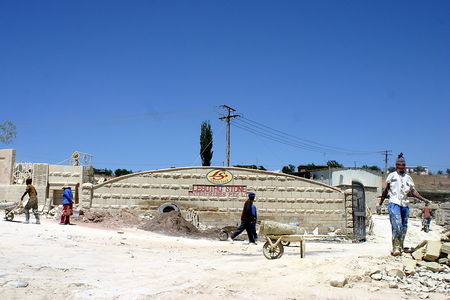 We met Mr Kakande of TY Junior Academy a few kilometres outside the main town centre, along with several hundred school children who had gathered to run a few kilometres with us.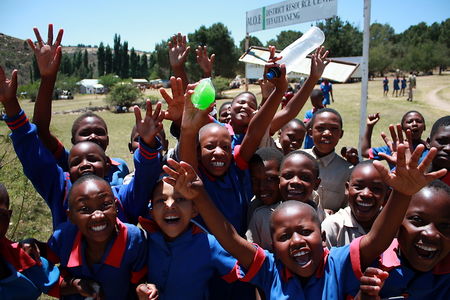 Our running route followed an off-road course that wound across the valley, over two heavily eroded gulleys and then up a steep hill to TY Junior Academy.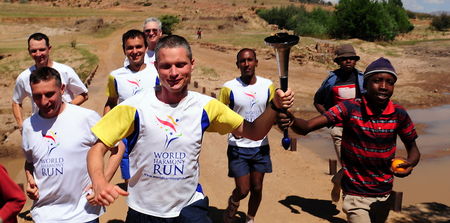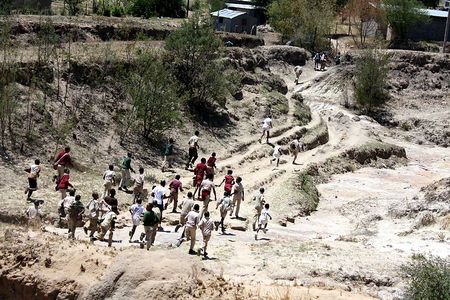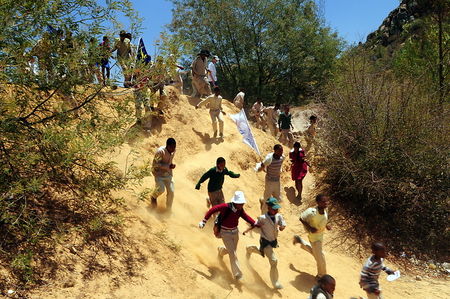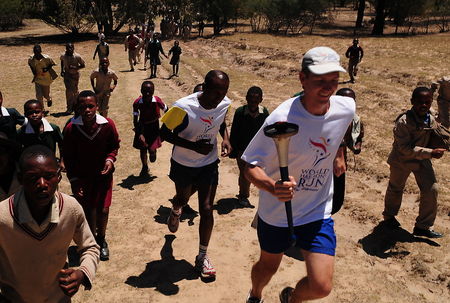 For me it was one of the most enjoyable runs of the whole two weeks - we were away from the traffic and in the heart of Lesotho, surrounded by laughing and smiling children.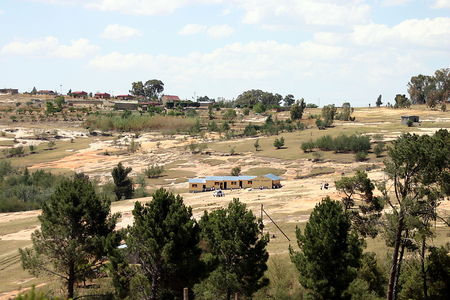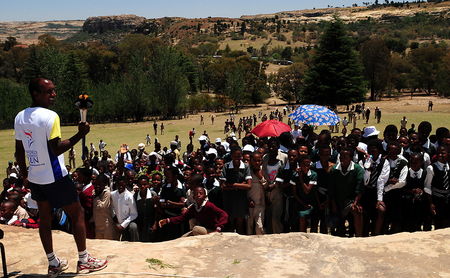 Once we reached TY Junior Academy, we assembled in a natural amphitheatre area and thanks to a good PA system were able to give our presentation to the entire group of about 1200 school children. The school pupils performed a number of songs for us.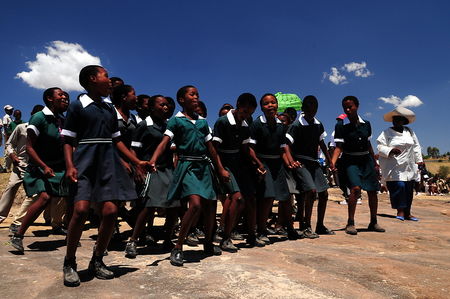 /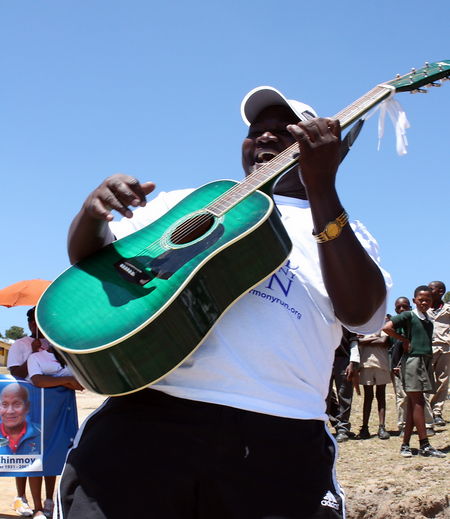 The highlight of our visit came at the end when team member Chris from New Zealand presented the guitar we had been using for the World Harmony Run songs (over the previous two weeks) to Mr Kakande. He was absolutely overjoyed at this unexpected and much appreciated gift to his school and Chris could not have asked for a more genuine response of gratitude.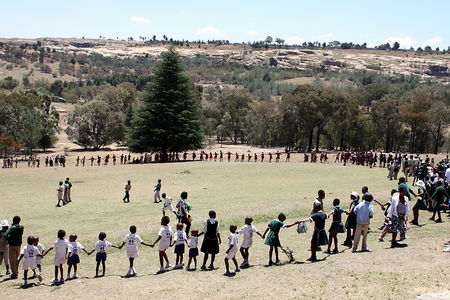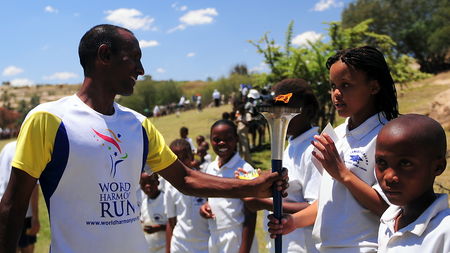 Passing the Torch
World Harmony Run 2008 - Southern Africa finished with a brief ceremony to honour four selfless individuals who not only helped to make the Lesotho World Harmony Run a great success, but also through their own life activities are making a special contribution to the World: Godfrey Kakande, founder and principal of TY Junior Academy, Chaplin Mpomane, Lesotho National Athletics Coach, Moleboheng Mokobocho and Yvonne, both of the Lesotho Ministry of Youth, Sport, Gender and Recreation. All four of these indivuals were presented with the World Harmony Run Torch Bearer Award.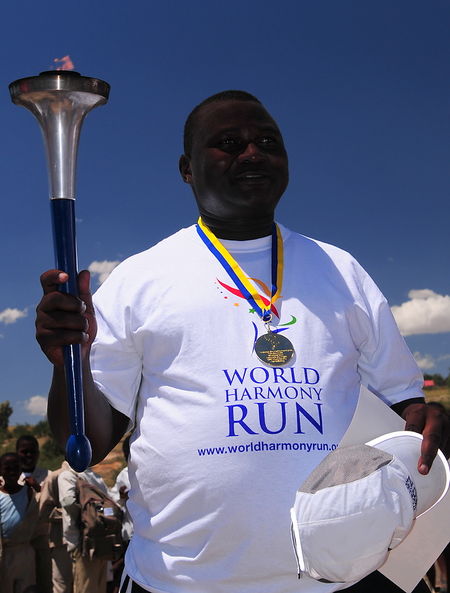 Mr Kakande was deeply moved.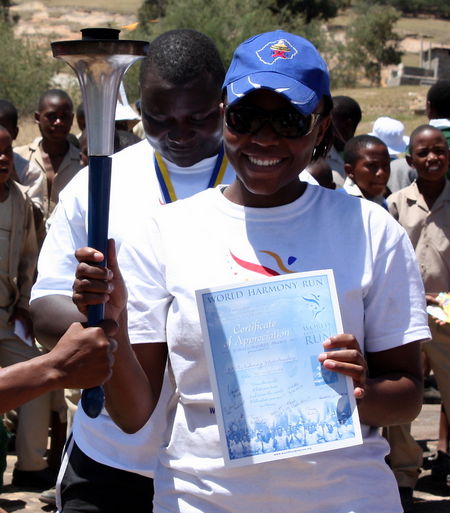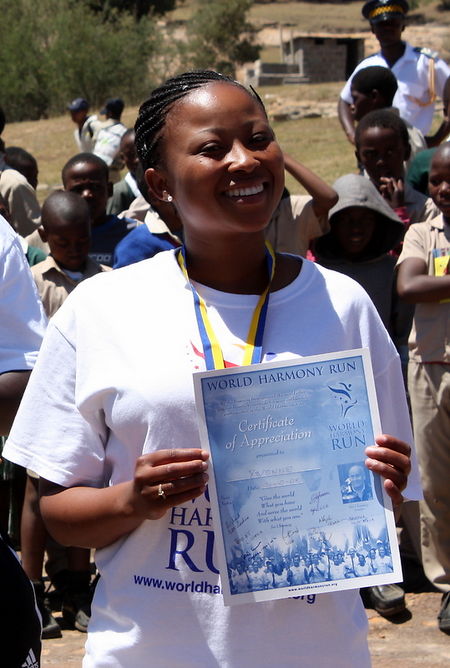 For Moleboheng and Yvonne it was an unexpected but very special occasion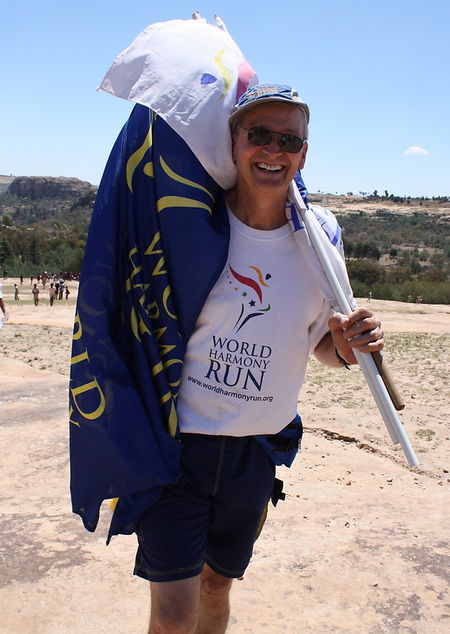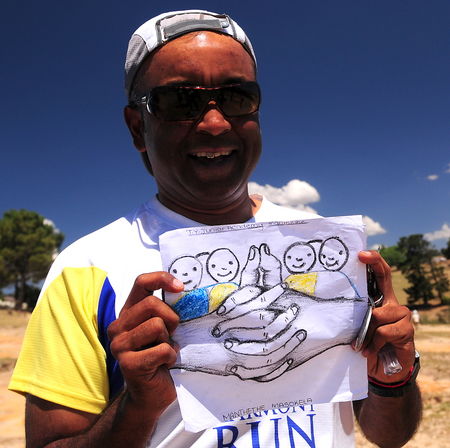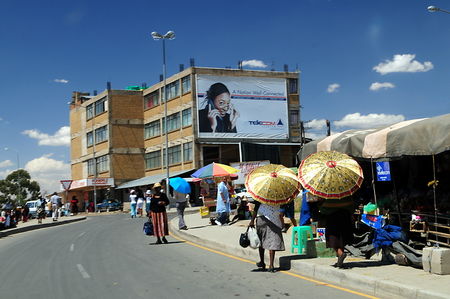 After a short drive through TY to re-hydrate and fill-up with petrol we headed back to Maseru to the Lesotho National TV Station where Abhijatri, John and Moleboheng were interviewed for a news programme scheduled to appear the following day. After a successful visit to the TV studio, we started the long drive back to Johannesburg.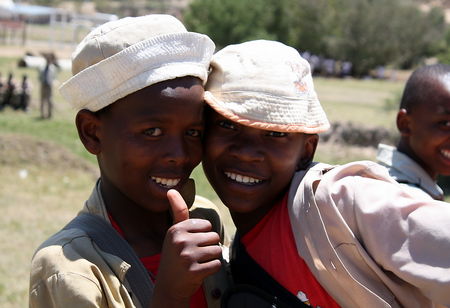 All of our New Zealand team members were scheduled to fly out from Johannesburg the following day, so we needed to be back in Joburg that night. It was a long drive and we arrived back quite late, but with so many wonderful memories from our brief sojourn in Southern Africa, this was a very very small price to pay.
---
Distance: 10 km
Team Members:
Balarka Robinson (South Africa), Ondrej Vesely (Czech Republic), John Marshall (New Zealand), Barney McBryde (New Zealand), Chris Daly (New Zealand), Adhiratha Keefe (USA), Richard Pedley (UK), Stavros Polykarpou (South Africa/Cyprus), Shree Chirkoot (South Africa), Leon Subramoney (South Africa), Robert Senovsky (Czech Republic), Abhijatri Robinson (Zimbabwe), Moleboheng Mokobocho (Lesotho), Yvonne (Lesotho)
Gallery: See more images!