Macedonia 12 July: Ohrid - Bitola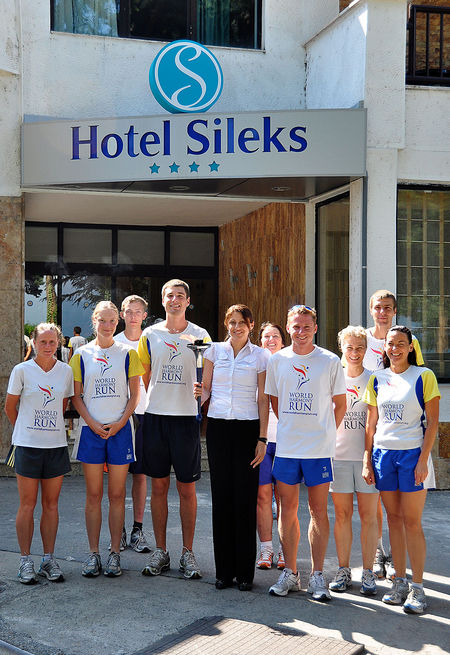 We enjoyed a good night's rest in the Hotel Sileks on Lake Ohrid. A big "Thank you" for supporting the World Harmony Run!
Уживавме во престојот во Хотел Силекс на Охридското Езеро. Големо "Благодарам" за подршката на Трката за светска хармонија.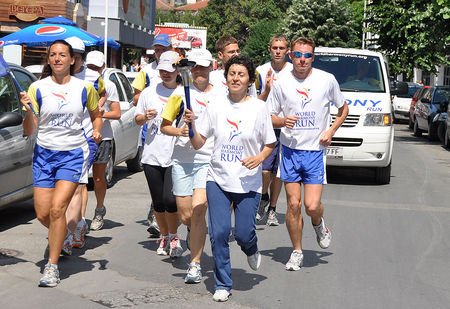 Our run started in Ohrid, a famous place in the south of Macedonia. Eleni from Greece, our most recent team member, turned her morning workout into a birthday run!
Нашето трчање започна во Охрид, најпопуларното место во Јужна Македонија. Елена од Грција, нашиот последен приклучен член на тимот, го трансформираше нејзиното утро од утрински вежби во роденденско трчање.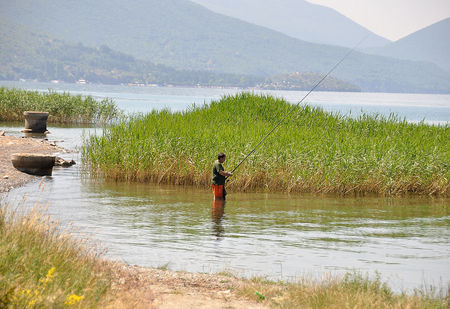 ...we ran for many km along the beautiful lake. Some of us enjoyed a refreshing swim after the running....
... истрчавме многу км долж прекрасното езеро. Некои од нас уживаа во освежително капење после трчањето...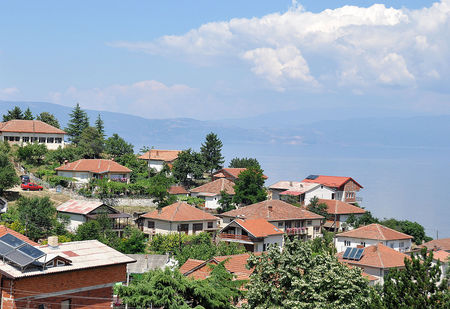 Soon after Trpejca we started our climb up the mountains in the national park of Galičica...
Наскоро после Трпејца започнавме со нашето искачување на планината во националниот парк на Галичица.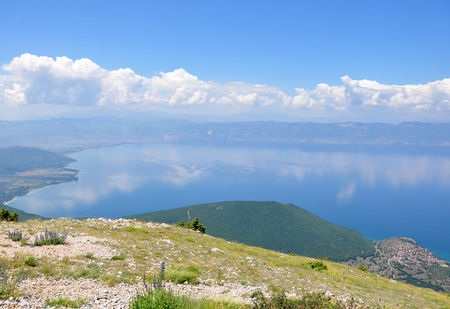 ...a stuninng view at 1568 metres!
...восхотувачки поглед на 1568 м надморска височина!

..some want to go even higher!....
...а некои сакаат да одат дури и повисоко!...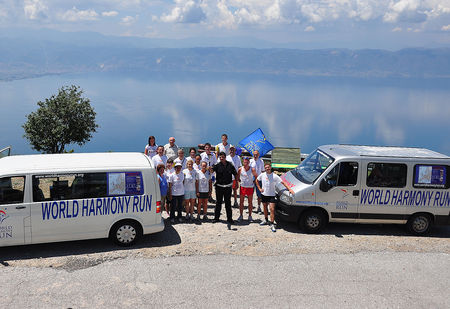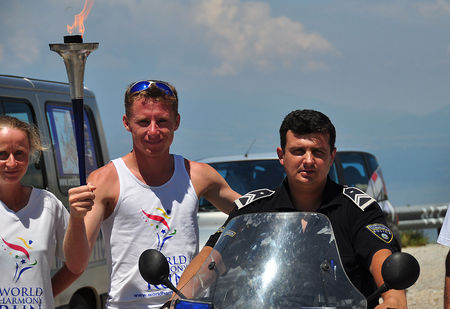 A "Thank you" to our police escort!
"Благодарам" за нашата полициска придружба!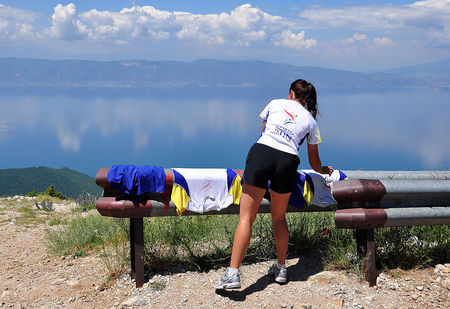 ..some run, some do laundry...
...некои трчаат, некои сушат алишта...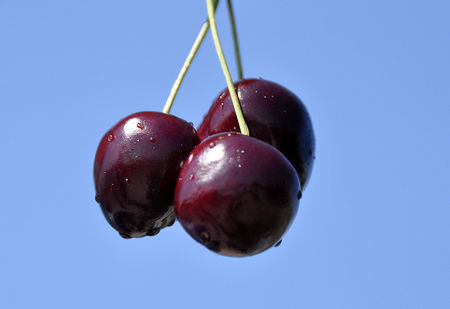 ...and some snack: cherry time in Macedonia!
...и по некоја ужина: време на цреши во Македонија!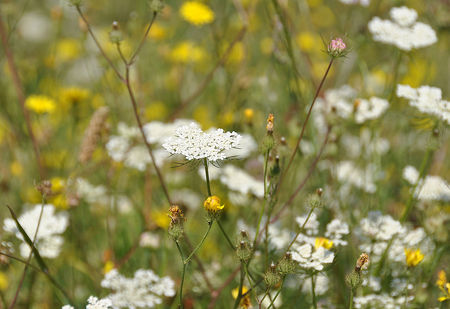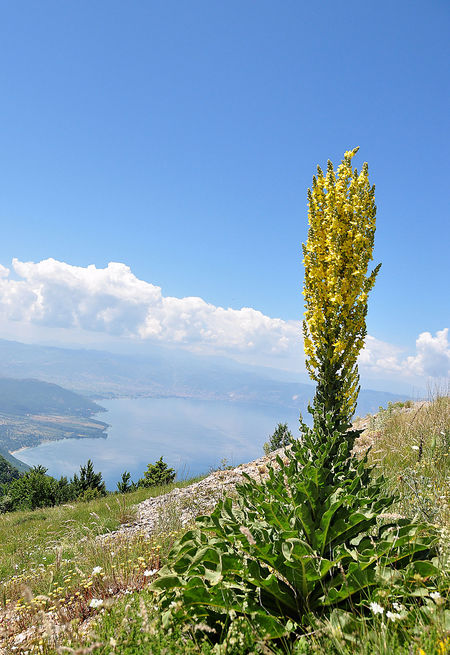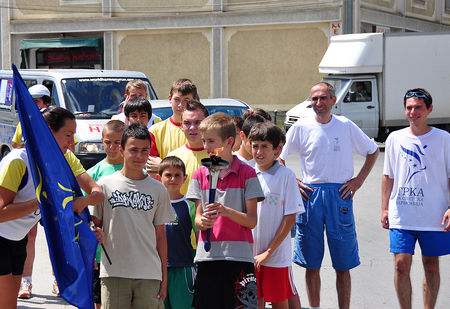 ...after 45 kilometres downhill!! we reached Resen.
...после 45 км во издолница!! Стигнавме во Ресен.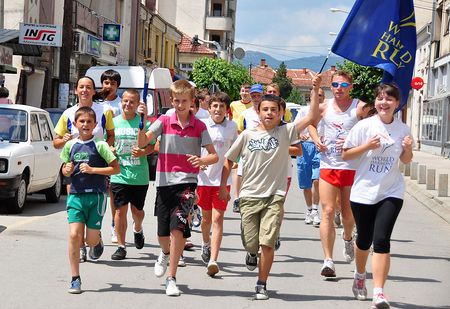 A group of children waited for us an the city limits and together we ran to the meeting....
Група од деца не пречека на влезот од градот и заедно трчавме до местото на состанокот...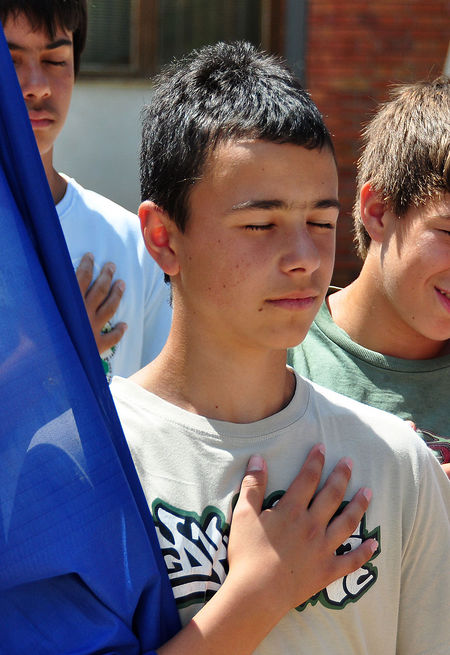 ...find harmony in our hearts....
...да најдеме хармонја во нашите срца...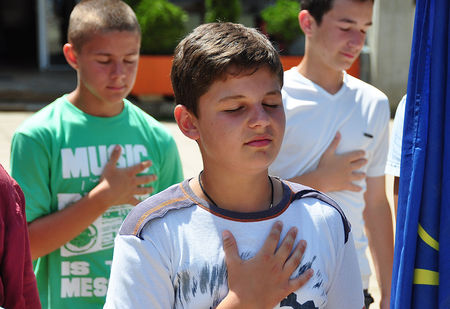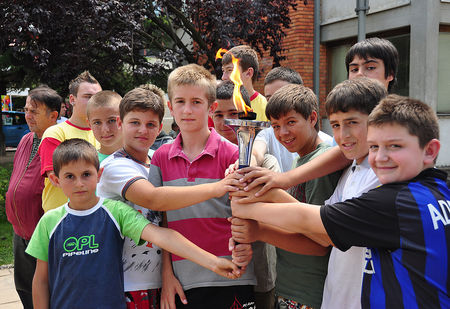 Thanks for running!
Благодариме што трчавте со нас!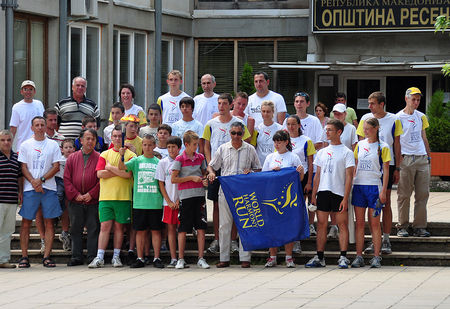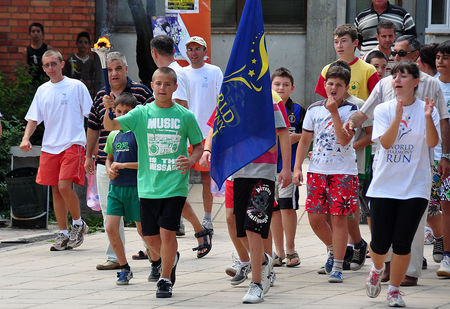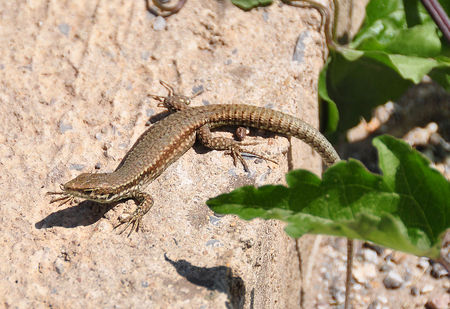 ...running in the afternoon heat, but not for everybody....
...трчање во попладневната горештина, но не за секого...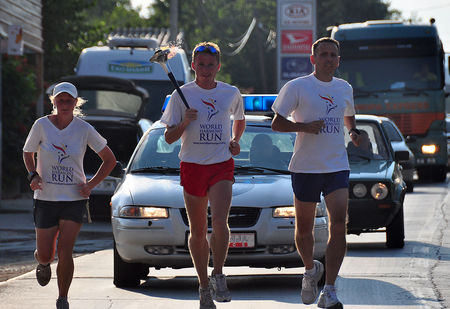 In the late afternoon we reached Bitola, the second largest city in Macedonia....
Доцна попладнето стигнавме во Битола, вториот најголем град во Македонија...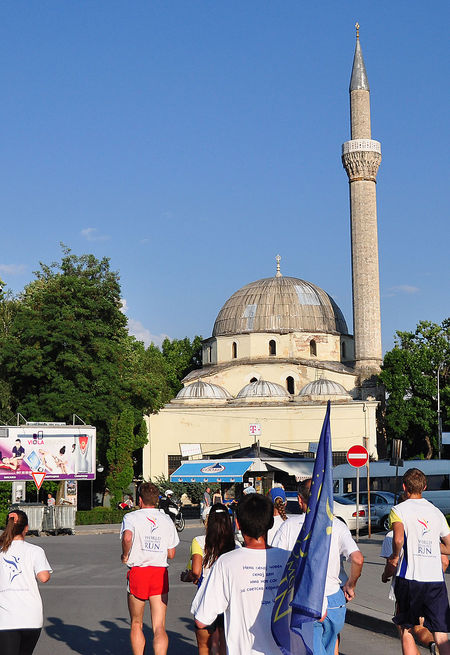 ..the run into the city was a cultural experience...
...трчањето во градот беше културно искуство...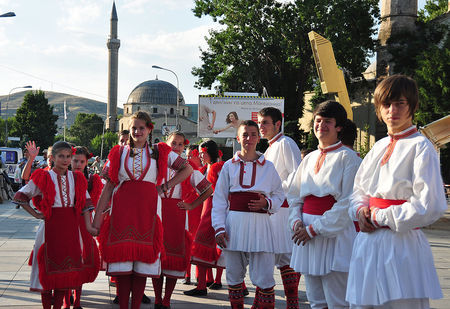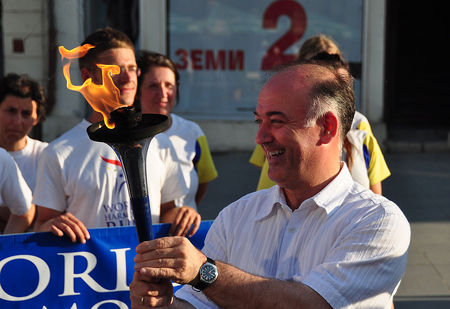 ..the Mayor welcomed the runners...
...градоначалникот ги пречека тркачите...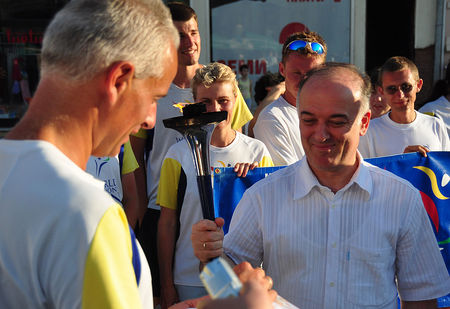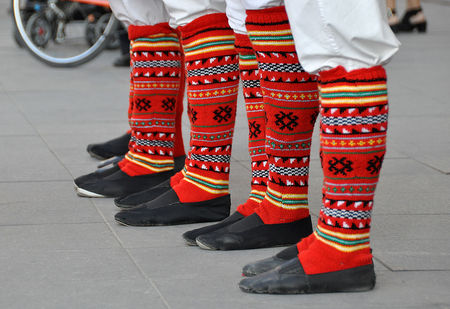 A traditional performance in traditional costumes: fortunately we don't have to run with such socks in the heat!
Традиционална изведба во традиционални костими: за среќа не мораме да трчаме со такви чорапи на горештината!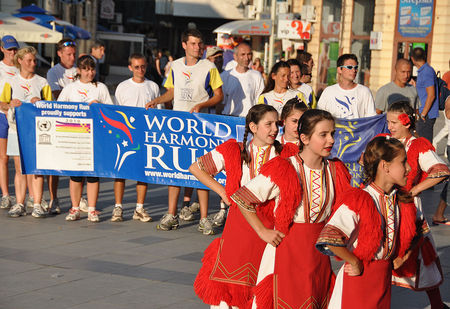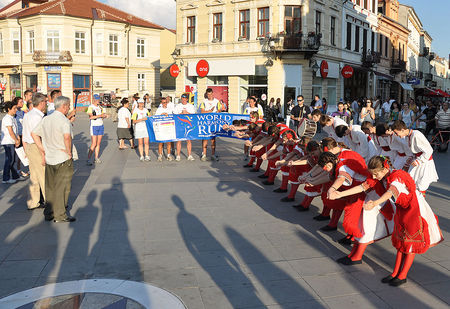 Thank you for the performance!
Благодариме за изведбата!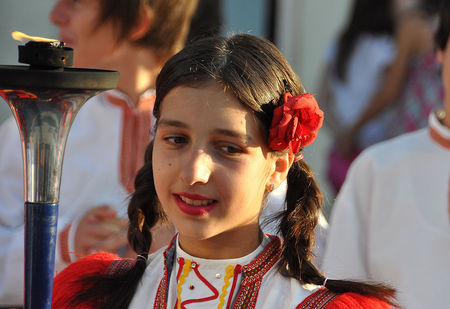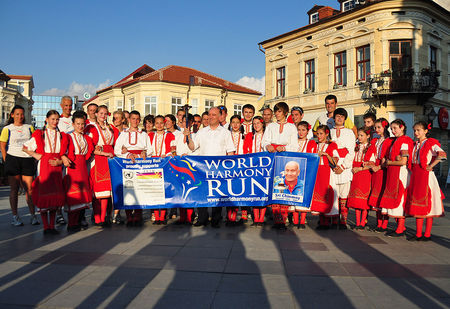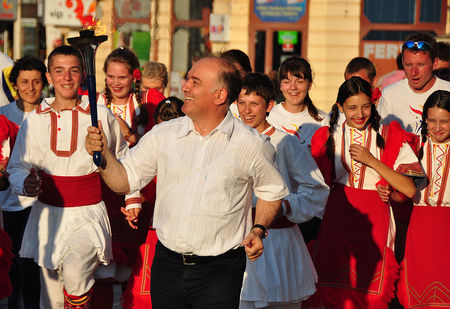 ...after the dancing the Mayor took all of us on a short, symbolic run....
... после изведбата градоначалникот не поведе на кратко, симболично трчање...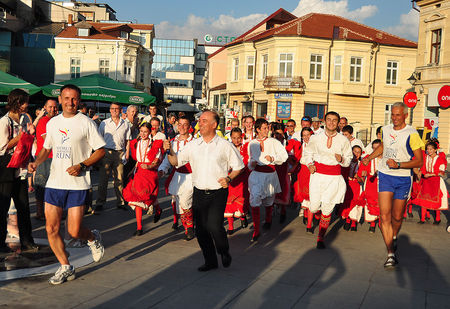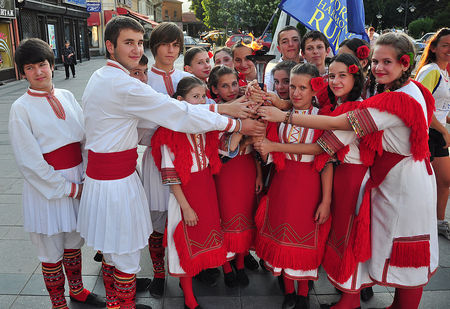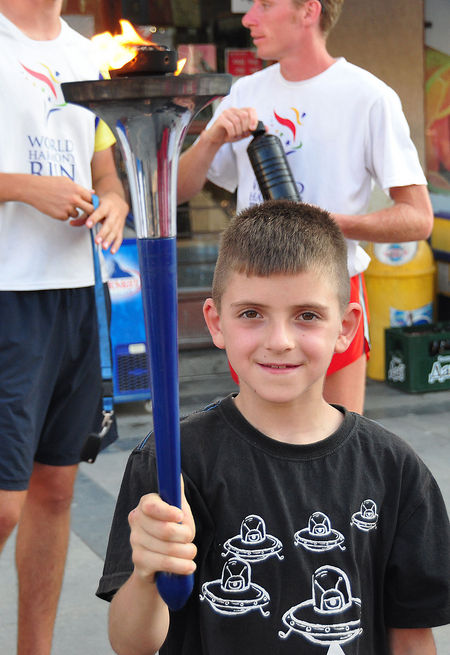 ---
Distance: 107 km
Team Members:
Dipavajan Renner (Austria), Zach Saltzman (USA), Manjula Lecourdier (France), Zoltan Theobald (Hungary), Roos de Waart (Netherlands), Natalia Lehonkova (Ukraine), Dima Lehonkov (Ukraine), Ulvis Salietis (Latvia), Gints Peleckis (Latvia), Ildiko Kuremszki (Hungary), Jadranka Grbic (Serbia), Eleni Sidiropolou (Greece), Mrittyunjoy Bader (Switzerland)
Harmonemail:
You can send a message to the runners or read the messages.
Gallery: See more images!