Serbia 23 October 2005: Belgrade - Novi Sad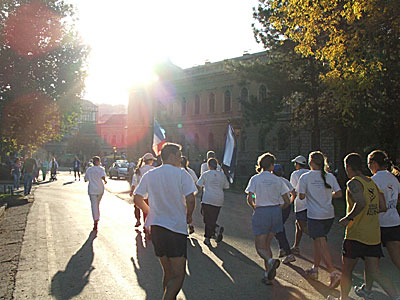 It is 11.00. The sun shines brightly. It is a beautiful day in Belgrade, Serbia Montenegro's beautiful capital. A beautiful rendition of the WHR song, performed by a professional choir, resounds around the ceremony square, as a big troop of Harmony runners run in, waving many a flag. First one up to give a short talk is Srjan Stozanovich, recent winner of the longest race in the world, the 3100 mile race (ca. 5000 kilometres), held during two summer months in Jamaica, Queens, New York. Then follows diplomats from India, Hungary and Bosnia who support us. The Patriarch of the Serbian Orthodox church sends his blessings for the WHR via a very high-ranking envoy, who then holds the Harmony torch together with the rabbi of the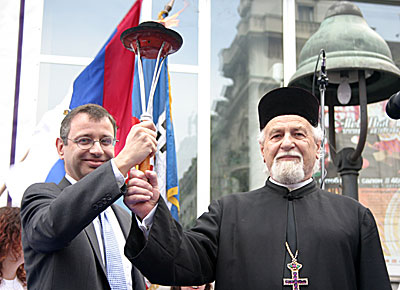 Jewish congregation of Serbia, who also gives us his blessings. We have also received a supporting letter from the head of the Catholic congregation in Serbia. To honour the esteemed guests the choir sings a beautifully haunting spiritual song, a soft, sweet, full bass as solo. Next in the program three famous actors recite poem about harmony and inner progress, written by Sri Chinmoy, the WHR's founder. The poems are read in Serbian translation. Then a famous Olympic gold marathon runner, Franjo Mihalich, gives an inspiring talk. It is followed by an equally inspiring talk by the Professor of the Sport's Academy. Finally the WHR's World coordinator, Salil, and European coordinator, Dipavajan, say a few words and express our gratitude for such a wonderful ceremony and introduce the rest of the team. We run out together to cheering and clapping.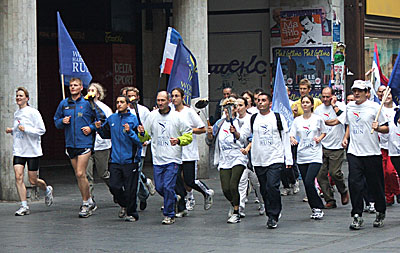 The weather just gets better, the sun shining more and more brightly. Our Northern runners can't believe this is October. The landscape is becoming very flat. Fields stretch out into the horizon under bright blue skies with pretty cloud formations.
<>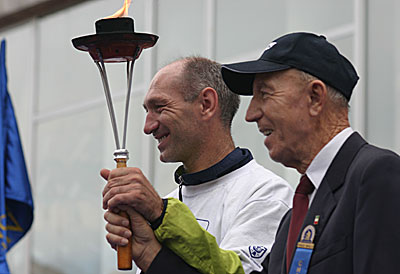 Today we have two Ultra-distance running legends running with us: the aforementioned Srjan Stozanovich, who will accompany us for the rest of Serbia Montenegro; and Namitabha Arsic, who ran with us previously through Eastern Europe and who now accompanies us all the way to end from here.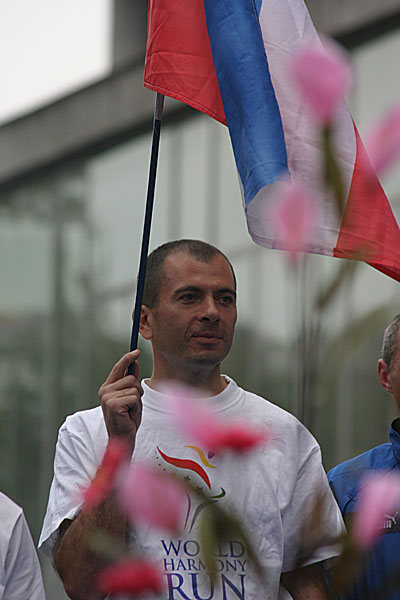 Towards the end of our day we have a ceremony in the pretty small town, Sremski Karlovaci, where the city representative greets us and sends off a triathlon team from Novi Sad to run with us to the teams home town.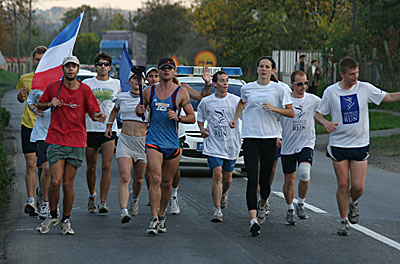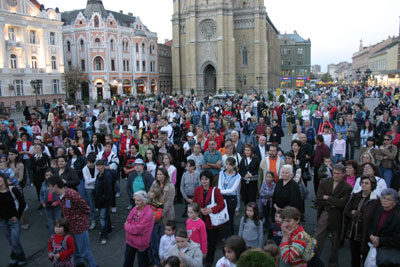 The main square in Novi Sad is lined with a tall, stately church and other beautiful architecture. A relay of tiny kids lead us into the square where hundreds of people are waiting to greet us. It is a thrilling feeling running through this cheering mass, then climbing the stage and seeing this sea of smiling spectators spread before us. As the program is going on a slideshow with WHR photographs from all over the world is shown. We hear that every day for two weeks before this ceremony the WHR had been in local radio, TV and newspapers. That is quite the preparation and it succeeded in bringing quite the crowd. A grand finish for this grand day.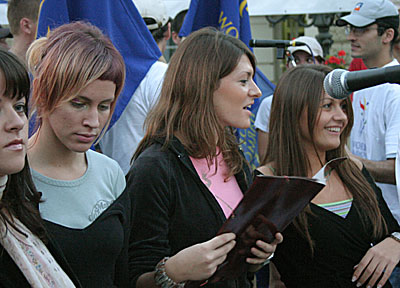 ---
Distance: 110km
Harmonemail:
You can send a message to the runners or read the messages.