Singapore 19 January: Singapore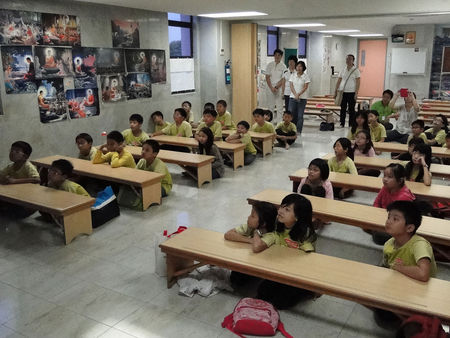 After the morning event at Johor Bahru, we returned to Singapore to continue the day's programme.
Upon arrival at the Kong Ming San Por Kark See Saturday Sunday school, we met kids at a classroom waiting for us.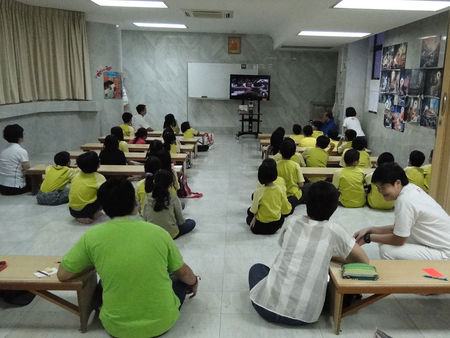 Children watching video about the World Harmony Run.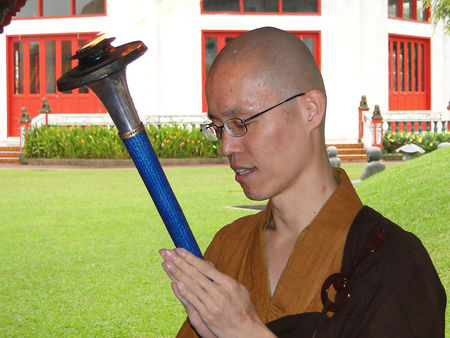 Venerable Chuan Guan, the Spiritual Advisor for the school offereed to chant the 'Heart Sutra' for peace in the world. All the children, teachers and even the parents and other Buddhist visitors joined in. He also offered us goodwill and success for our event. (video coming soon)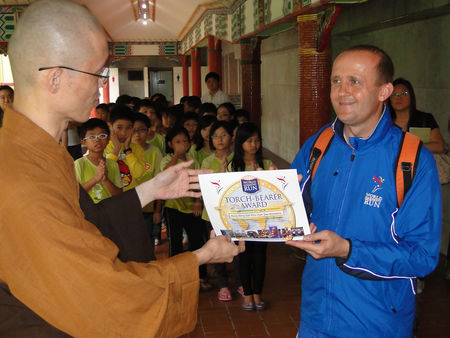 Abhisar presented the Torch Bearer Award to the Kong Ming San Phor Kark See Monestary for their selfless and sacred service to humanity.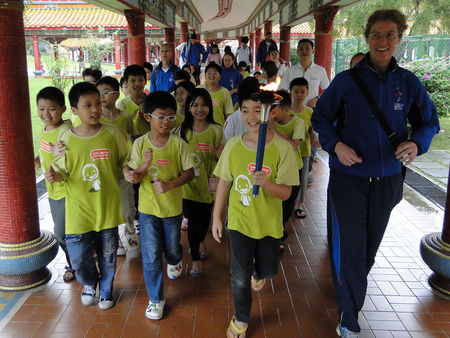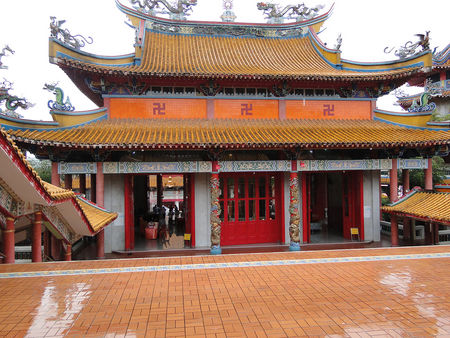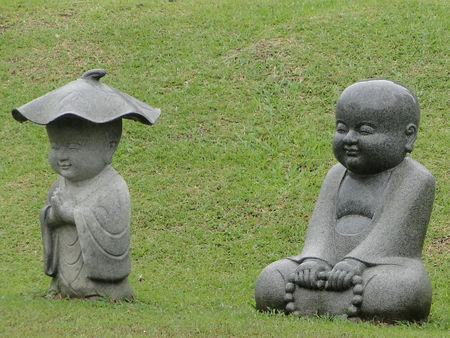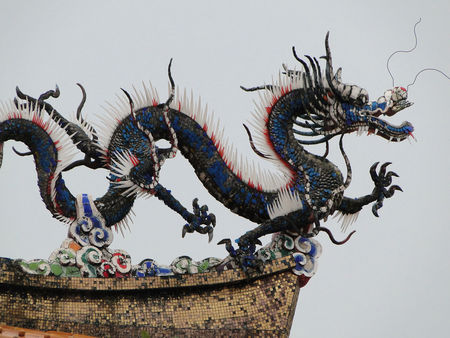 ---
Our next stop was 
Central Sikh Temple
.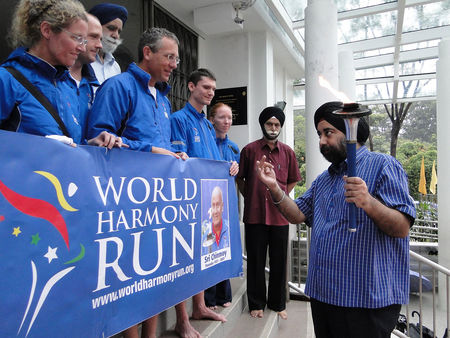 Mr Pritpal Singh shares the importance of this event.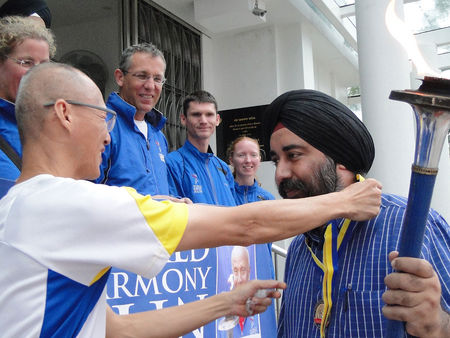 I congratulated Mr Singh for all his selfelss service to the community and his goodwill for our event.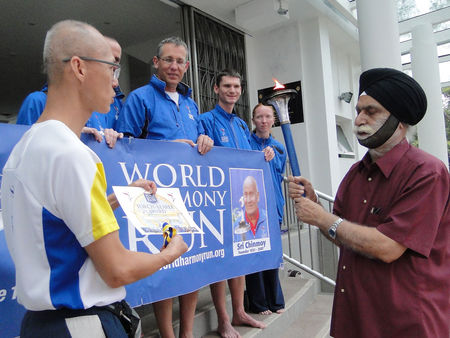 Temple Manager, Mr Gurmukh Singh accepted the Torch Bearer Award on behalf of the Central Sikh Temple.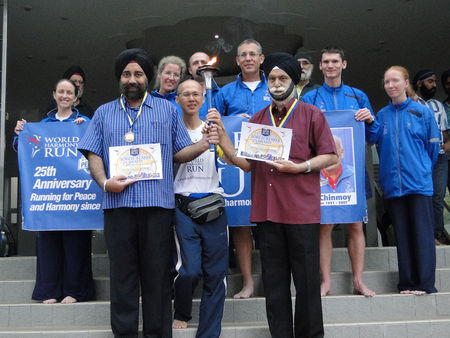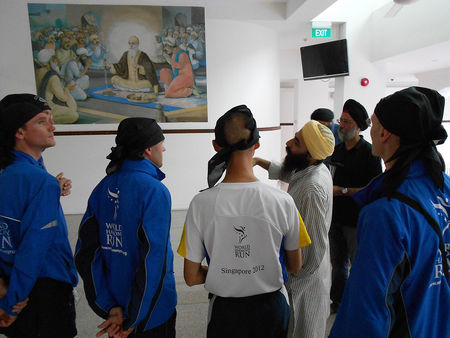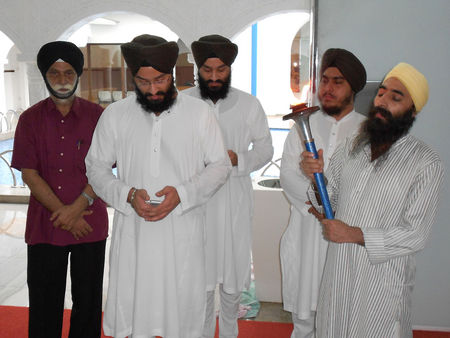 Prayer for harmony by Mr Vissar Gayee Siingh Sabh Daat Praee, Mr Jab Tay Sadh Sangat Maen Payee.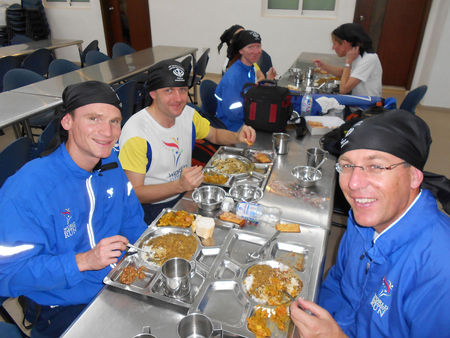 We all enjoyed a delicious meal offered to us by the temple that concluded our visit. Thank you to the community of Central Sikh Temple.
We like to thank the following memberd of the Sikh Temple for inviting us to the sacred temple to share share our hope for peace: Dr Manjit Singh, Mr Bhupinder Singh, Mr Manmohan Singh, Priest Ratanjeet Singh, Priest Ratandeep Singh, Priest Harpreet Singh and Priest Patwant Singh. Until we meet again, God bless.  
---
Distance: 1 km
Team Members:
Salil Wilson (Australia), Abhisar Laza (Czech Republic), Mila (Czech Republic), Mahiya Lindt (Germany), Bharu (Germany), Padyatra (Slovakia), Jaghadata Amhrien (USA), Hridayinee (New Zealand), Urdhacheta Yap (Singapore)
Gallery: See more images!