Slovakia
Pripojte sa k Behu Harmónie!
World Harmony Run (Svetový beh harmónie) je najdlhší štafetový beh s horiacou pochodňou, ktorého cieľom je rozvíjať medzinárodné priateľstvo a prekonávať kultúrne, národnostné a náboženské hranice medzi ľuďmi. Bežať s pochodňou, alebo ju na chvíľku podržaťmôže každý a vyjadriťtak svoje prianie pre harmóniu a mier vo svete, medzi ľuďmi a v každom z nás. Pridá sa tak k miliónom ľudí na celom svete a mnohým významným osobnostiam.
V roku 2013 slávi Svetový beh harmónie 26-te výročie založenia. Keďže sa tohto roku bežia len národné behy, spojili sme svoje sily s českými a poľskými kolegami, takže slovenská časť spája práve týchto našich susedov. V Európe sa beží po trasách v celkovej dĺžke viac ako 24 000 km. Medzinárodný tím a slovenskí bežci nesú pochodeň z českej hranice cez Slovensko až na poľskú hranicu v dňoch 28.5. - 3.6.. Môžete se tiež pripojiť po dohode s koordinátormi kdekoľvek na trase a sami niesťhoriacu pochodeň harmónie.  Je určená pre běžcov všetkých kategórií - beží sa s pravideľnými prestávkami a tempo býva určované najpomalším bežcom.
Pozrite sa na reportáže z minulých ročníkov v sekcii Live from the road. 
World Harmony Run je i tento rok partnerom programu UNESCO. Pozrite sa na video a povzbudzujúce posolstvo prezidenta generálnej konferencie UNESCO - Davidsona Hepburna, adresované všetkým účastníkom World Harmony Run.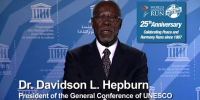 posolstvo prezidenta UNESCO
 (video 2012 v angličtine s českými titulkami)  
posolstvo prezidenta UNESCO (textová verzia 2010 v českom jazyku)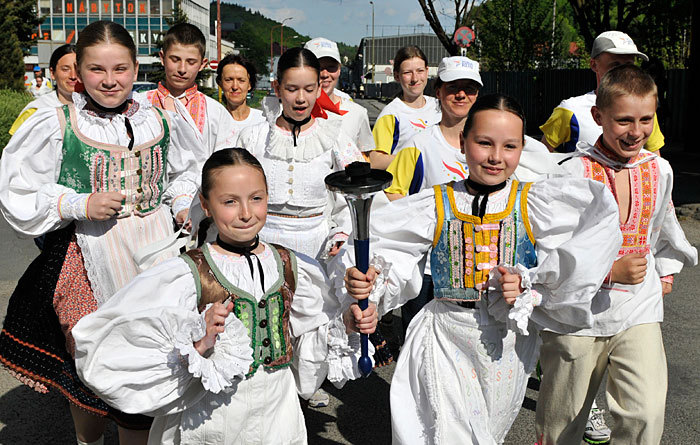 Follow the runners on their journey through Europe! 
Interaktívna mapa európskej časti behu 2012: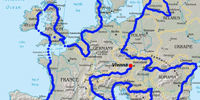 the update interactive route 2012 for Europe: which country is next?
*   *   *   *   *   *   *   *   *   *   *   *   *   *   *   *   *   *   *   *   *   *
Slovenská časť WHR sa pobeží 28.5. až 4.6. 2013
je nesúťažný štafetový beh, ktorý má za cieľ podporovať medzinárodné priateľstvo a porozumenie. Bežci nesú horiacu pochodeň ako symbol harmónie a tú potom symbolicky odovzdávajú ľuďom, ktorých na svojej trase stretávajú. Beh prekračuje hranice nielen zemepisné, ale aj kultúrne, politické i náboženské a napomáha tak vzájomnému porozumeniu. čitajte viac...

Sri Chinmoy, zakladateľ World Harnomy Run-u, je atlét, filozof a humanista , ktorý verí, že šport je mocným nástrojom na šírenie svetovej harmónie.

Prečítajte si posolstvo od 9-násobného zlatého olympijského medailistu a hovorcu World Harmony Run-u, Carl-a Lewis-a.

Známe osobnosti, ktoré ponúkli svoju podporu World Harmony Run-u

Každý sa môže zúčastniť World Harmony Run-u: športovci i nešportovci, mladí i starí. I vy môžete byť súčasťou tohto celosvetového podujatia.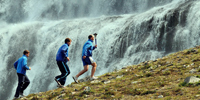 inspiring videos from around the globe...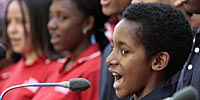 Listen and learn the World Harmony Run theme song.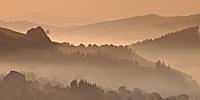 Read the daily reports...