Slovenia 26 May: Snovik - Maribor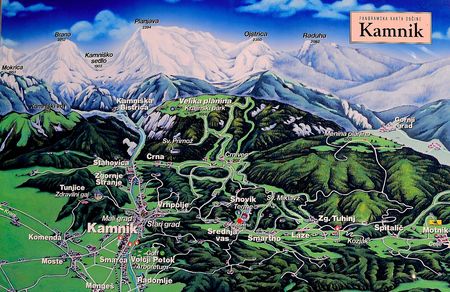 After a relaxing night in the Terme Snovik we continued on our way through Slovenia.
Po prijetni noči v Termah Snovik smo nadaljevali pot po Sloveniji.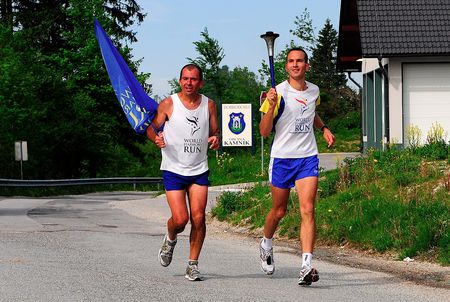 Namitabha and Apaguha sacrificed a delicious breakfast to enjoy a morning uphill run...
Namitabha in Apaguha sta žrtvovala izredno okusen zajtrk, da bi uživala v jutranjem teku v hrib...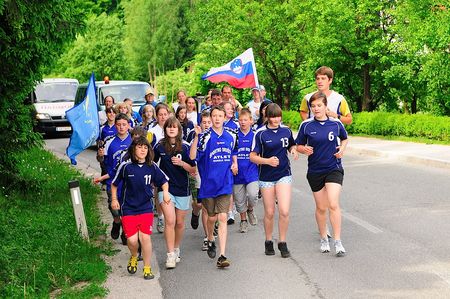 Soon after, children from Frana Kocbeka Gornji Grad Primary School joined us.
Kmalu za tem so se nam pridružili otroci z Osnovne šole Frana Kocbeka Gornji grad.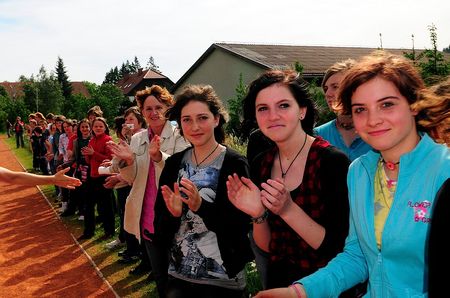 Others greeted us at the school grounds.
Ostali so nas pričalkali pri šoli.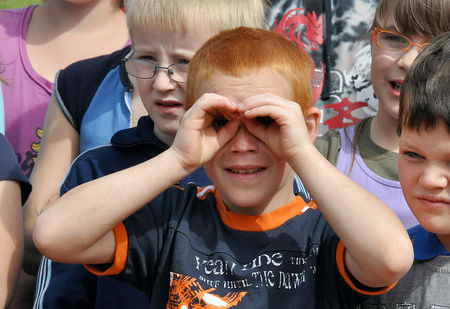 Runners are coming, I can see them!
Tekači prihajajo, jih že vidim!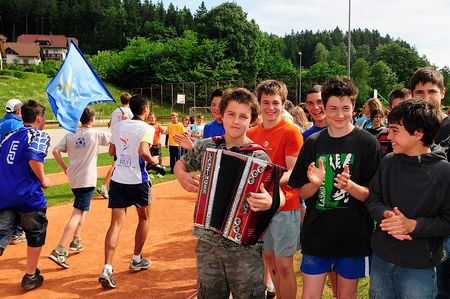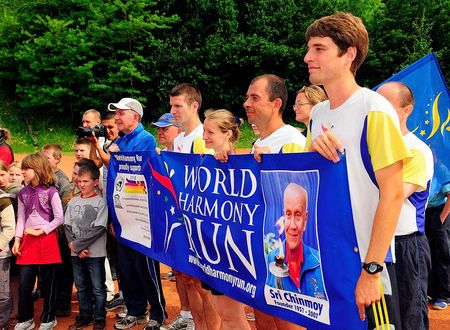 We shared the message of the Run with all the children...
Sporočilo teka delimo z vsemi otroci, ki jih srečamo...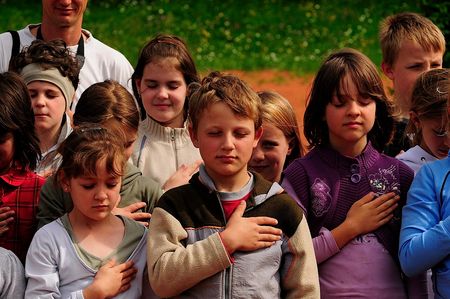 Can you feel something in your heart?
Ali kaj čutite?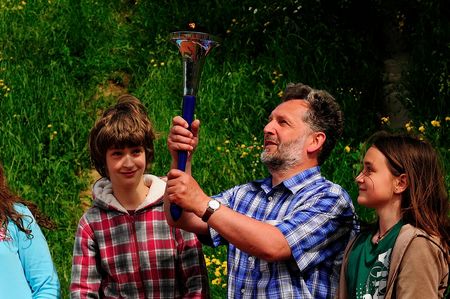 Let's pass the torch!
Podajmo si plamenico!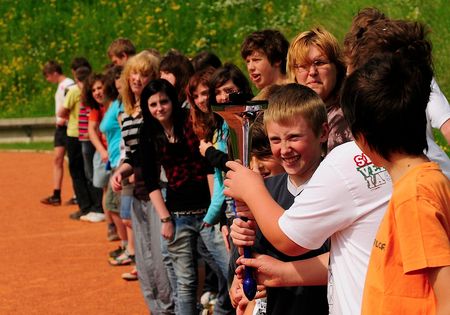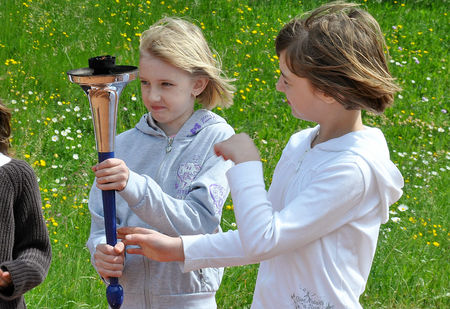 Is it hot?
A je vroča?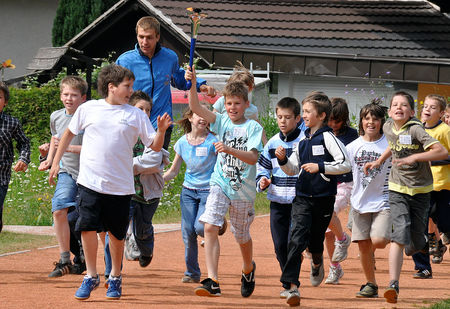 At the end we all ran together...
Za konec pa še skupen tek po igrišču..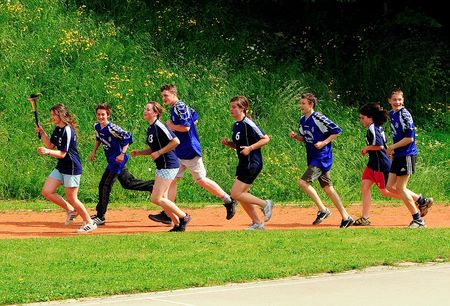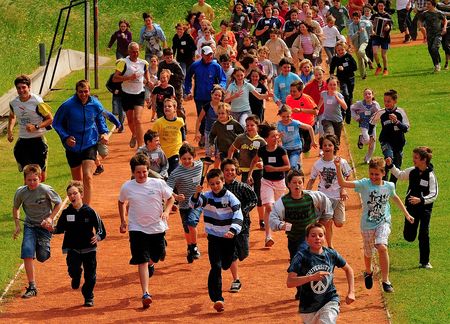 We know it's not a competitive run, but we still do not want to be last.
Vemo, da to ni tekmovalen tek, a vseeno ne želimo biti čisto na koncu skupine.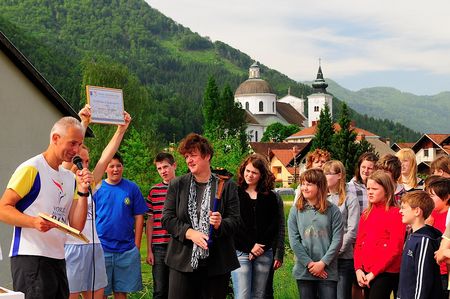 A Certificate of Appreciation for the school. It will remind them that they too can do something for the betterment of the world.
Še priznanje za šolo, ki jih bo spominjalo, da lahko tudi sami prispevajo k bolj ubranem svetu.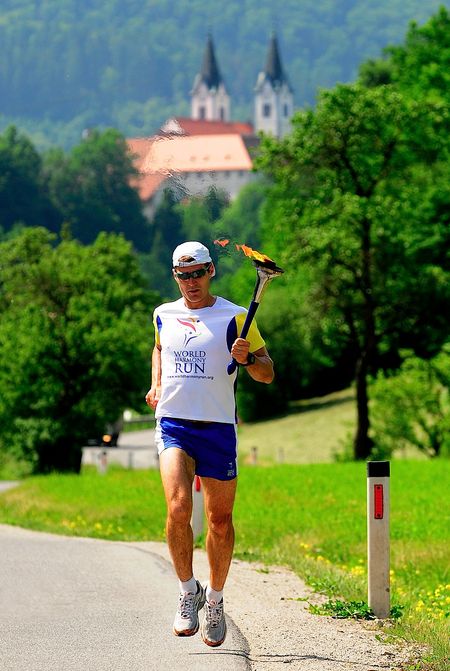 Running through such idyllic towns makes you fly.
Tek po tako idiličnih krajih ti da polet.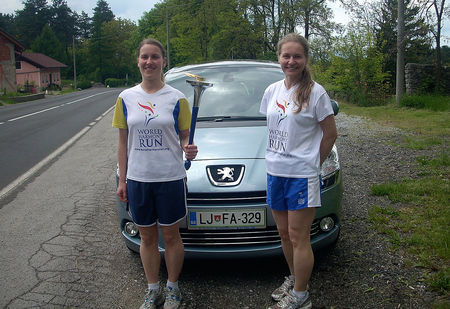 Ready to run.
Pripravljeni na tek.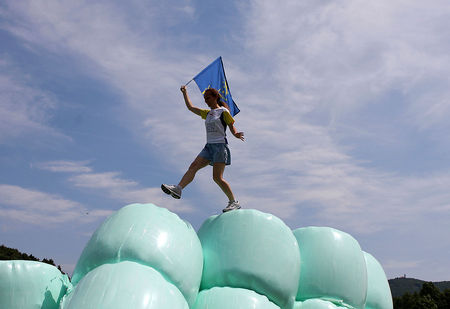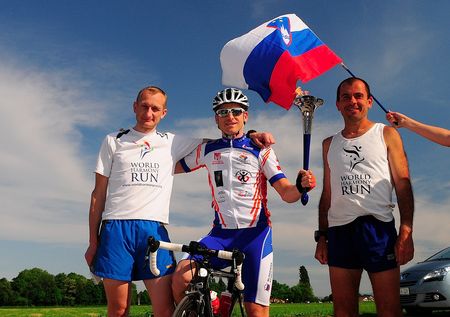 Cyclists also joined us.
Pridružili so se nam tudi kolesarji.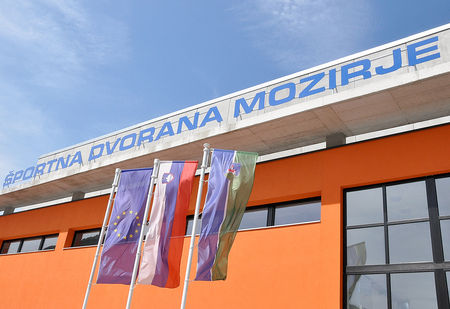 We visited Mozirje Primary School.
Obiskali smo Osnovno šolo Mozirje.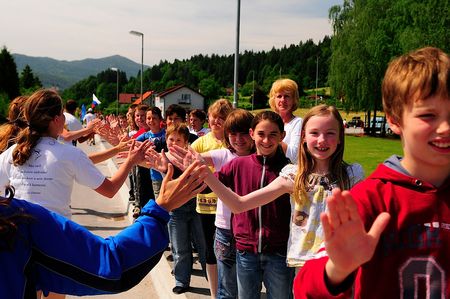 Kids waited for us on the road...
Otroci so nas pričakali že na poti pred šolo.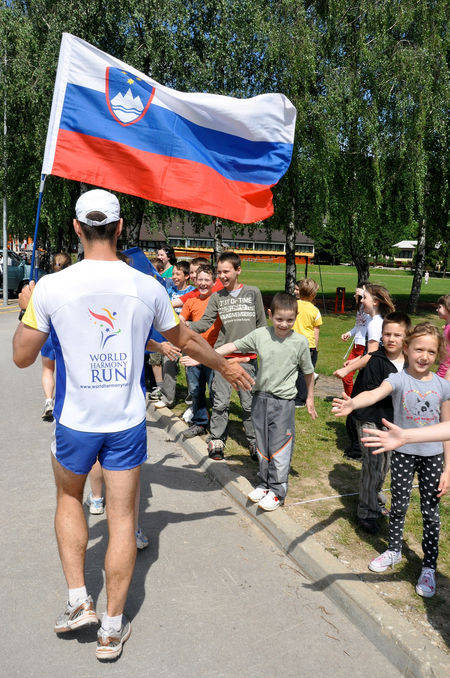 Wonder in children's eyes.
Začudenje v otroških očeh.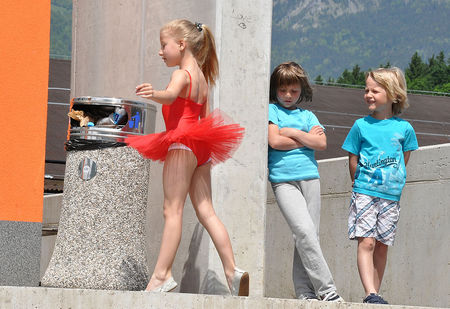 "Music box" dancer.
Deklica iz glasbene skrinjice.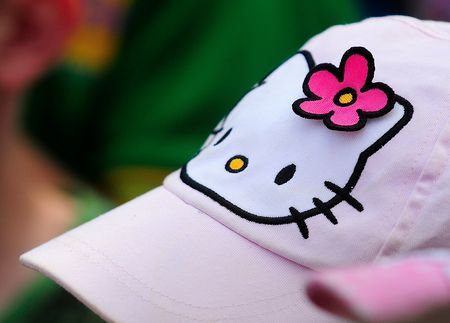 Hallo Kitty.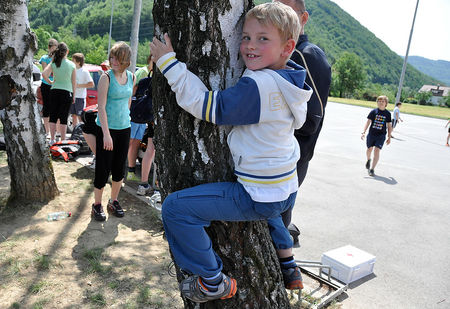 I love trees...
Rad imam dravesa...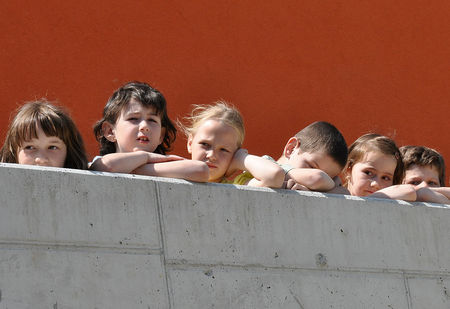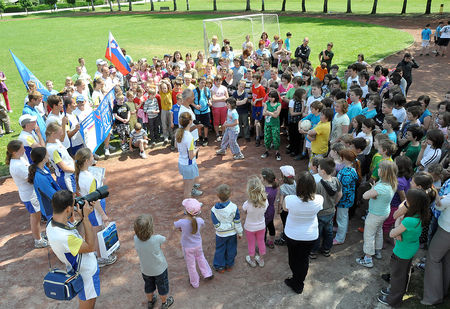 The kids all listened attentively...
Vsi so pazljivo poslušli...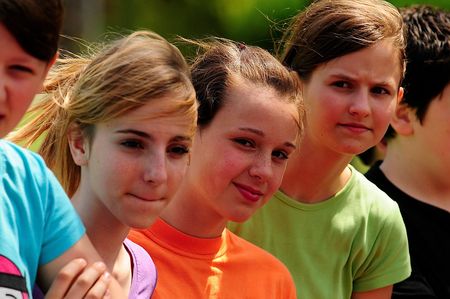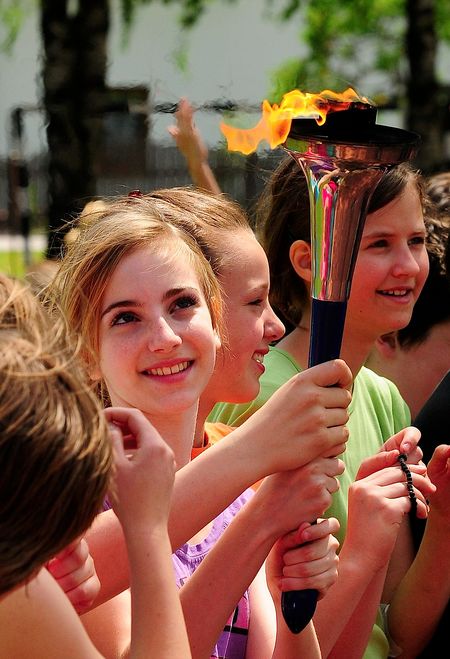 Nice girls.
Prikupna dekleta.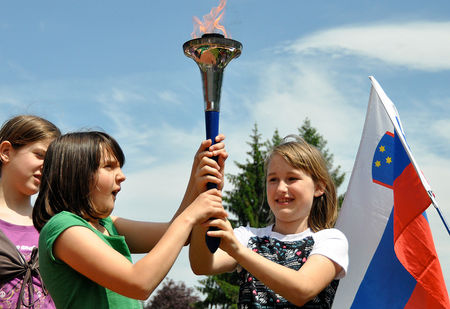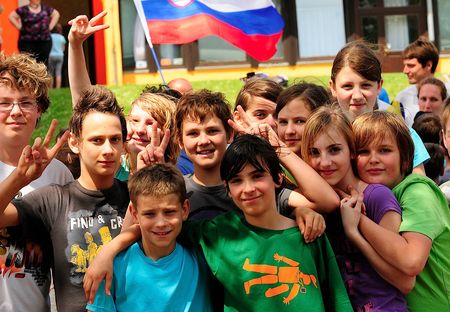 A big group of friends.
Velika skupina prijateljev.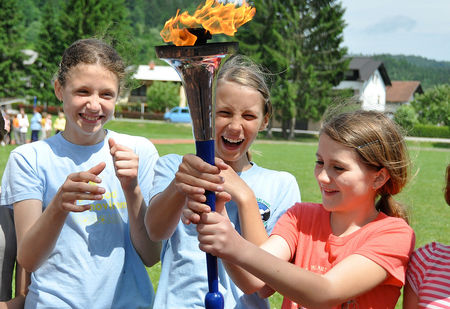 We had so much fun!
Zelo smo se zabavali!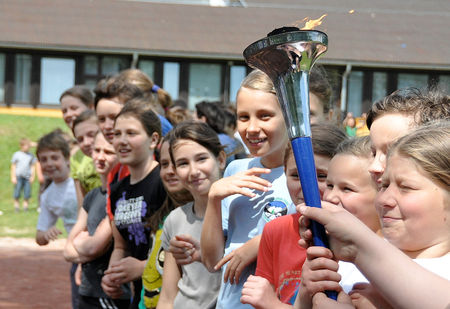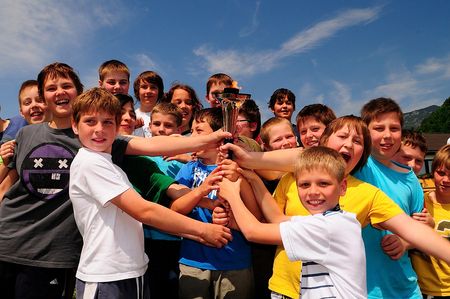 Hey, join us in holding the torch!
Hej, pridruži se nam pri držanju plamenice!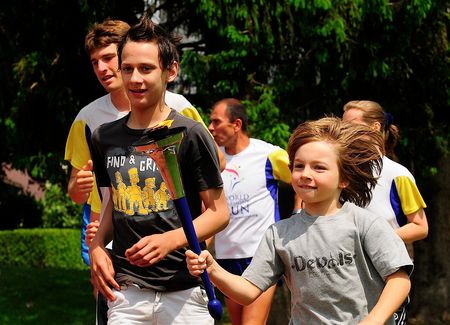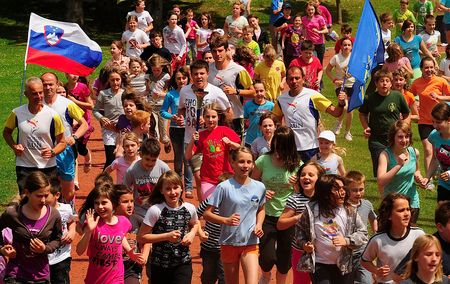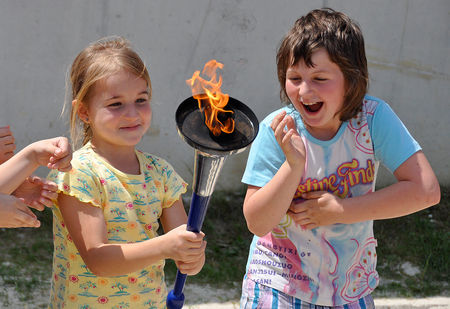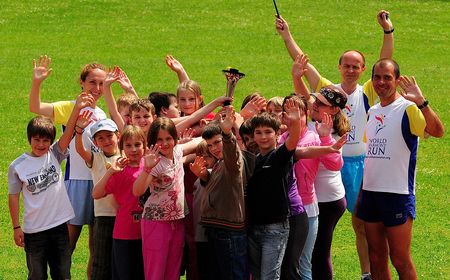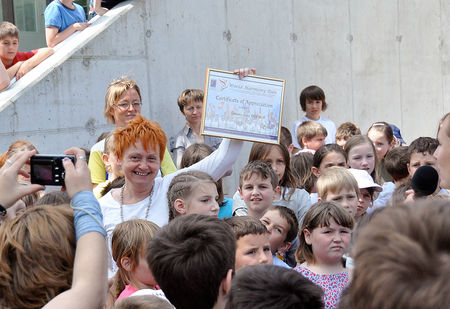 We also gave a certificate to Mozirje school.
Tudi šoli Mozirje smo podarili diplomo.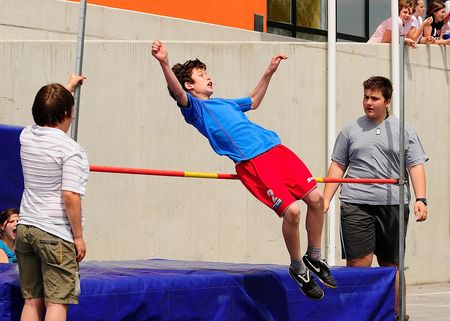 The children had a sports competittion once we arrived. Who is the best high jumper?
Učenci so imeli dopoldan športno tekmovanje. Kdo je najboljši v skoku v višino?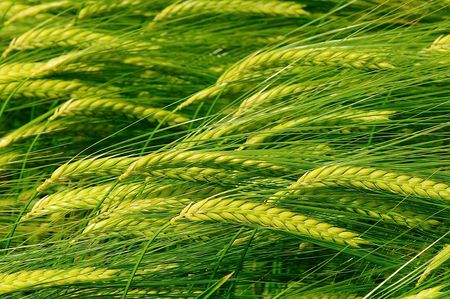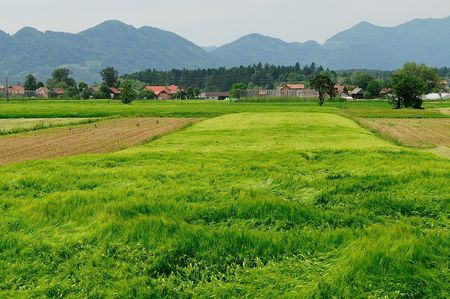 Fields of wheat waved in the wind as if greeting us.
Pšenična polja so valovila v vetru, kot da bi nas pozdravljala.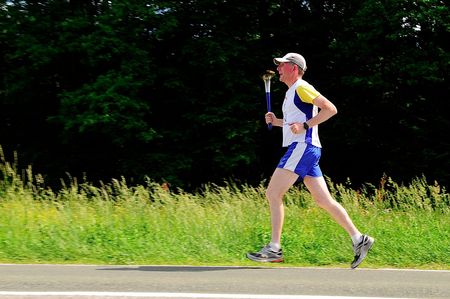 Balavan in full flight.
Balavan v letu.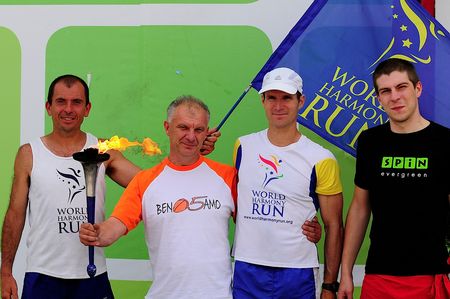 The owner of the newly opened bar Evergreen Spin was ao happy to see us, that he invited us for free drinks.
Lastnik novoodprtega lokala Evergreen spin je bil tako vesel, da nas vidi, da nas je povabil na brezplačno pijačo.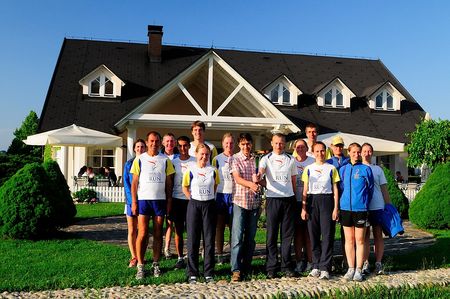 Today we ended our run in Maribor. The owner of Villa Rustica invited our whole team for a delicious dinner. Thank you! Without supporters like you, this run would not be possible.
Tek smo za danes zaključili v Mariboru. Lastnik lokala Villa Rustica je naš celoten tim povabil na okusno večerjo. Hvala vam! Brez podpornikov, kot ste vi, ta tek ne bi bil mogoč.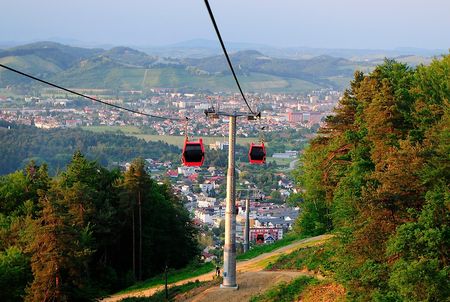 After dinner we took a gondola to the top of Pohorje, to spend a beautiful night above Maribor.
Na koncu smo se z vzpenjačo odpeljali na vrh Pohorja, da bi preživeli prijetno noč nad Mariborom.
---
Distance: 119 km
Team Members:
Dipavajan Renner (Austria), Luis Angel (Guatemala), Roos de Waart (Netherlands), Zoltan Theobald (Hungary), Zach Saltzman (USA), Apaguha Vesely (Czech Republic), Sarah Newton (Canada), Kastura Panenkova (Russian Federation), Balavan Thomas (UK), Namitabha Arsic (Serbia), Swetlana Gorshkova (Russian Federation), Anusobhini Rabensova (Czech Republic), Chanakhya Jakovic (UK), Janusz Wiewior (Poland)
Harmonemail:
You can send a message to the runners or read the messages.
Gallery: See more images!