Ethiopia 20 November: Addis Ababa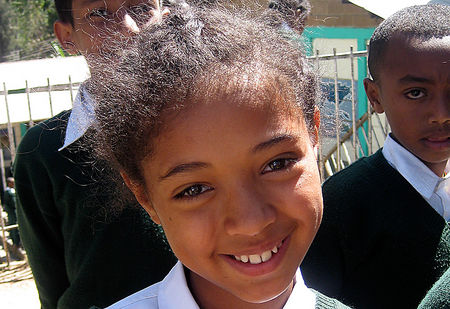 The World Harmony Run has returned to Ethiopia.  Above, you can easily see why.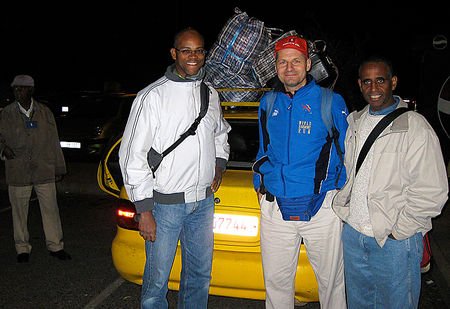 Arrival at the airport.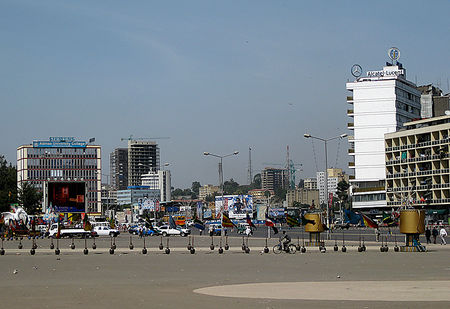 Central Addis Ababa: Meskel Square.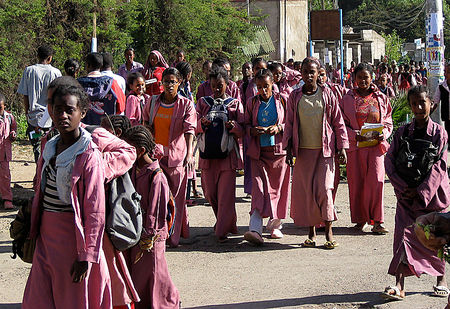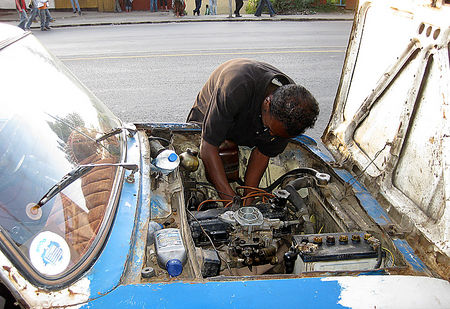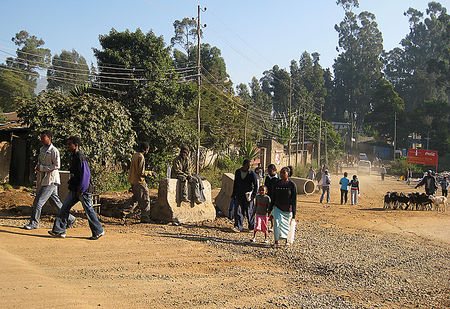 Some everyday sights.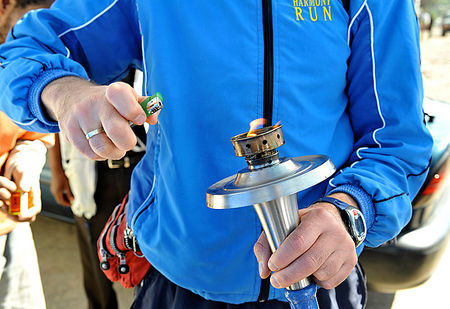 Lighting the Ethiopian torch!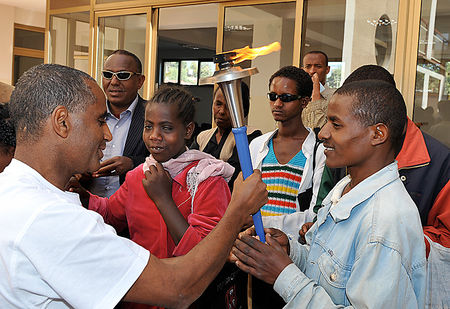 For our first ceremony, after a morning of schedule changes and improvisation, we visited the Emisirach Centre. Emisirach, operated by a Swiss Evangelical service group, serves the blind, deaf and disabled of Addis Ababa.
We were drawn there by a former student of one of our team members back in the US. The teachers and students happily embraced the opportunity to join the millions around the world who are enouraging the strength of our world family.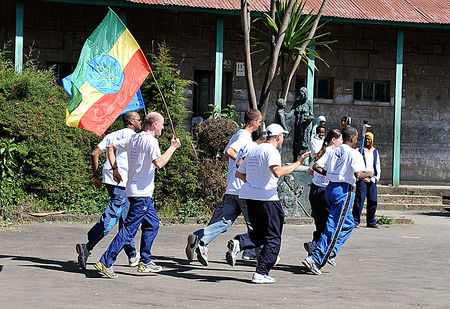 Our next stop was at the Menelik II Secondary School.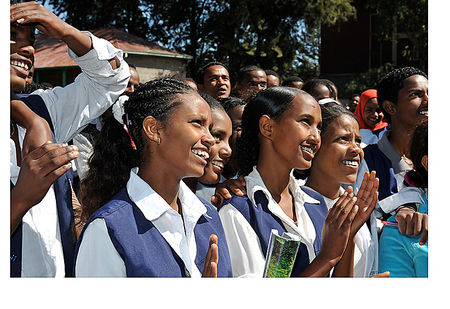 The students at Menelik II can boast that they attend the very first school in Addis Ababa, and in all of Ethiopia.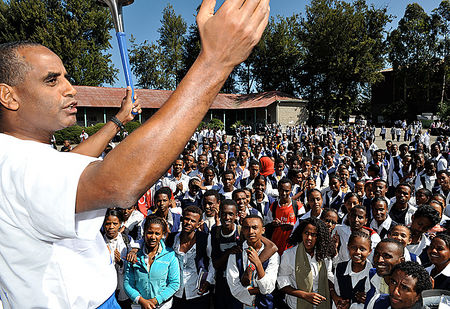 Our team was scheduled to present early in the morning, to a small, select group of students. The principal, feeling the significance of the event, asked us to return later so the entire student body, 700 students in all, could take part.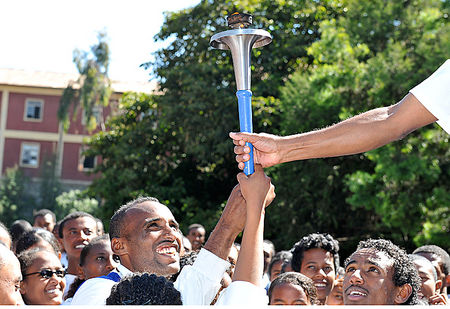 Students at Menelik II Secondary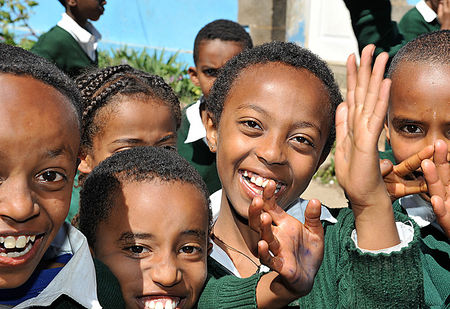 Next we visited the Kebena Adventist Primary School, which we have visited in the past and know to be a nurturing place for Ethiopia's future leaders.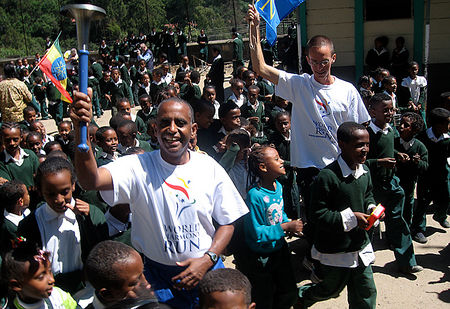 The Kebena Adventist School students did not fail to bring forward their enthusiasm.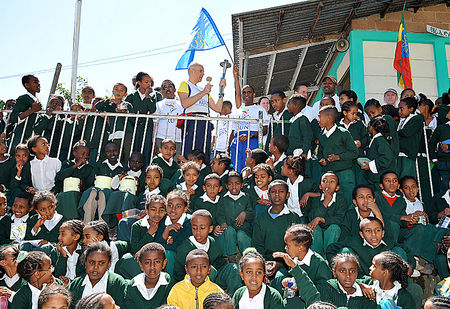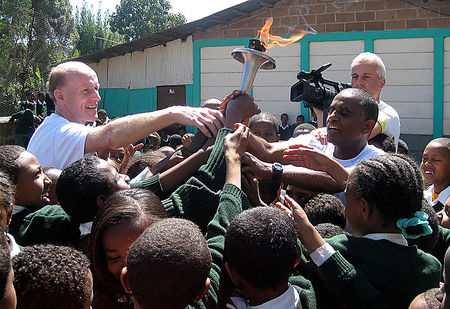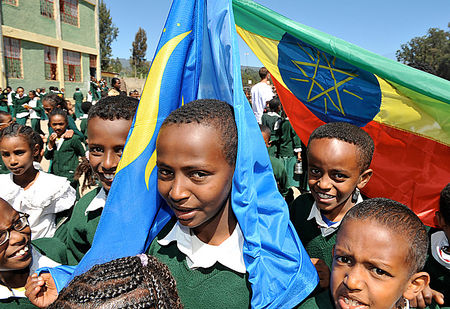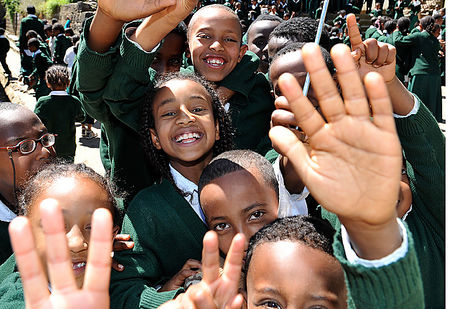 The children at this school display no shyness at all. They are all eagerness and joy.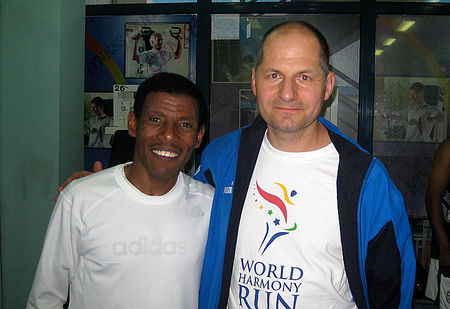 Who is this, next to Hutashan? You got it: Ethiopia's most famous athlete, Haile Gebrselassie!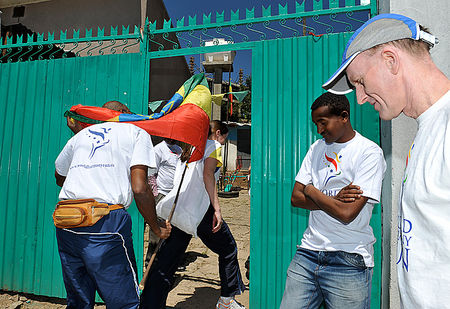 We completed our morning at yet another school in Addis Ababa, the Hormses School. It is a tiny school which has a huge heart.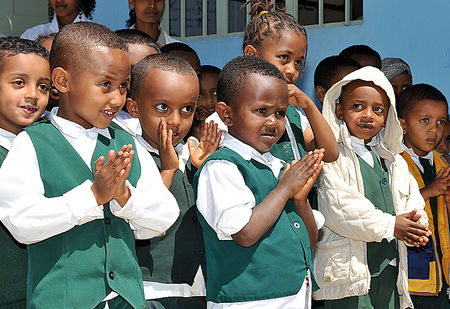 The director led the kids in some very nice songs, with obvious love and concern for the kids.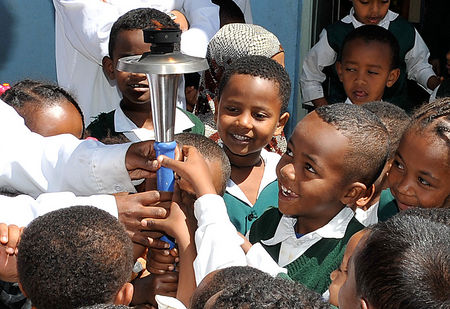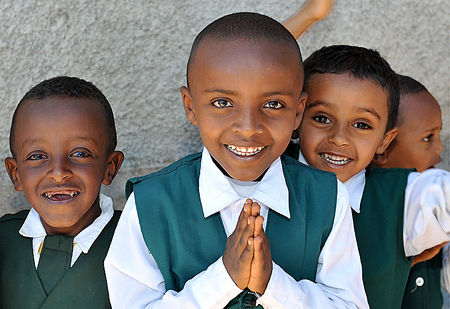 Clearly, these kids are bright.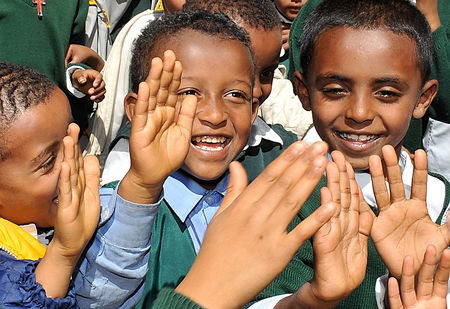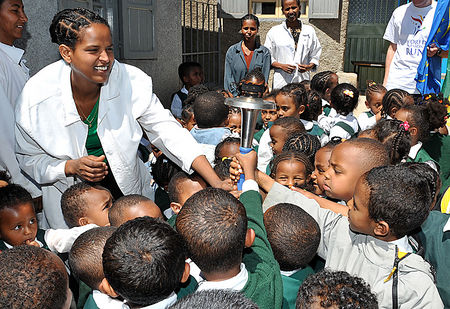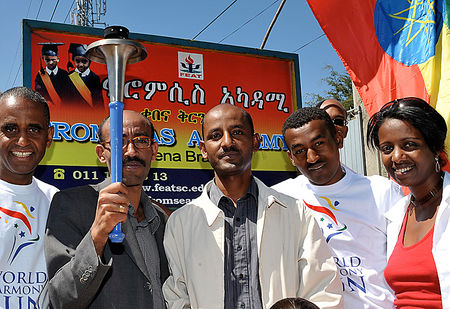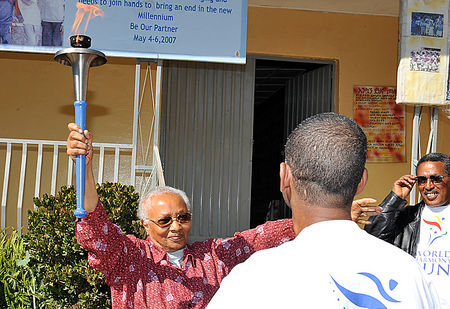 Abebech Gobena, Mother to Africa.
One of the most lovely aspects of the World Harmony Run is that we get to meet with amazing people who have served the world in powerful ways. Today we met Abebech Gobena. She has devoted her life to serving orphans, young mothers, and the destitute and sick. Starting with just two abandoned babies, Abebech and her foundation, Agoheld, have now served over 1,500 children.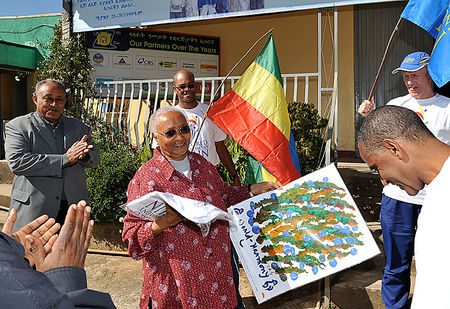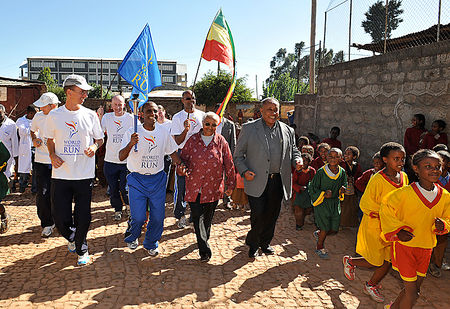 150 kids live at the centre, where they are treated with the utmost love and concern.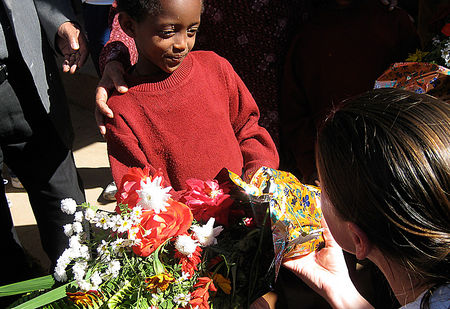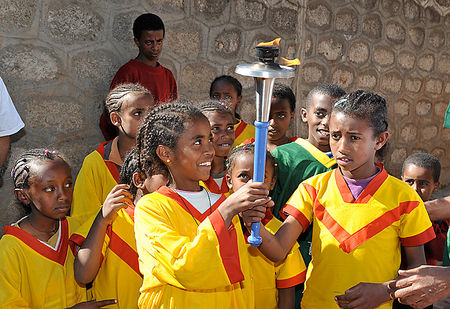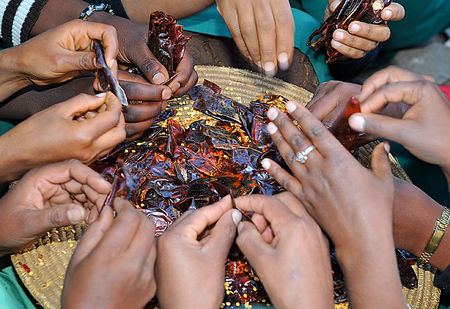 One of the projects they run at Agoheld is job training for young women. They have a small garden, produce herbs and spices to sell to hotels, and learn skills useful in catering and the service industry.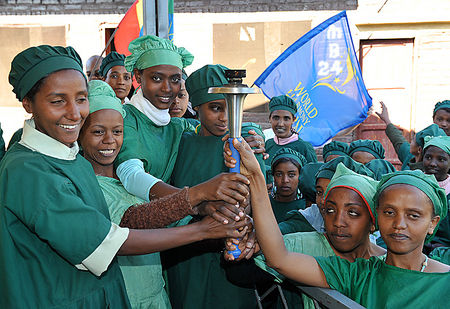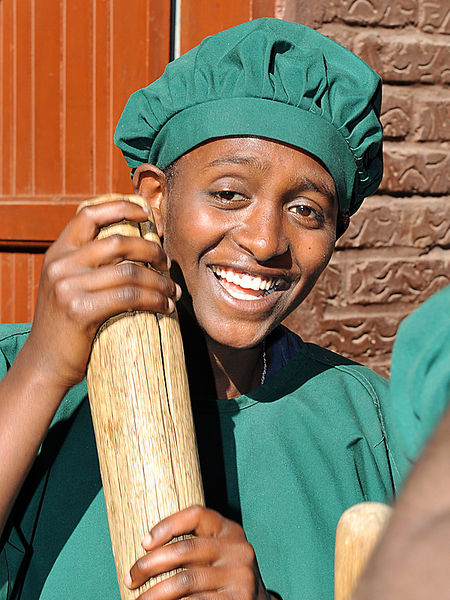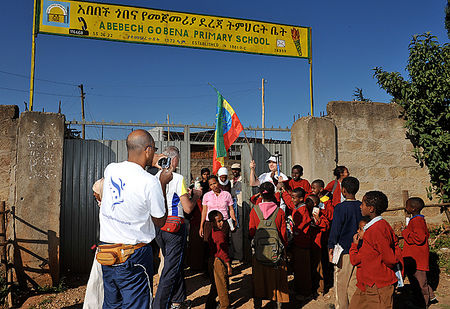 All of the children at Abebech's foundation receive an education, and many have gone on to receive advanced degrees in law, medicine and business.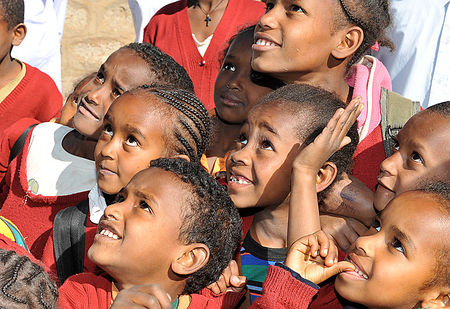 This is precisely the kind of aspiration-garden we dream of connecting with when we travel with the World Harmony Run. Hopefully we can inspire them to continue persevering and to dream bright dreams while they inspire us with their determination and resilience.
---
Team Members:
Aklilu Gebreworld (Ethiopia), Dipavajan Renner (Austria), Susameepan Kalbitzer (Germany), Jeromy Cheatham (US), Namana Nahorst (Netherlands), Pratishruti Nahorst (Curacao, NL-Antilles), Tarit Stott (Scotland), Hutashan Heer (Switzerland)
Gallery: See more images!