Slovakia 11 May: Podbrezova - Zvolen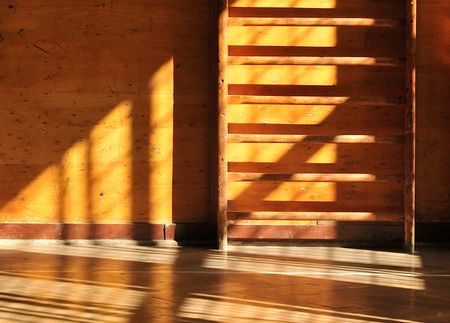 Náš prvý ranný míting sme mali v školskej telocvični v Podbrezovej.
We had our first meeting this morning, in a school gym in Podbrezova.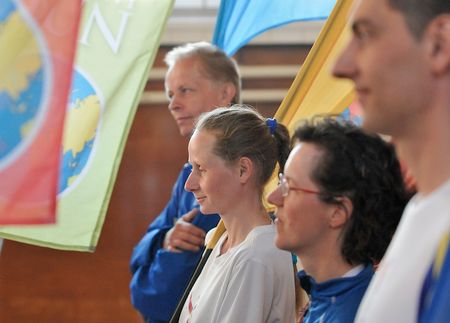 Niektorí bežci ešte stále spali...
Some runners were still a little sleepy...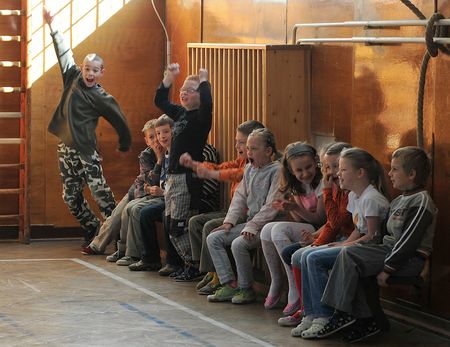 ...ale deti ospalé určite neboli!
...but the children were wide awake!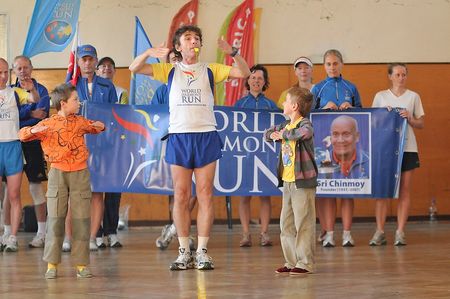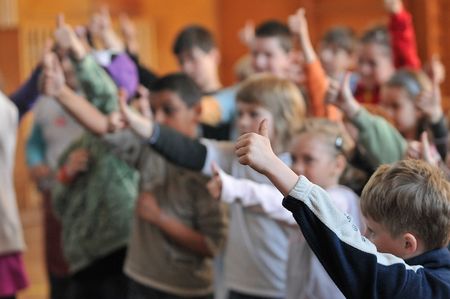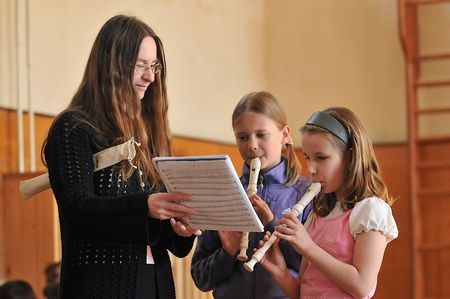 Krásny súlad zobcových fláut...
Resonating recorder renditions...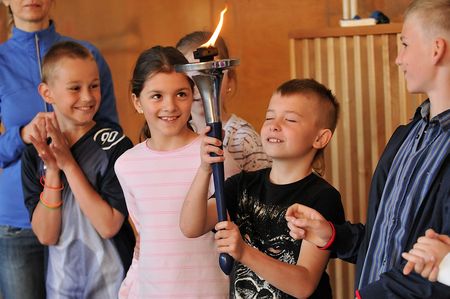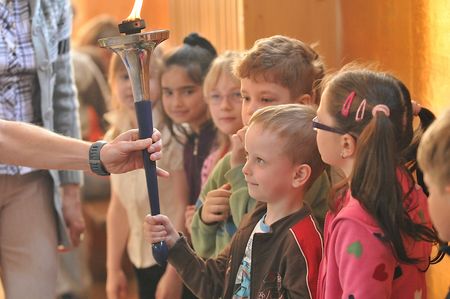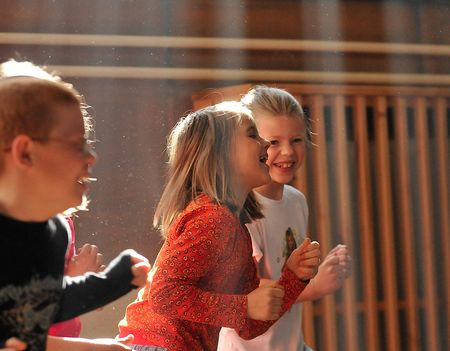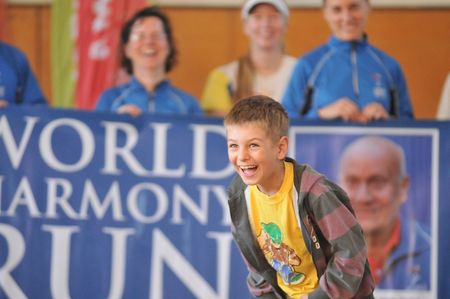 Deti si úžasne užívali program, ktorý sme si pre nich pripravili
This kid was a real classic character, as he partook in a skit.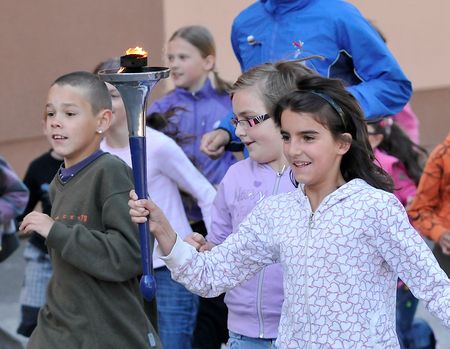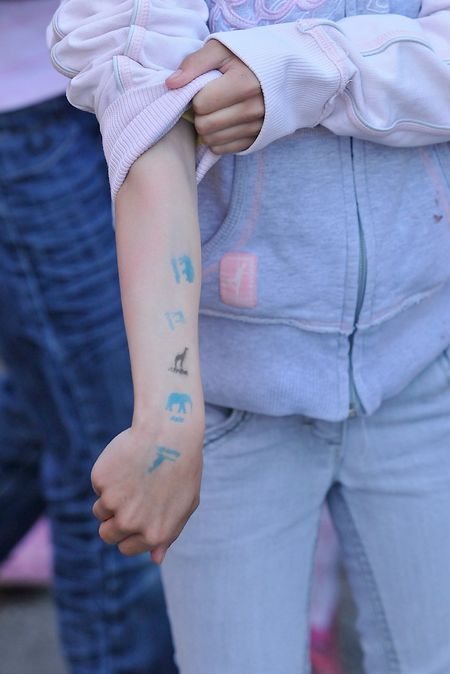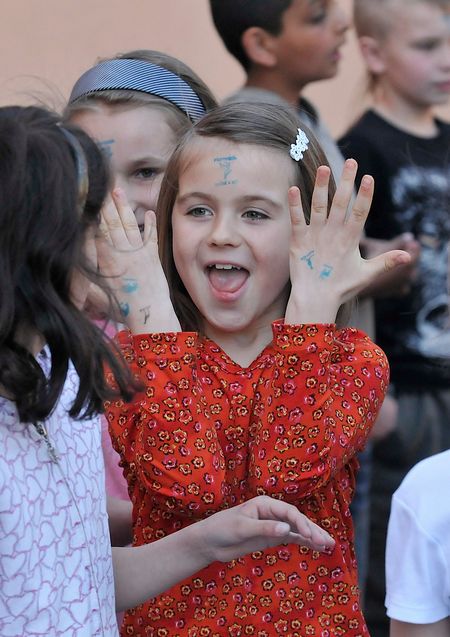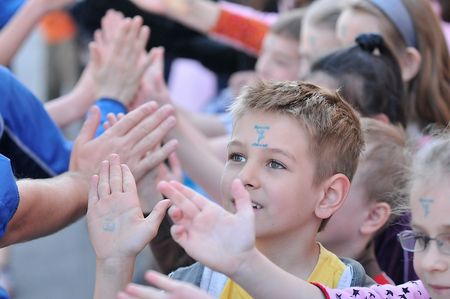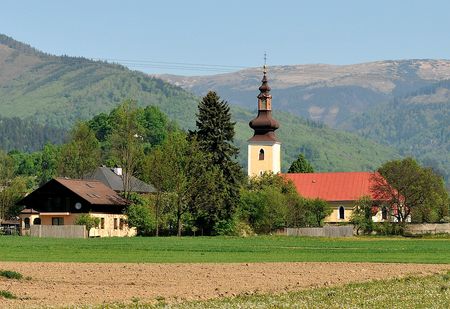 Dokonale situovaný kostol v prekrásnom kraji.
Lovely village church.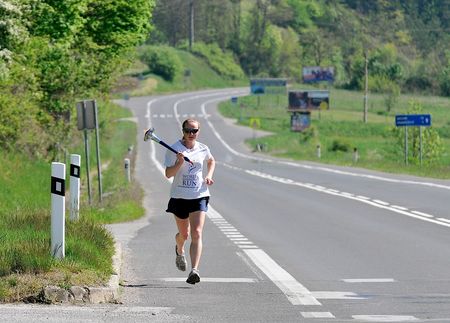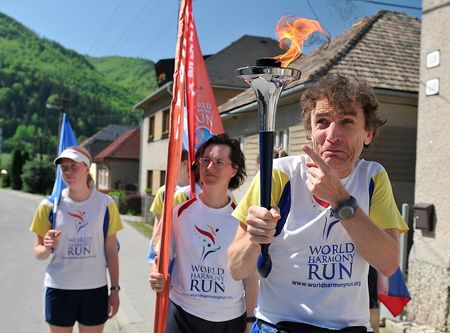 Kam nás vlastne Vlado vedie?
Where is Vlado leading us?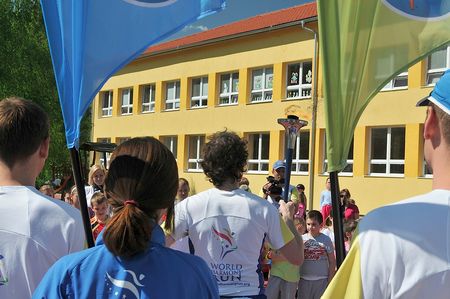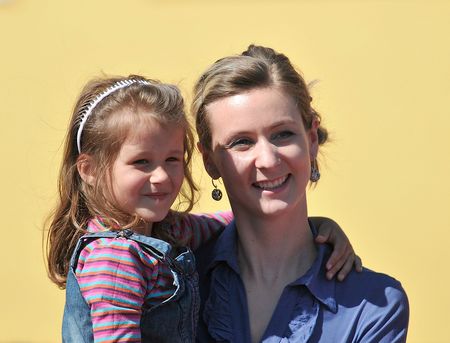 Deti a ich učitelia zo základnej školy v Brusne boli veľm milí a priateľskí.
The teachers and children at the Brusno primary school were caring and loving.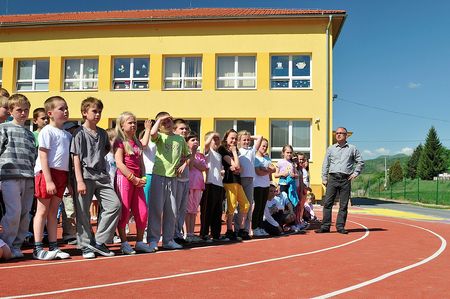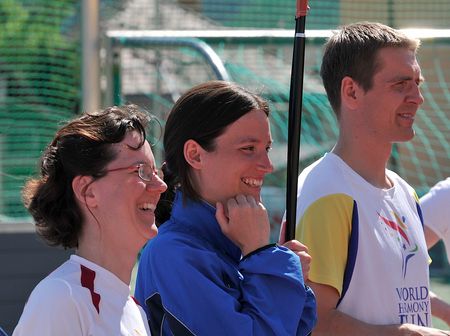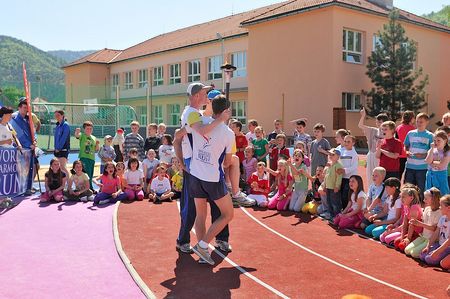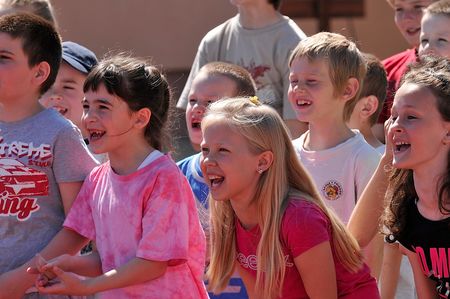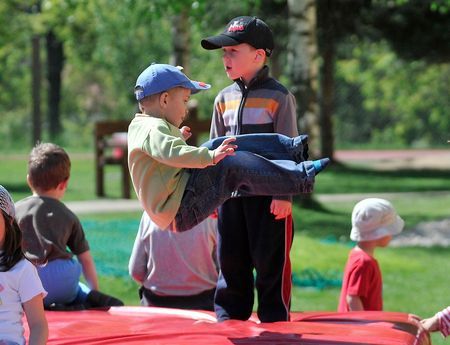 Športové vybavenie na tejto škole je na výnimočnej úrovni.
This school's facilities are exceptional.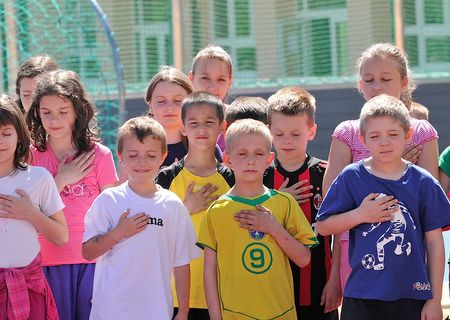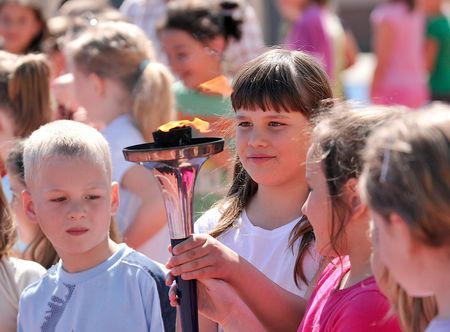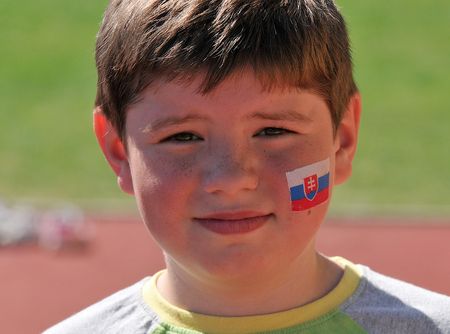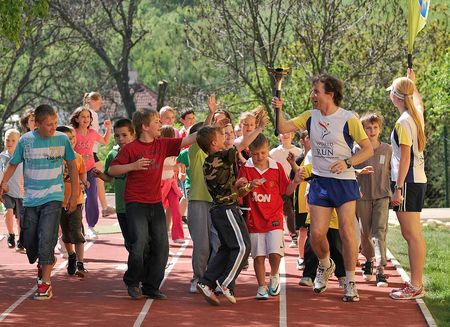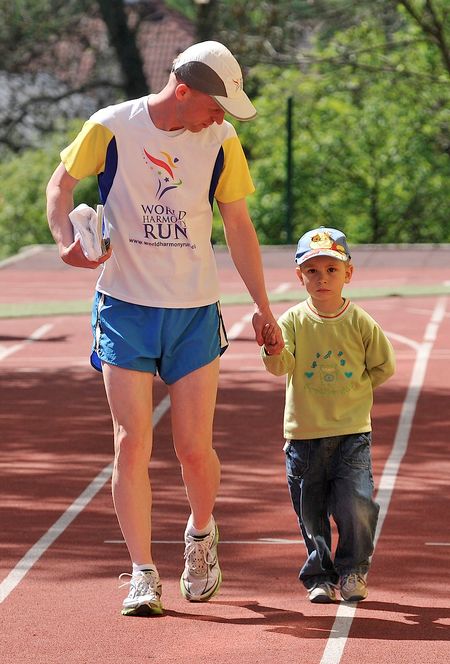 Ananda-Lahari a jeho nový malý kamarát sa snažia držať krok s ostatnými.
Ananda-Lahari and his new little friend keeping up with the crowd.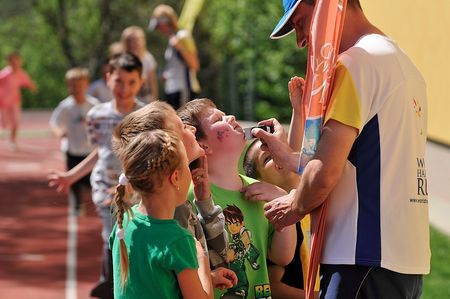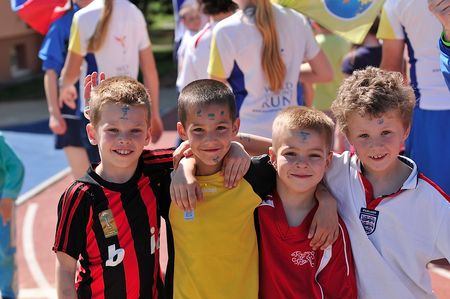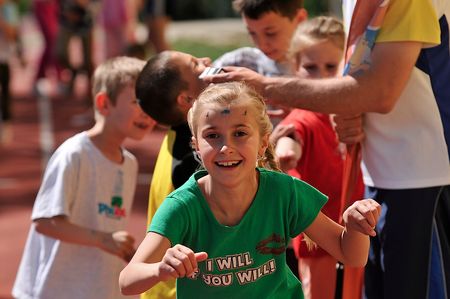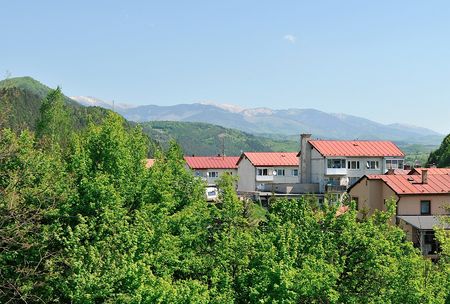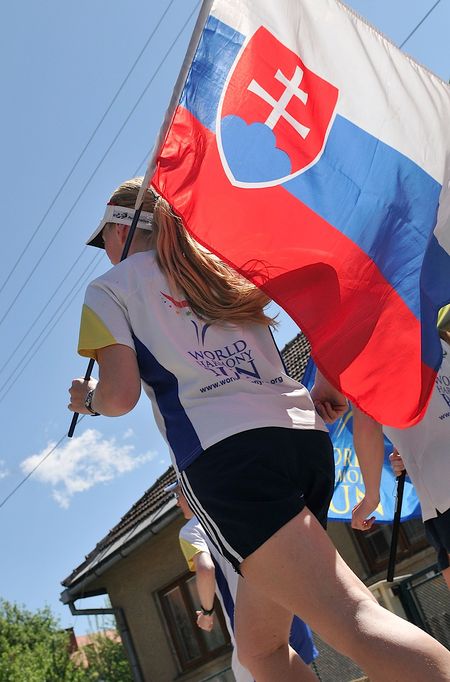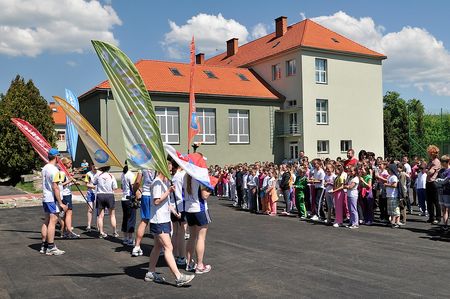 Príprava na program v základnej škole v Slovenskej Ľupči.
Lining up in Slovenska Lupca primary school.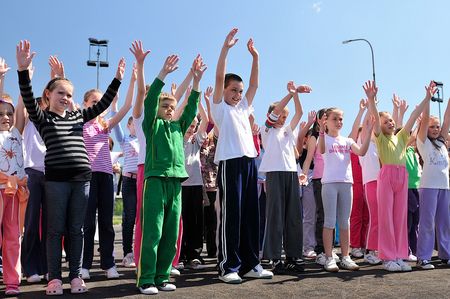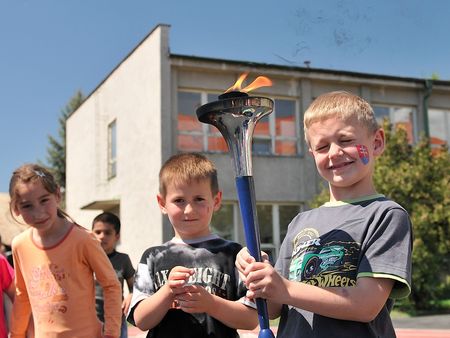 Slnečný jarný deň a žiarivý plameň pochodne.
Sunny spring day and bright flaming torch.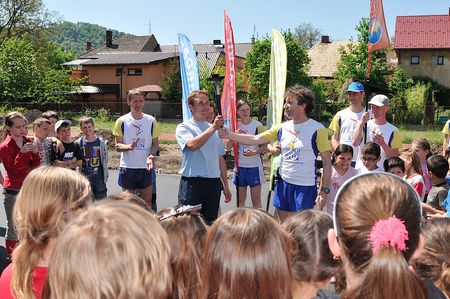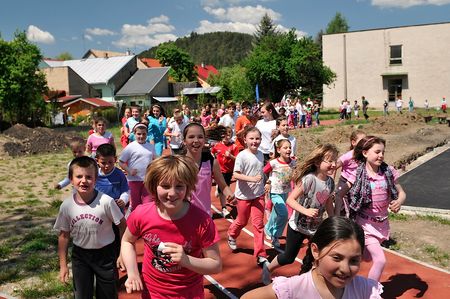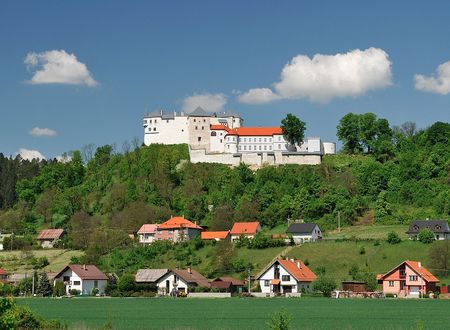 Na našej ceste sme navštívili aj hrad v SlovenskejˇĽupči, ktorý bol vybudovaný v 13.storočí. Tento hrad v minulosti slúžil okrem iného aj ako detský domov a príbytok pre mníšky.
We took a tour at the Slovenska Lupca Castle. Built in 13th century, it served as a royal residence and in later years as an orphanage and nunnery.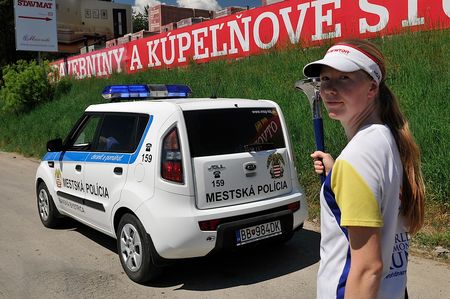 Ujjwala bežala príliš rýchlo a tak dostala pokutu od mestskej polície!
Ujjwala being led off by the Police!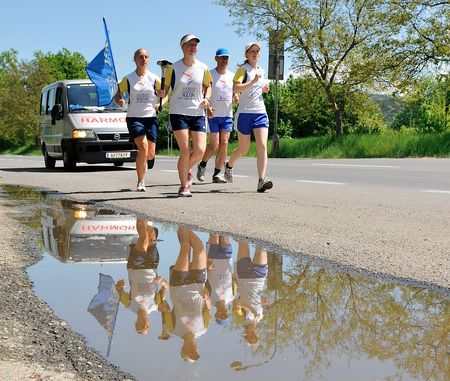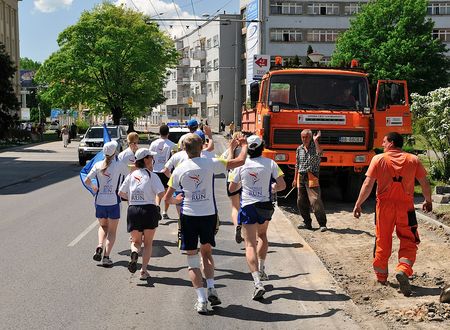 Prebeh cez múzeum SNP v Banskej Bystrici.
Bridging the broken heart - a symbolic war memorial.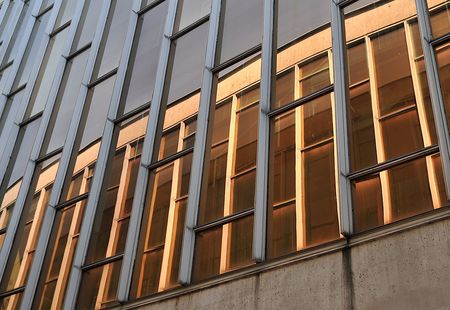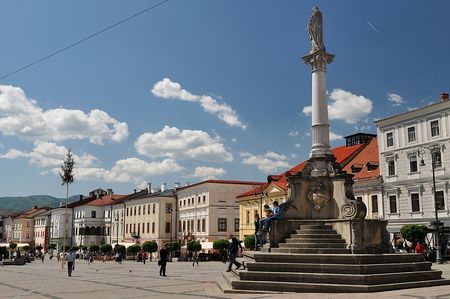 Banská Bystrica je 756 rokov stará a jej historická architektúra vytvára výnimočnú atmosféru. Je situovaná pozdĺž trblietavej rieky Hron.
Banská Bystrica City is 756 years old and its historical architecture creates a special atmosphere. It is situated along the shinning river Hron.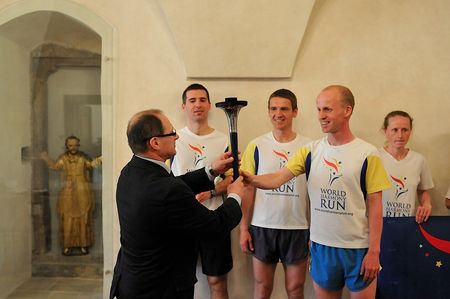 Boli sme privítaní v honosne a novo zrekonštruovanej 400 rokov starej radnici. We were welcomed in the oppulent, newly reconstructed 400 year old City Hall.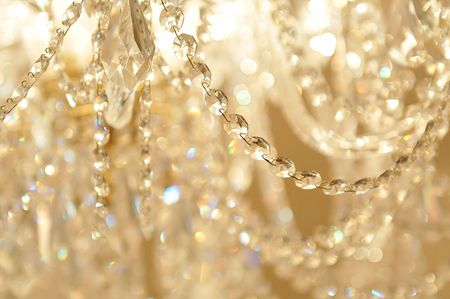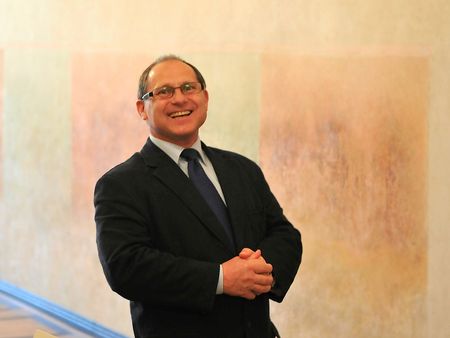 Zástupca mesta nás privítal týmito slovami: "Keď sme sa dozvedeli, že Svetový beh harmónie pobeží cez Banskú Bystricu, ani na chvíľu sme neváhali privítať bežcov na radnici."
The representative of the city was delighted to receive us. "We did not hesitate for a second to invite the World Harmony Run, when we heard you were coming to Banska Bystrica".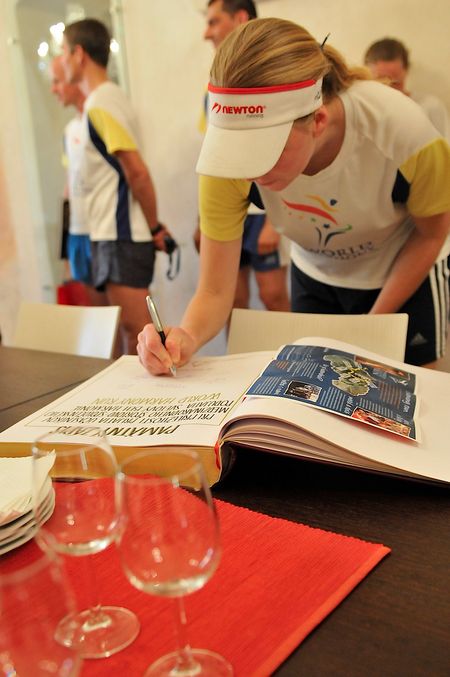 Naša novozélandská kolegyňa sa zapisuje do oficiálnej kroniky mesta.
Ďakujeme za veľmi chutné občerstvenie, ktoré bežci vedia vždy oceniť!
Signing the official city record book, followed by delicious refreshments - always well received by runners - thank you!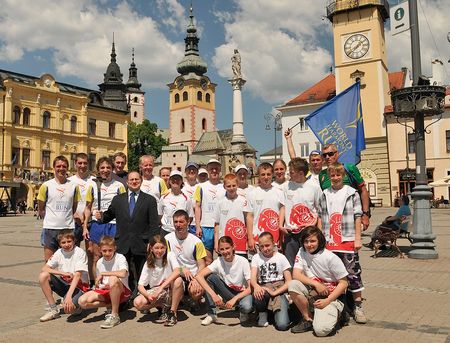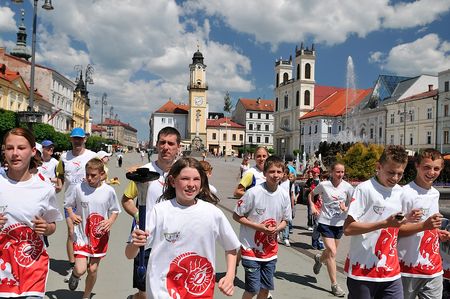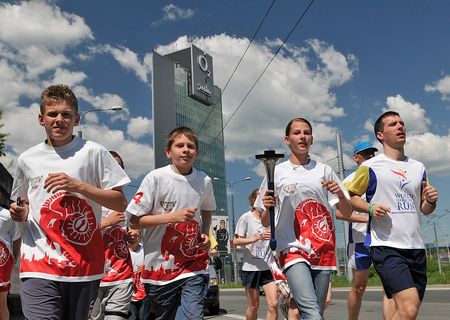 Decká, ktoré nás doprevádzali od radnice musia mať veľa telesnej výchovy, pretože nás skoro uštvali.
These children have physical education 5 times a week... they lead us for a speedy kilometre.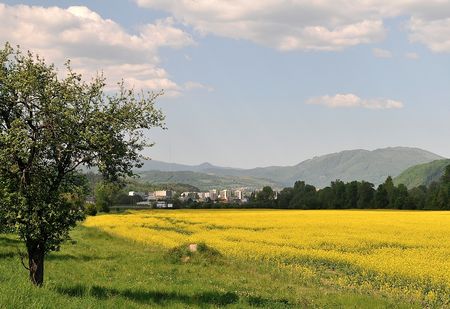 Zlaté polia.
Fields of gold.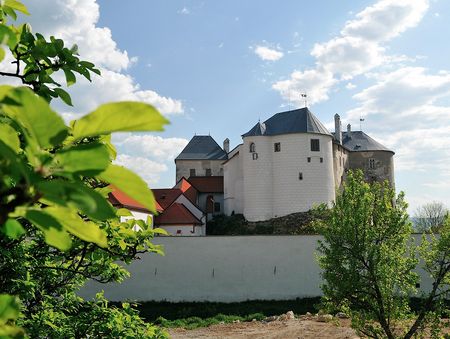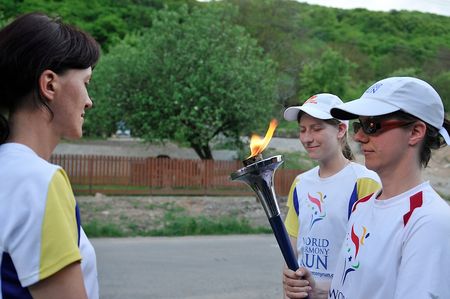 Chvíľa bez pohybu...
A moment of stillness...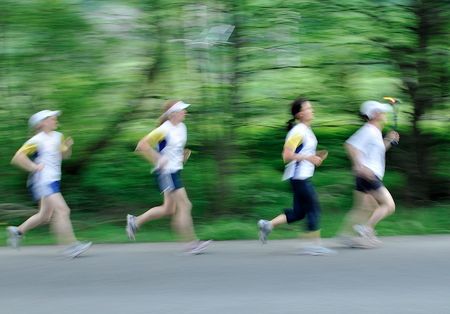 ...pred chvíľou v pohybe! :-)
...before intense action!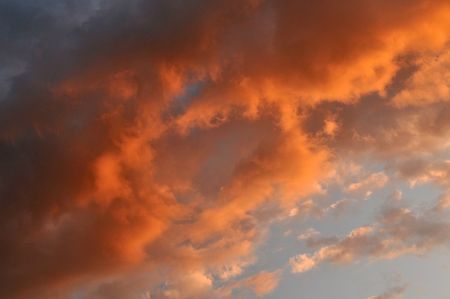 Báseň z Banskej Bystrice:
Kto z nás je tu doma
Urobme priestor, aby každý z nás
mal pocit domova, keď prichádza k nám.
Zblízka či zďaleka, chvíĺu, či navždy,
nech nedelí to nás.
V srdci si domov svoj nosíš sám.
Urobme priestor, aby každý z nás,
mal pocit domova, keď má nás rád.
Poem of Banska Bystrica:
Whom of us is at home here
Let us make a space so that everyone of us
Has a feeling of home when coming to us.
From near or far, for a moment or forever
May it not divide us.
In your heart you yourself are carrying your home
Let us make a space so that everyone of us
Has had a feeling of home when loving us.
---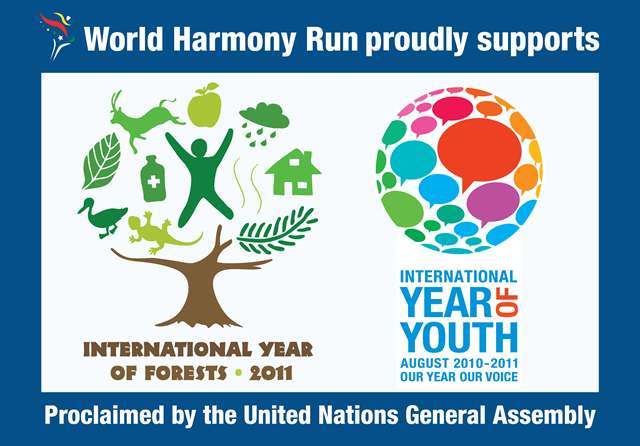 The World Harmnoy Run proudly supports the International Year of Youth (IYY) and the International Year of Forests (IYF) proclaimed by the United Nations General Assembly.
See also recent Youtube video which illustrates IYY slogan "Our Year Our Voice"  International Year of Youth - Zambia World Harmony http://www.youtube.com/watch?v=w6qehMiIWuYRun
---
Distance: 67 km
Team Members:
Apaguha Vesely (Czech Republic), Shobhavati Davies (New Zealand), Nataliya Lehonkova (Ukraine), Ujjwala Mettrick (New Zealand), Josef Sverma (Czech Republic), Ananda-Lahari Zuscin (Slovakia), Danica Cernakova (Slovakia), Petra Kasperova (Czech Republic), Viliam Segeda (Czech Republic), Padyatra Komak (Slovakia), Jan Stanko (Slovakia), Ayodhika Chochlikova (Slovakia), Devatulya Sulekova (Slovakia), Vlado Kulisek (Slovakia), Zdenko Michalec (Slovakia), Kuladipa Babusik (Slovakia), Marek Novotny (Slovakia)
Harmonemail:
You can send a message to the runners or read the messages.
Gallery: See more images!