Serbia 10 July: Niš - border Serbia / Macedonia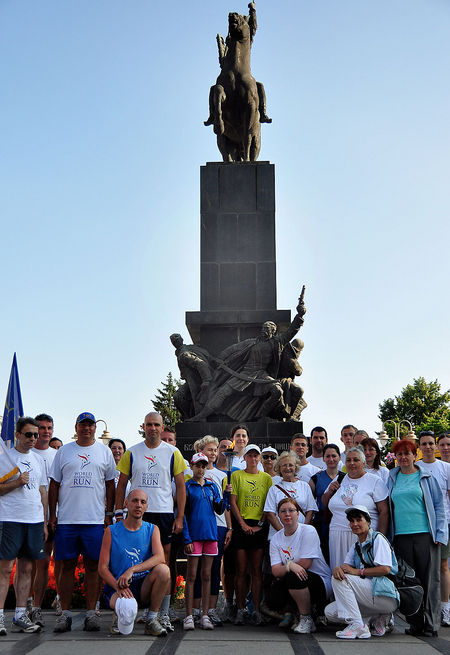 Last day in Serbia! Our meeting place in the morning was in front of one of the landmarks of Niš, the big monument which locals simply call "The Horse".
Poslednji dan u Srbiji! Našli smo se ujutru ispred velikog spomenika koji je jedan od simbola Niša i koji Nišlije jednostavno zovu Konj.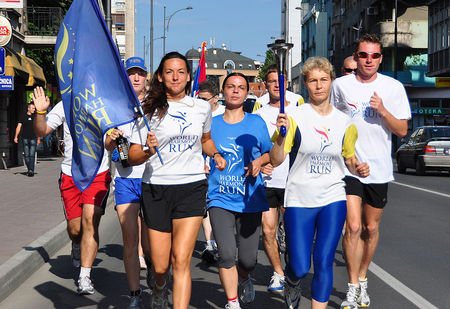 ..running out of Niš...
...trčanje iz Niša...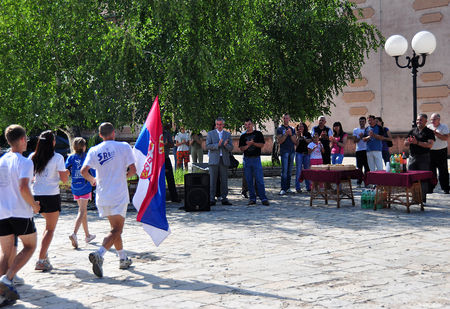 We were warmly welcomed in Gadžin Han.
Srdačno su nas dočekali u Gadžinom Hanu.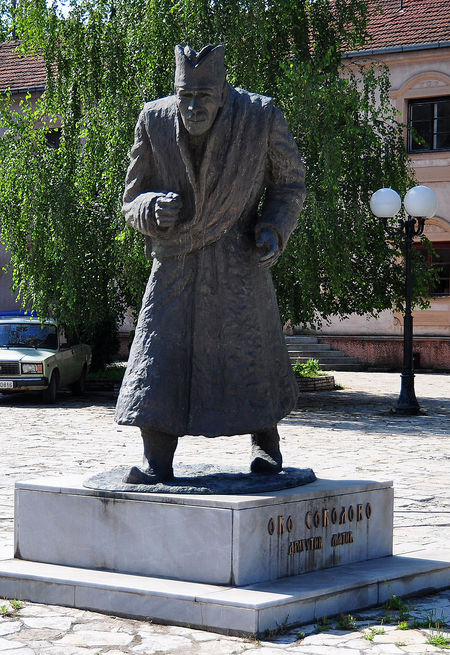 ..another monument symbolizing a city...
...još jedan spomenik kao simbol grada.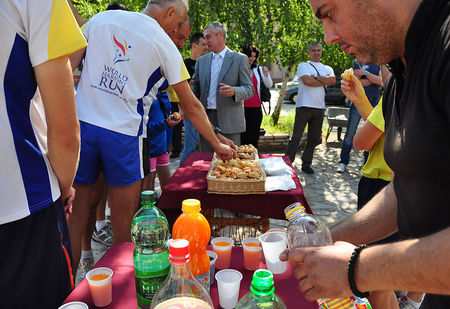 They kindly prepared refreshments for the World Harmony Run.
Ljubazno su pripremili osveženje za Svetsku trku harmonije.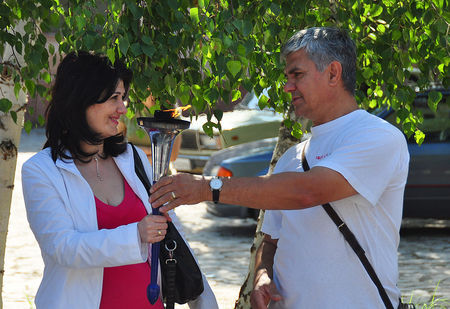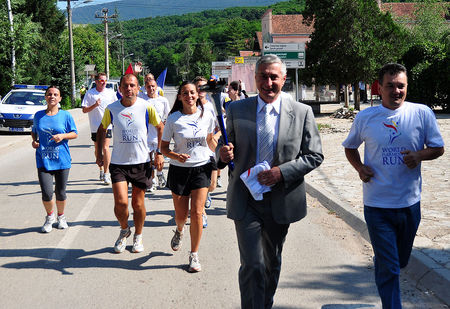 A representative of Gadžin Han was happy to run a few metres with us.
Predstavniku Gadžinog Hana bilo je zadovoljstvo da potrči sa nama nekoliko metara.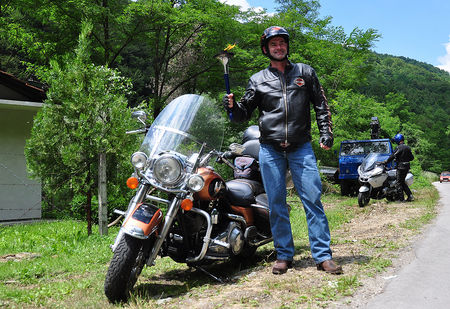 ..on our way we meet so many friends with different hobbies...
...usput srećemo mnogo prijatelja sa različitim hobijima...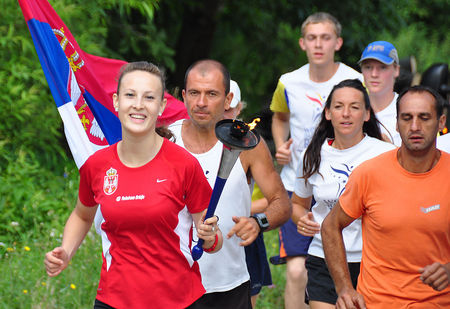 Some local runners were waiting for us at the entrance to Donji Dušnik.
Neki lokalni trkači su nas čekali na ulazu u Donji Dušnik.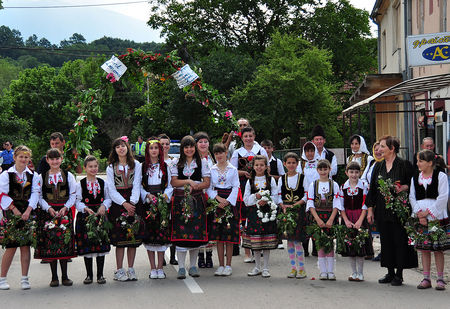 They prepared beautiful performances and beautiful garlands for us.
Pripremili su za nas prelepe nastupe i prelepe venčiće.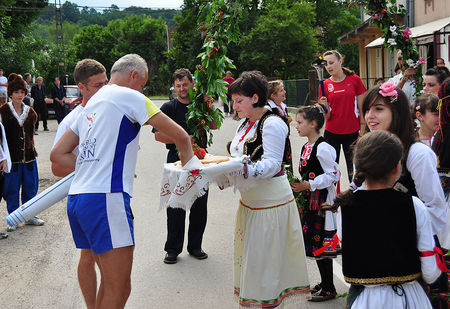 Donji Dušnik welcomed us in a very traditional Serbian way....
Donji Dušnik nam je poželeo dobrodošlicu na pravi tradicionalni srpski način...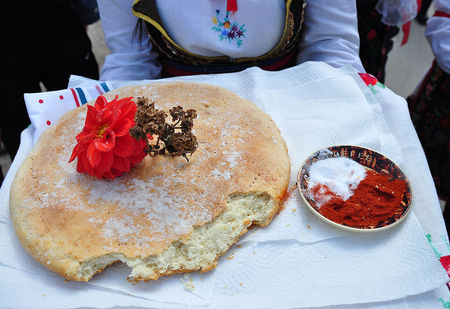 ..little bit each of bread, salt and paprika...
...malo lepinje, soli i paprike...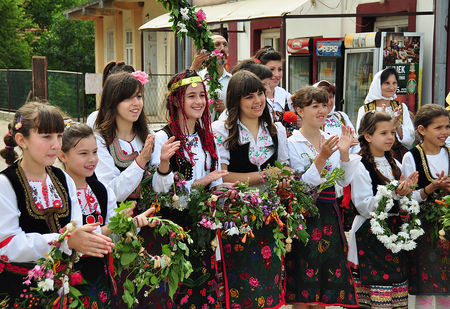 ..traditional dress...
...tradicionalna nošnja...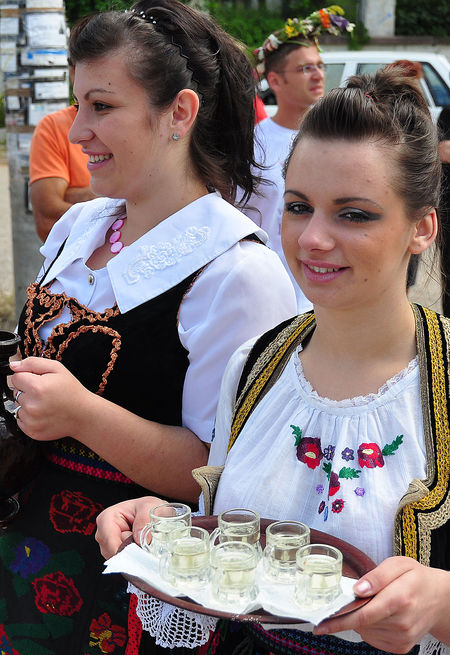 ..and "rakija"...
...i rakija...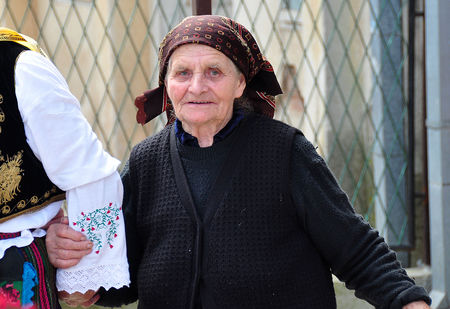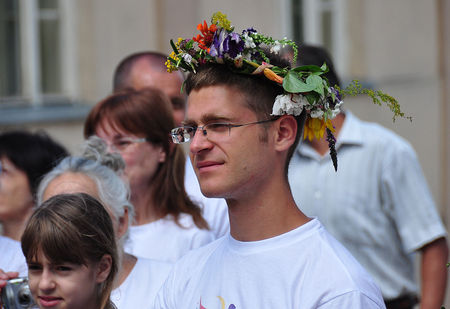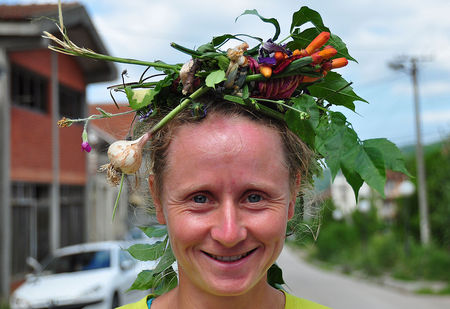 ..garlic helps repel evil forces...
...beli luk tera zle sile..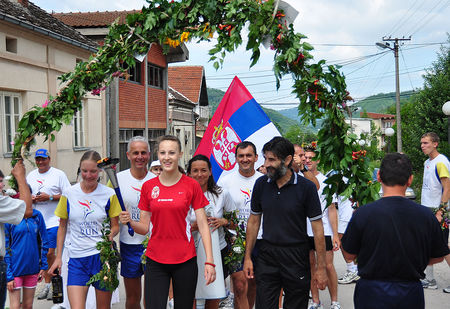 ..some traditional Etno singing...
...malo starog etno pevanja...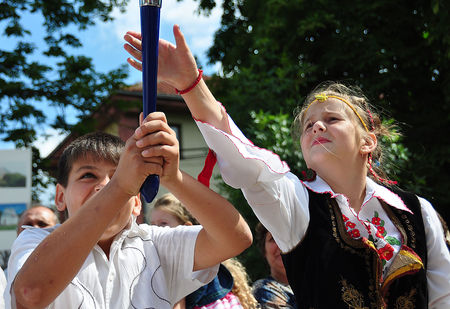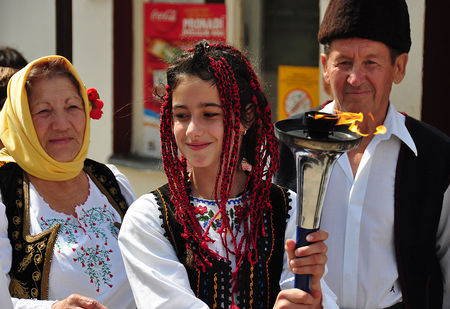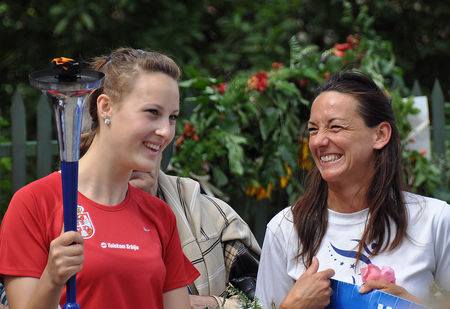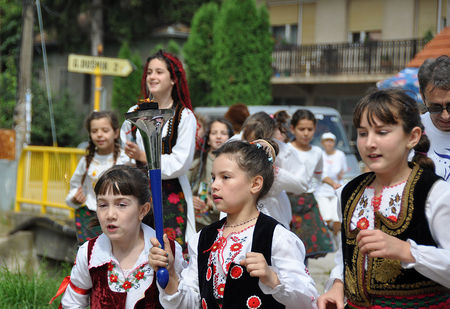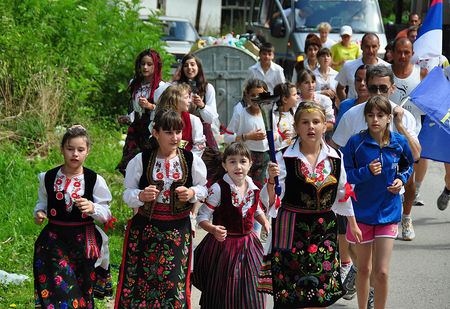 At the end they all ran with us!
Na kraju su svi trčali sa nama!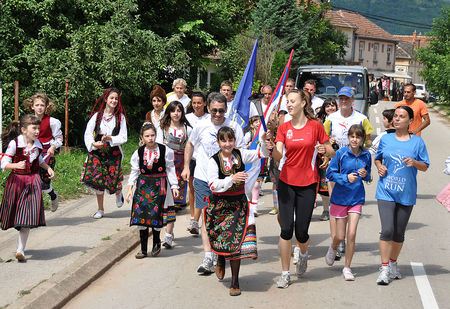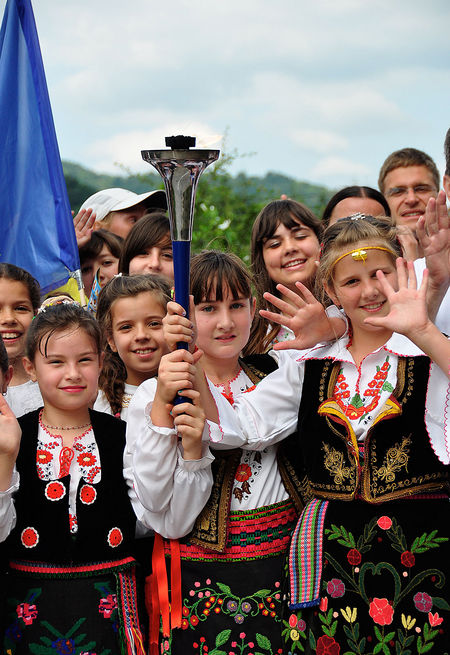 ..hope to see you again...
...nadamo se da ćemo se ponovo videti...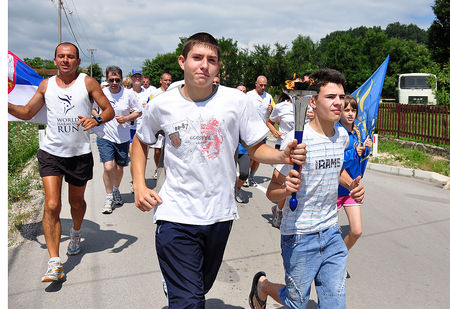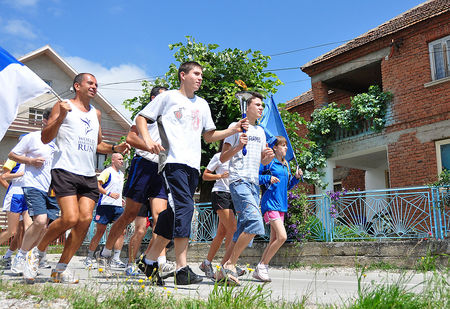 In Ravna Dubrava, local ports enthusiasts ran with us.
U Ravnoj Dubravi lokalni sportisti su trčali sa nama.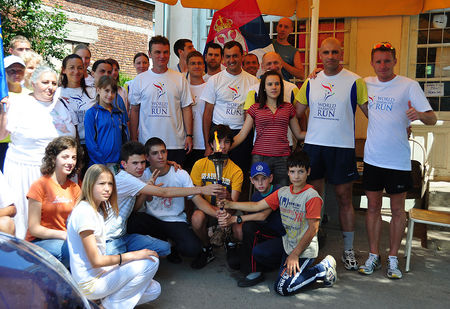 ..a group photo with our friends from Ravna Dubrava...
...jedna grupna fotografija sa našim prijateljima iz Ravne Dubrave...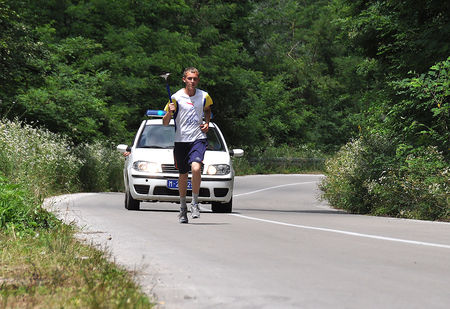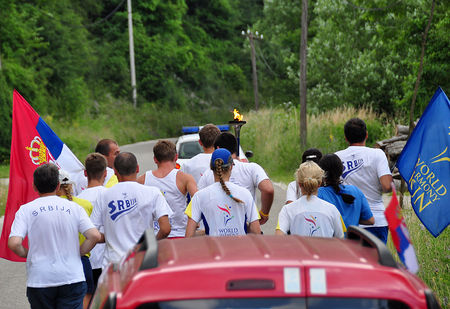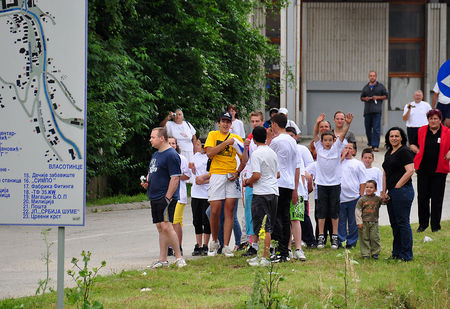 In the meantime, Crna Trava eagerly awaited the World Harmony Run.
U međuvremenu,Crna Trava žudno je čekala THS.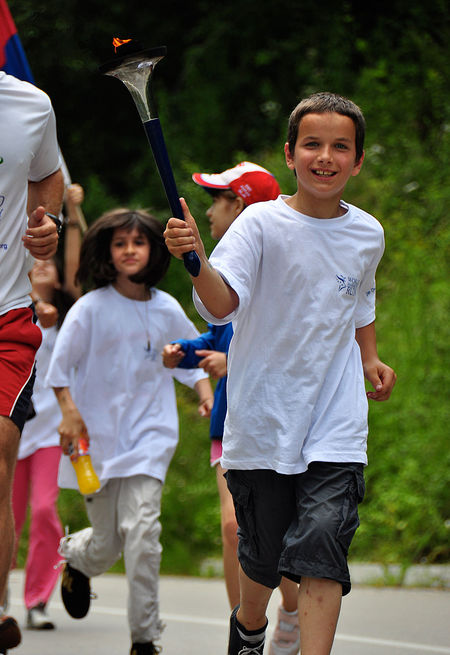 ..it is really wonderful running with the torch...
...tako je divno trčati sa bakljom...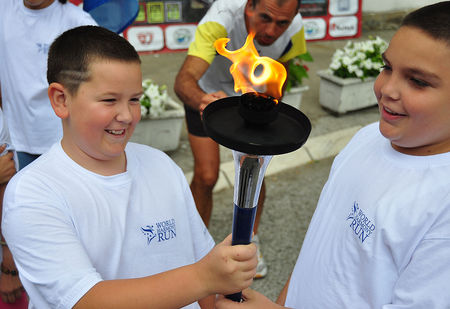 ..they had WHR T-shirts and what is more important - smiles on their faces...
...imali su THS majice, a što je još važnije - osmehe na licima.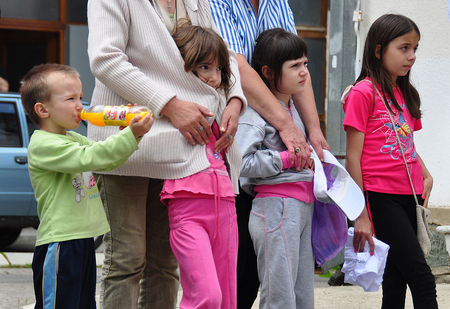 ..some were thirsty...
...neki su bili žedni...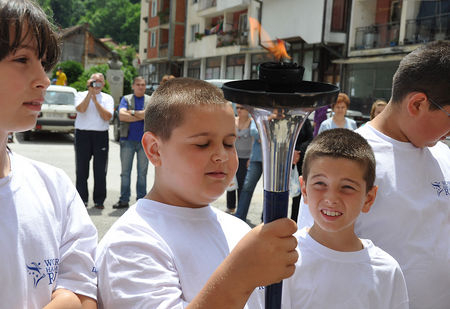 ...some were trying to feel peace in their hearts...
...neki su pokušavali da osete mir u svojim srcima...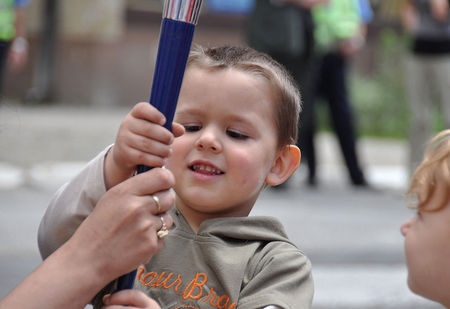 ..and some liked the torch very much...
...a nekima se mnogo dopala baklja...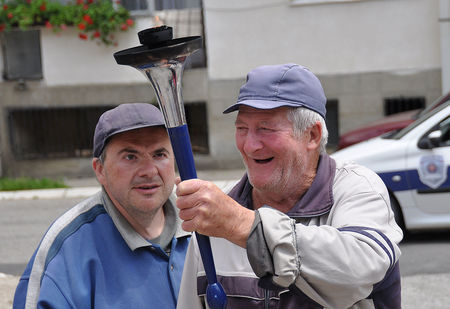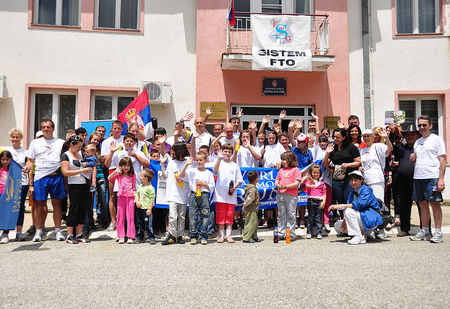 ..hello from Crna Trava...
...pozdrav iz Crne Trave...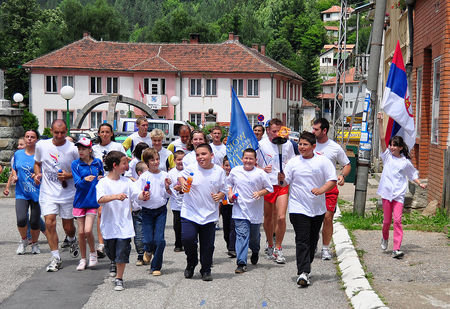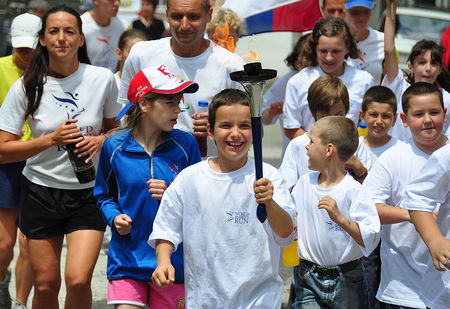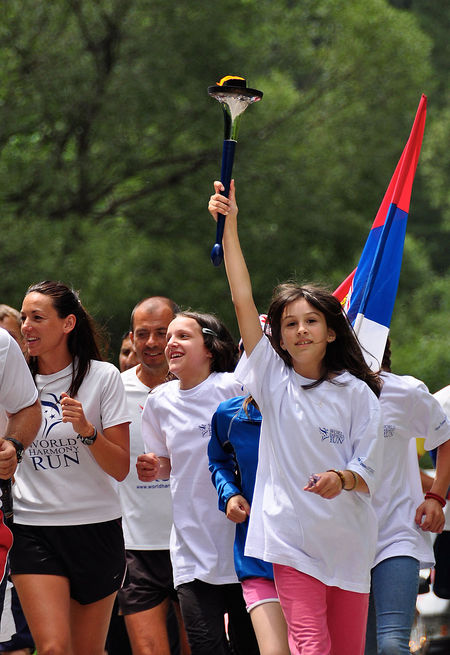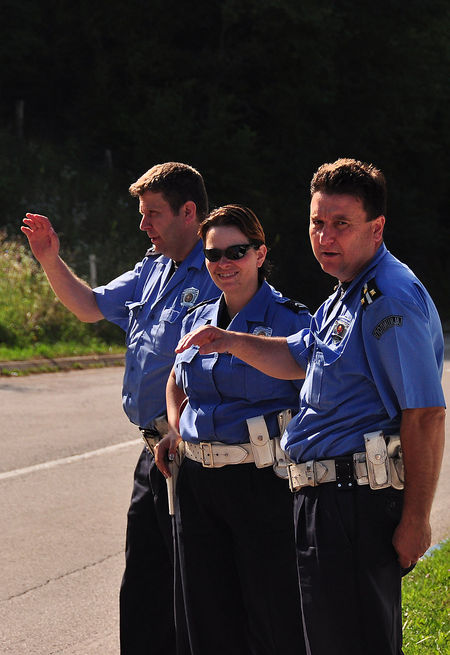 ..the police were also cheering...
...čak je i policija bodrila...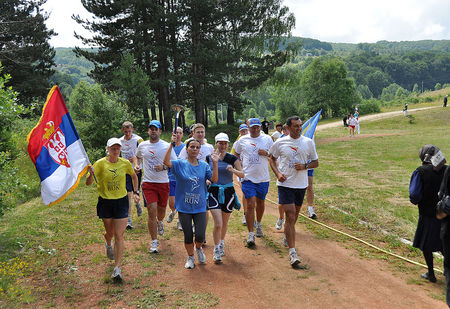 At Vlasina we presented the WHR at a concert of traditional music and dance.
U Vlasini smo predstavili THS na koncertu tradicionalne muzike i igre.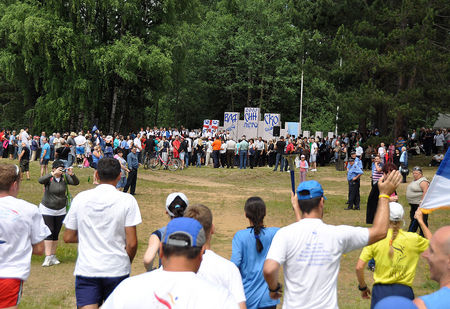 ..many people were there...
...tamo je bilo mnogo ljudi...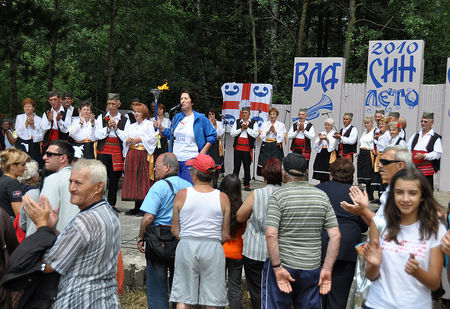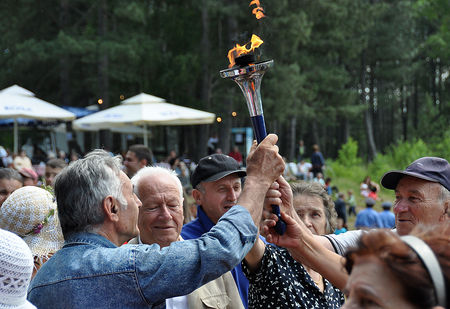 ..and they were happy to hold the torch...
...i bili su srećni što drže baklju...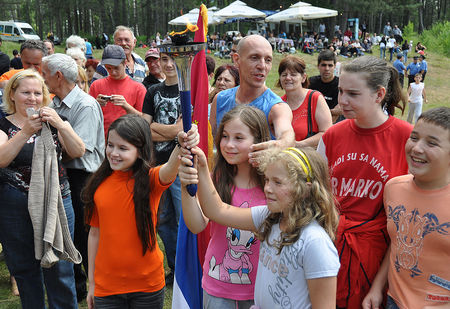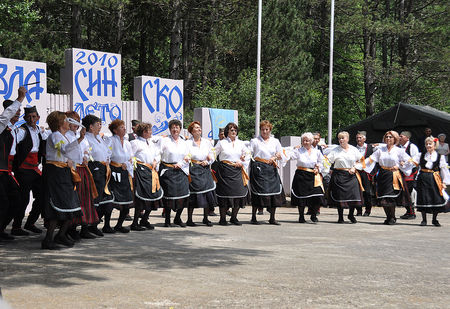 Later we watched part of their program.
Na kraju smo odgledali deo njihovog programa.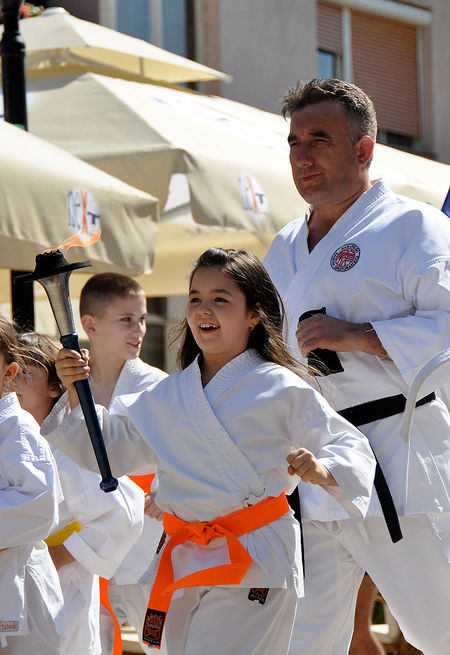 Surdulica was our last meeting place in Serbia. Members of a local karate club welcomed us.
Surdulica je bila poslednje mesto dešavanja u Srbiji. Lokalni karate klub nas je dočekao.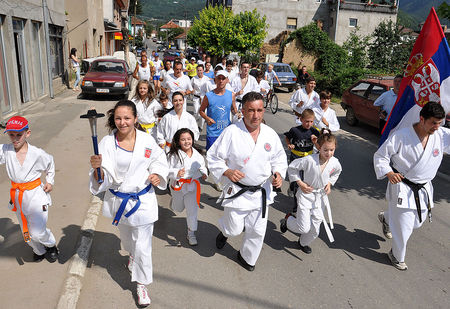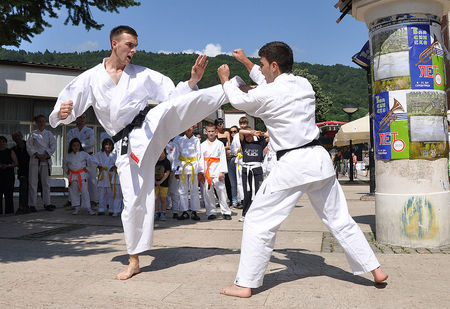 They performed some of their moves for us. It is a very successful club, and home to one of the world's best karate champions.
Izveli su nam neke svoje pokrete. Oni su jedan izuzetno uspešan klub i imaju jednog od najboljih svetskih karatista.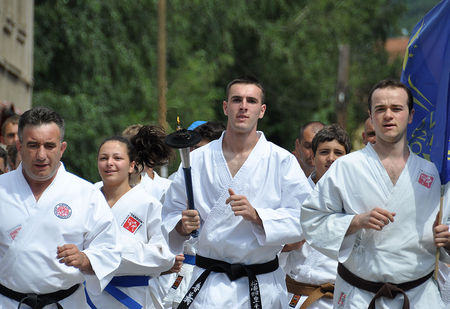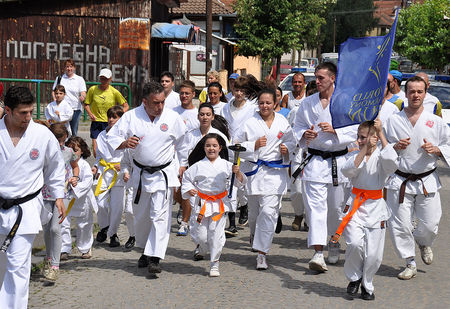 Later we ran to the border between Serbia and Macedonia.
Again a big "Thank you" to Serbia, for the hospitality and the great time we spent together!
Posle smo trčali ka granici između Srbije i Makedonije.
Još jedanput veliko "Hvala" za gostoprimstvo i divno vreme koje smo proveli zajedno!
---
Distance: 164 km
Team Members:
Dipavajan Renner (Austria), Zach Saltzman (USA), Manjula Lecourdier (France), Zoltan Theobald (Hungary), Roos de Waart (Netherlands), Natalia Lehonkova (Ukraine), Dima Lehonkov (Ukraine), Ulvis Salietis (Latvia), Gints Peleckis (Latvia), Ildiko Kuremszki (Hungary)
Harmonemail:
You can send a message to the runners or read the messages.