Slovenia 8 September: Ljubljana - Snovik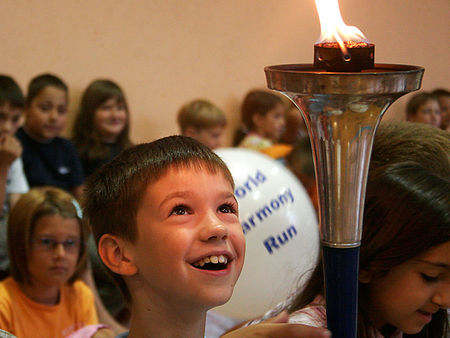 Today was a day we were especially looking forward to...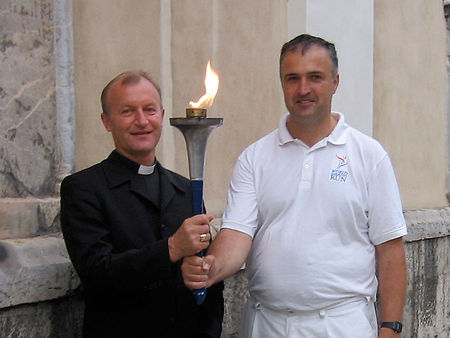 Early in the morning we met Bishop Dr. Jamnik, who held the torch and offered his good wishes.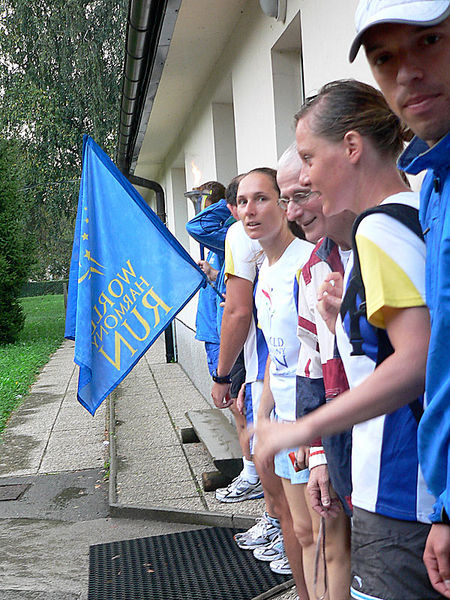 So here we are - enthusiastic runners, hiding from the heavy rain. Well, it was not s.o.o.o.o.o heavy, but we didn't want to get wet right at the start...
Five great primary schools in Ljubljana invited us to visit them: Joze Moskric, Poljane, Tone Cufar, Majde Vrhovnik and Franc Rozman - Stane.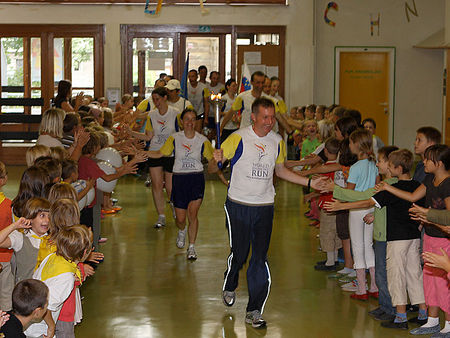 Is there any better way to start a day than to be greeted by so many enthusiastic kids? Not for us!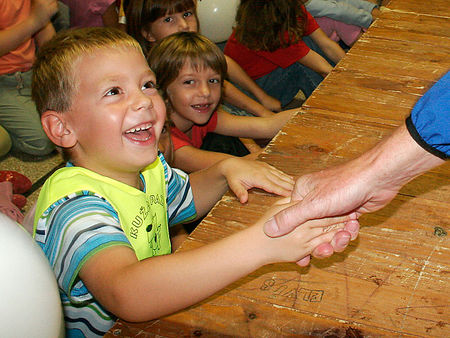 Hello, welcome! How nice to meet you!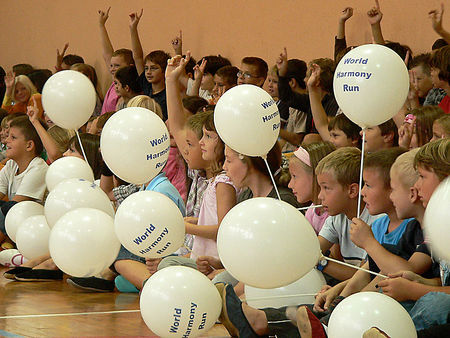 Do you know how to become a member of our team? You need to know our motto "Harmony begins with me", hold the torch, and run with us. Today we got many, many new team members!!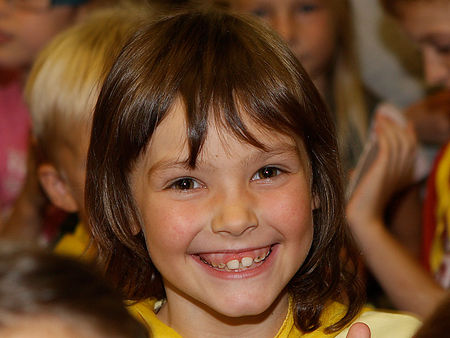 Are you happy to be a member of our team?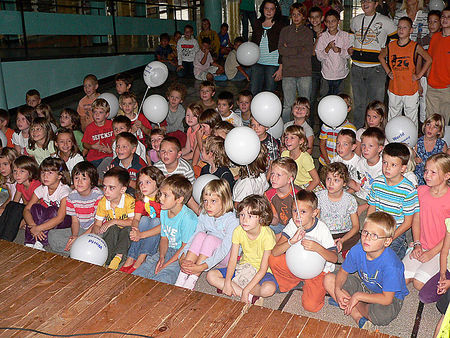 All the children listened very carefully. Later they surprised our Slovenian team member,Prakashita, by singing a birthday song for her. Can you imagine a nicer and sweeter birthday present?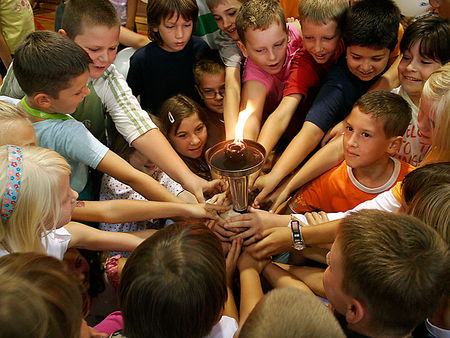 Let's hold the torch all together!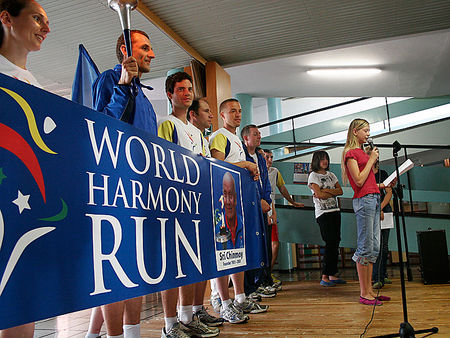 One girl read a poem for us, about friendship, harmony and love.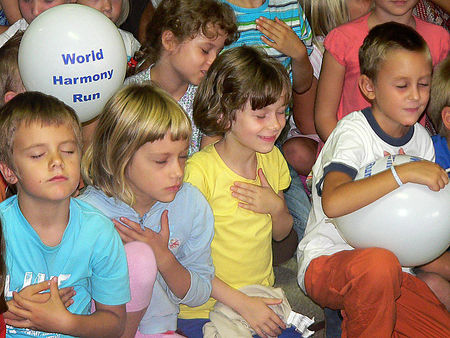 "Where can we find harmony?" In our hearts. "And can you feel it?"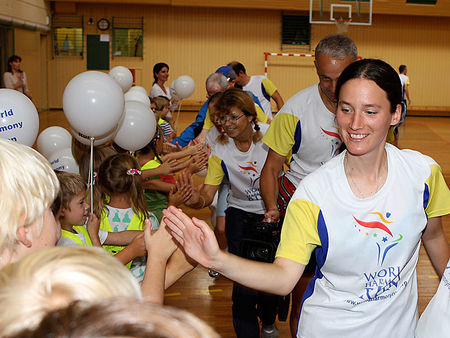 Running around the gym, giving the kids high-fives.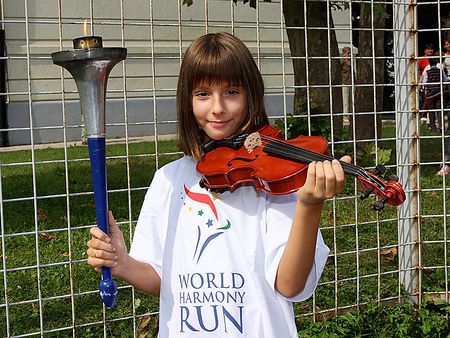 We had a girl on violin playing for us, both at the school and at the parliament.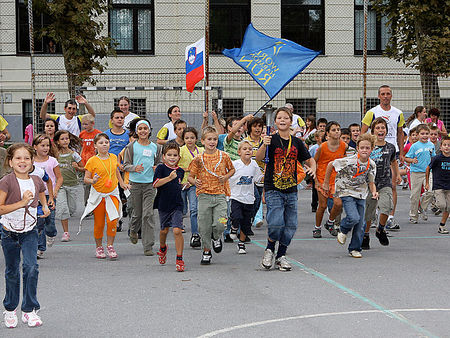 One of the things you have to do to be part of our team, is to take a few steps with the torch. Let's run together!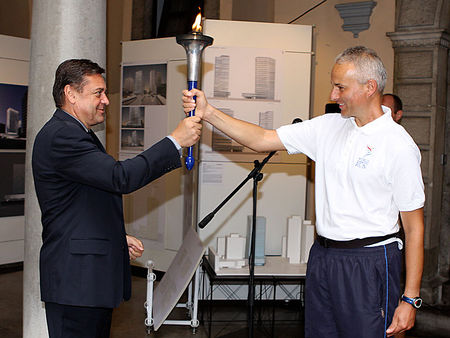 Inspired by all the children, we took the torch to the mayor of Ljubljana, Zoran Jankovic. He is a runner himself and he welcomed us "in the most beautiful city in the world", as he put it.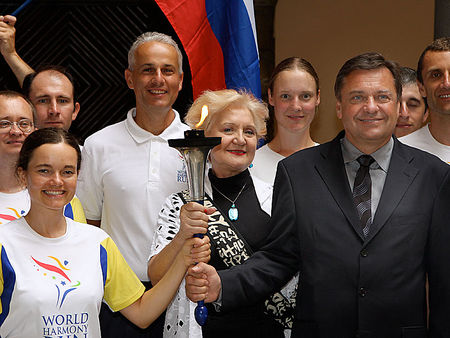 Jerca Mrzel (in the middle), well known Slovenian artist, has been a supporter of the Run for many years already.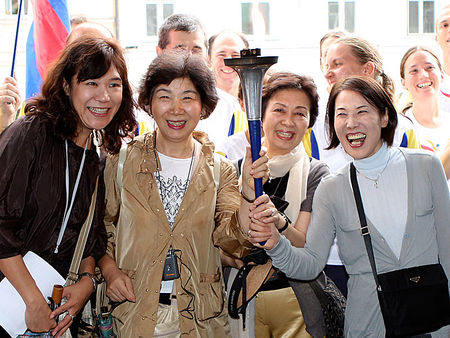 Sometimes we have spontaneous meetings with people. It makes us happy when they want to know about us, and to see them smile when they hold the torch is very inspiring.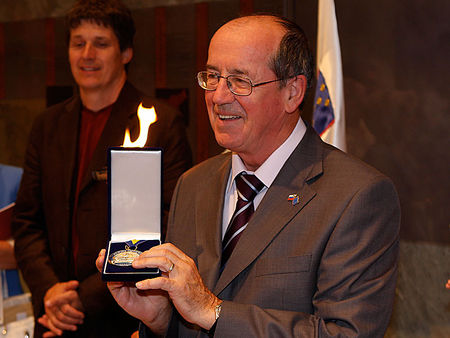 In the Slovenian parliament we were greeted by President  Dr. France Cukjati. We honoured him with a "Torch-bearer award", an award we offer to people that sincerely support the ideals of the World Harmony Run and embody them in their own lives.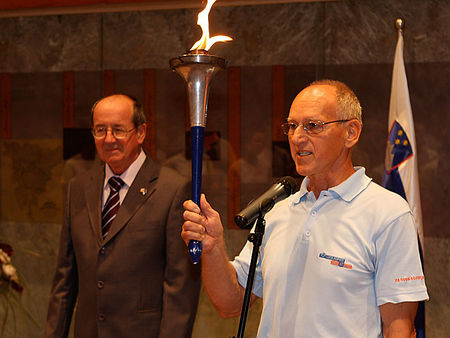 Slovenian Olympic legend, Miroslav Cerar has become our friend over the years. He offers  strong support to our run and it is always a thrill for us to meet with him!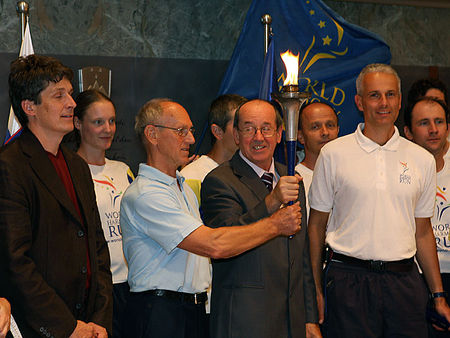 Together we can change the world. Holding the torch together can be the first step.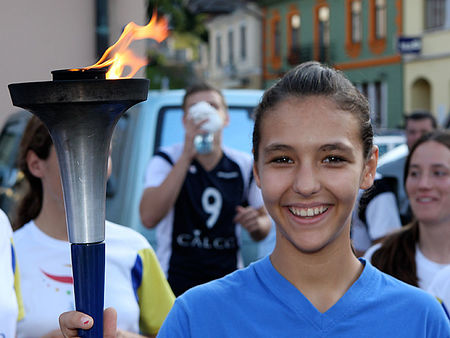 Why do we run? There are many reasons, but to see a beautiful smile on a face of a girl when she holds the torch is one of them.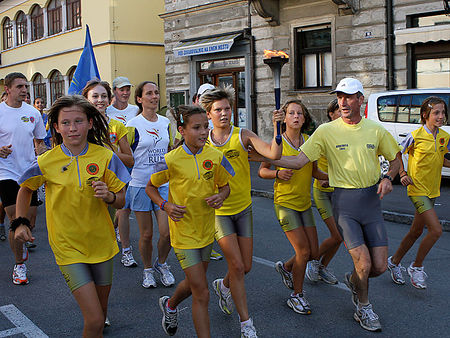 In Kamnik, children from the running club KGT Papez ran with us. Do they seem tired to you? No, when you hold the torch you don't get tired so easily.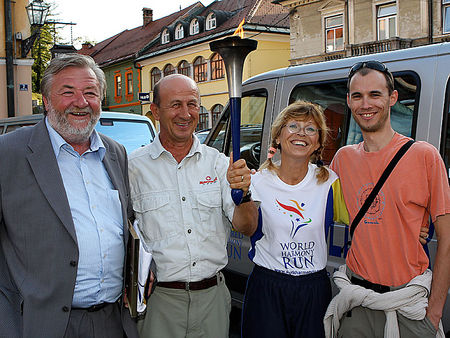 Mayor Anton Smolnikar (left) kindly welcomes us every time we come to Kamnik. Ms. Franceska Zumer from the school that we wisited earlier this morning in Ljubljana, was so inspired by the run, that she joined the run for the rest of the day! Her husband and son had to pick her up at the end of the day.
What keeps us running day by day? Inspiration from the kind-hearted people we meet every day. In Slovenia we have already met a lot of them. We are looking forward to another great day!
---
Distance: 23 km
Team Members:
Roos de Waart (Netherlands), Judit Elek (Hungary), Akos Laczko (Hungary), Predrag Trkulja (Serbia), Dipavajan Renner (Austria), Pratul Halper (Austria), Balavan Thomas (UK)
Harmonemail:
You can send a message to the runners or read the messages.
Gallery: See more images!