Slovenia 10 September: Maribor - Sentilj
Our last day in Slovenia, but what a day!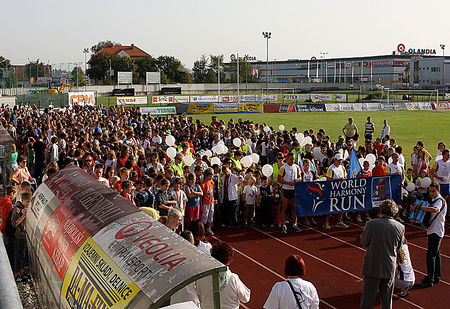 We started the day in Ptuj, with an amazing number of runners! Children from 5 schools were in the stadium.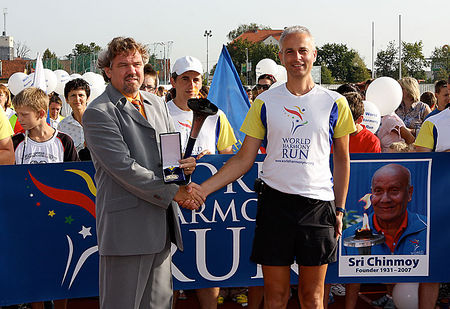 The mayor of Ptuj recieved the Torch Bearer Award on behalf the city for its harmonic efforts.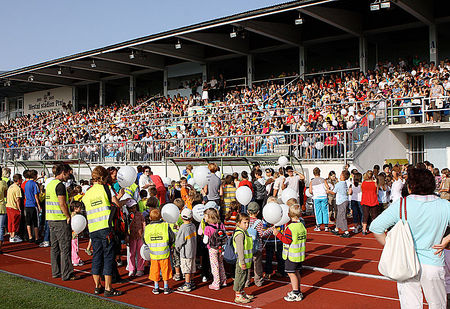 Children, parents and teachers  - over 1000 people in the stadium!
The kindergarten at Ptuj received our Certificate of Appreciation for participating, having brought all its children to  the stadium.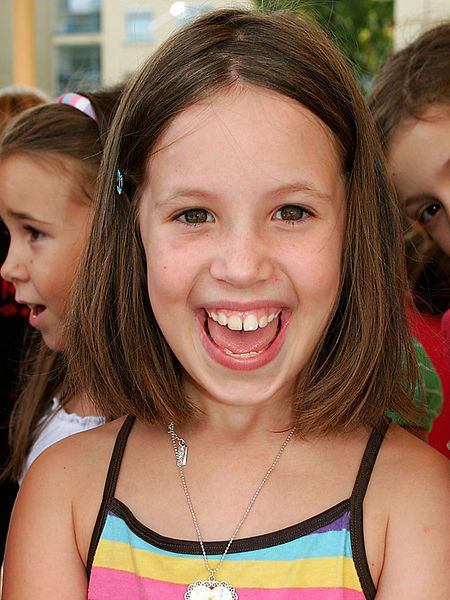 From Ptuj we went to Maribor, to visit Tabor I, Tabor II, Janko Padeznik, Maks Durjava and Prezihov Voranc Schools.
It felt almost as if we met every citizen of Slovenia in one day.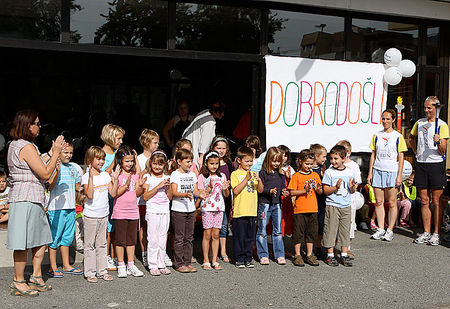 "Welcome", says the banner that the children made for us.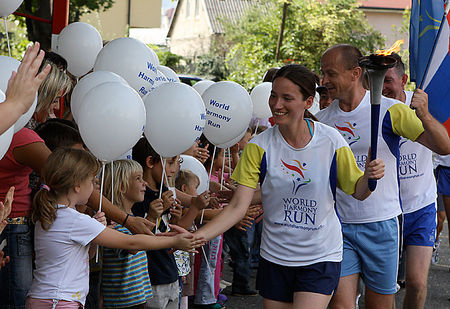 'High-fives' when entering the school...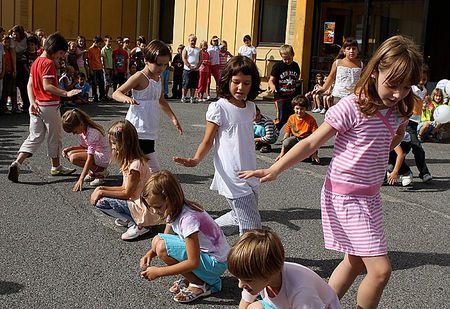 Singing and dancing performances...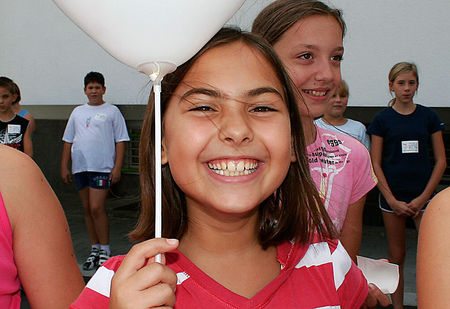 Shining with harmony and happiness...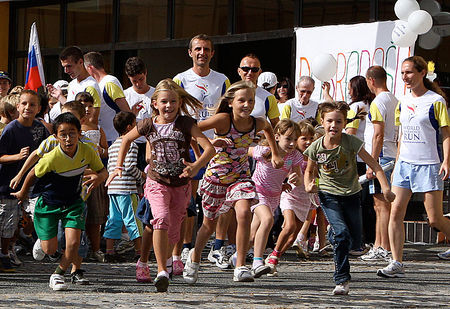 And of course, running together!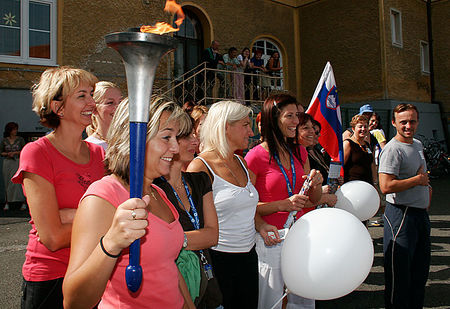 Not only the children, but also the teachers held the torch.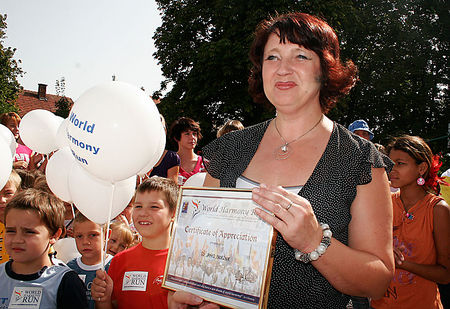 The headmaster with the Certificate of Appreciation.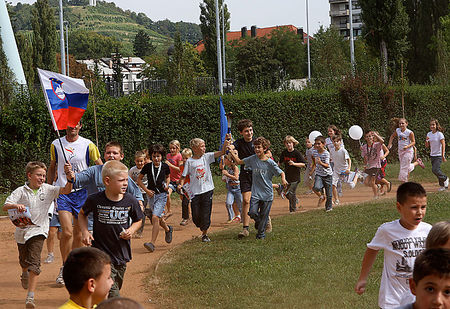 Thanks to all the children who were running with us today!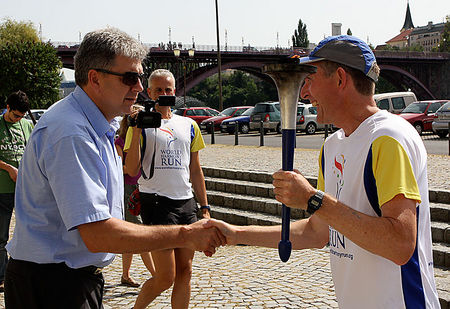 The vice-mayor of Maribor, Andrej Verlic, received us at the oldest wine cellar in the world (over 400 years old). A special place to visit...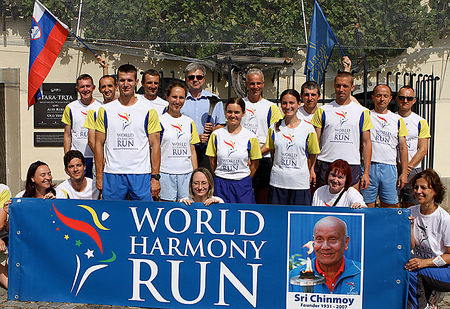 ..and a good place for group-picture.
We were almost at the Austrian border, when the mayor of Sentilj, Mr. Cagran joined us for running. At the border the mayor of Spielfeld was waiting for us, too.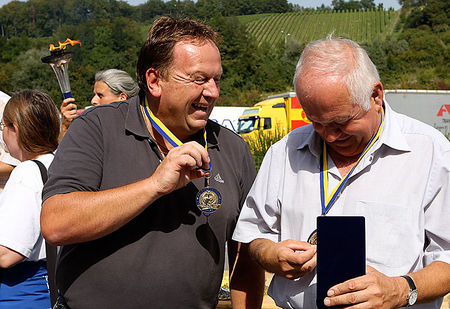 Both mayors received the "Torch Bearer Award".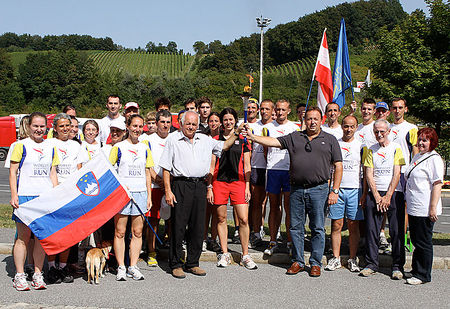 And local athletes were also present, to join us for the next part of the run, in Austria.
We would like to thank the Slovenian organisers for the great time we had in your country. It was super! And see you all next time :).
---
Distance: 20 km
Team Members:
Roos de Waart (Netherlands), Judit Elek (Hungary), Akos Laczko (Hungary), Predrag Trkulja (Serbia), Dipavajan Renner (Austria), Pratul Halper (Austria), Balavan Thomas (UK), Guglielmo Andreon (Italy), Jana Chochlikova (Slovakia), Janos (Poland)
Harmonemail:
You can send a message to the runners or read the messages.
Gallery: See more images!