Slovenia 5 September: Sloven - Ljubljana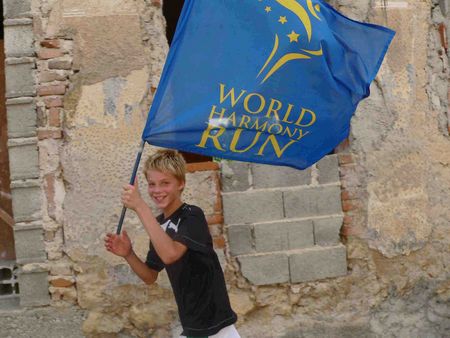 Running makes you smile! Especially when you can run with the World Harmony Run flag.
The last few weeks the team has crossed a lot of borders, and today we crossed another one. Unfortunately, we did not stay long in Croatia. Does it mean we have to come back another time to see more of the country?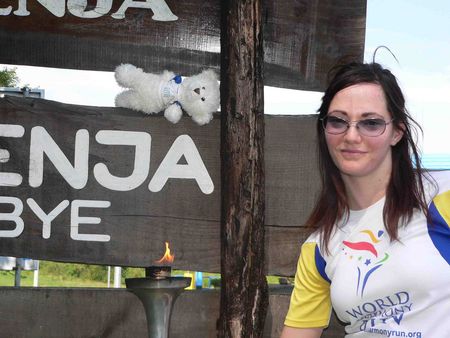 In the morning we will run to the border, where we will leave Croatia. Bye!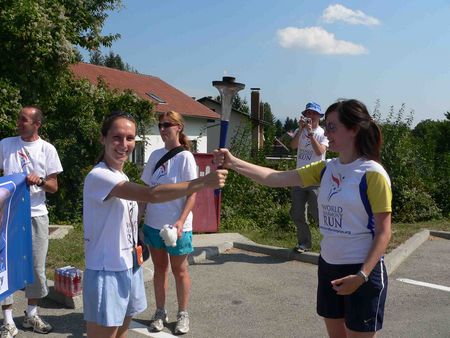 Passing the torch from Croatia to Slovenia.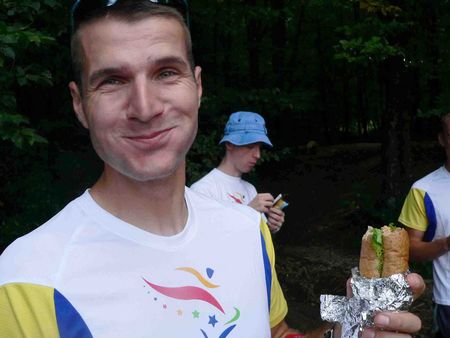 Tomaz, are you happy to be back in Slovenia?
We got delicious sandwiches, which gave the team energy to run from the border to Ljubljana.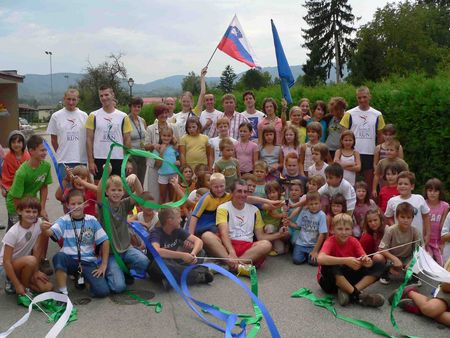 Along the road there was a big group of children waiting for us. We all waited together for our runner Pedja to arrive. And when he arrived, we took a group picture.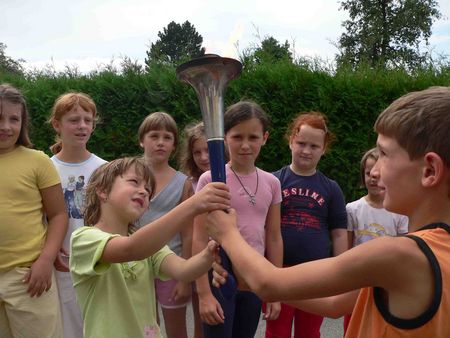 Passing the torch before we run to the next school.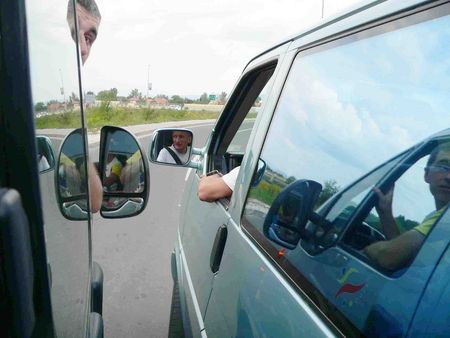 Where to, now? Do you know the way?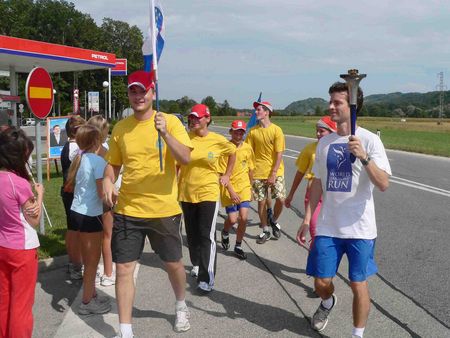 Local athletes and schoolchildren ran with us to the next meeting. They knew which direction to take!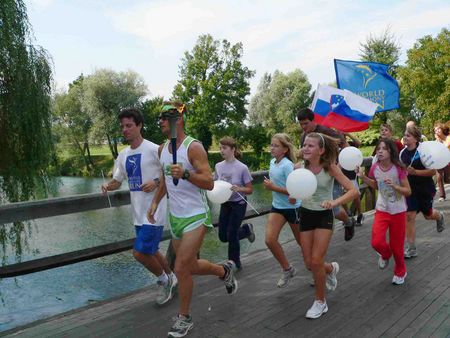 We are almost there!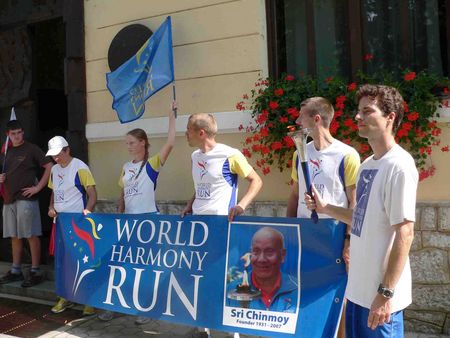 Some children were asking:" Who is the man on the picture?" It is Sri Chinmoy, the founder of the run.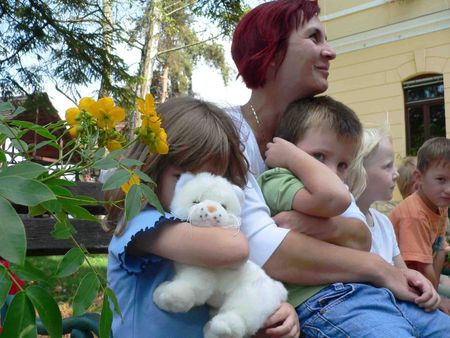 Some kids did not want to be photographed. Then it is very useful if you have a cat to hide behind.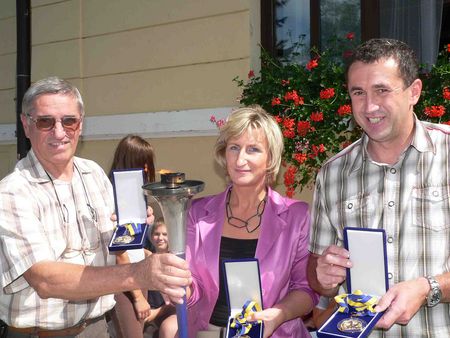 The mayor of Kostanjevica and the headmasters of OS Podbocje and OS Kostanjevica na Krki receive the "torch bearer award"!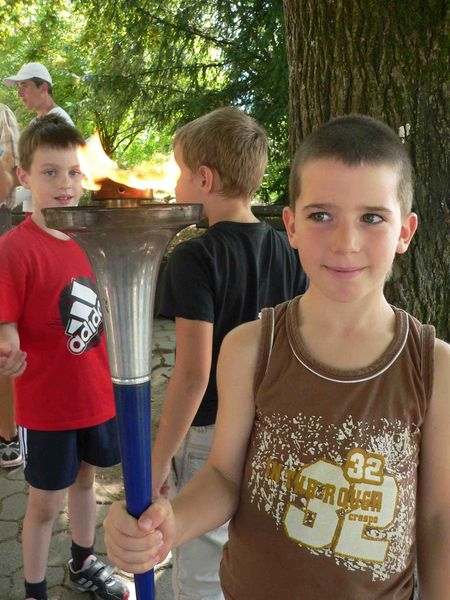 Who is shining more? The torch or the boy?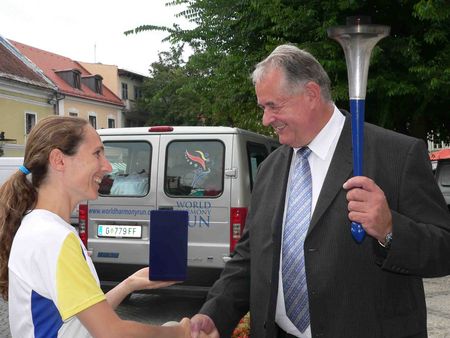 In Novo Mesto we met the mayor. He told us the history of the town, which was founded in the 14th century. And something special to know about Novo Mesto: nobody is unemployed.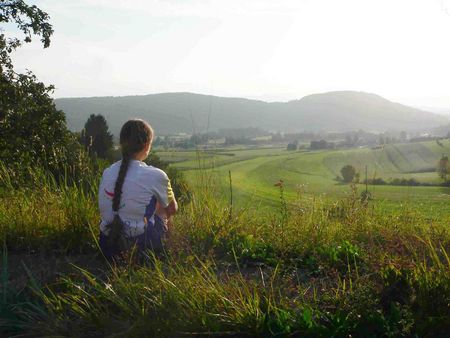 Slovenia is a beautiful country, look at this view!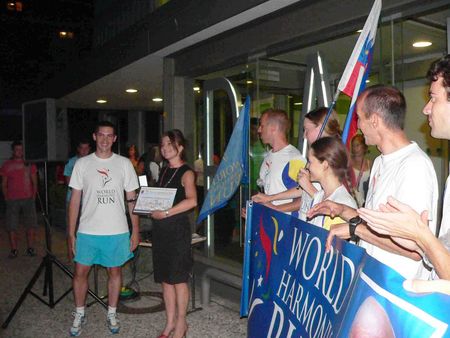 It was already dark when we reached the Hotel Park, which offered us a place to sleep. After a long day of running we not only had a warm welcome, but also warm showers. Thank you very much!
---
Distance: 125 km
Team Members:
Roos de Waart (Netherlands), Judit Elek (Hungary), Akos Laczko (Hungary), Tomaz Pivec (Slovenia), Predrag Trkulja (Serbia), Drazen Vassung (Croatia), Mirela Vassung (Croatia), Ana Jekunica (Croatia), Marjan Jauk (Slovenia), Klavdija Swet (Slovenia), Prakashita Bercic (Slovenia), Milan Bogar (Slovenia), Gasper Obersnel (Slovenia), Guglielmo Andreon (Italy), Ales Sumah (Slovenia)
Harmonemail:
You can send a message to the runners or read the messages.
Gallery: See more images!