Andorra 26 March: Palau Novella-Andorra
As morning broke we could fully appreciate the peace and tranquility of this monastery in the mountains. You could almost imagine being in Tibet if it was not for the olive trees, grape vine and pine trees that surrounded us in all directions. The monks and nuns had prepared a huge array of items for breakfast including cheese and yogurt made by local farmers. In addition to the many acivities that the residents perform, they have also released many CD's of traditional Tibetan chants and modern fusion music. They kindly offered each of us a copy of their CD to remind us of the time we spent with them.
Según amanecía pudimos apreciar plenamente la paz y tranquilidad de este monasterio en las montañas del Garraf. Uno casi podía imaginarse estar en el Tibet si no fuera por los olivos, viñas y pinos que nos rodeaban en todas direcciones. Los monjes y monjas habían preparado una gran variedad de alimentos para desayunar, incluyendo queso y yogur producido por artesanos locales. Además de las muchas actividades que los residentes realizan, también han editado varios CDs de cantos tradicionales tibetanos. Amablemente nos ofrecieron copias de su último CD que fusiona una alegre música chill out con los poderosos mantras tibetanos, que nos recordará los sagrados momentos que hemos pasado con ellos.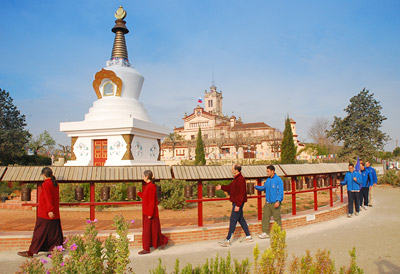 We were invited for one last ritual at the main stupa. As we walked around this sacred structure, spinning the prayer wheels, we were told that we would receive the light of Buddha and also send light out to remove obstacles in our path. It was a great way to prepare for our departure for we had many kilometres to cover before nightfall.
Fuimos invitados a un último ritual en la stupa principal. A medida que caminábamos tres veces alrededor de esta construcción sagrada, haciendo girar las ruedas de oración, nos explicaron que recibiríamos así la luz de Buda y la enviaríamos para apartar los obstáculos en nuestro camino. Ha sido una manera perfecta de prepararnos para partir pues todavía quedaban muchos kilómetros que recorrer antes del atardecer.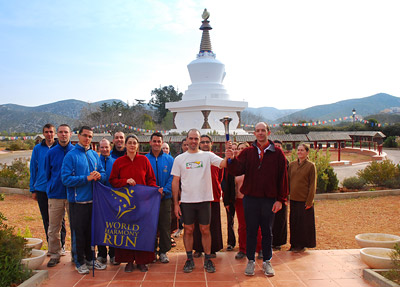 One of the monks, who had been a triathlete in the past, had a dream the night before that he was running with the torch. It was an honour to fulfil this prediction by running a few kilometres to the main road.
Uno de los monjes, que ha sido practicante de triatlón, tuvo un sueño la noche anterior de que estaba corriendo con la antorcha. Fue un honor colmar su predicción corriendo con él uno kilómetros hacia la carretera principal.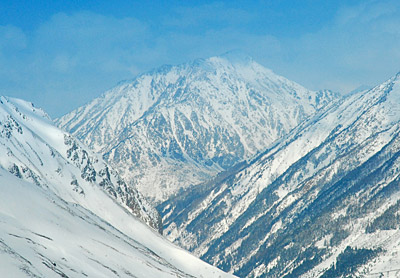 On the way to Italy we had a meeting arranged in the country of Andorra. As we climbed higher higher in the mountains, we were surprised by the amount of snow in the area. Just few hours before it was dry and hot and now it was snowing. Andora is a unique country built between the high mountains of the Pirenees and sandwiched between Spain and France.
En nuestro camino hacia Italia teníamos un encuentro con corredores de Andorra, un país único emplazado en las altas montañas pirenaicas entre España y Francia. A medida que ascendíamos más y más alto en las montañas quedamos sorprendidos por la cantidad de nieve en la zona. Tan sólo unas horas antes el clima era seco y cálido, y ahora estaba nevando.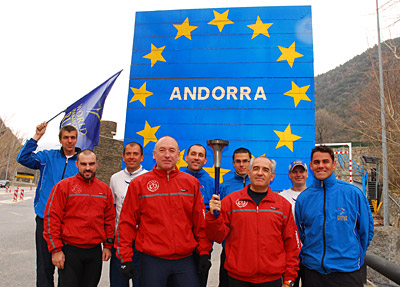 At the border we met two old friends from last year's run and a new runner. It was great to see Didac Martinez, Enrique Rubio and Angel Sotero smiling at us as we arrived. These guys from the Club de Atletismo Valles de Andorra love the Harmony Run and look forward to proudly welcoming us to their small country every year.
En la frontera nos reunimos con dos viejos amigos de la carrera del año pasado y un nuevo corredor. Fue un placer ver a Didac Martinez, Enrique Rubio y Angel Sotero sonrientes a nuestra llegada. Estos compañeros del Club de Atletismo Valls de Andorra son amantes de World Harmony Run y expresaron su deseo de recibirnos orgullosamente cada año en su pequeño país.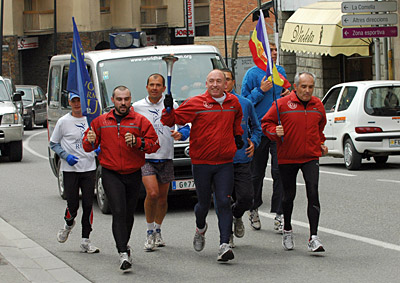 They were extremely fit from running up and down these hills and we were sorry that we did not have the time to run up the Pyrenees Mountains with them.
Estaban en muy buena forma de correr arriba y abajo en estas montañas y sentimos no tener tiempo esta vez para correr con ellos hasta lo alto de los Pirineos.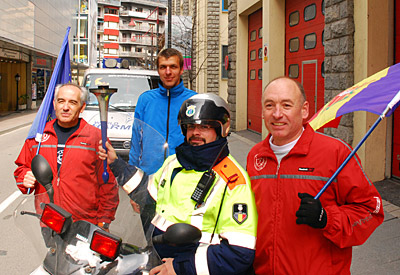 We were very grateful for the police escort that guided us to the Town Hall of the capital city, Andorra la Vella, to meet the Council Major.
Estuvimos muy agradecidos a los motoristas de la policía que nos guiaron hasta el Ayuntamiento (Comú) de Andorra la Vella donde fuimos recibidos por el Cónsul.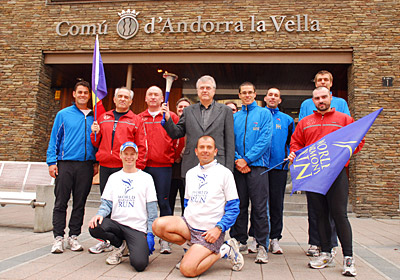 A city official gave us a warm welcome to his country and offered his kind words of the support for the Run. Visiting the country Andorra is a real highlight for the team. The scenery is magnificent and the air is the cleanest and freshest we have experienced in southern Europe. It is interesting to note that while they speak many languages here in Andorra, the official language is Catalan. Luckily they also spoke Spanish so once again Pierre, our official translator, came to our rescue.
Un oficial de la ciudad nos dio una cálida bienvenida a su país y ofreció sus amables palabras de apoyo a la Carrera. Visitar el país de Andorra es algo autenticamente destacable para el equipo. El paisaje es magnífico y el aire es lo más límpio y fresco que hemos experimentado en el sur de Europa. Es interesante destacar que aunque en Andorra hablan muchos idiomas, la lengua oficial es el catalán. Por suerte también hablan castellano así que, una vez más Pierre, nuestro traductor 'oficial', nos rescató.
Esperamos tener esta página también en catalán para el año próximo.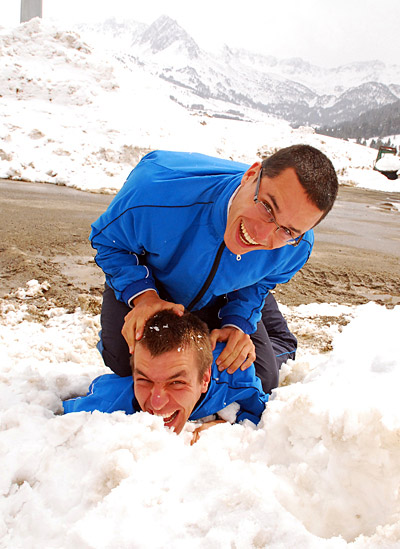 In one hour we would be out of the high mountains and back to the green hills of France. So before we left, we took the opportunity to taste the local snow for a few minutes.
En una hora estaríamos fuera de las altas montañas y entrando en las verdes colinas de Francia así que, antes de marchar, aprovechamos para probar la nieve local un rato.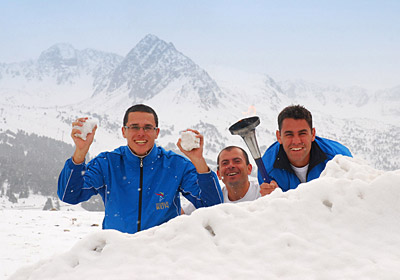 We just couldn't resist stopping again.
No pudimos resistir parar otra vez.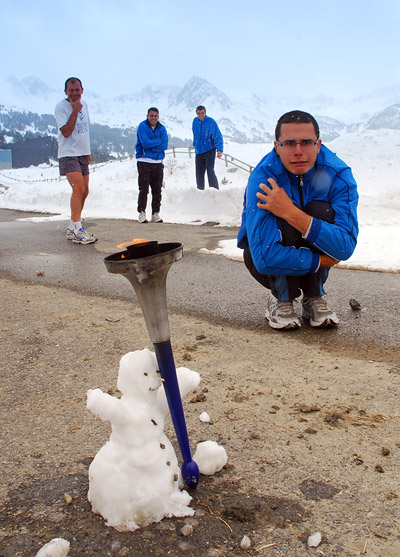 On the way down, some of the team went for a run to stretch their legs and to enjoy the serenity of the mountains.
Tonight we had the pleasure of staying in the home of Pierre's father, Jean Claude Lantuas. His cottage, hidden in the hills of Saint Cyr sur mer, is a virtual sanctuary of peace and solitude and a perfect location to teach yoga. After weeks of staying in hotels and guest houses, it was a real treat to sleep in someone's home for a night and to enjoy a nourishing, high energy meal. We hope to meet up with Jean Claude in the future and to have him teach us some yoga postures that might help our running and general health. He is an exceptional practitioner and a wonderful man.
En el descenso, algunos del equipo salieron a correr juntos para estirar las piernas y disfrutar la serenidad de las montañas.
Esta noche hemos tenido el placer de quedarnos en casa del padre de Pierre, Jean Claude Lantuas. Su casa, escondida en las colinas de Saint Cyr Sur la Mer, es un santuario virtual de paz y recogimiento y un lugar perfecto para enseñar yoga. Después de semanas de dormir en hoteles y residencias fue un verdadero agasajo dormir en el hogar de alguien por una noche y disfrutar de una nutritiva y energética comida. Esperamos encontrarnos con Jean Claude en el futuro y que nos pueda enseñar algunos ejercicios de yoga que nos ayuden para corre y para nuestra salud general. Él es un practicante excepcional y una persona maravillosa.
---
Team Members:
Ondrej Vesely (Czech Republic), Nelson (Homagni) Baptista (Australia), Namitabha Aleksandar Arsic (Serbia), Marc Schrader (Germany), Zoltan Theobald (Hungary), Pierre Lantuas Monfouga (France), Enrico Eugenio (Italy), Ignacio (Hareen) Basagoiti (Spain)
Harmonemail:
You can send a message to the runners or read the messages.