Canada 21 July: Litchfield, Quebec - Bear Creek Outdoor Centre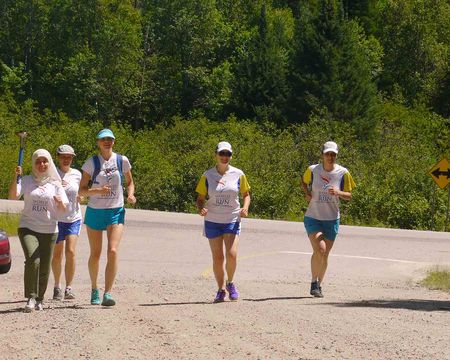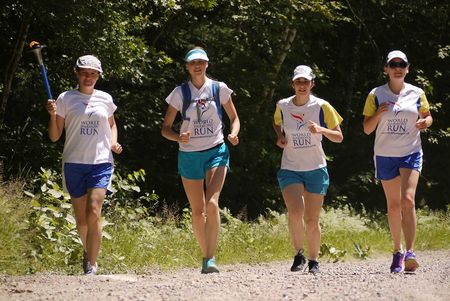 Today we visited the lively Active Challenge summer camp, Canada's only not-for-profit weight loss camp promoting healthy living, good nutrition and the treatment and prevention of childhood obesity with a special emphasis on young girls.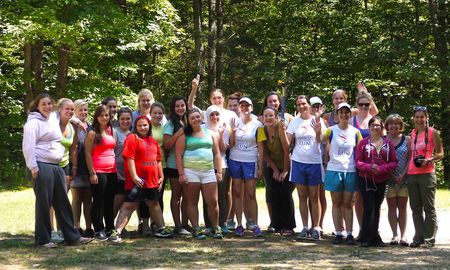 We ran 4 kilometers into the camp, all the while, soaking up the exquisite beauty of the natural surroundings. We knew we had arrived at the right place with a warm welcome from lovely Jill Baxter (founder of the Active Challenge program and the Bear Creek Outdoor Centre). Around the corner we met vivacious Jo (Joanne Smith, executive director of Active Challenge) and a beautiful, fun group of girls.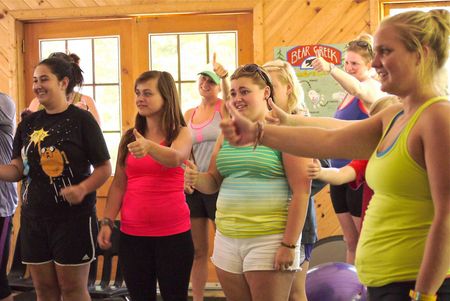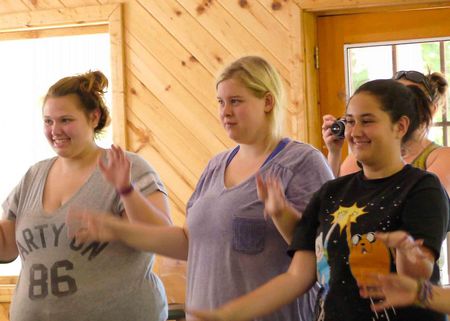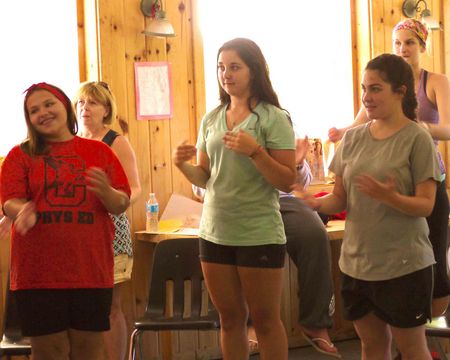 We headed to the classroom and showed a video of the World Harmony Run travelling through the globe. Then everyone became a part of our team by learning the motto "Peace Begins With Me", singing the song- energetically and with the actions-and distinguishing between harmony and disharmony through some funny skits.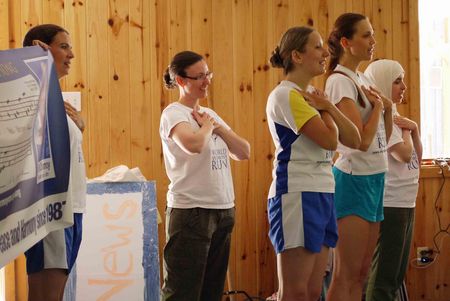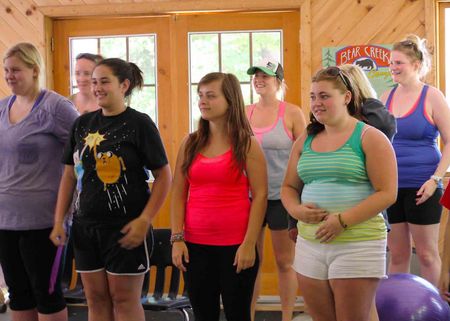 The girls asked some very thoughtful questions before we moved outside for our run around the lake.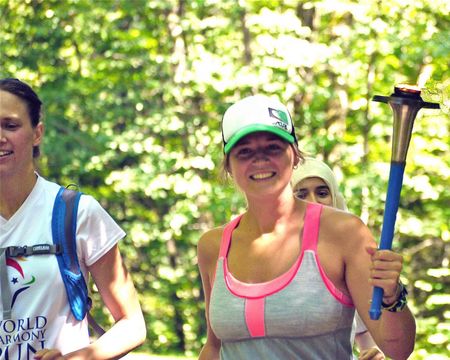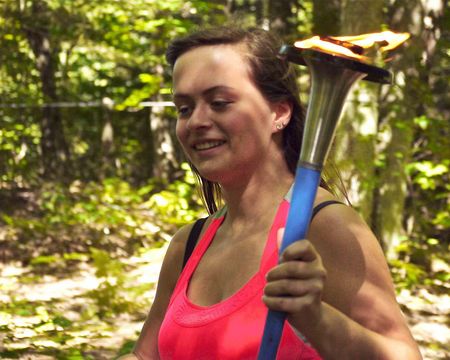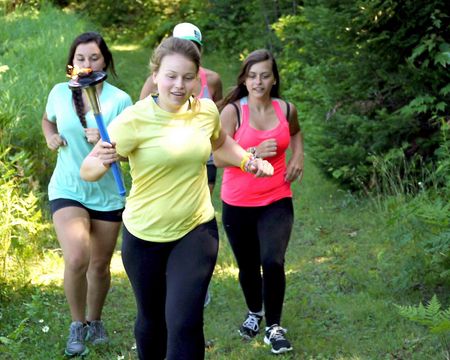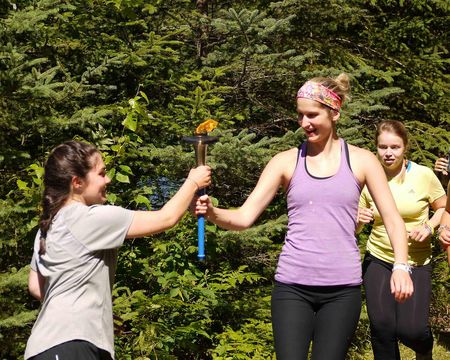 The campers were stationed at different points around the lake.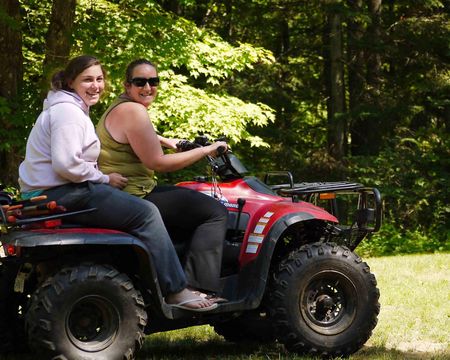 While a few took a fun short cut to the waterfront finishline...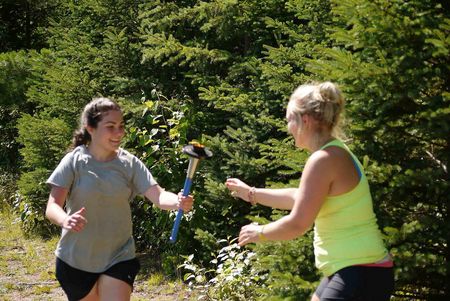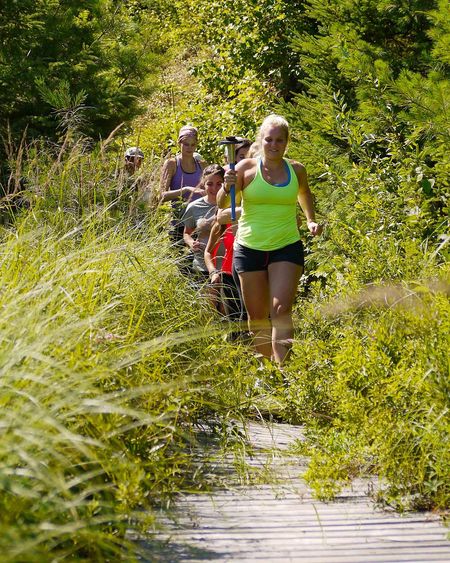 Narrow trails and tall grass... lots of fun!
Freddie the Frog was watching all the action!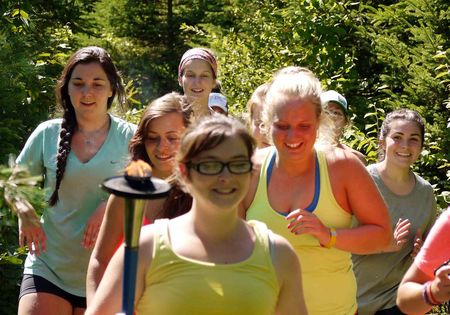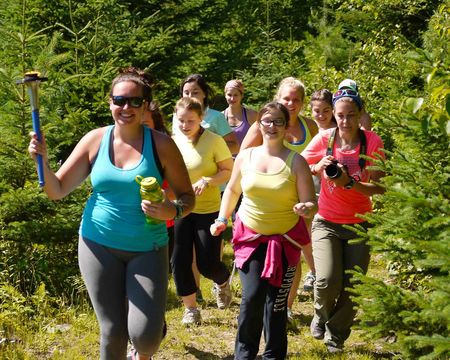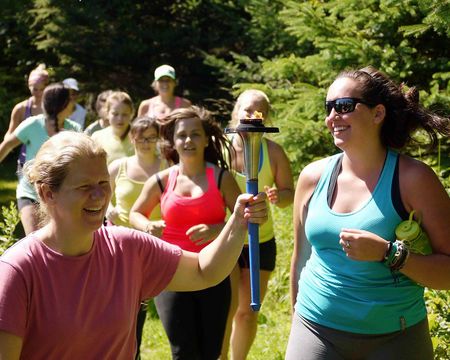 As the torch came through 'relay style' the team of runners grew.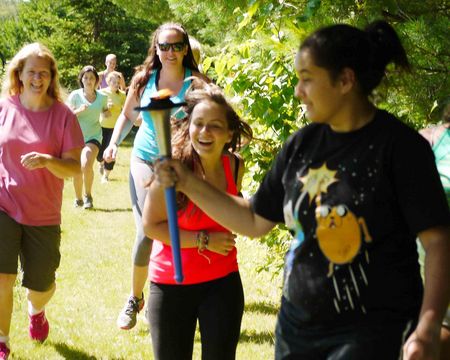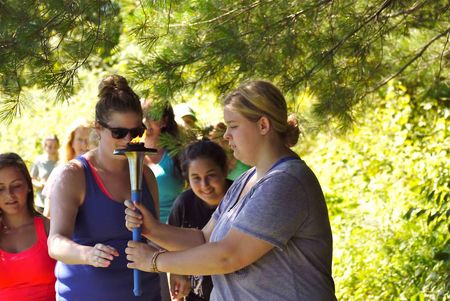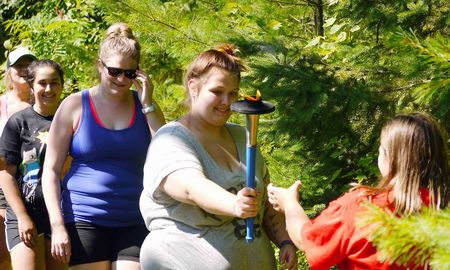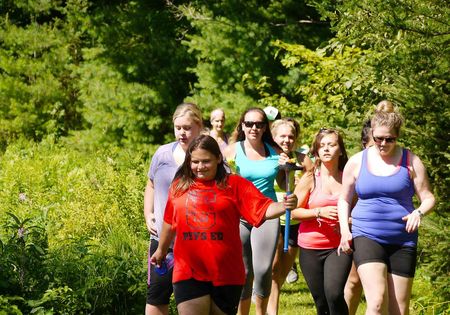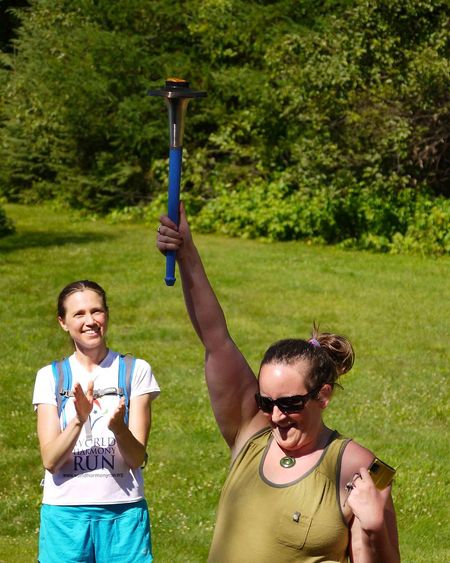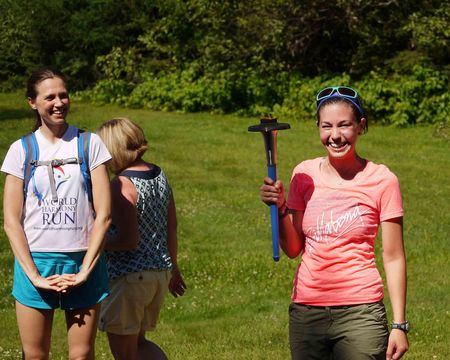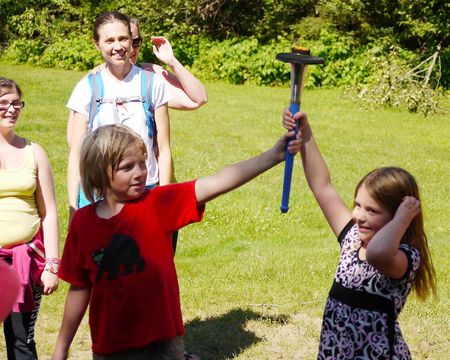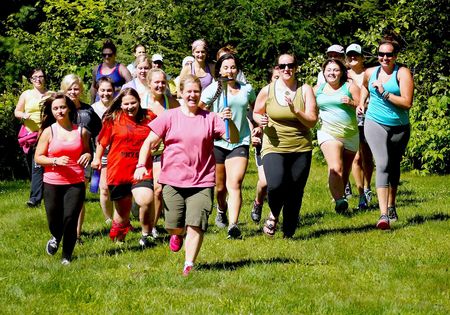 We were blown away by how fast the girls were running- or should I say flying! - once they got the torch in their hands.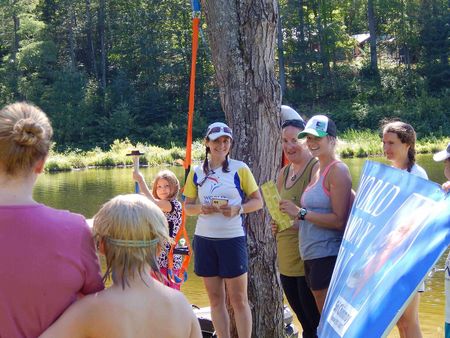 After completing the circumference of the lake, we gathered at the pristine waterfront...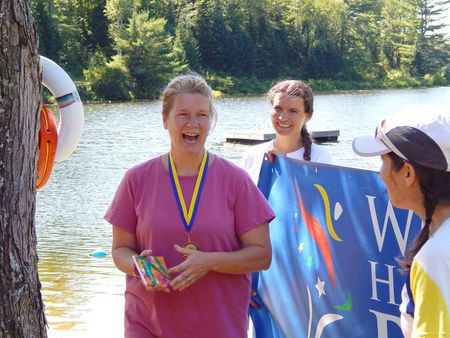 ...where we surprised camp founder, Jill Baxter, by presenting her with the World Harmony Run Torch-Bearer-Award.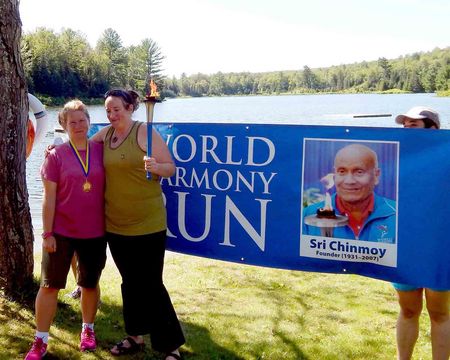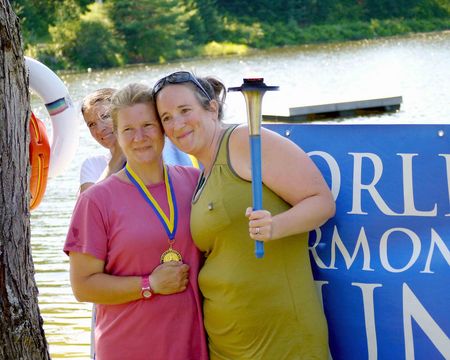 She was very moved, along other staff members and campers and it became very evident how respected and appreciated she is by everyone there.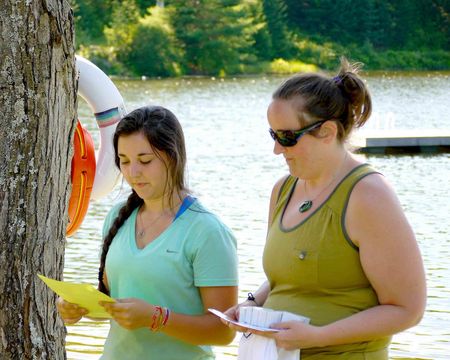 Many of the girls refer to her as their "camp Mom".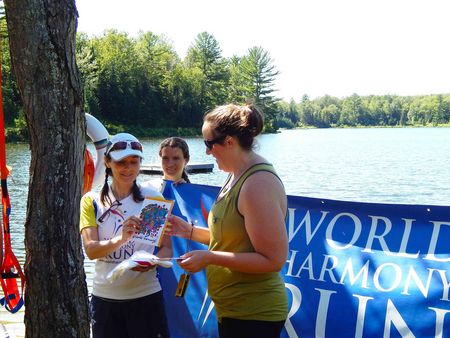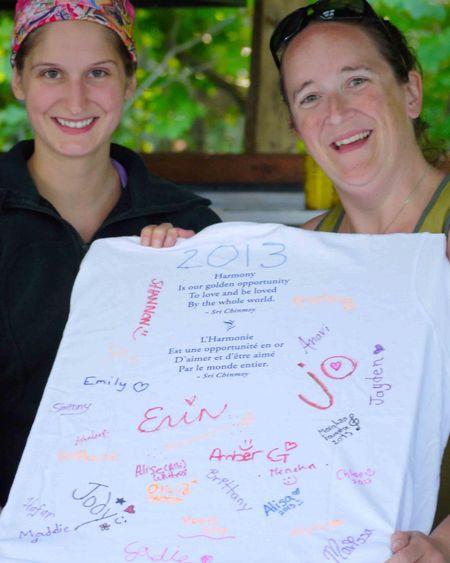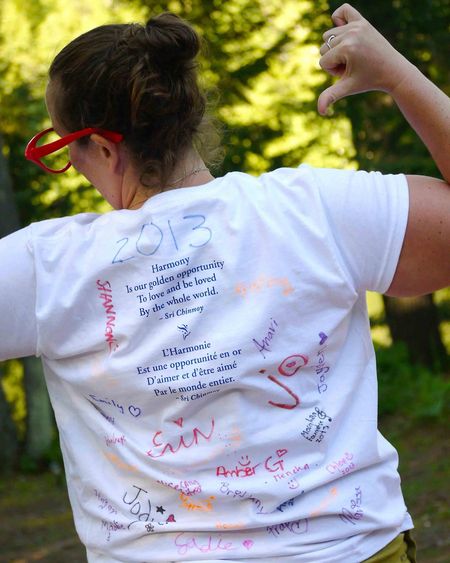 In appreciation of their heartfelt participation in the World Harmony Run all the Active Challenge girls received certificates of participation, a team t-shirt for 2013 and Jharna Kala Art card created by founder Sri Chinmoy all themed on World Harmony. Above is "Jo" modelling for us.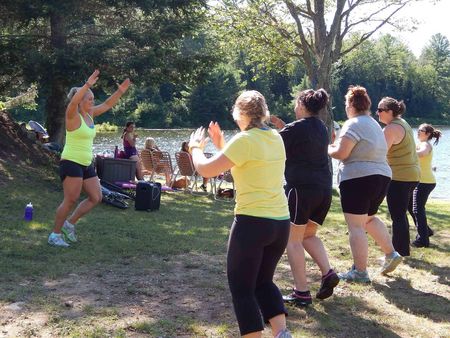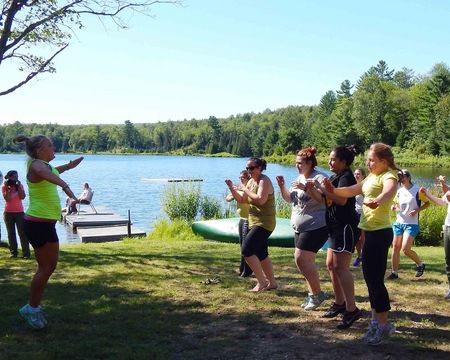 They then treated us to an upbeat Zumba workout class! We had a lot of fun but the girls left us in their dust as one by one, our team members had to take breaks while they powered through the vigorous choreography for over an hour!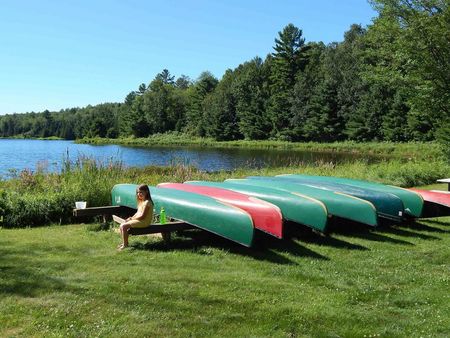 Exhausted from our Zumba exercises, we enjoyed a refreshing dip in the lake...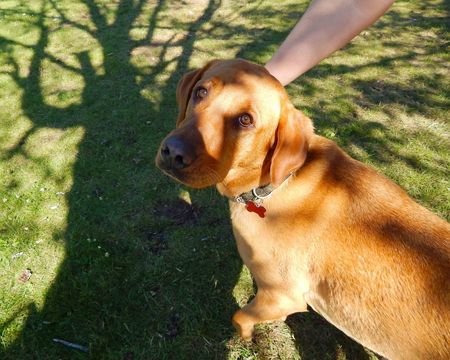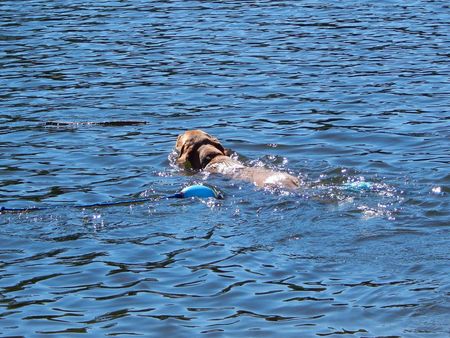 along with our new furry friend.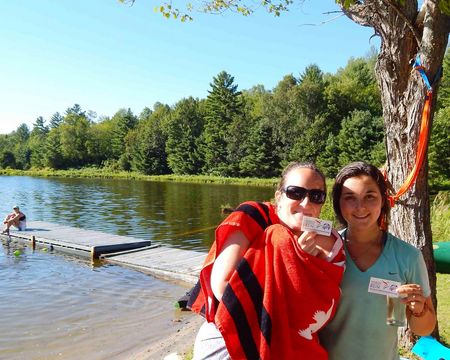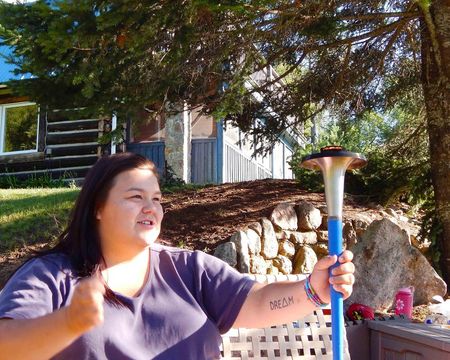 We chatted and got to know the girls and they all had overwhelmingly positive things to say about their camp experience.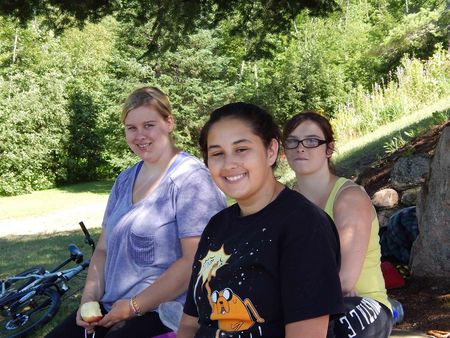 A lot of the girls told me that they had learned so much about exercise and loved how they felt after being active. Others expressed what a difference it made for them to be in such a supportive environment, free from judgment.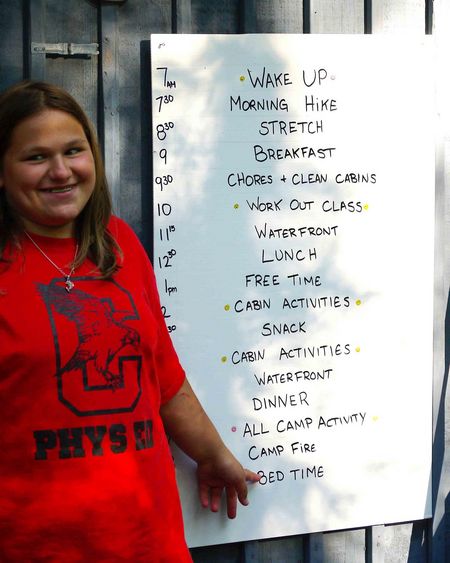 One girl told me that this camp has given her so much more confidence and that she is genuinely proud of herself for how well she is doing. It is important for young girls to have a safe space to be themselves and to grow with the encouragement of good friends and role models. This camp provides all of that and more!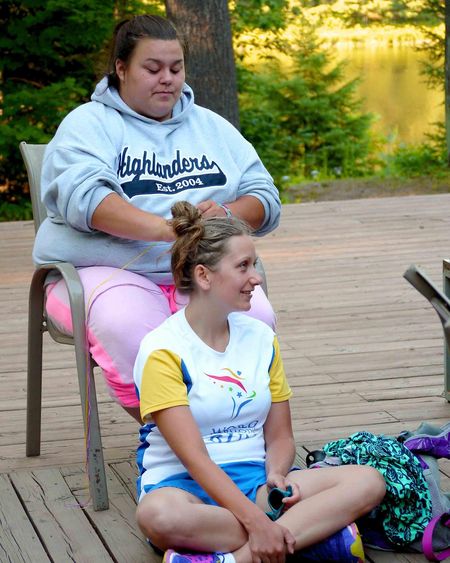 ...today even hair dressing services for welcomed visitors!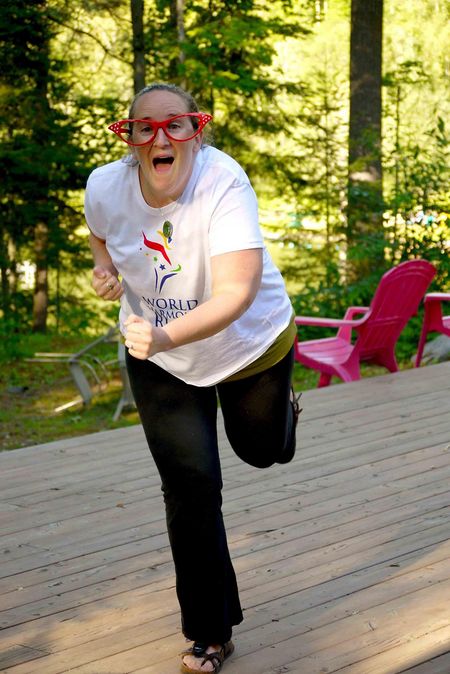 And a healthy dose of comic relief... Jo to the rescue!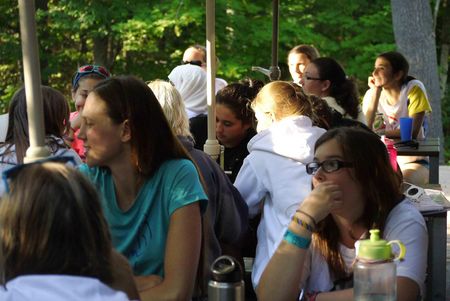 We took them up on their generous dinner invitation (how could we resist?) and were delighted by their healthy, vegetarian food and great conversation.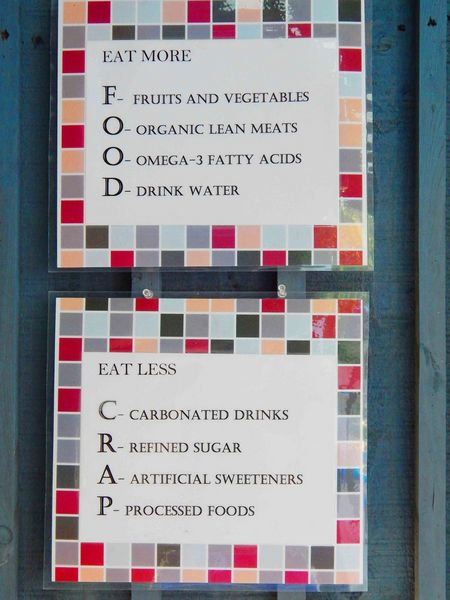 Being at Active Challenge was such an inspiration for our team as the philosophy is so in tune with that of the World Harmony Run.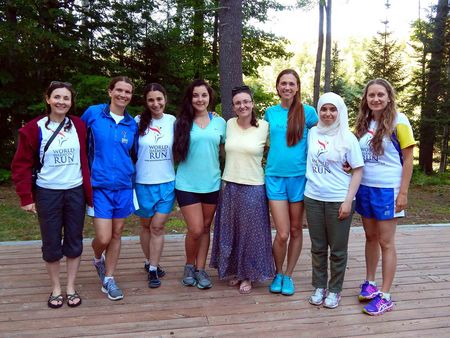 When we are physically fit we harmonize all of the parts of our being- body, mind and spirit. As we bring ourselves into greater health, we feel better about ourselves and cultivate peace and happiness inside, this spreads to those around us and continues to expand. So Active Challenge is really a shining example of "Peace Begins With Me".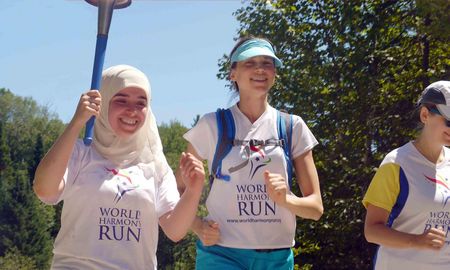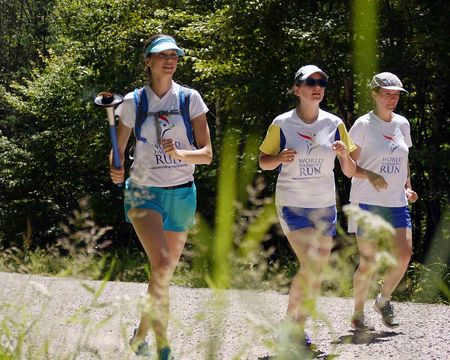 We had two special guests on our team today-Hajar who is a first time World Harmony runner, and Ashadeep who is visiting all the way from Australia.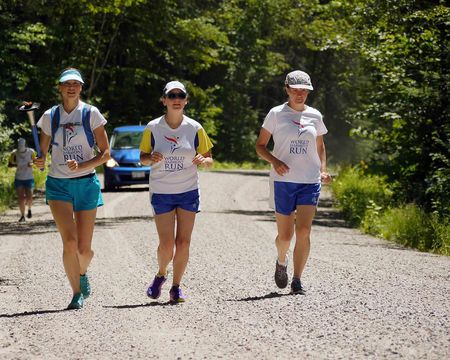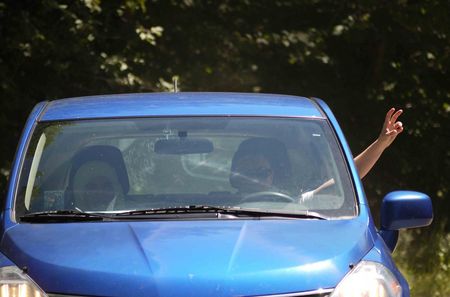 We thank them for joining us and we thank the Active Challenge staff and campers, from the bottom of our hearts, for their wonderful work and the special opportunity of being with them today.
---
Distance: 6 km
Team Members:
Anavi Davies (Canada), Ashadeep (Australia), Brahmata Michael (Canada), Hajar (Canada), Manoshri Sykorova (Slovakia), Menaka Ait-Ouyahia (Algeria), Prapti Jensen (Canada)
Harmonemail:
You can send a message to the runners or read the messages.
Gallery: See more images!