Estonia 26 June: Ivangorod - Mustvee
Another beautiful day on the Run. Don't let the big clouds deceive you. All day we would somehow run the line between a super blue sky and big heavy rain clouds. The weather gods were very kind to us; we could see rain pouring down in the distance, but no rain for us...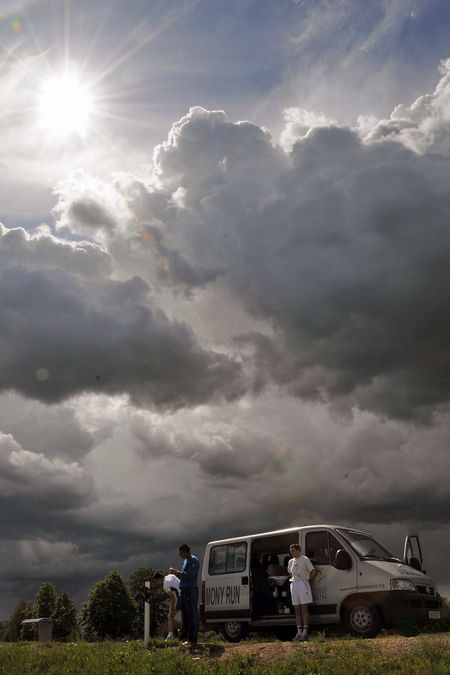 Good bye Russia! At noon we crossed the border to Estonia. Russia, we already miss you. Thank you so much for everything. Svetlana did a super-fantastic job...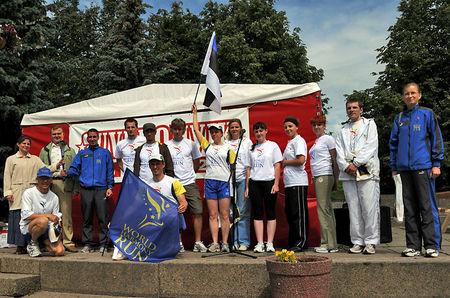 At the border people were already waiting for us. A few young runners accompanied us until we left the city.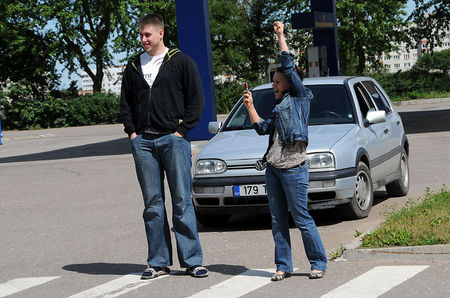 Very enthusiastic folk at the side of the road. Yes, cheering works...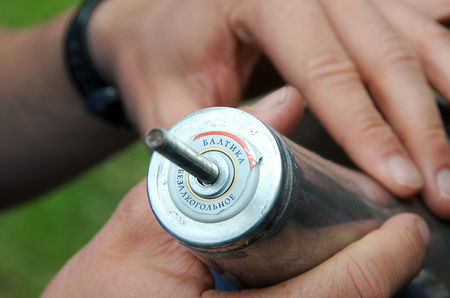 One of our torches was leaking and we needed to find something to properly seal off the bottom. This bottle cap was just the right thing to find. Hopefully it works.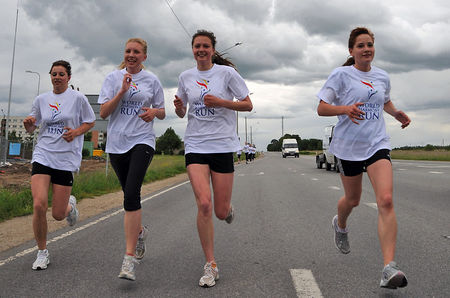 We almost missed the next runners, who came to run with us in Sillamäe. They were running to meet us but we were simply too fast, so they missed our runner. One car went after them and told them that the runner is already waiting 1 km down the road.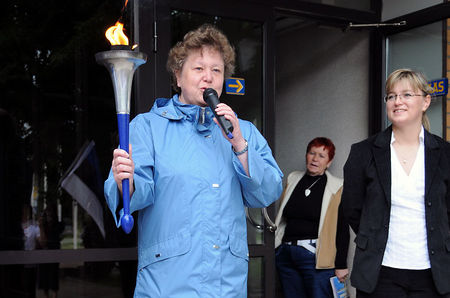 A brief meeting, at which we were given souvenirs by the deputy mayor.
She knew all about the Run, and was very happy to receive us.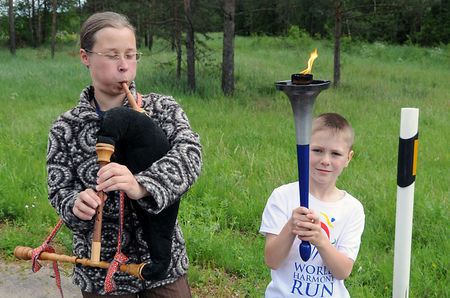 All along the way runners were waiting for us. Every few hundred metres for about 5 km, a new young runner was waiting for Tomas from Hungary. After a few moments listening to the bagpipes, off they went again...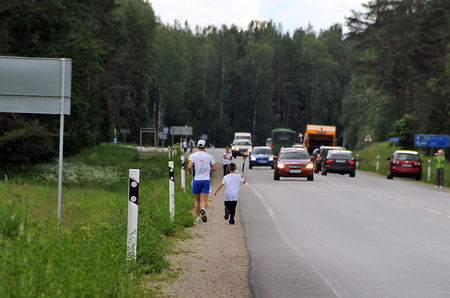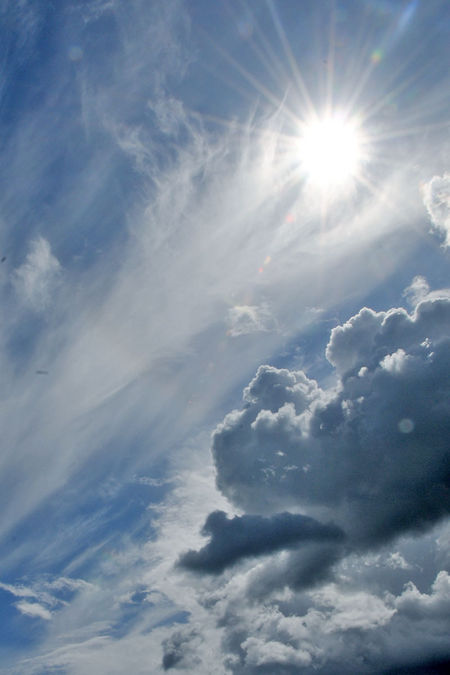 Something funny happened in Jöhvi. A group of runners was leading us. The police were also there and so it was very easy to make our way through the town without getting lost. We were at that border leaving Jöhvi when a car stopped and a group of people jumped out. They were excitedly telling us that there had been a reception waiting for us, which we missed because the young and enthusiastic group of local runners just forgot to stop...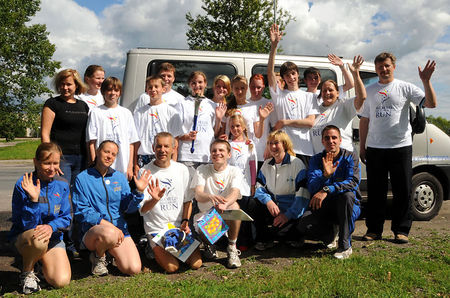 So a short, improvised meeting took place right there. The runners still didn't have any idea it was happening, because they were already 2 km ahead of us...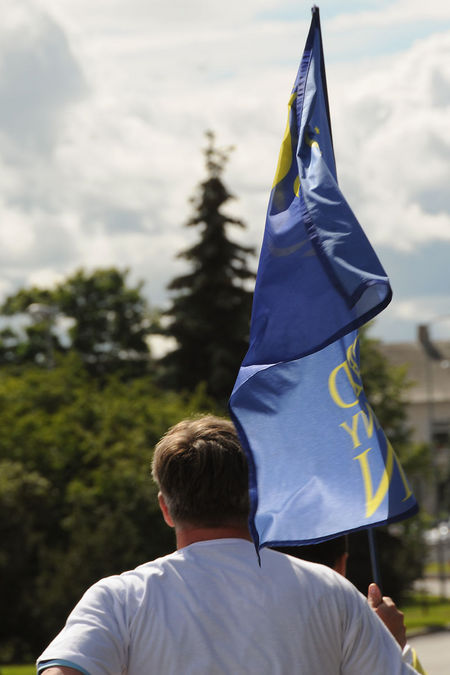 Everyone was laughing about this funny incident. Here we also said goodbye to Jewgenij. He had to leave earlier than expected because he is invited to appear on a TV show in Germany. The ZDF network wants him to perform his record from the last Impossibility Challenger, live on TV: the splits, between two cars !!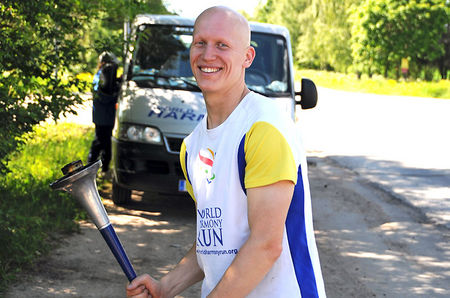 Thank you Jewgenij! See you soon...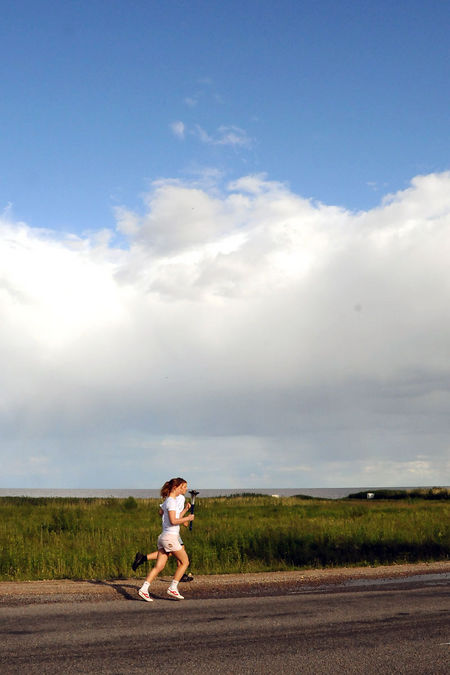 Beautiful scenery for the runners all along the way.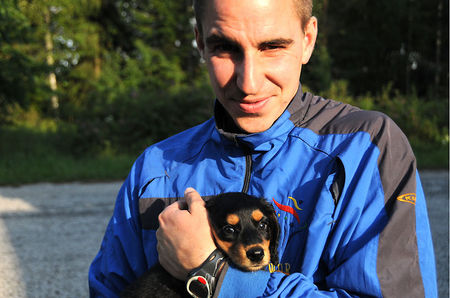 Ooooooh... so cute.
The dog's family happens to live just near the road we were running on. No-one could resist petting the little fella...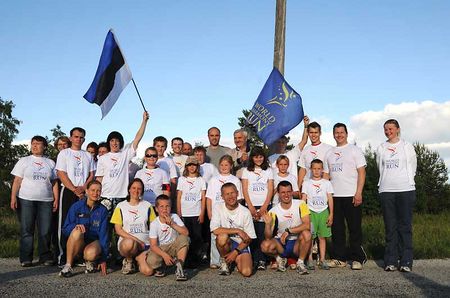 Our hearts' gratitude goes to all the people from the Lohusuu region. Because Anne from Finland was sick and I am suffering from an inflamed achilles tendon, we were two runners short and at the end of the day everyone had already run already between 20 and 25 km. The last 17 km to Mustvee, the Lohusuu people came to our rescue. Mummies, daddies and their children split up the distance - 1 km here, 700m there - and so, finally we arrived in Mustvee. Thank you, s.o.o.o.o much!! Without you, we could not have done it...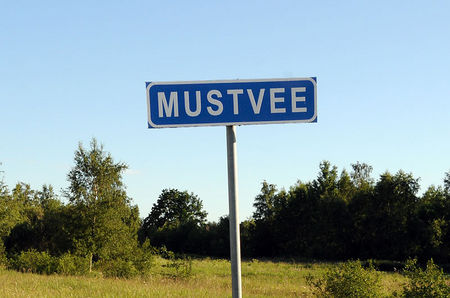 Finally! The sign we had been waiting for...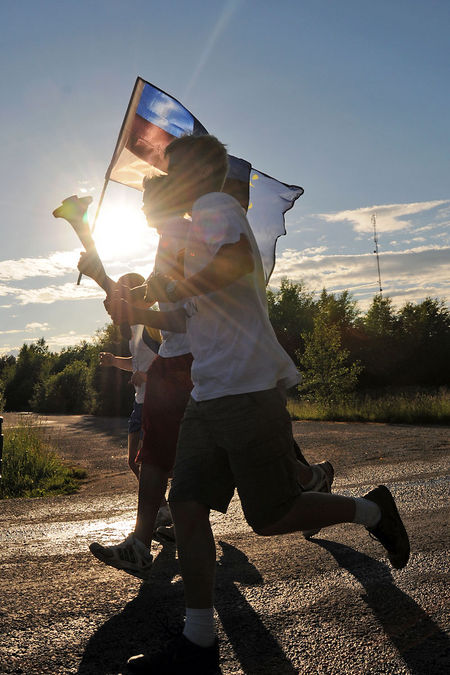 Running the last few km to the meeting place.
At 8 o'clock we arrived at the main square in Mustvee. The mayor welcomed us. Also the representive of Jõgeva country coverment, who covered a few km and then followed the runners on his bicycle, spoke about how much he likes the idea of the Run. Afterwards they have been kind enough to bring us to our accommodation.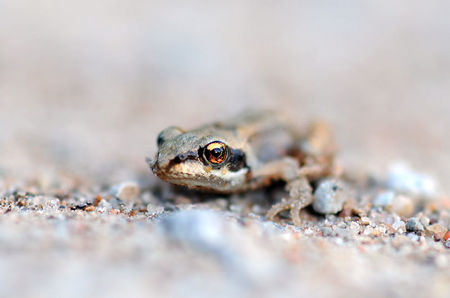 This little frog was sitting just inside the driveway to the house we stayed in. It was only a baby frog, no more than 2 cm long.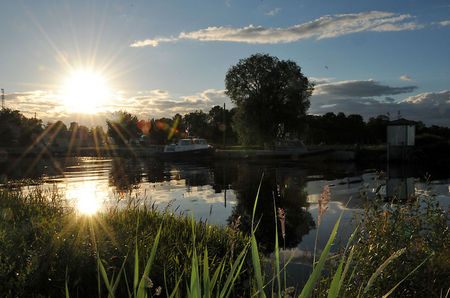 Beautiful sunset over Mustvee.
That's it for today. Good night...
---
Distance: 120 km
Team Members:
Martin Leitner (Austria), Anne Leinonen (Finland), Franz Hinteregger (Austria), Conny Schimke (Germany), Tamas Huszar (Hungary), Ieva Kurzemniece (Latvia), Davids Kleiners (Latvia ), Shobhini Tuhkanen (Estonia)
Harmonemail:
You can send a message to the runners or read the messages.
Gallery: See more images!