Hungary 26 October: Kiskunmajsa - Nagykőrös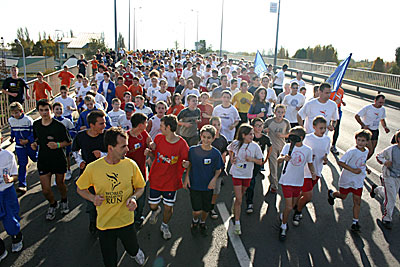 Hungary floods us with rivers of children, streaming in great numbers unto the road to join us with tremendous energy and joy, accumulating into a most powerful flow. Today on this most beautiful sunny day, as well, we are thrilled to have the pleasure to meet over a thousand beautiful and inspiring children.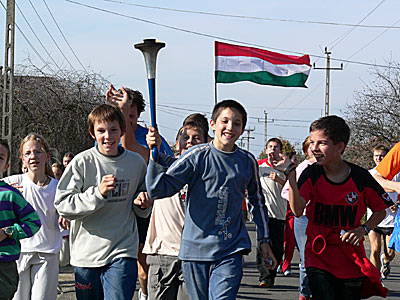 The day begins in Kiskunmajsa sports hall. The hundreds of children we ran with last night have made a triumphant return and impress us with performances, including a program with excellent skipping rope acrobatics.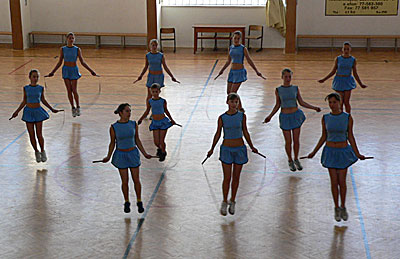 In places the autumn colours are coming into their full bloom. Standing at a ceremony place, brilliant colours of yellow birch leaves create an intricate lattice against a crisp, crystal, clear blue sky, captured in a picture of wind-still silence. Against garden fences bushes explode in symphonies of sanguine brilliance, and vines cascade in rivers of purple. However, many plants still have their green flourish.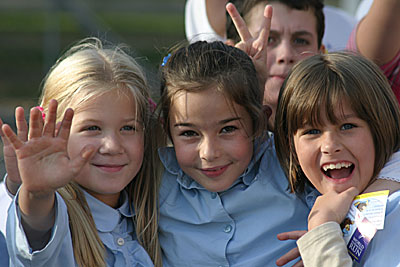 Along the road we have many amiable smaller ceremonies with children in towns and villages like Jásszentlászló, Fülöpjakab, Jakabszállás, Kecskemét. It is truly inspiring for us runners to meet so many groups of excited children waiting for us. It makes us want to be out there on the road and run more. It's an enlightening experience you have on the WHR that when you run with others it's much easier and more fun. It is like everybody's efforts melt together and so increase everyone's capacity. Many, including myself, have been thoroughly surprised at the distances they've covered and at the paces they've covered them in, whilst running in a big group of cheerful, hopeful runners. It is with experiences such as this that we can come to learn and understand more and more the meaning of the text in our song: "We are the Oneness and Fullness of Tomorrow's Sun." It inspires me to come with a phrase of my own: "Together we run; Divided we also run, but not as far… :)"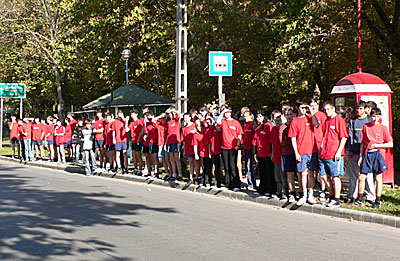 As soon as we run into a school in Kiskunfélegyháza with a considerable group of children another equally considerable group takes off with a few runners from our team as the rest of us squeeze in through the doorways leading into the gym. The children scurry into the grandstands and we are left on the basketball court. A video of the European World Harmony Run is projected on a screen during the whole goings-on, which includes a glamorous "two-batoned" majorette by shining girls, with clear and disciplined movements.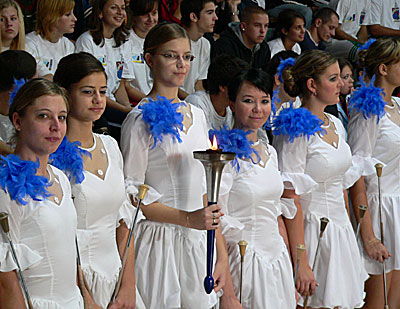 In Kecskemét the streets are stock-full with kids running in a powerful armada towards the school where a big band plays for us.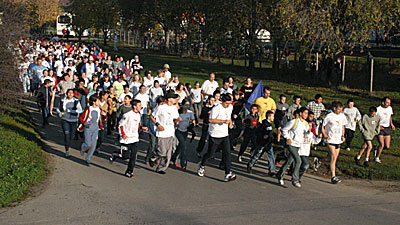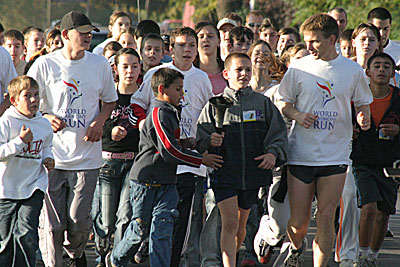 An intense day ends in Nagykörös, where the following morning we will have a ceremony with 400 children.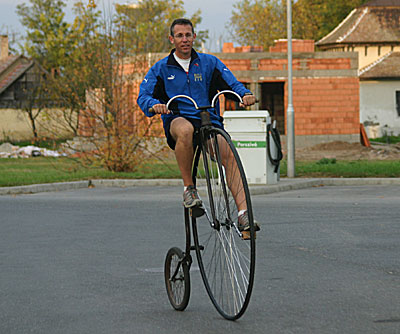 ---
Harmonemail:
You can send a message to the runners or read the messages.