日本 Japan 11 May: Morioka - Akita 盛岡~秋田
日本ラン最終日は忙しい一日になりそう。全行程の細かいルートや2チームの役割分担を担当したクルタナンダは今日も詳細地図づくりに余念がない様子...
Today will be our busiest day full of school visits and the final ceremony. Krutananda, who is responsible for details of the route, is busily cutting & pasting road maps for both vans.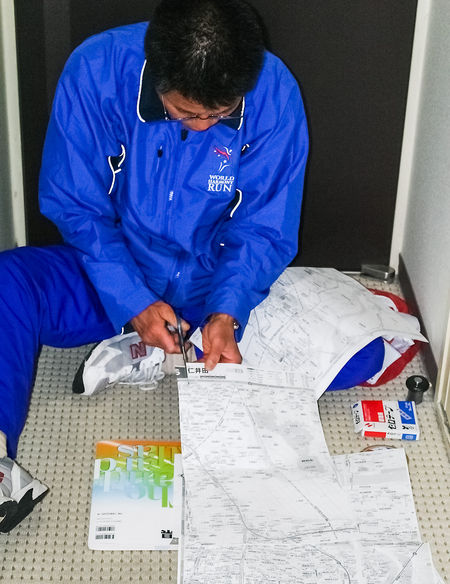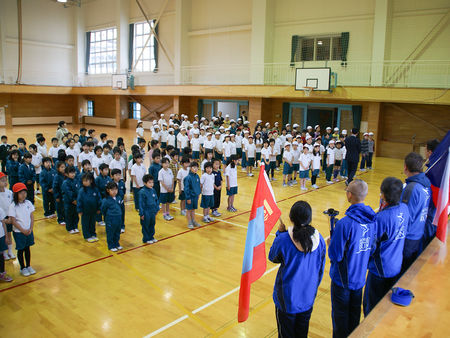 Aチームが朝一に訪れたのは盛岡市の杜稜小学校。全校生徒259名が元気に迎えてくれました!
Team A's first visit is Morioka City's Toryou Elementary School. The entire school of over 250 students enthusiastically welcomed us.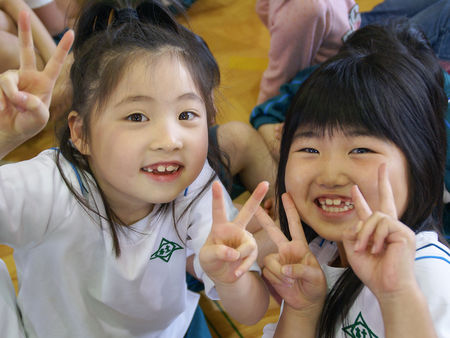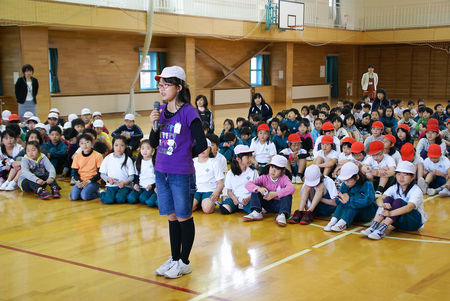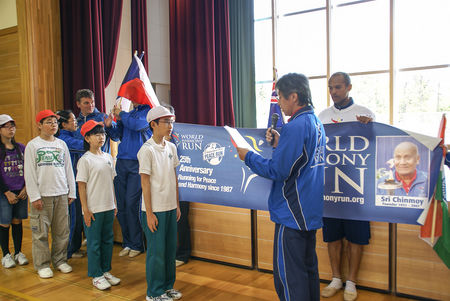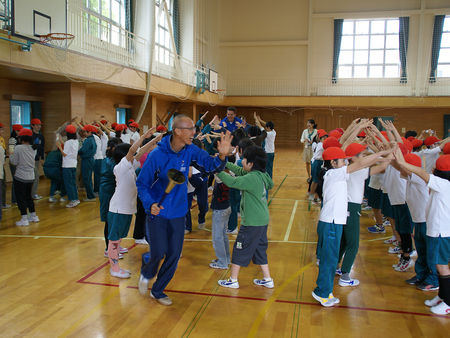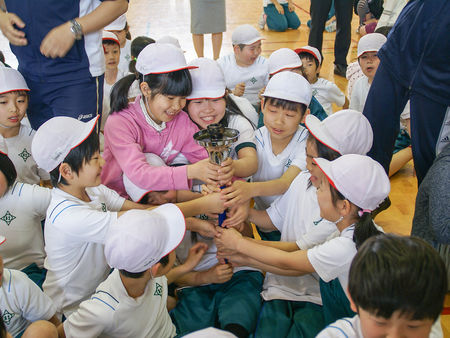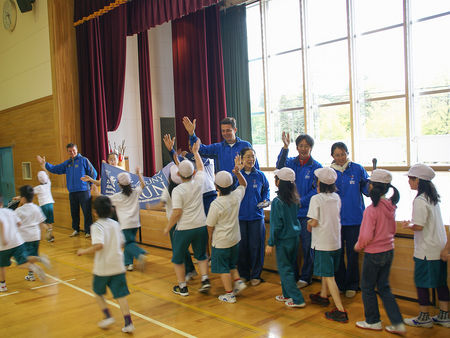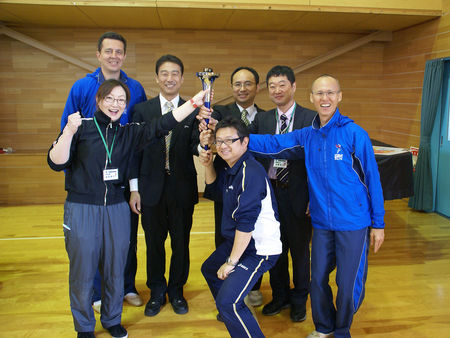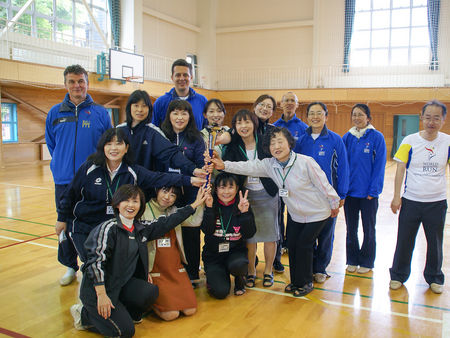 先生方もみなさん嬉しそうにトーチを持って下さりよかったです。
All the teachers were also very enthusiastic to hold the torch with us. Thank you!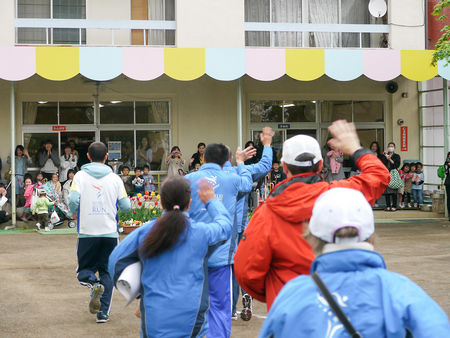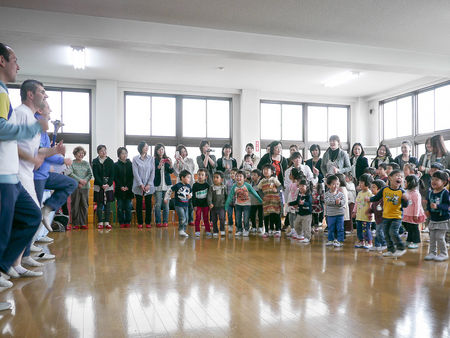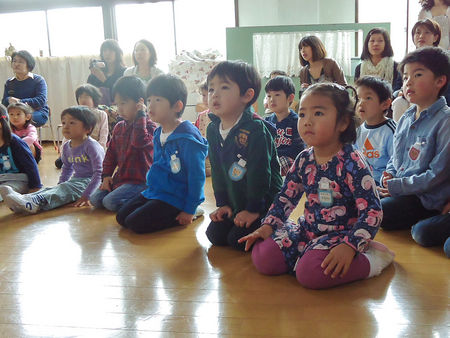 一方Bチームは盛岡市内の仁王幼稚園を訪れます。かわいいお友だちがいっぱいまってます。
Team B visits Niou Kindergarten of Morioka City, where our little friends are eagerly waiting for us...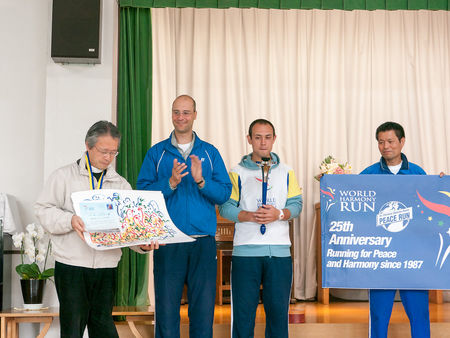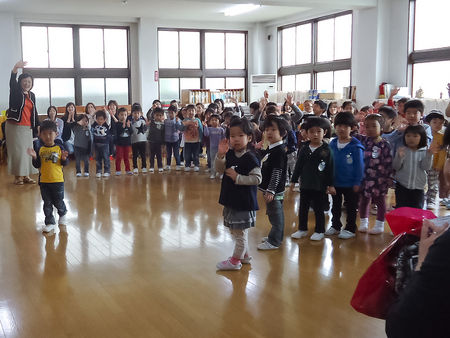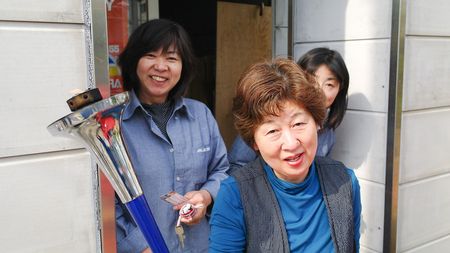 途中で出会った方たち...
More joyful encounters with local people on the way...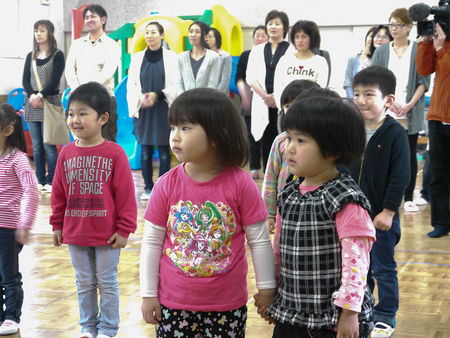 Bチームは秋田県入りし、東北の小京都と呼ばれる角館町にある「かくのだて幼稚園」を訪ねます。
Team B then enters Akita Prefecture and make their next visit at Kakunodate Kindergarten in Kakunodate Town, which is known as Little Kyoto of Northern Japan.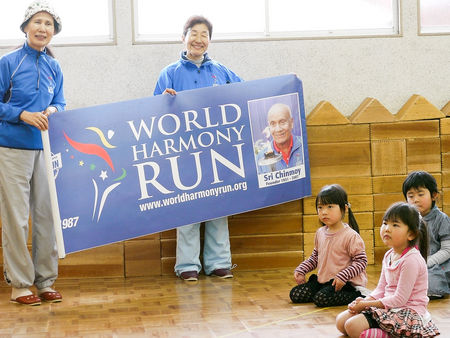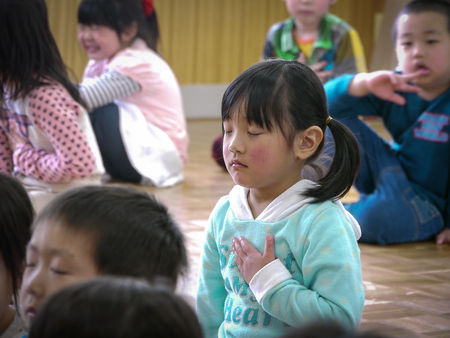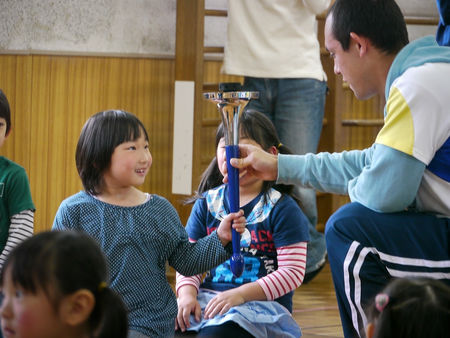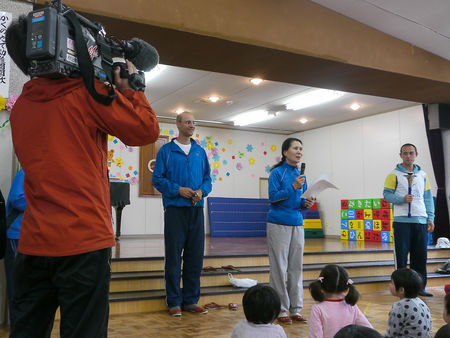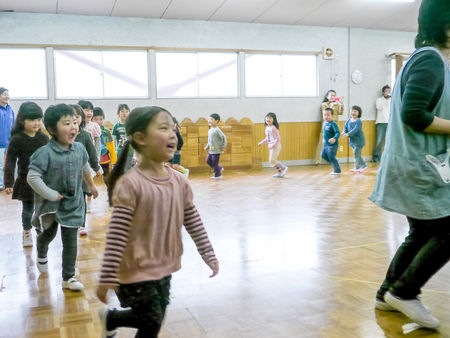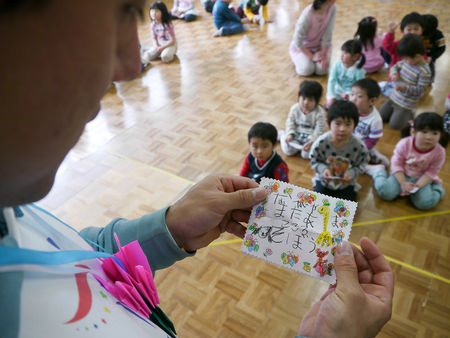 子どもさんたちからメンバーへ手作り紙のメダルとメッセージ。かわいい。
The team members received the children's hand-made paper medals with special messages. The one in the photo reads: "Let's play again"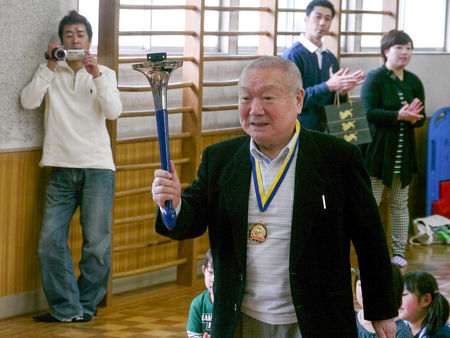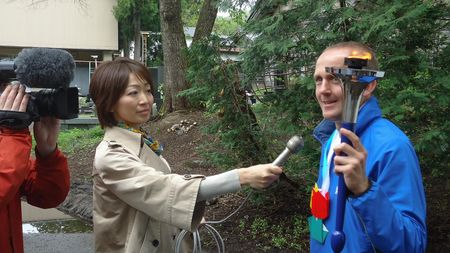 かくのだて幼稚園にはテレビ局の秋田朝日放送さんが取材に見えられました。
Akita's Asahi TV Station came to cover Team B's visit at Kakunodate Kindergarten.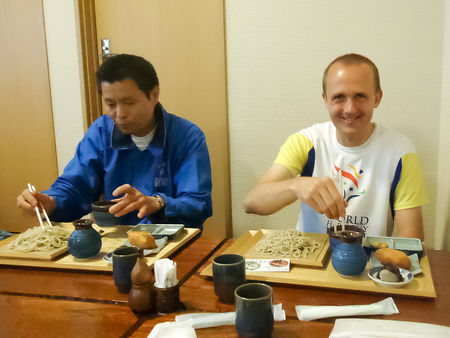 待ちに待ったお昼は角館地元の方もお勧めの「そばきり長助」にて。自家栽培有機そば粉を使った美味なお打ちたてそばに、そばで作ったスウィーツ、おいなりさんなどついた特別セットを都合してくださいました。お手頃。海外からのメンバーからは「こんなおいしいそばは初めて食べた」とのコメントも。
Our long-awaited lunch was at Sobakiri-Chosuke, a locally renowned soba specialty restaurant in Kakunodate. They grow their own organic soba buck wheat and make fresh soba. They arranged a special lunch set for us including a sweet made out of soba buck wheat and inari-zushi.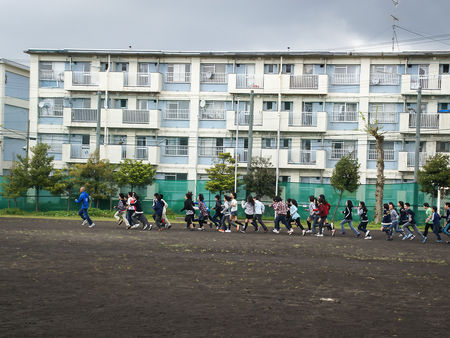 Aチームの最後の学校訪問は秋田市の旭南小学校。6年生が校庭で迎えてくれました。
Team A's last school visit was at Kyokunan Elementary School in Akita City. Their 6th graders welcomed us in the school yard.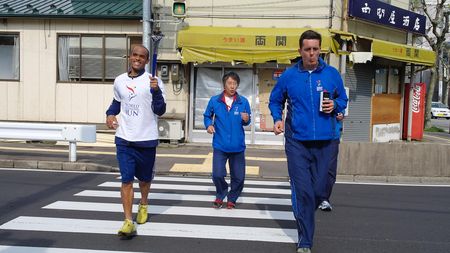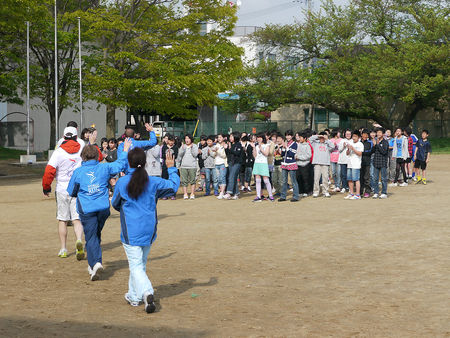 Bチームは同じく秋田市の川尻小学校を訪ねます。こちらも6年生が迎えてくれました。
Team B visited Kawashiri Elementary School, also in Akita City. Their 6th graders played with the team.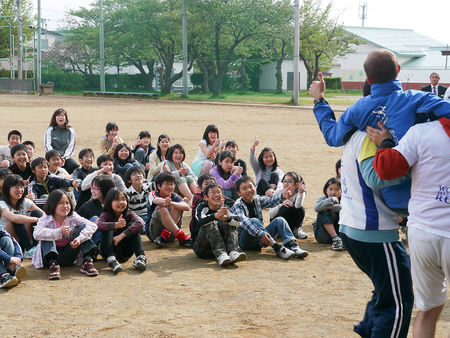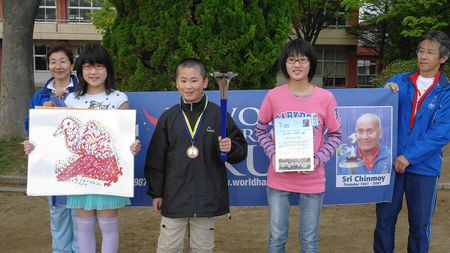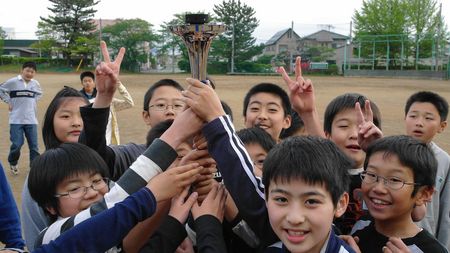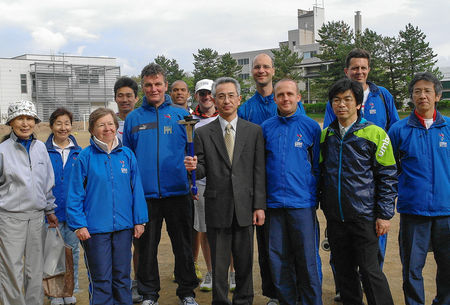 さて、いよいよ日本ランのクライマックス、秋田でのゴールイン・セレモニーです。会場は秋田駅に程近い「大屋根下」と呼ばれるショッピングアーケードの一角。市内で一番人通りの多いところです。ここへ、秋田市役所前から走って下さった市民ランナーのみなさん10名ほどが多国籍ランナーと走って入場します。
Finally, we are going to have our Finishing Ceremony in Akita City. The venue is along the busiest shopping mall near Akita Station. While the crowd is eagerly waiting, the team members as well as over 10 citizen runners, who ran with us from Akita City Hall, finally arrive.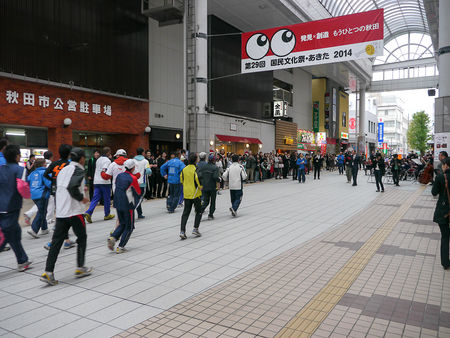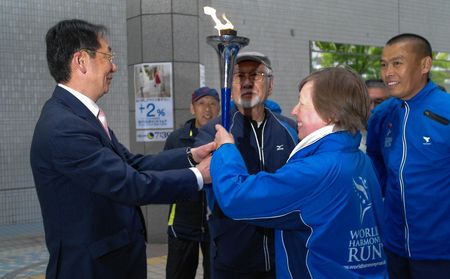 到着した市民ランナーの代表の方とウラジオストク市からランに参加しているイリーナから穂積志秋田市長様にトーチが手渡されます。秋田市とウラジオストク市は姉妹都市です。
The flaming torch is now handed to the Mayor of Akita, Mr. Motomu Hozumi, from one of the citizen runners and our runner from Vladivostok, Irina. Akita and Vladivostok are sister cities.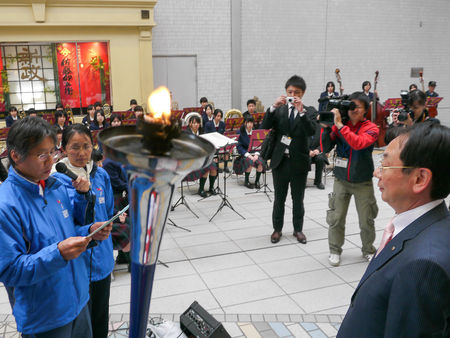 秋田市民全員に代わって、穂積市長さんが「トーチ・べアラー賞」を受けて下さいます。
On behalf of the people of Akita City, Mayor Hozumi receives the Torch Bearer Award.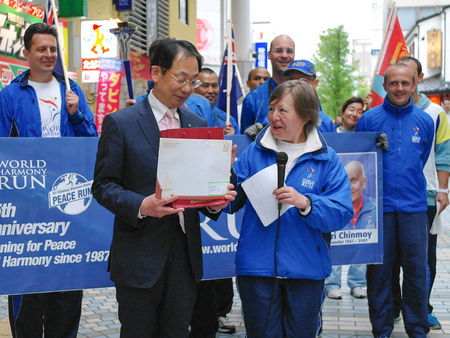 ウラジオストク市長様からの親書とプレゼントが、同市から来たランナーのイリーナから秋田市長様へ手渡されます。イリーナはこの日のために日本語でスピーチを用意し、毎日車の中で練習していました。涙ぐましい努力!
The letter and gift from the Mayor of Vladivostok is now handed from Irina to the Mayor of Akita. Irina prepared a speech in Japanese, and everyday in the van she practiced very hard for this occasion.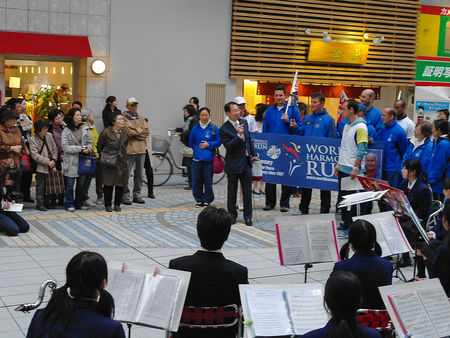 市長さんからランナーへ激励のお言葉をいただきます。
Now the Mayor gives words of encouragement and appreciation to the runners.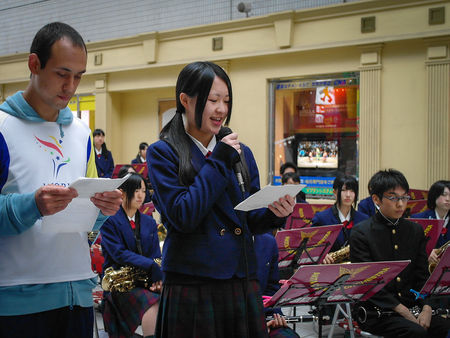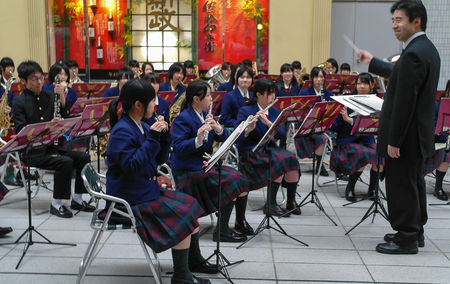 秋田商業高校吹奏楽部のみなさんが特別演奏をしてくださいました。全国大会金賞の実力が伝わってくる、荘厳、パワフル、まっすぐな演奏でした。快く出演を承諾して下さった顧問の池田先生、感謝です。みなさん本当にどうもありがとうございます!
School Orchestra of Akita Senior High School of Commerce performed a few pieces (including the World Harmony Run theme song) specially for us. They have won the national gold medal, and sure enough, their performance was powerful, magnificent and pure. Our special gratitude goes to the director, Mr. Ikeda, who kindly agreed for his orchestra to participate in our ceremony.
フィナーレは穂積秋田市長さんよりイリーナへと平和と友情への願いを込めてトーチの火が点火されます。日本コースを無事終え、リレーはウラジオストク市とプサン市へ続いていきます。
The ceremony ends with the Mayor of Akita lighting the torch of Irina's, who will carry it to her city Vladivostok to carry on the relay with strengthened bond between the two cities.
日本ランに参加してくださった海外ランナーのみなさん、本当にどうもありがとう。仙台~盛岡~秋田間でいっしょに走って下さったランナーの皆さん、チームを迎えて下さった学校・幼稚園のみなさん、そして通りがかりに一緒にトーチを持ったり応援して下さったみなさん、本当にどうもありがとうございます。このような素晴らしいランになったのは、みなさん一人一人のお陰です。また、このランに後援名義を下さった各公共団体、セレモニーに出席して下さった秋田市長様、岩手県教育委員会教育長様、岩手医科大学教授作山正美先生はじめ多数のみなさん、岩手県立不来方高校音楽部、秋田商業高校吹奏楽部のみなさんにも深くお礼を申し上げます。
Our special gratitude goes to international runners who came to join us, all the citizen runners who ran with us along the way, all the schools and kindergartens who welcomed us, and all the passersby who kindly held the torch with us and supported us.  This beautiful Run came together as it did because of each one of you all. We are also grateful to all the public bodies who gave us their endorsement, to special guests at the ceremonies including the Mayor of Akita, Director of Iwate Prefecture Board of Education, Professor Masami Sakuyama at Iwate Medical School, and to Iwate Kozukata Senior High School Choir and School Orchestra of Akita Senior High School of Commerce.
---
Video Message from Dr. Davidson Hepburn, President (2009 - 2011) of the General Conference of the United Nations Educational, Scientific and Cultural Organization (UNESCO) for 25th Anniversary of the World Harmony Run and a vision for the decade: "Toward a Oneness-World".
Full Text of the 25th annversary message and link to 25 language informal Translations: http://www.worldharmonyrun.org/25
or Click on language button for separate youtube videos wth sub titles in varous languages
See also: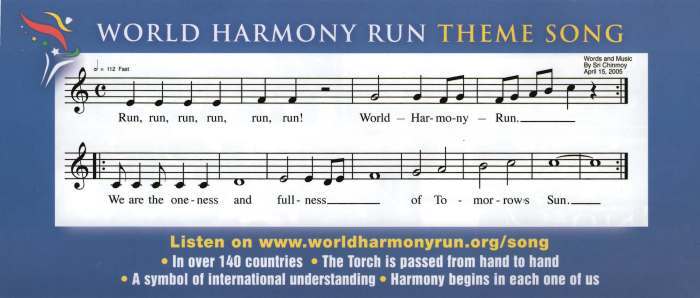 ---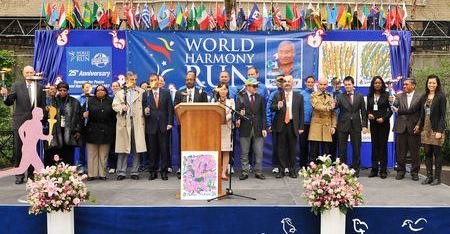 See start of the International 25th Anniversary Celebration across from the United Nations at Dag Hammarskjold Plaza in New York.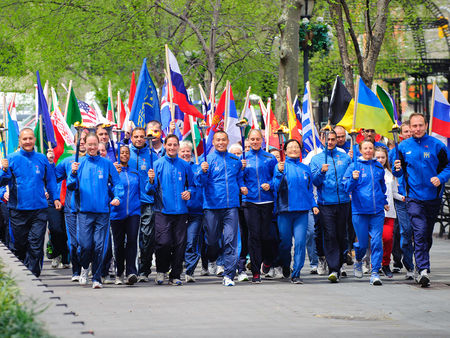 On 27th April 2012. in many cities around the world, special events marked the WHR 25th Anniversary
---
Distance: 122 km
Team Members:
Ashirvad (Brazil), Abhisar (Czech Republic), Pedja (Serbia), Purnendu (Canada), Irina (Russia), Sujagaran (Russia), Urdhacheta (Singapore), Krutananda (Japan), Jyotirmala (Japan), Pramiti (Japan), Harashita (Japan), Sudasa (Japan), Yahva (Austria), You (Japan), Akanda (Mongolia), Usra (Japan)