Poetry and Prose New Zealand 2005
HAPPINESS
AFFECTION
RESPECT
MERRILY
OPTIMISTIC
NOBLE
YIELDING
---
Harmony poem

Hatred, aggression, anger, domination
Path to war, destruction.
Nature disrespected, vaporized.
Children, orphaned, living in poverty
Merciless foes.
Nuclear weapons, extinction.
IS THERE NO HOPE?
What we need is harmony.
Peace, friendship, trusting each other.
Helping, caring, sharing happiness and grief.
Respecting others needs.
A brighter world.
Loving families.
No war.
Clean environment, safe and healthy.
Charity.
Hope.
Harmony.
---
Harmony

Harmony what does it mean Peace, friendship, unity and
compatibility.
Without Harmony the world would be a darker
place there would be more wars and people won't
get along with each other.
The main purpose of Harmony is peace
Peace is something that Earth really needs.
Why does Earth need Harmony you ask well the
more Harmony Earth has the more beautiful it
would look, the more destruction Earth has the more ugly
it would look.
The world should strive for peace.
---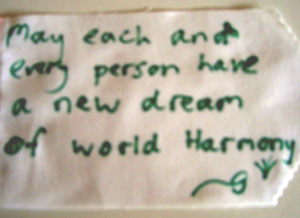 ---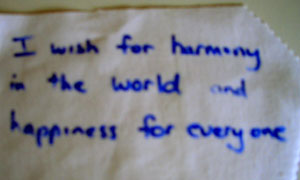 ---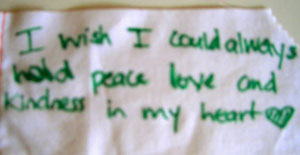 ---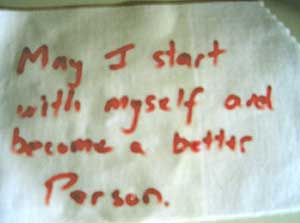 ---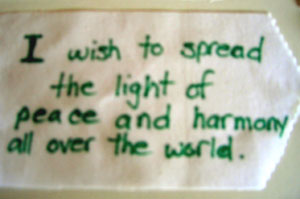 ---
War
Bitter, hated
Petrifying, Destroying, Jeopardising
Cold-hearted, depressing, international, short-lived
Warming, reassuring, comforting
Welcomed, golden
Peace
---
HARMONY means peace
A world without war would live in harmony
RESPONSIBILITY is everyone's
MAY we live without fighting
ON A.N.Z.A.C day we remember the soldiers that fought in the great wars for New Zealand and Australia
NOBODY else in the world may be as lucky as us with no war so be thankful for what you've got
YOU must remember to live in harmony to build a better place
- Bridget
---
Peace, tranquility
calm, relaxed
happyness, togetherness
harmony, welcomed
---
HAVE we got a place with no war
A world in peace
REASONABLY handled the world would be a better place
MAY there be a place on earth that is safe for everyone
OH let there be peace for all
NEVER fight
You are lucky to live in New Zealand
- Brooke