Polska
Join the World Harmony Run!
In 2012 a team of international runners carries a flaming torch through 45 European countries over a continuous route of 24.000 km! 
For more information please contact Jan Palasz: +48 - 600 820 723 
Follow the runners on their journey through Europe! 
Interactive route WHR Europe 2012: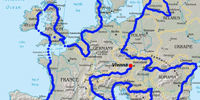 the update interactive route 2012 for Europe: which country is next?
*   *   *   *   *   *   *   *   *   *   *   *   *   *   *   *   *   *   *   *   *   *