Slovenia 31 July: Kamnik-Snovik - Nova Gorica
Anete Klavina (Latvia), Anna Lesmann (Germany), Anne Schulze (Germany), Dipavajan Renner (Austria), Edmund Blab (Austria), Janusz Wiewior (Poland), Mark Collinson (England), Martin Prettenhofer (Austria), Ondrej Vesely (Czech Republic), Petar Mihaylov (Bulgaria), Petr Machacek (Czech Republic), Pratul Halper (Austria), Sandro Zincarini (Italy), Terezia Hammel (Hungary), Veronika Kuliskova (Slovakia), Zoltan Theobald (Hungary).
We started our running tour quite early but fresh from Kamnik-Snovik where the mayor Anton Tone Smolnikar gave us the warmest welcome and energy to start the day. The run towards Ljubljana was beautiful and short; as it were only 16k to go and a lot of fast young runners helped us!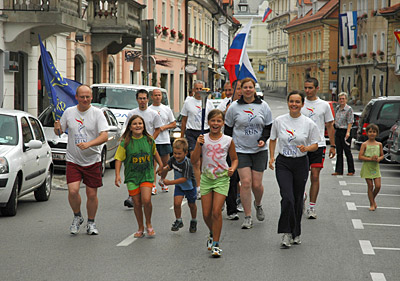 The Romanian Ambassador to Slovenia His Excellency Victor Chiujdea greeted the international runners most happily.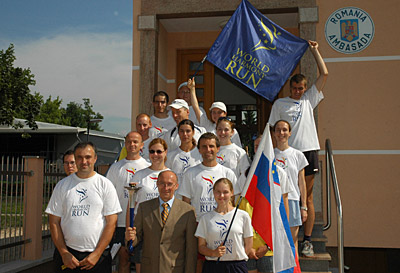 The staff of the embassy was very nicely surprised as we told them that we run every single kilometre of the 27,000 km through the whole of Europe.
Our run continued to the Embassy of Finland where the Ambassador of Finland to Slovenia, Her Excellency Mrs. Brigitta Cecilia Maria Stenius-Mladenov, greeted us with a beaming smile. We happened to meet a colleague of Her Excellency in Finland this year. She ran with us there and she just come back from holidays and was very nicely surprised to see us here in Slovenia. The ultimate proof that we do run around the world! Unfortunately we didn't have a camera with us at this Embassy.
His Excellency Nicolas Sapountzis Consul of Greece to Slovenia became our honoured team member. To see the burning torch reminded him of the ancient historical Greek tradition of granting seven days before and seven days after the Olympics harmony and friendship, so that the sport events themselves can bring about peace and harmony among neighbours and among other nations.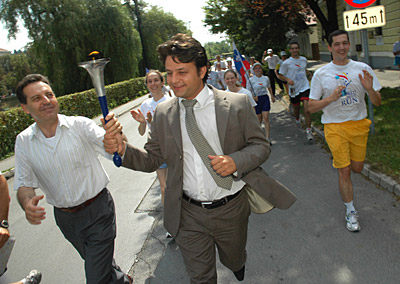 Further on we were lucky enough to be able to run through downtown Ljubljana which is indeed very beautiful.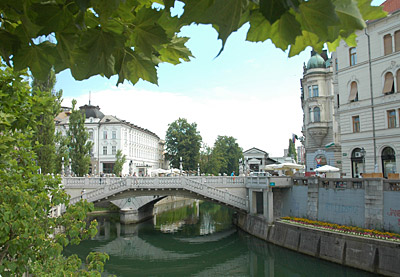 People all around were happy to see the Tek Svetovne Harmonje (Slovenian for WHR) pass through the capital of Slovenia. "Where to go?" This is the famous Triple-Bridge of Ljubljana.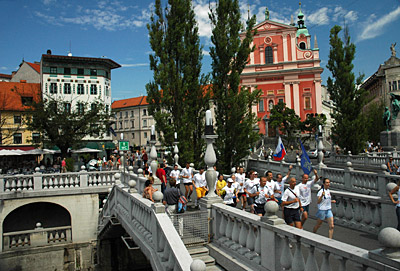 In the city hall Mrs. Andreja Zadnikar gave us a warm welcome and we sang our World Harmony Song in full voice with fantastic acoustics in the courtyard of the city hall. The famous Slovenian theatre actress Mrs. Jelica Mrzel and the Slovenian talkmaster Mr. Dragan Bulic echoed the words of the representative of the mayor of Ljubljana with a fantastic joy and enthusiasm. We hopefully will all meet together when we come back in 2007.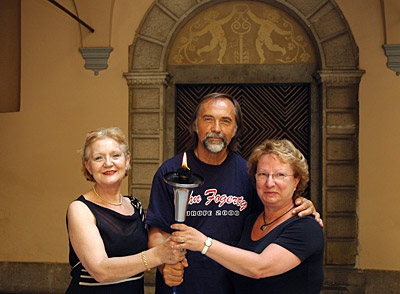 The Austrian embassy was also very welcoming as we were greeted with cookies and juices. The representative of the embassy became our honoured team member. You can try to find him among us!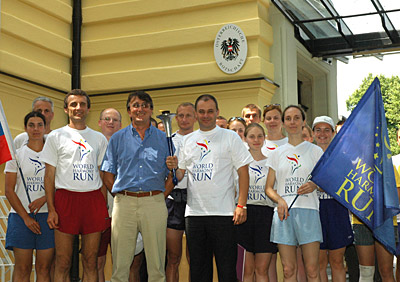 We were happy to visit as well the Embassy of the Netherlands.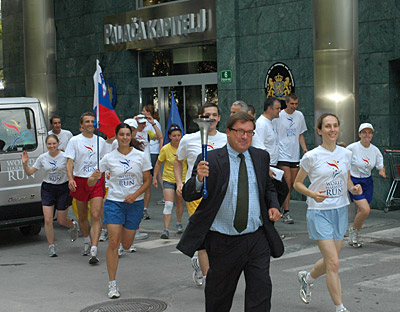 We left the beautiful capital Ljubljana in the afternoon heading towards Bresovica, one of the very new communities with a fantastic spirit of oneness and dynamism.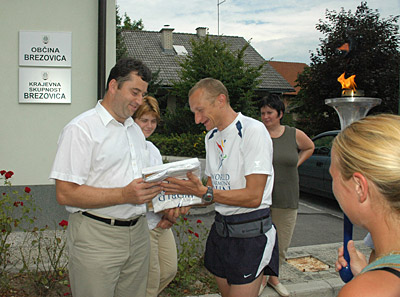 "What are the main projects with the youth of Bresovica?" we asked. "To have fun!" answered the leader of their youth organisation. It was very nice to see that the mayor himself Mr. Drago Stanovnik is organising and participating in international meetings for understanding and oneness between different cities with the same name! Bresovic means birch, this name you can find in any country and language : Birkenfeld, for example in Germany. Hopefully we can meet again the next time when we come!
In Vrhnika the vice-mayor Mr. Igor Novljan welcomed us. There we had one of the nicest lunches, sponsored by the Austrian embassy of Ljubljana. We were really grateful to get some good nourishment because we still had 80 km to go.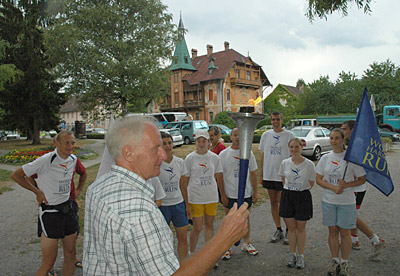 On the road to our final destination we ran also on the longest tree-lined road of Slovenia with the help of some very nice young runners.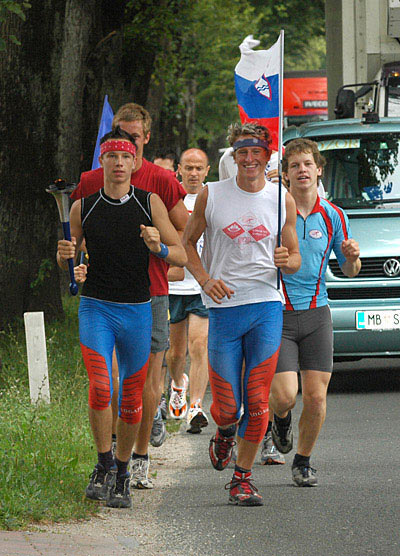 In their city, Logatec, they represent the TS Klub Valkartow, where they run, ski and bike-ride. The director of community Logatec, Mrs. Alenka Gorza Jereb, would like to meet again with us to keep on spreading all our wishes for harmony and friendship.
We kept on running through the countryside, where we could pluck some delicious pieces of baby-corn. However, the rest was not for long, we had to keep on for another 63 k.
The views were stunning and peaceful in the afternoon sunshine.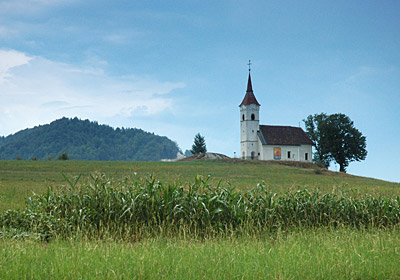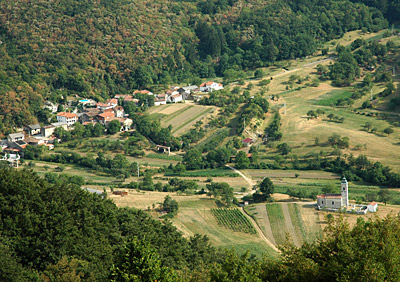 Up and downhill, very nice. Ask Ondrej! Ondrej had the great joy of riding Marjan's elite mountain bike over a distance of 40 kilometres.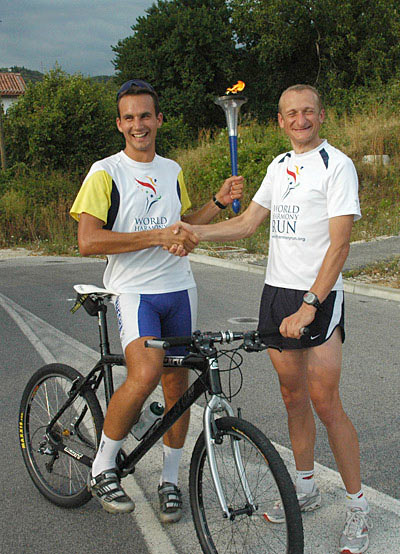 This bike is a true jewel. Hard style, Scott limited, carbon frame, 8 kg of weight so it is the lightest bike in worldwide production. And it is, of course, specially tuned by the pro himself. Marjan Jauk is not only eleven times Slovenian mountain bike champion, but also two times military World champion.
This mountain bike is the best that money can buy, at a cost of more than Euro 6,000. That is more than the cost of some cars. It is a real joy to ride it!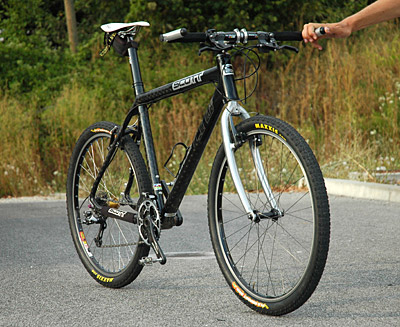 We ended our day with a swim in the nearby river.
---
Distance: 120km
Harmonemail:
You can send a message to the runners or read the messages.