Slovenia / Austria 2 August: Bovec - Villach
This was to be our last day in Slovenia, and one that was to be dominated by the natural splendor of the mountains and the challenge of running up some very steep gradients.
Some of the runners from Bovec running club joined us in the town square to run about 20 km.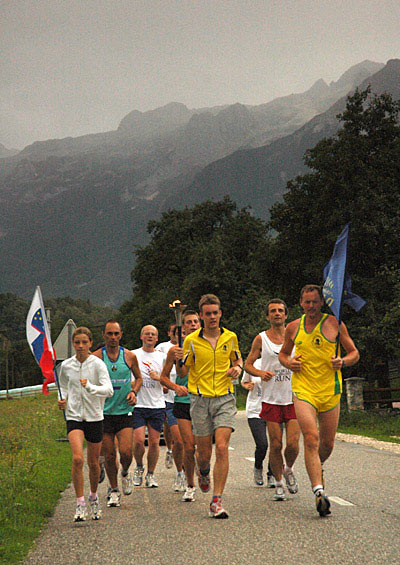 Our route followed the River Soca as it did yesterday.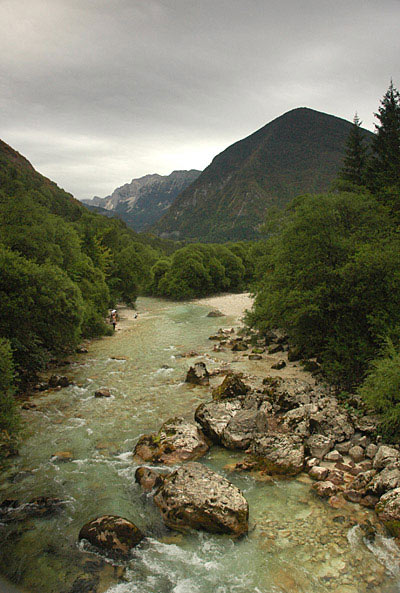 We passed many bridges that spanned the river with stunning drops into small ravines carved by the fast flowing river.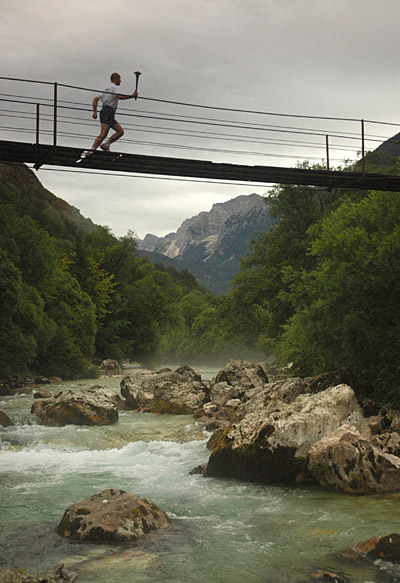 One such ravine where we stopped was called Velika korita Soce.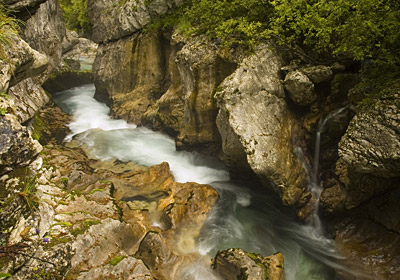 The water was crystal clear and we had great views of the gorge from the bridge.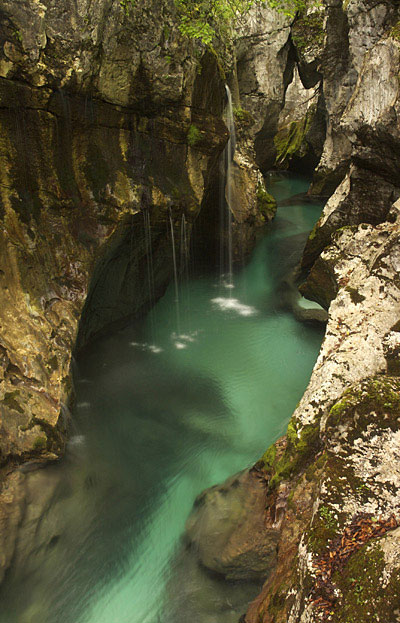 Despite the pouring rain it was too tempting for some to jump into the icy waters. Petar took a while to jump, but Anete didn't even hesitate a second. As soon as she stood on the edge of the rock she immediately jumped. We all admired her fearlessness.
The low rain clouds hung in the valleys and around the mountain slopes.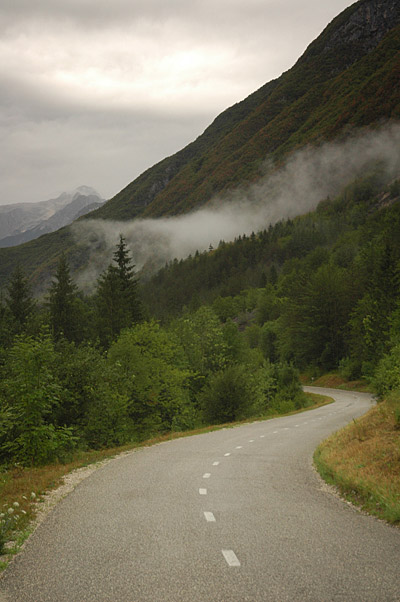 In the distance we could see Mount Triglav at 2864m, the highest point in Slovenia. We said goodbye to our good friends from Bovec and headed onto the next 15 km, which was to be the most challenging run - a 1200m elevation to the summit to Vrsic at 1611m.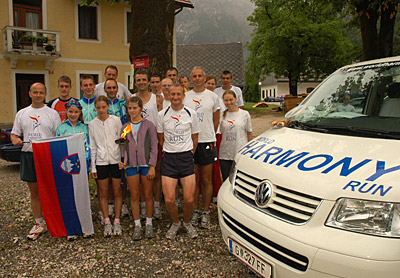 A small brave group of us started the ascent, but after 4 km Marjan and myself (Mark, your reporter for today) continued. At this point he said, "Good, now we can run fast!" I looked at him in amazement and replied, "No, let's run slowly. I can't run fast uphill!" I was finding it hard to keep my legs moving let alone widening my stride to run faster. This was a lung bursting and leg-draining ascent for me as we followed the mountain road bending back on itself and gaining height steeply. This was easy for Marjan, coming from a professional mountain biking background - I don't think he became out of breath once. He even answered his mobile phone numerous times and chatted as normal, whilst I was gasping for breath.
Half way up my legs were like jelly and my lungs burning, but Marjan encouraged me to keep going. We were encouraged by all the motorists going up and down the mountain. Some stopped to take our photograph and clapped and cheered as we passed. The kilometers slowly passed and just 1 km to go I really felt like stopping, but Marjan said, "If you stop you're finished. Keep going, we can see the top now", pointing to the building at the summit. I was determined to keep going and thanks to the encouragement and inspiration from Marjan I managed to sprint the last 100m to the summit. I was very tired and slightly light headed, but extremely happy - I had run up the steepest mountain in Slovenia. Ondrej also biked up the whole way on Marjan's bike. It was 16km uphill from 420 m above sea level up to 1611 meters. It was fun, but the pouring rain was quite cold.
The next 11 km was all downhill to the famous winter ski resort of Kranjska Gora. There we were met by a representative from the Tourist Agency in the pouring rain.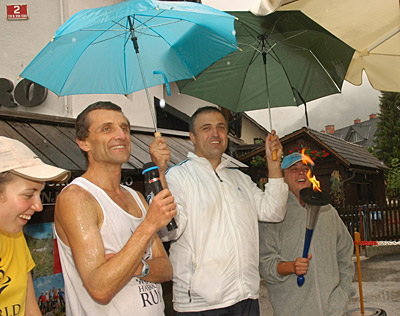 After the ceremony we had a meal of soup and a huge plate of pasta at the nearby restaurant. We suddenly realized that when each runner from the International Team was introducing himself or herself we were missing Sandro, our Italian runner. Prior to entering Kranjska Gora we had stopped outside a hotel, so we assumed he had gone in there to us the toilet facilities. It was only after 90 minutes that we retrieved our Sandro, complete with a new t-shirt (worn by the hotel lifeguards) kindly given to him by the hotel as his World Harmony Run t-shirt was soaking. He must have looked like a drowned rat. He couldn't quite explain what had happened, but in the rush we had accidentally left him behind. But at least we found him in one piece.
We crossed back into Austria via Wurzenpass covered in thick cloud. At the border we said our farewells to Marjan, Janusz and all the Slovenian runners.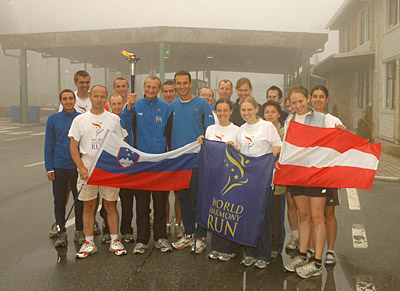 We have had one of the best times on the World Harmony Run so far. Much of that has to go to Marjan's brilliant organization and the outstanding natural beauty of Slovenia. We look forward to coming back next year.
We ran together with our austrian friends towards Vilach.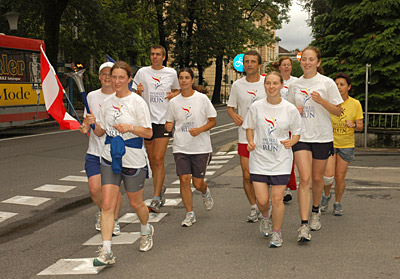 Our final ceremony of the day was at Villach where we met the representative of the mayor who is also responsible for sport in the city.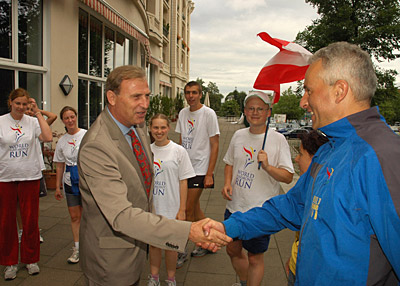 He is a keen sportsman and when he was younger he could run 100m in an impressive 10.60. He presented all the International Team members a photograph book of Villach on behalf of the 'Burgermeister' (Mayor) Helmut Manzenreiter. There was a local festival being held at the city and we met a German couple from Heidelberg dressed in national costume.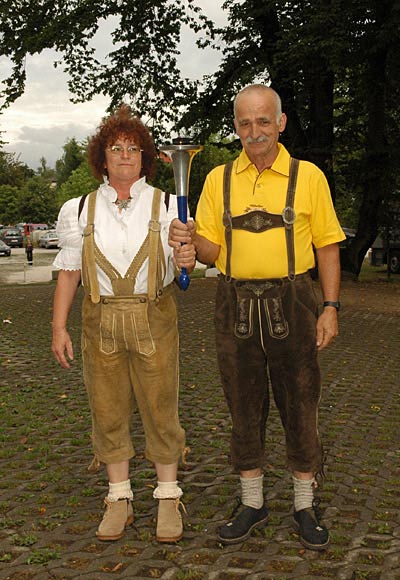 After a tiring day we headed to Aharan's lovely house where we were to stay the night. After a hot shower we tucked into a great meal. August gave Ondrej and Mark a massage to ease their tired muscles and to keep them going until August 16 when we will travel to New York for the closing ceremony of the American leg of the World Harmony Run. Feeling exhausted we retired to our much needed beds.
---
Distance: 67km
Team Members:
Anete Klavina (Latvia), Anna Lesmann (Germany), Anne Schulze (Germany), Dipavajan Renner (Austria), Edmund Blab (Austria), Janusz Wiewior (Poland), Mark Collinson (England), Martin Prettenhofer (Austria), Ondrej Vesely (Czech Republic), Petar Mihaylov (Bulgaria), Petr Machacek (Czech Republic), Pratul Halper (Austria), Sandro Zincarini (Italy), Terezia Hammel (Hungary), Veronika Kuliskova (Slovakia), Zoltan Theobald (Hungary).
Harmonemail:
You can send a message to the runners or read the messages.