Belgium 25 September: Brussels
The World Harmony Run was invited to the European Parliament to celebrate its 25th anniversary and share the vision of world-peace with MEPs (Members of European Parliament) from different countries.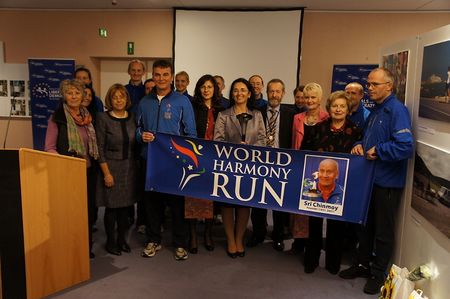 Mrs. Angelika Wertmann, MEP from Austria (above with Torch), was the host of the ceremony. Because of her support and goodwill we were able to have our ceremony inside the Parliament for the first time. It was much more comfortable than outside!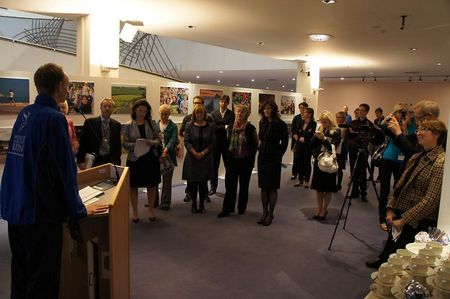 Ten MEPs came to our ceremony. We showed them short video's with highlights from the Run around the world. After we had introduced the international team, the MEPs came up one by one to hold the Peace Torch and offer the runners some words of inspiration and encouragement. We were deeply moved by their glowing speeches.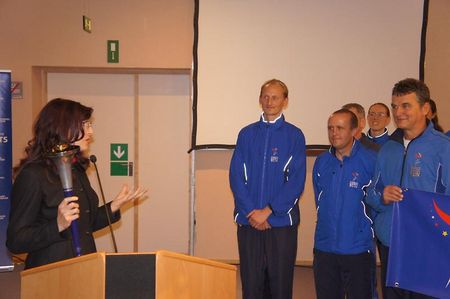 Mrs. Romana Jordan from Slovenia told us she is an avid runner herself and wants to join us running next time.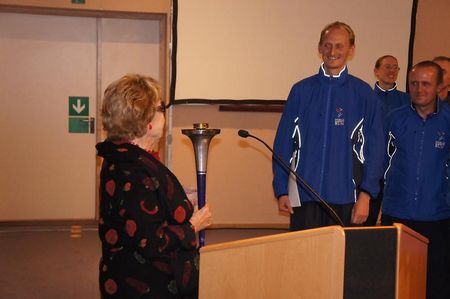 Mrs. Astrid Lulling from Luxemburg has visited most of our ceremonies here in Brussels. She came to the Parliament already in 1965 and now she is the most senior MEP in Parliament. Yet she still bursts with energy and enthusiasm.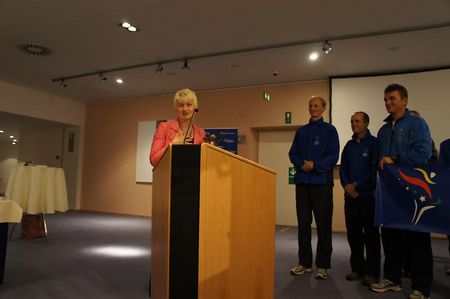 Mrs. Marian Harkin from Ireland shared with us some inspirational quotations from Sri Chinmoy, the founder of the Run.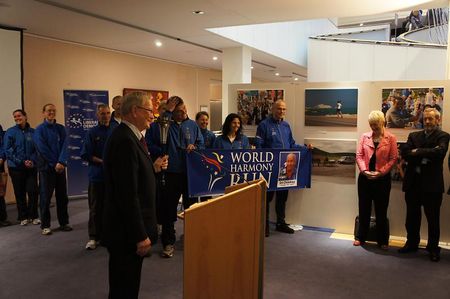 Mr. Tunne Kelam from Estonia told us a humorous anecdote: when Estonia was still under communist rule he was not allowed to travel outside his country, but now that he is MEP he suffers from too much travel!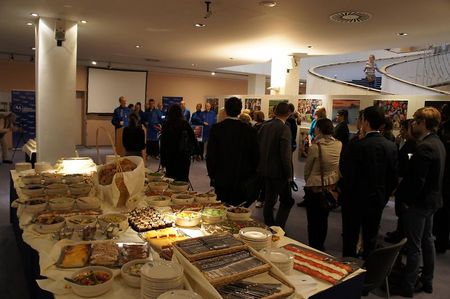 After the ceremony Mrs. Werthmann had arranged for a sumptuous vegetarian buffet. It was a true feast! Fortunately we would do a little running the next day to burn off the calories.
Next to the ceremony we had installed a beautiful photo exhibition with pictures from the Run in various parts of Europe.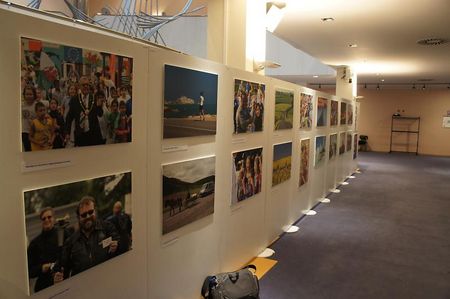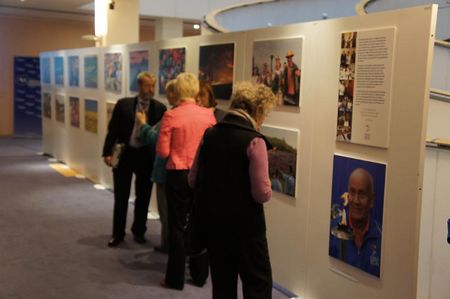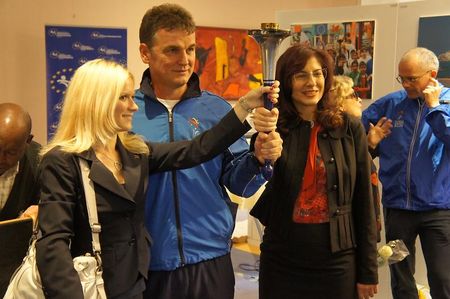 There was still time for some nice shots with the Torch.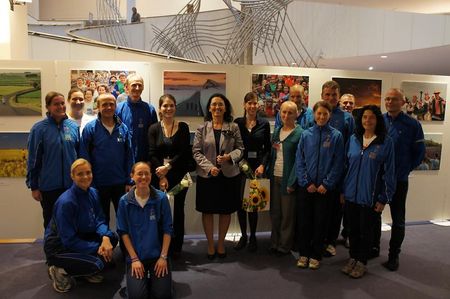 We are extremely grateful to Mrs. Werthmann and her assistant Katharina for making this ceremony possible. See you again next time!
---
Team Members:
Abhinabha Tangerman (The Netherlands), Abhisar Laza (Czech Republic), Mangala Keenan (Ireland), Albena Margaritova (Germany), Namana Nahorst (The Netherlands), Sara Schmidt (The Netherlands), Varunavi Klabnikova (Slovakia), Pranayani Schuringa (The Netherlands), Arohana Kovacs (Hungary), Jalarka Schiltz (Luxemburg), Prabhata Schräder (Germany), Predrag Knezevic (Serbia), Shaivya Rubczynska (Poland), Eric Chovancek (Slovakia), Arthada Platzgummer (Austria)
Harmonemail:
You can send a message to the runners or read the messages.
Gallery: See more images!