Italy 18 May: Udine - Padova
UDINE: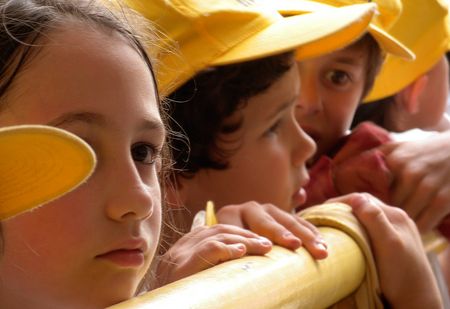 Welcome to Italy! The World Harmony Run 2009 arrived in Udine. Despite the burning sun we really enjoyed to visit a couple of schools.
Benvenuti in Italia! La World Harmony Run 2009 e' arrivata a Udine. Nonostante il sole cocente, ci siamo proprio divertiti a visitare le due scuole!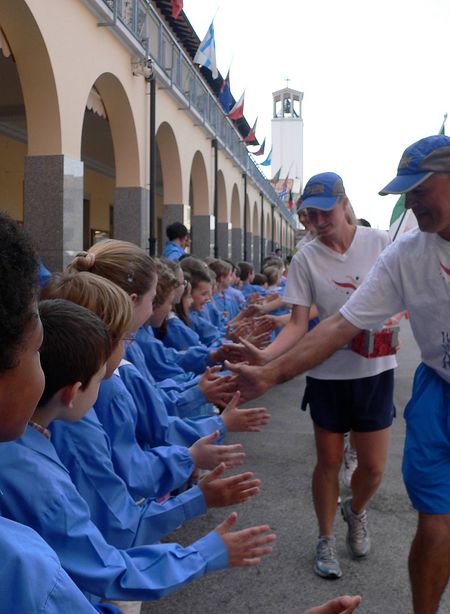 After a good nights rest in the Institutio Salesiano G. Bearzi we met in the morning with the kids from the primary school.
Dopo una bella dormita all'Istituto Salwsiano G. Bearzi, il mattino dopo ci siamo incontrati coi bambini della scuola elementare.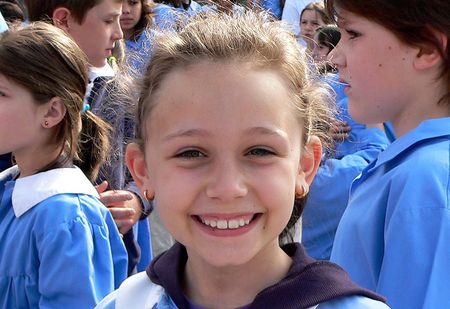 Smiling faces everywhere...
Visi sorridenti ovunque...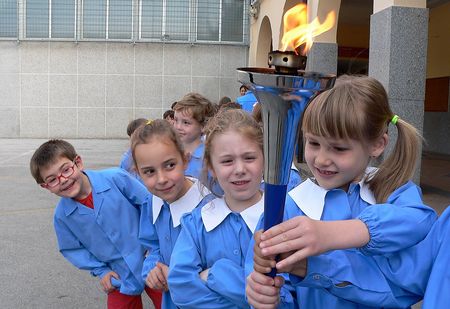 Soon after the kids started to pass the torch, the order gave way to some enthusiastic chaos!
Nel momento in cui la torcia passava tra i bambini, dall'ordine si passava ad una confusione piena di entusiasmo!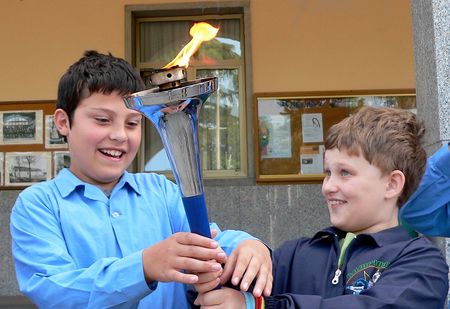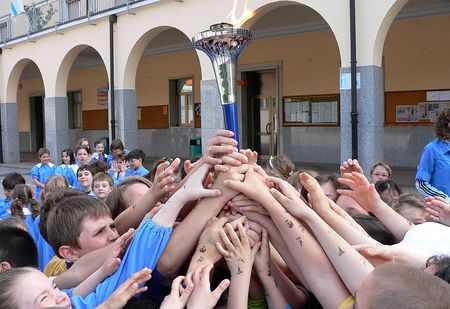 After running everybody wanted to get ahold of the torch again...
Dopo aver corso tutti volevano di nuovo tenere in mano la torcia!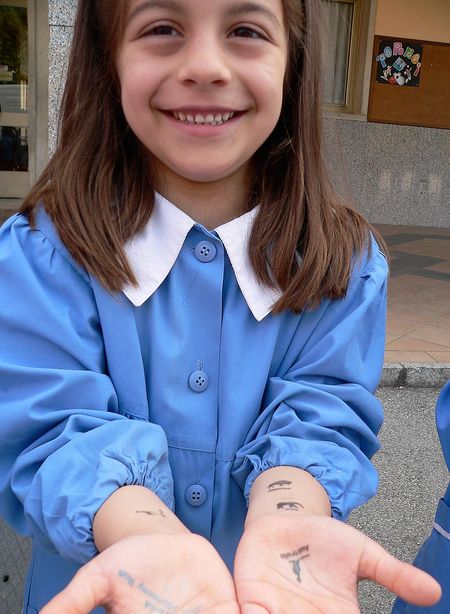 Did I get all the stamps?
Sono stata timbrata con tutti i timbrini?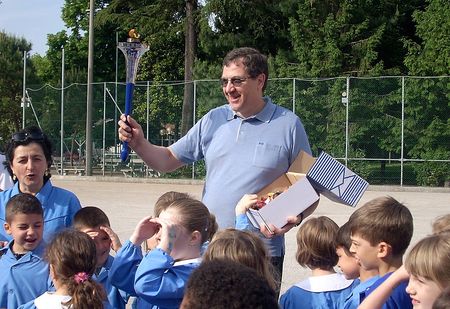 Don Dino, our host, celebrated a perfect birthday with all the enthusiastic kids.
Don Dino, che ci ha ospitato, ha celebrato un bellissimo compleanno con tutti i bambini pieni di entusiasmo.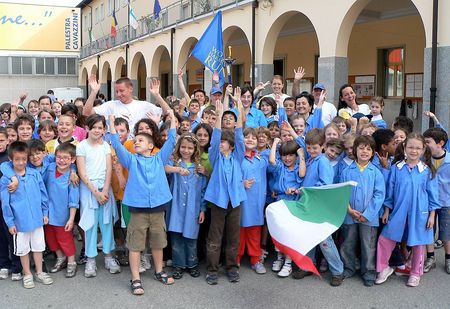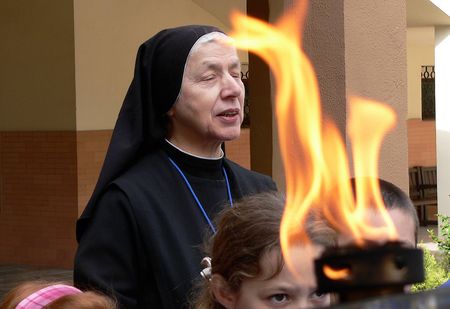 Right after the first meeting we run to the second school, the "Scuola Collegio Dimesse Scuola Primaria Paritaria".
Dopo il primo meeting siamo corsi alla seconda scuola, la "Scuola Collegio Dimesse - Scuola elementare Paritaria".
Well trained flutists welcomed us with Beethoven!
Flautististi ben addestrati ci hanno dato il benvenuto con Beethoven!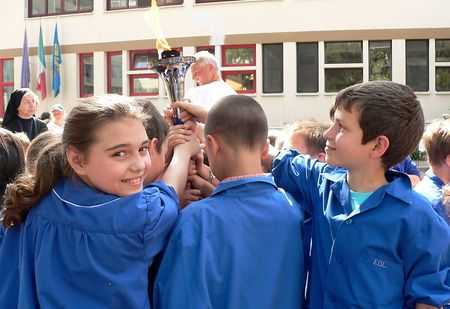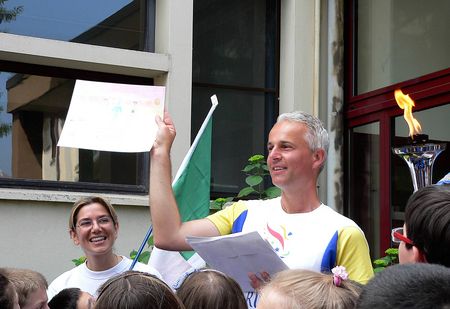 All the kids prepared excellent drawings and handed them over to the int. team!
Tutti i bambini hanno preparato bellissimi disegni e li hanno dati personalemente all'intero team!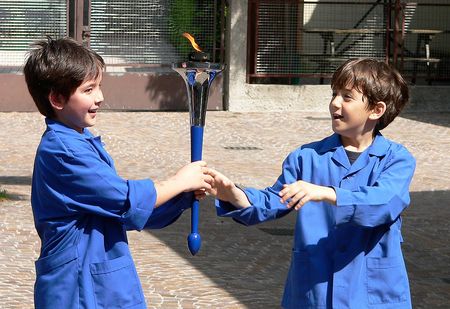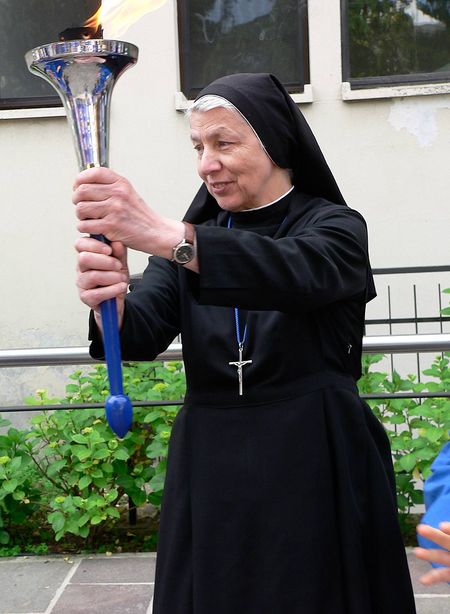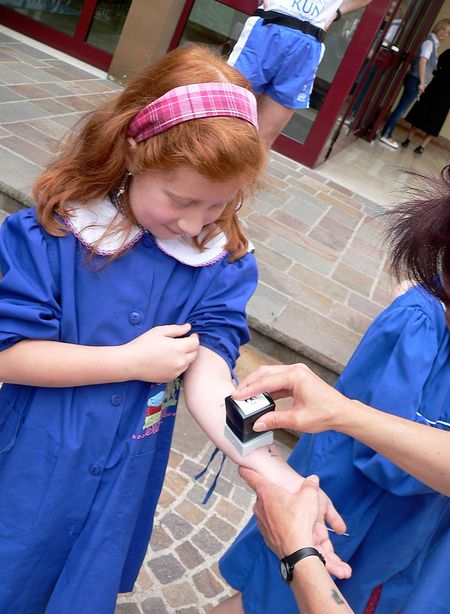 Receiving the continent stamps made some giggle.
Ricevere i timbrini dei continenti sulle braccia era cosi' divertente !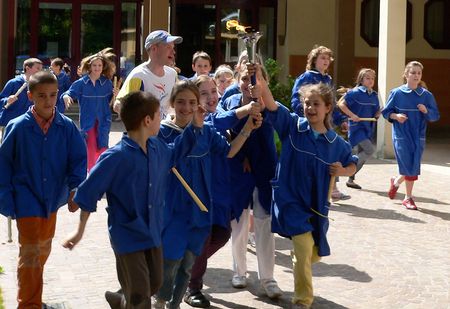 We spent quite some time in the school and enjoyed every single minute with the kids!
Siamo stati per un po' nella scuola e ogni singolo minuto coi bambini ci ha dato tanta gioia!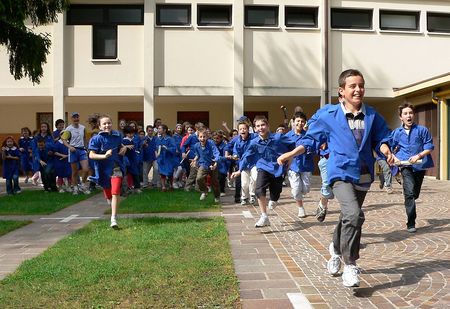 We ran even a few times around the schoolyard...
Abbiamo corso parecchie volte intorno al giardino della scuola...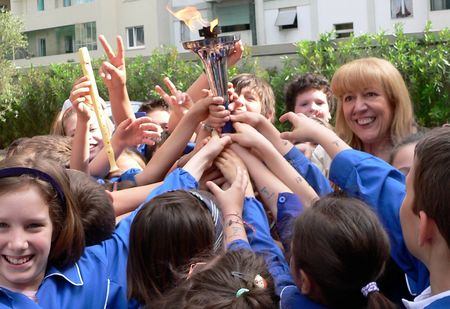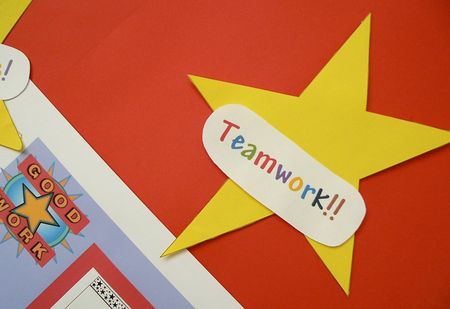 Next we went to the "Scuola Elementare Paritaria - The Mills English School".
As we usually have good translators, we felt especially welcome as we could talk to all the kids in English.
Dopo siamo andati alla "Scuola Elementare Paritaria - The Mills English School".
Di solito abbiamo buoni traduttori ma questa volta ci siamo sentiti benvenuti in maniera speciale perche' potevamo parlare in inglese con tutti i bambini!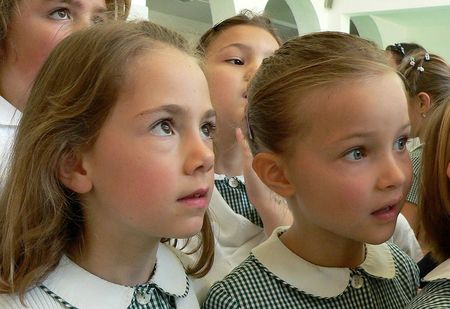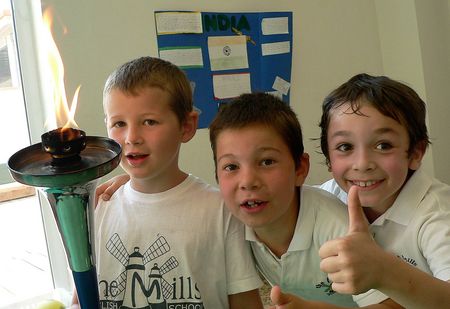 the kids understood our English quite well and as usual we had lots of fun talking to them!
I bambini capiscono l'inglese abbastanza bene e come al solito ci siamo divertiti un sacco parlando con loro!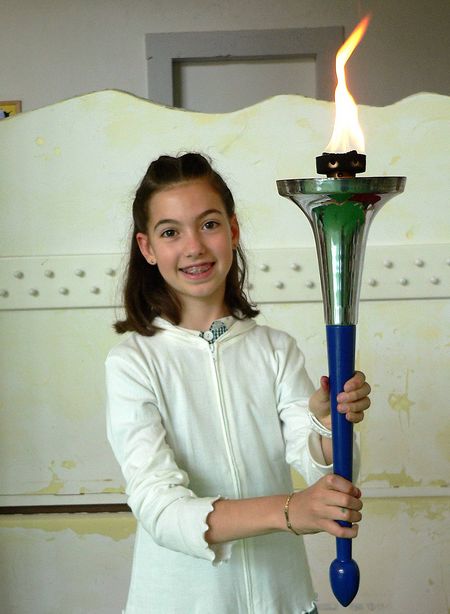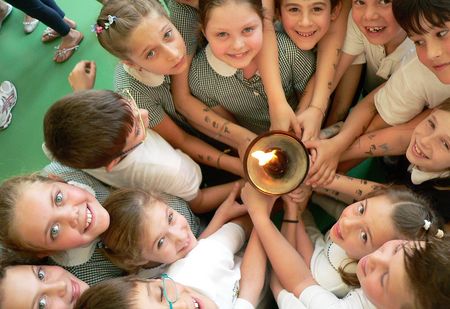 Everybody look up!
Guardate tutti in alto!
PADOVA: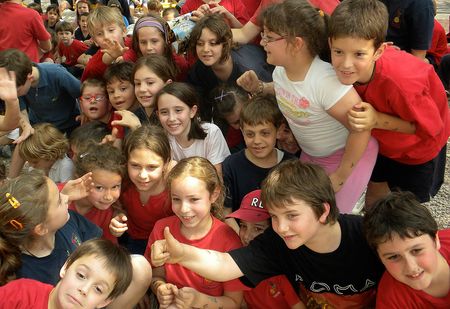 After Udine we drove to Padova, as the time is limited and we wanted to visit as many schools as possible in Italy.
As we arrived in the "Instituto E. Vendramini" primary school, we got a hearty welcome. The kids lined up as we ran in and gave us a "high five"!
Dopo Udine abbiamo guidato verso Padova, il tempo era poco e volevamo visitare piu' scuole possibili in Italia.
Quando siamo arrivati all' "Istituto E. Vendramini" scuola elementare, abbiamo ricevuto un benvenuto molto caloroso. I bambini erano tutti allineati in fila e , mentre correndo entravamo nell'istituto, tutti ci davano un "bel cinque" sonoro!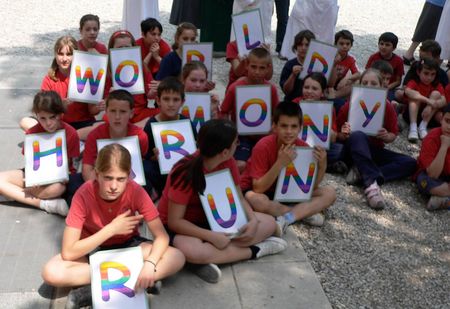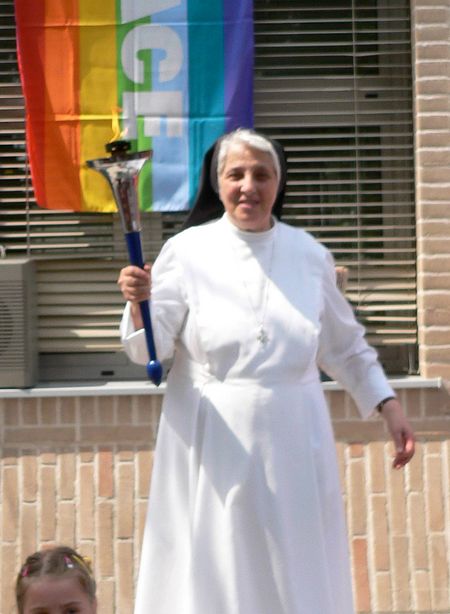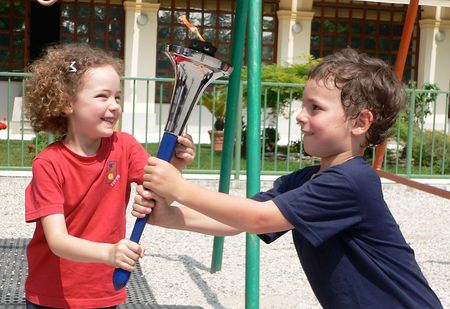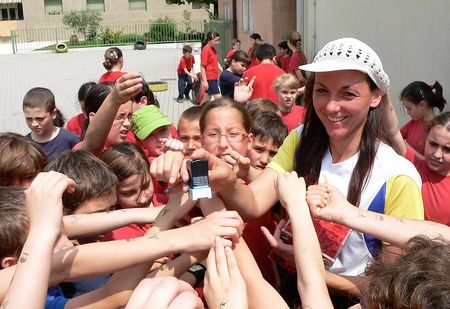 Manjula, our french runner, stamps hundreds of kids...
Manjula, la nostra Runner francese, timbra migliaia di bambini...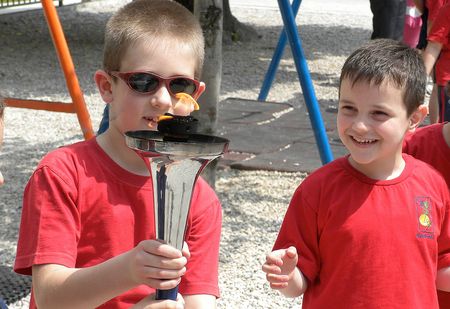 Mr. Cool...
Mister Imperturbabile.....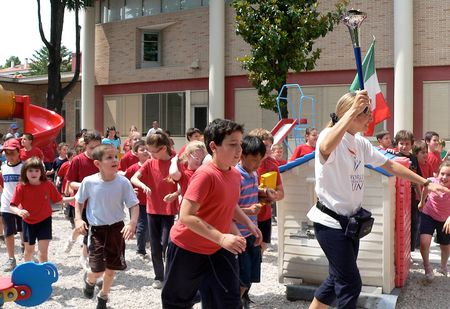 a real playground - stampede...
Correndo ovunque nel cortile della scola...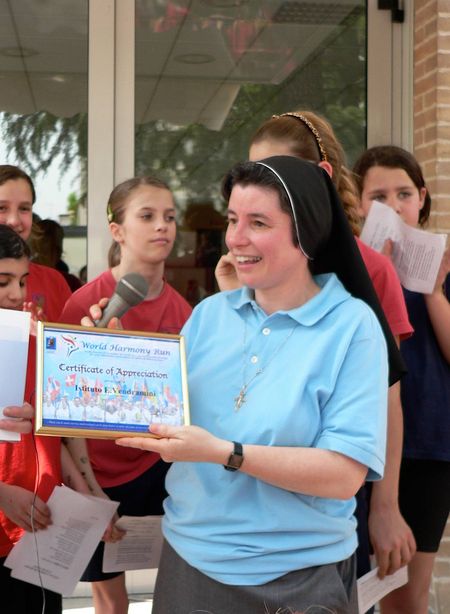 We declared the school a real WHR - school!
Abbiamo nominato questa scuola una vera scuola - WHR !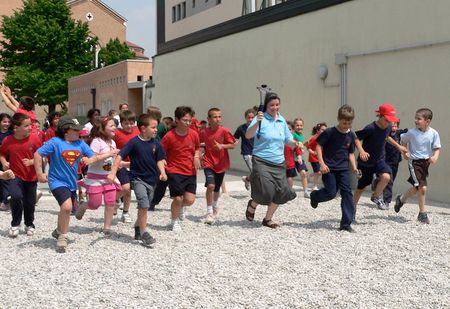 and another lap, this time with the sister..
Ancora un tratto, questa volta con la suora....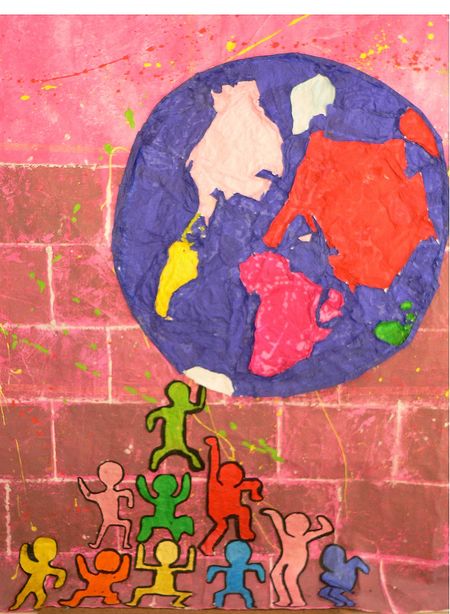 finally we went to the "Gianni Rodari" primary school in Albignasego.
Alla fine siamo arrivati alla scuola elementare " Gianni Rodari " ad Albignasego.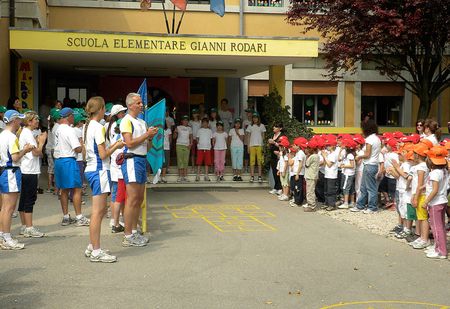 The school prepared for the WHR in an outstanding way! A kids choir welcomed us with various songs and all the kids wore different caps.
La scuola si e' preparata in maniera meravigliosa per l'arrivo della WHR! Un coro di bambini ci ha dato il benvenuto con vari canti e tutti i bambini indossavano cappelli in gruppi di colore.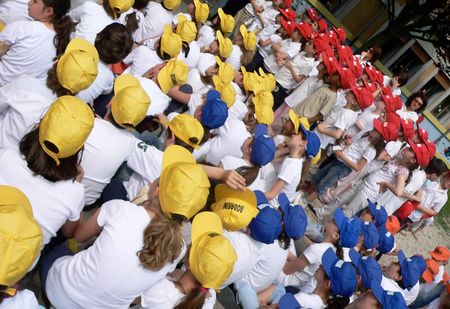 After the presentations the kids took us on a 1km loop around the school.
Dopo le presentazioni i bambini hanno fatto con noi un km intorno alla scuola.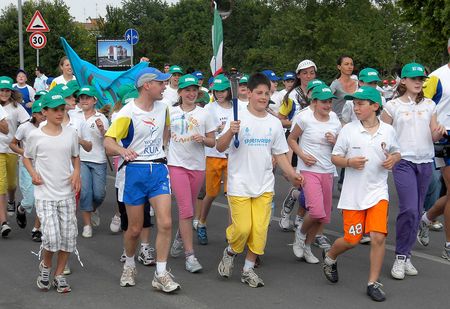 They have prepared pavillionwhich prepresented the five continents. Each pavillion was decorated with photos, artwork and objects typical for the continent.
Hanno preparato un Padiglione che rappresentava i cinque continenti. Ogni Padiglione era decorato con foto, opere artistiche e oggetti tipici dei continenti.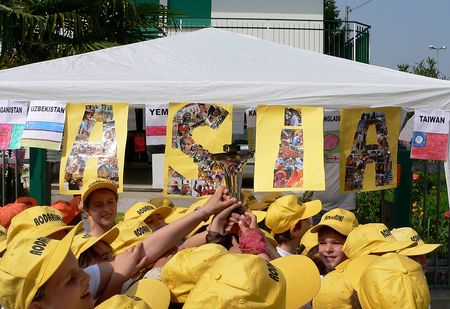 From each pavillion another group of kids carried the torch to the next one. In this way all kids from the school got a chance to run with the torch!
Da ogni Padiglione un'altro gruppo di bambini portava la torcia al successivo. In questo modo tutti i bambini della scuola hanno avuto l'opportunita' di correre con la torcia!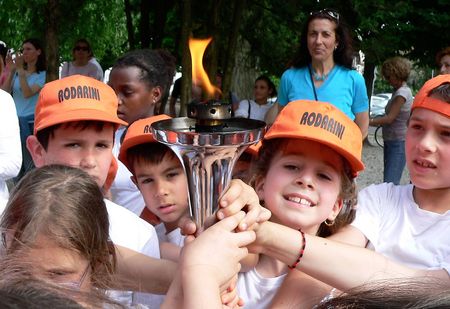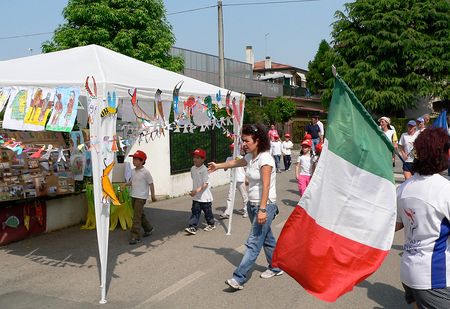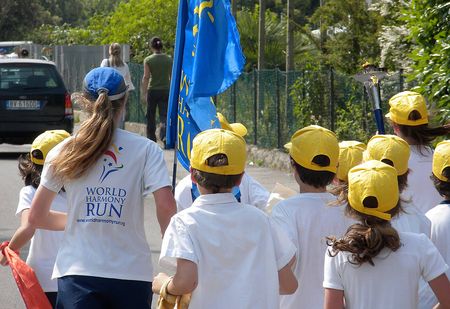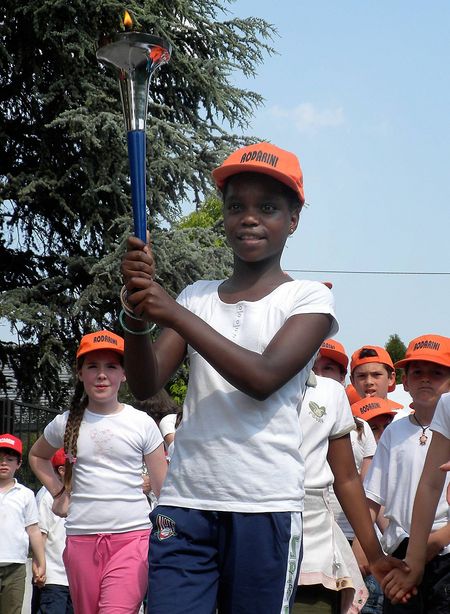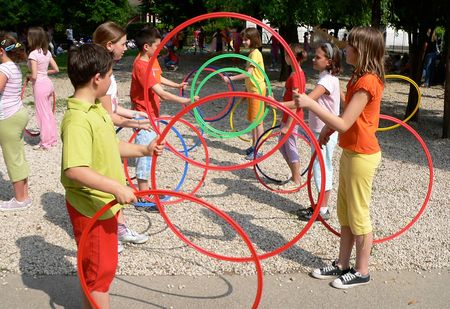 back at the school more presentations for the WHR team took place.
Tornando alla scuola hanno avuto luogo le varie presentazioni della WHR.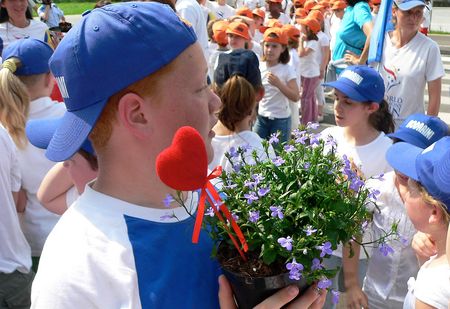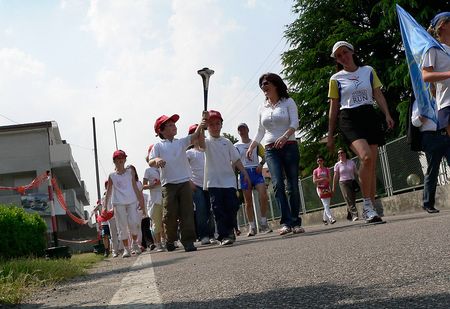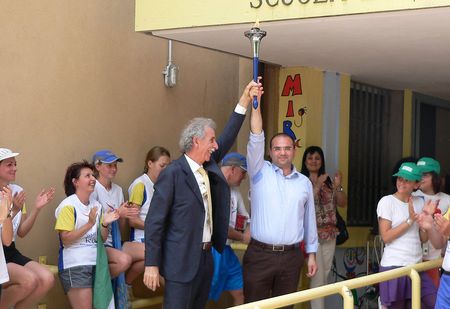 The principal received the torch and refreshments were served...
Il preside riceve la torcia e viene servito il rinfresco...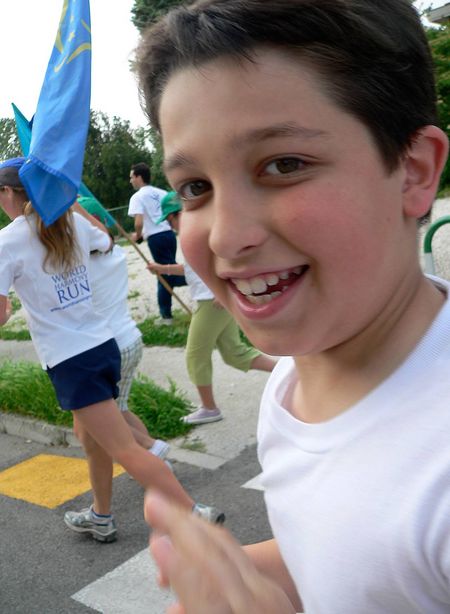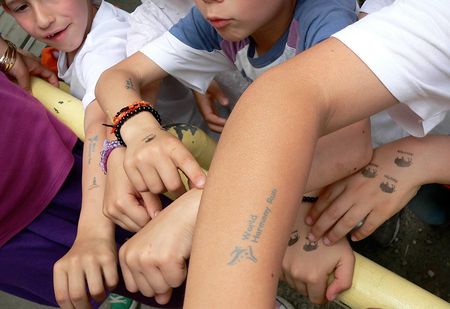 Thanks for this outstanding preparation!
Grazie per l'eccellente preparazione!
After an incredibly hot afternoon (temperatures were in the 30's Celsius...), we headed for our last meeting: the famous Italian Rugby Team "Petrarca Rugby Padova".
Dopo un incredibile caldissimo pomeriggio ( circa 30 gradi!) ecco il nostro ultimo incontro: il famoso team italiano di rugby " Petrarca Rugby Padova ".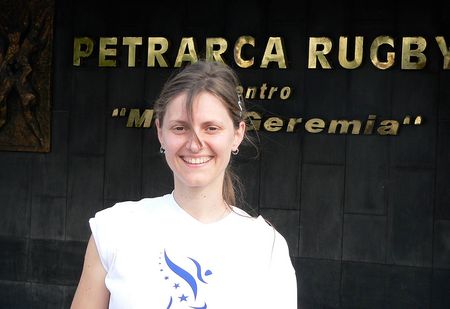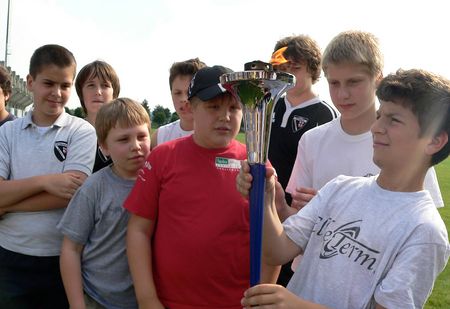 We met with the kids of the club and carried together the torch for a symbolic lap around the rugby field.Chanakhya, our American runner, spent a little time doing passing drills with some of the players and their coach.
Ci siamo incontrati coi bambini del club e insieme abbiamo portato la torcia per un giro simbolico intorno al campo di rugby. Chanakhya e' rimasto a fare un po' di pratica sul campo con alcuni giocatori e il loro allenatore.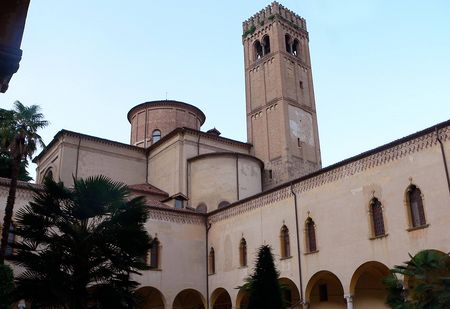 In the evening we arrived in the Abbey of Praglia. The monks hosted us very generously and gave us an inspiring tour through the abbey.
La sera siamo arrivati all'Abbazia di Praglia. I monaci ci hanno ospitato in maniera eccellente e ci hanno fatto fare un giro ispirativo all'interno dell'Abbazia.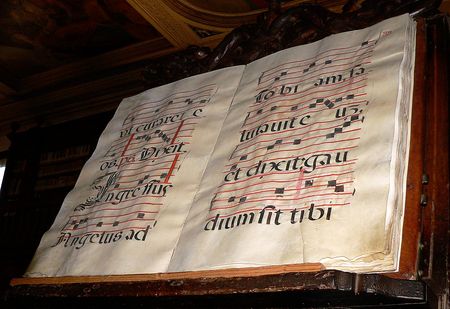 ---
Team Members:
Dipavajan Renner (Austria), Chanakhya Jakovic (USA), Manjula (France), Dima Lehonkov (Ukraine), Theresia Hammel (Hungary), Ksenia Soboleva (Russia), Natalia Lehonkova (Ukraine), Daria Soboleva (Russia)
Harmonemail:
You can send a message to the runners or read the messages.
Gallery: See more images!