Moldova 25 July: border Romania - Giurgiulești - Taraclia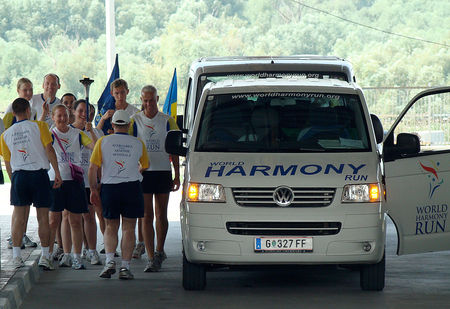 Welcome to Moldova!
Bine ați venit în Moldova!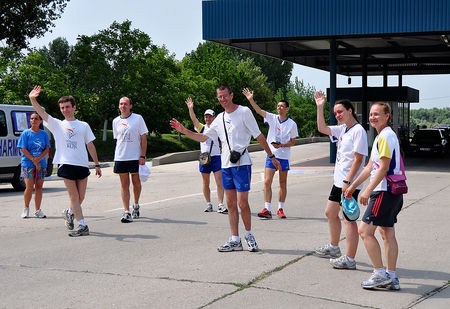 We said goodbye to our Romanian runners, again, thank you for all the hospitality!
Ne-am luat rămas bun de la alergătorii din România: Vă mulțumim pentru ospitalitate!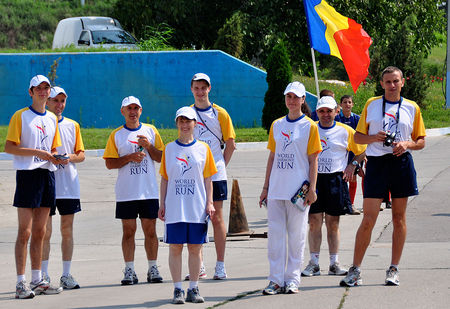 The Moldovian team welcomed us!
Echipa din Moldova ne întâlnește!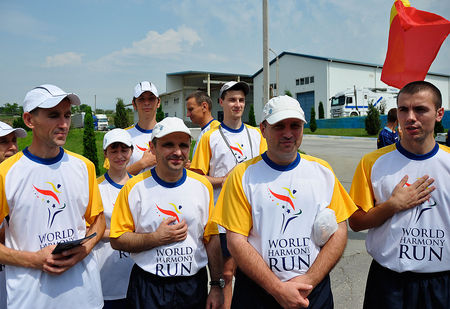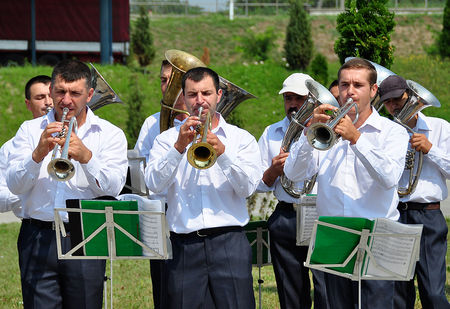 A kind welcome: a brass band played for us and the traditional bread and salt with red wine was served...
Frumoasă primire: fanfara a cântat pentru noi, apoi am fost serviți cu pâine și sare, și vin, conform tradiției...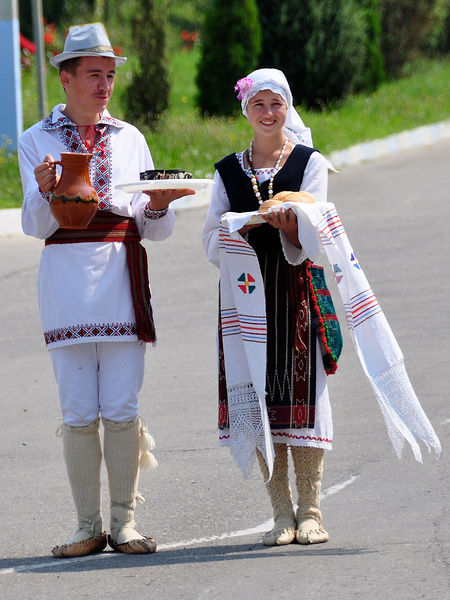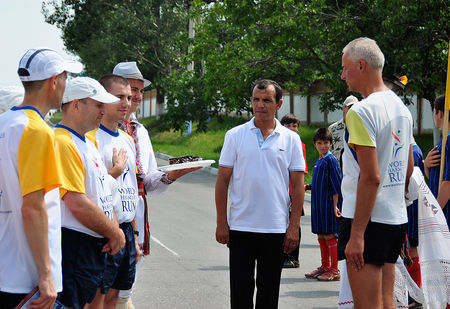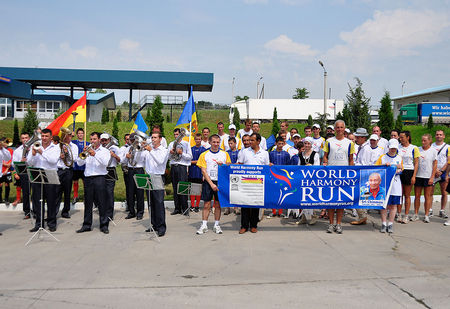 The local football champions of the Cahul region ran with us....
Campionii locali la fotbal au alergat cu noi...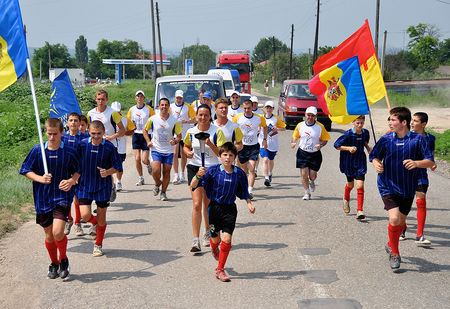 ..a run in formation....
...alergăm cu toți împreună...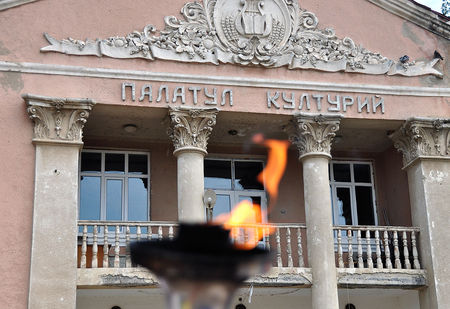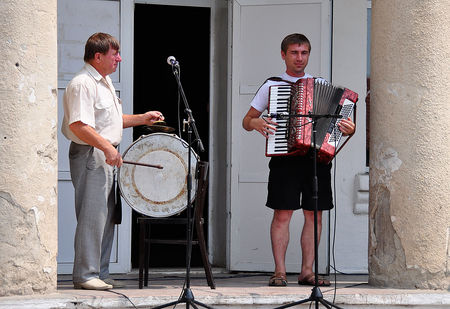 The first meeting wa at the Giurgiulesti Cultural Centre.
Prima întâlnire am avut-o la Palatul Culturii din Giurgiulești.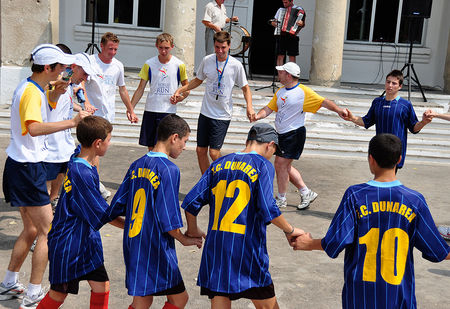 ...our boy-runners indulged in a local dancing performance....
...alergătorii noștri băieți au avut plăcerea să joace în horă...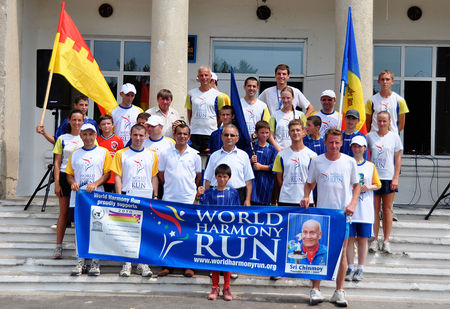 The Mayor received the torch and posed for a group picture...
Primarul a primit torța, apoi fotografia de grup...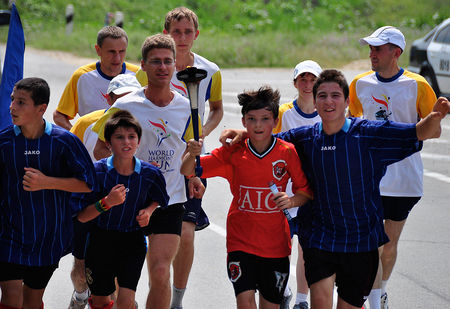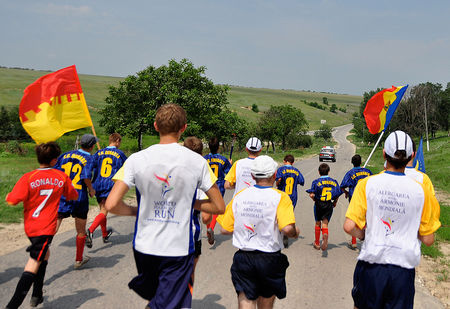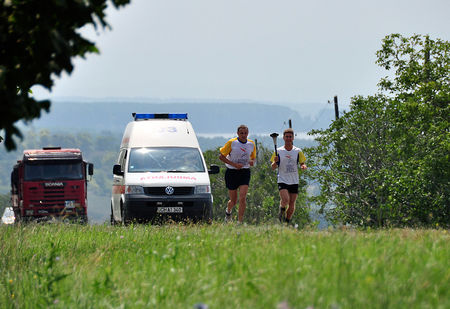 ...we ran through the fertile countryside of southern Moldova....
...am avut de alergat prin locurile roditoare din sudul Moldovei...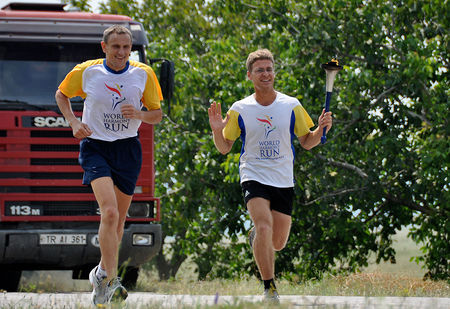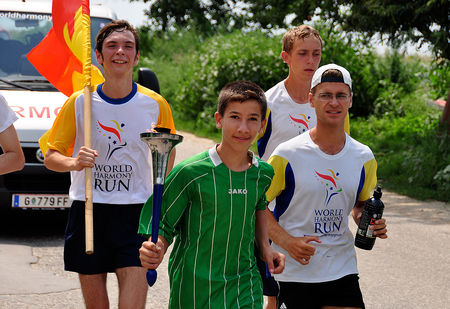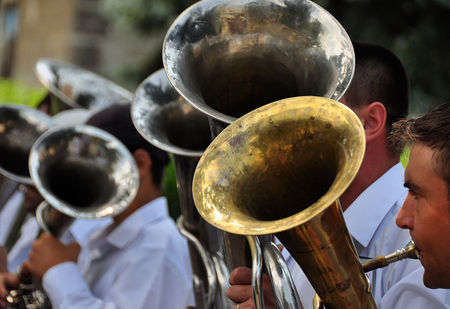 In Slobozia Mare local runners carried the torch to the meeting place, where another brass band performed for us...
La Slobozia Mare alergătorii locali au dus torța până la locul de întâlnire, iar orchestra de fanfară a cântat încă o dată pentru noi...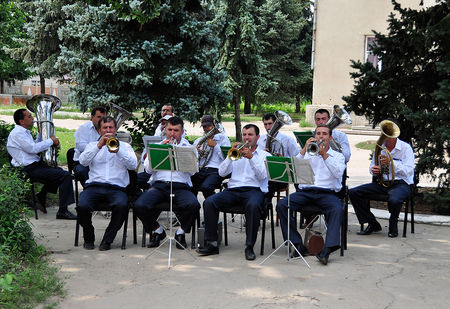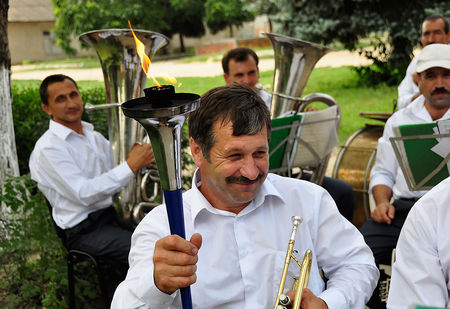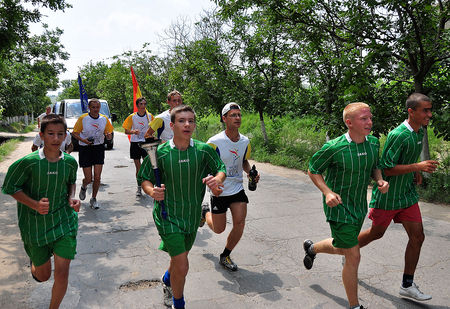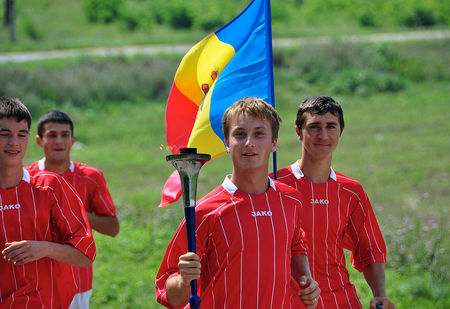 And the next place approached quickly: the afternoon turned into a big celebration with lots of runners....
Ne-am apropiat rapid de următoarea localitate: după-amiaza a fost o sărbătoare mare cu o mulțime de alergători...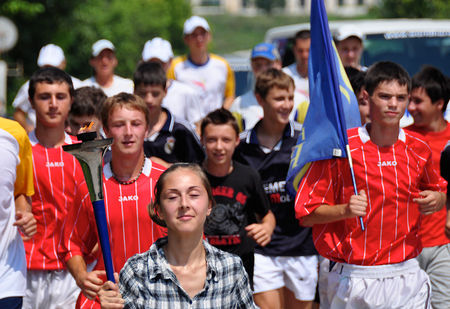 In Vulcanești new runners joined in...
Iar la Vulcănești ni s-au alăturat alți alergători...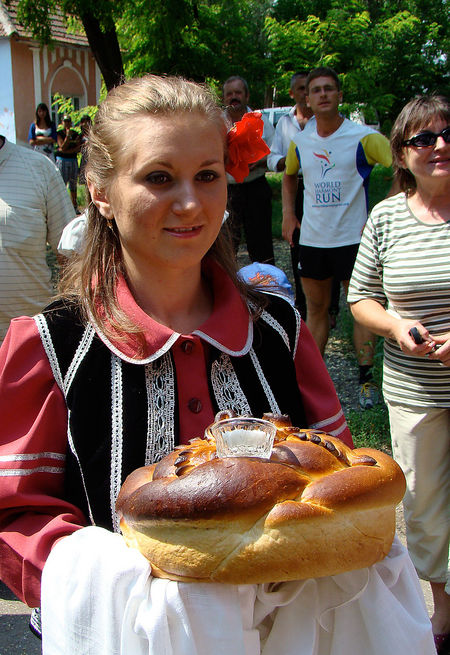 ..and the traditional bread with salt...
...tradiționala pâine cu sare...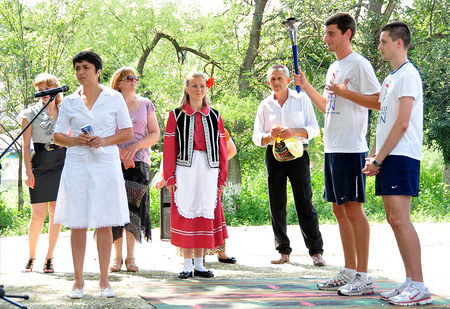 ..a small concert was arranged for our team...
...pentru echipa noastră s-a pregătit un mic concert...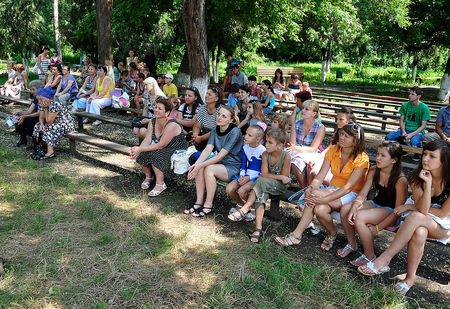 ...with a cheerful audience....
...și un auditoriu voios...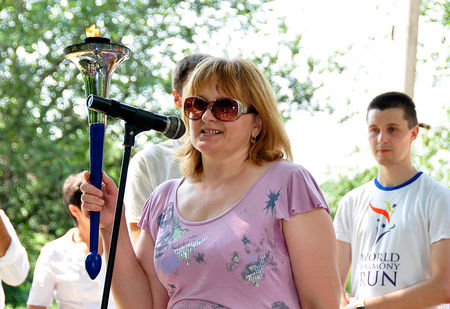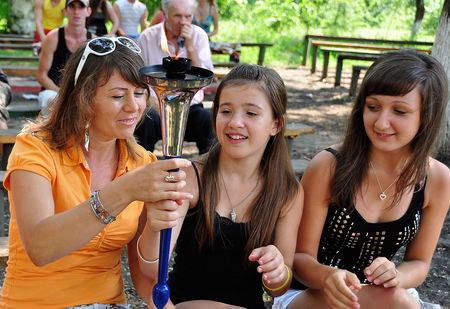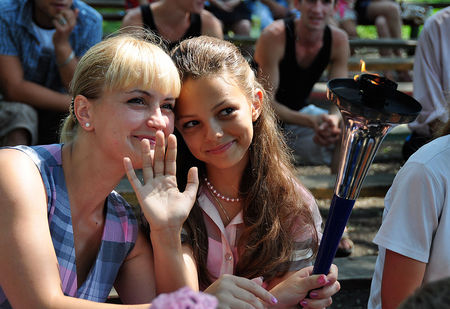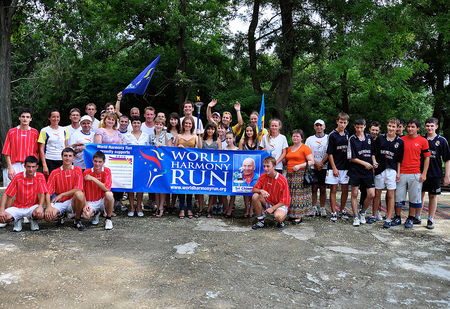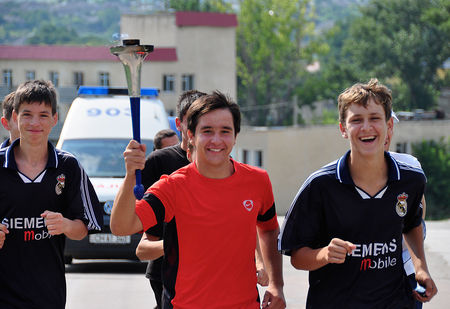 After a welcomed lunch, we kept running...
După prânzul binevenit am continuat să alergăm...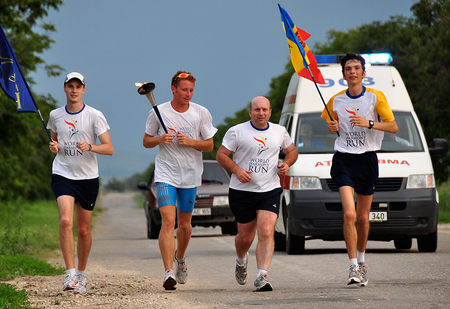 ..our Moldavian runners...
...alergătorii noștri din Moldova...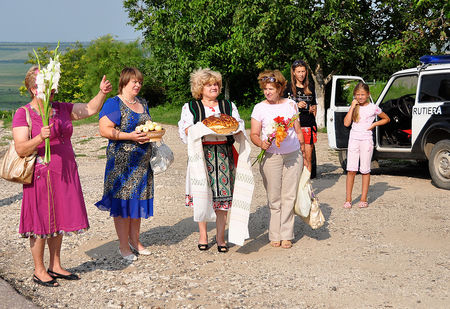 A surprise meeting in Ciumai. A warm welcome...
Întâlnire surpriză la Ciumai. Ni s-a urat cu căldură "bine ați venit"...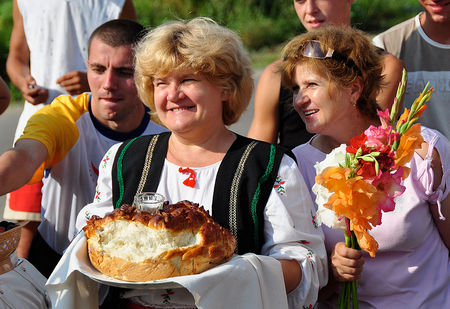 A short, symbolic run...
O scurtă, dar simbolică alergare...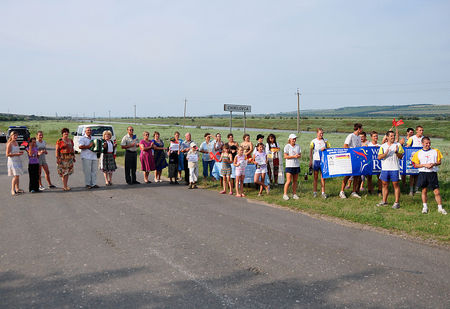 The meeting in Chirilovca took place in the middle of the road. An enthusiastic crowd was awaiting us!
Întâlnirea din Chirilovca a avut loc chiar în mijlocul drumului. Un grup entuziasmat ne aștepta deja acolo!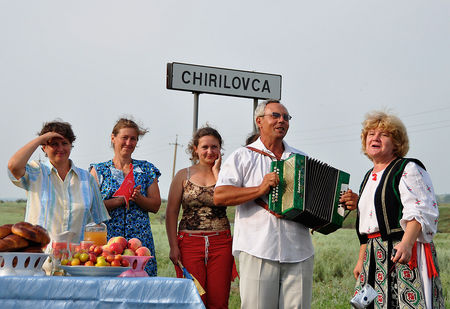 Live music...
muzică vie...
..and lots of smiles...
...și o mulțime de zâmbete...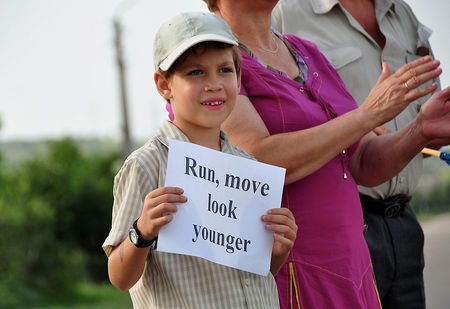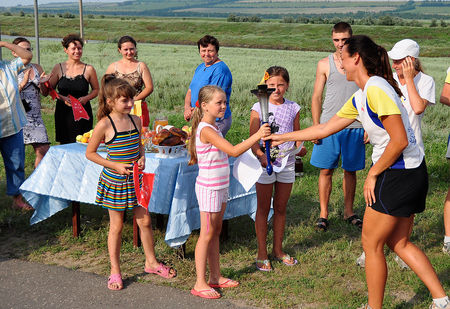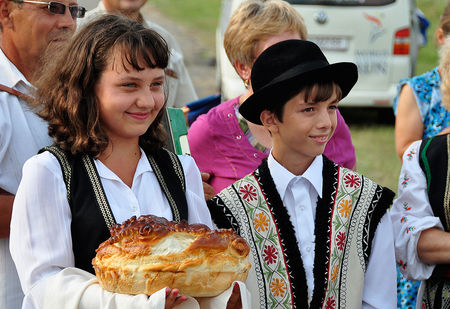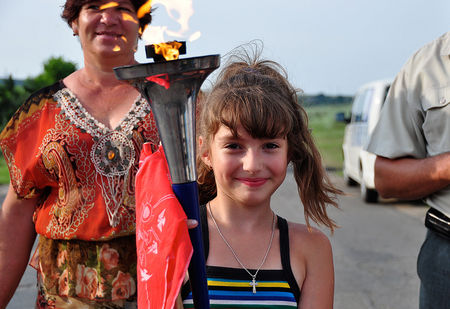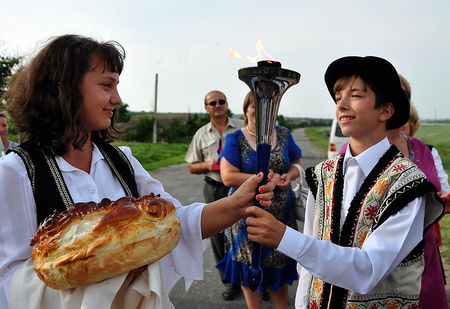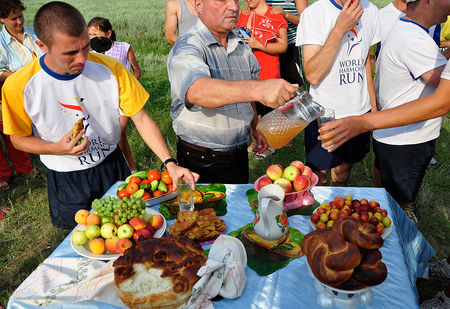 The fruit was highly appreciated by our runners...
Alergătorii noștri au apreciat mult fructele...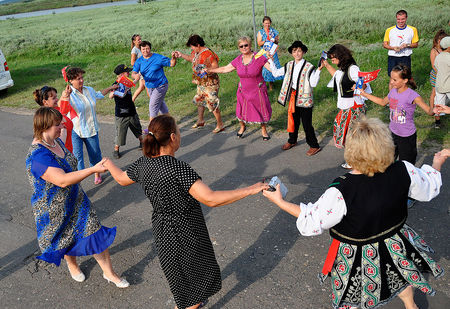 The locals started dancing spontaneously while the police closed the road to traffic...
Localnicii au început brusc să danseze, iar poliția a închis drumul pentru trafic...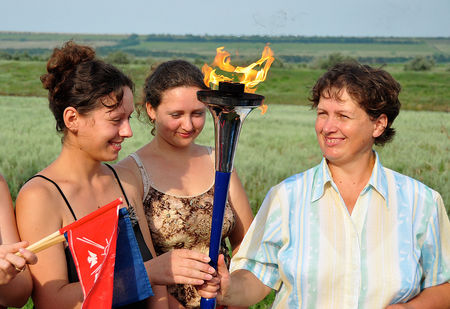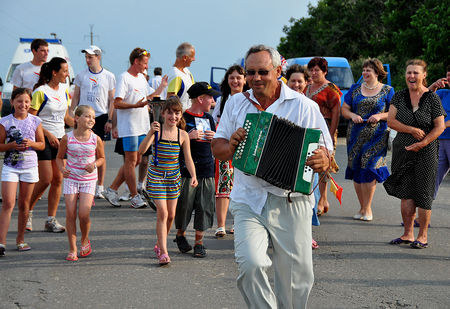 ..and we ran out together...
...apoi cu toții am alergat...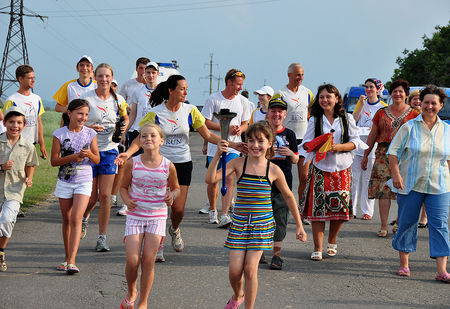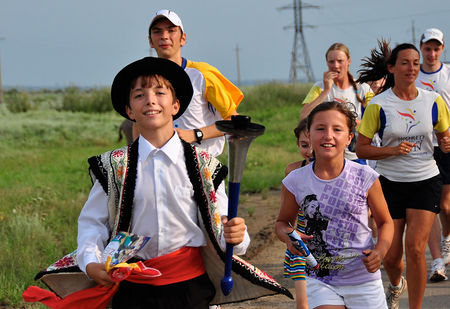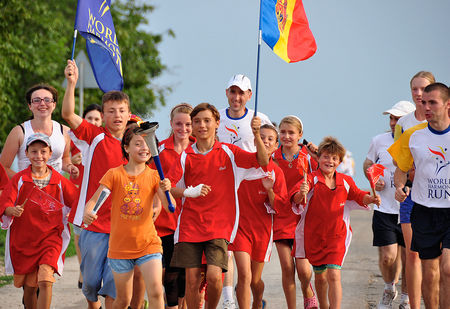 In Aluatu a group of kids welcomed us...
Un grup de copii ne-a întâlnit la Aluatu...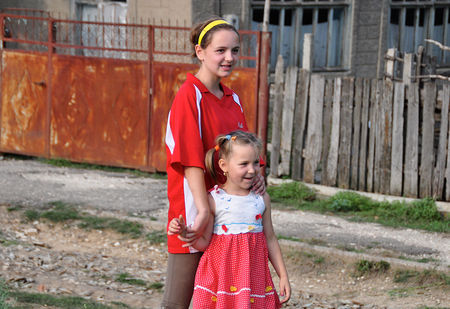 ..spectators...
...spectatori...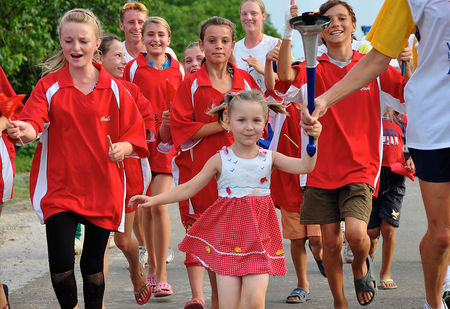 ..who turned in runners...
...care s-au transformat în alergători...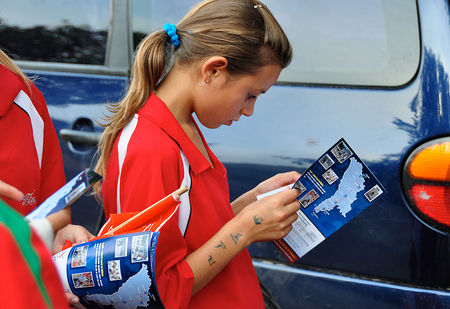 ..What's all this about?...
...ce înseamnă toate astea? ...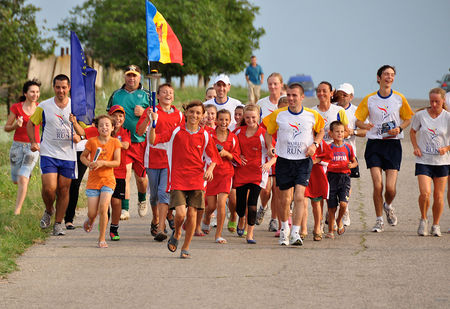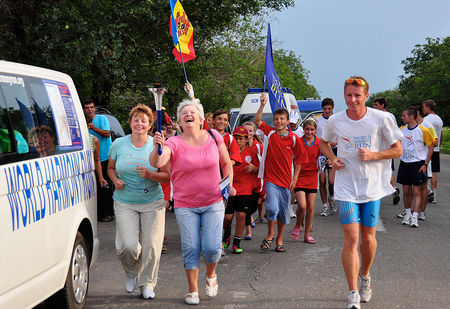 ..and everybody ran...
...și toți au alergat...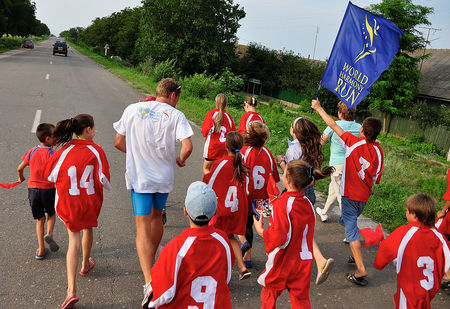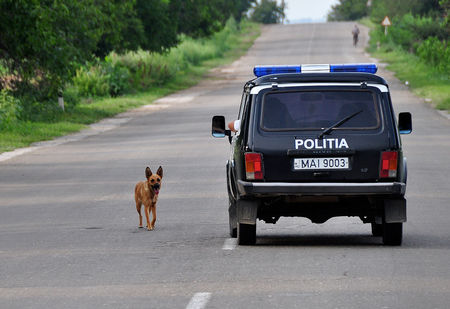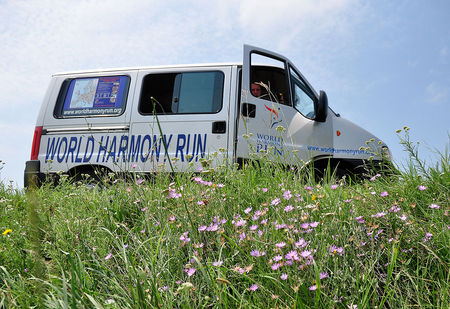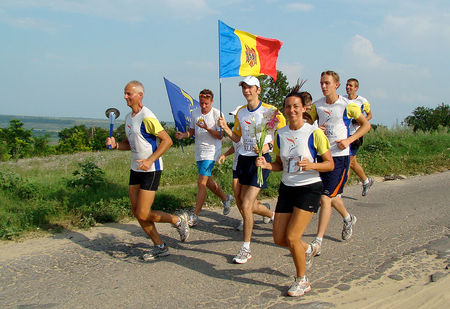 We approached Taraclia, our final destination...
Am poposit la Taraclia - destinația finală pe astăzi...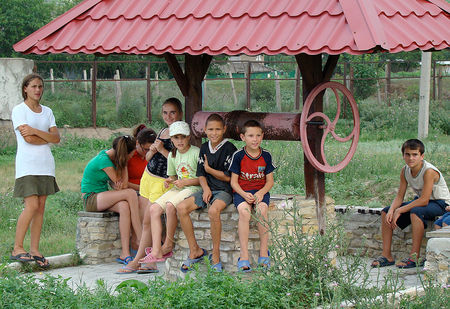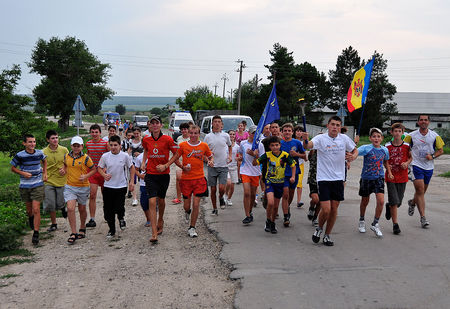 Runners waited for us at the city sign...
Alergătorii ne așteptau la semnul de intrare în oraș...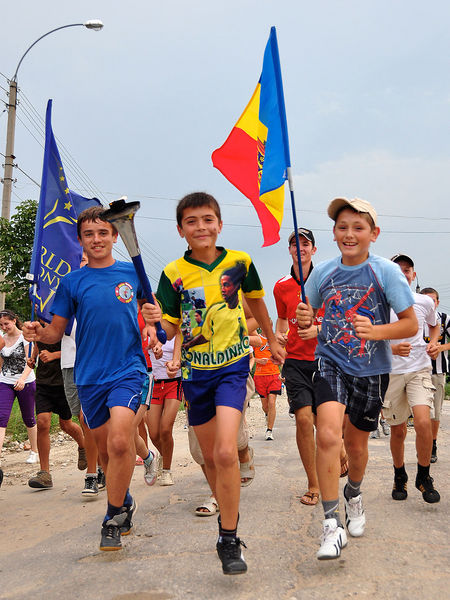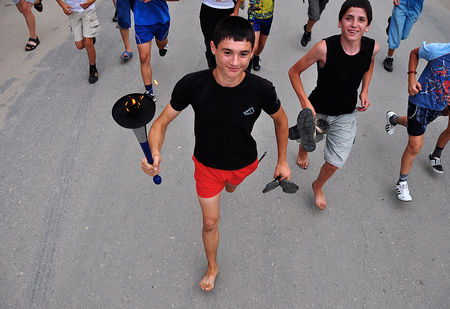 ..and the kids carried the torch enthusiastically into the city...
...cu mult entuziasm copiii au adus torța în oraș...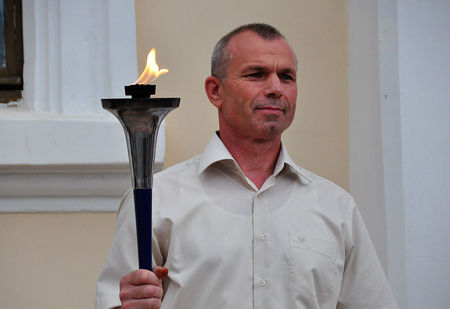 The Governor of the region welcomed us...
Președintele raionului ne-a urat bun venit...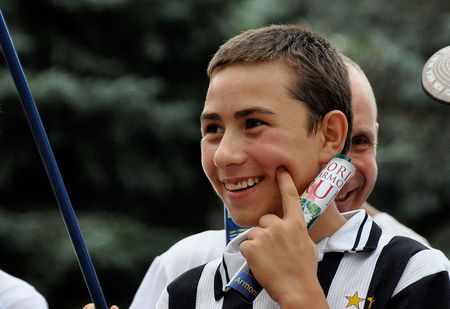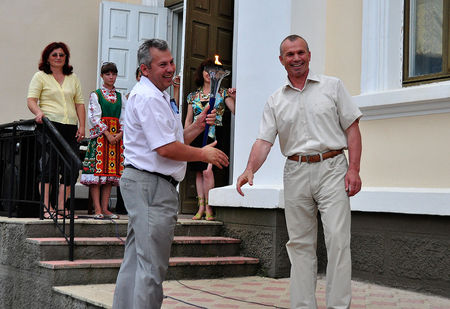 ...and the Mayor received the torch too.
...Primarul de asemenea a primit torța.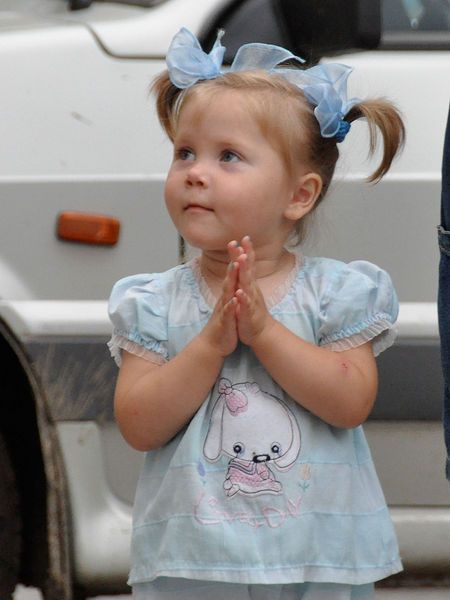 ..more spectators...
...alți spectatori...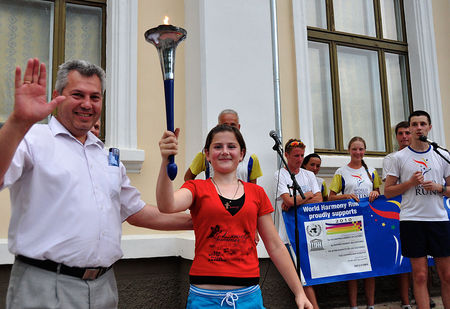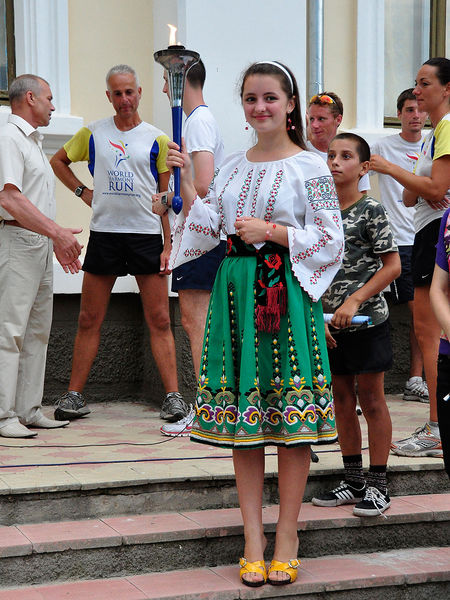 ..nice performances by local artists...
...artiștii locali ne-au cântat extraordinar...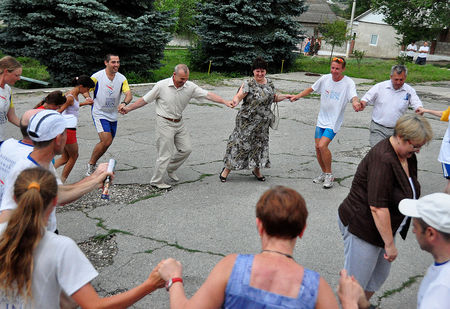 ...and a final dance with all the officials ended our first day in Moldova!
...prima noastră zi în Moldova s-a încheiat cu o horă cu oficialitățile!
---
Distance: 84 km
Team Members:
Dipavajan Renner (Austria), Roos de Waart (Netherlands), Zach Saltzman (USA), Manjula Lecordier (France), Zoltan Theobald (Hungary), Natalia Lehonkova (Ukraine), Dima Lehonkov (Ukraine), Ulvis Kassalietis (Latvia), Gints Peleckis (Latvia), Himadri Kavai (Hungary)
Harmonemail:
You can send a message to the runners or read the messages.
Gallery: See more images!