Moldova 27 July: Cimișlia - Chișinău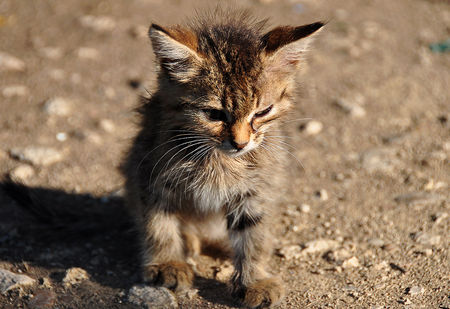 Good morning in Cimislia! We started into the day with a few interviews...
Bună dimineaţa din Cimişlia! Ziua a început cu interviuri...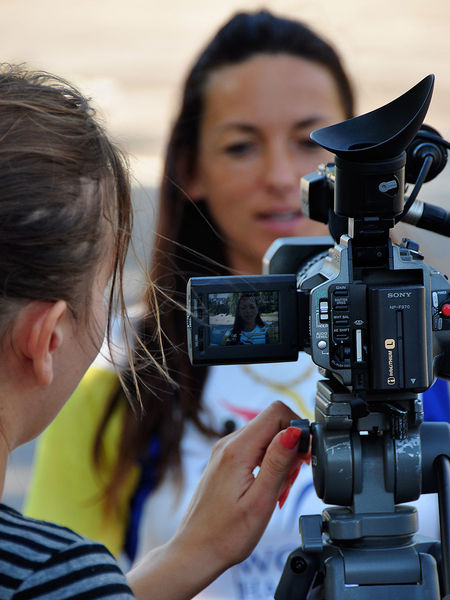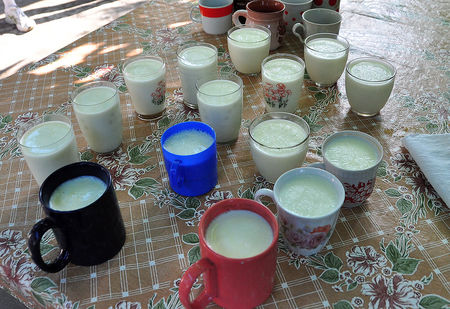 ...and a second delicious breakfast in our Moldovan coordinator's George's parents' house! Hot fresh farm milk and homemade cheese bread...miam-miam...
...încă un dejun gustos la casa părintească a coordonatorului din Moldova, Gheorghe. Lapte proaspăt şi plăcinte cu brânză de casă... mmmmmm...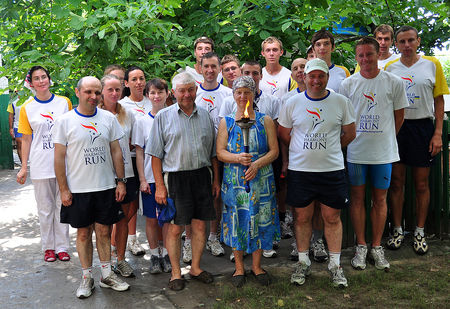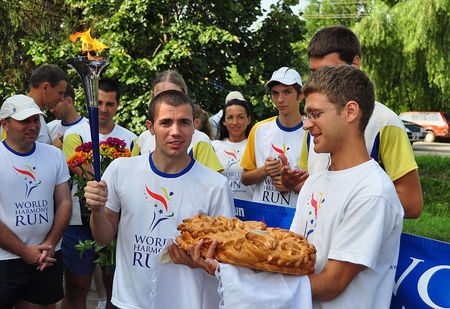 Gints and Ion received the unmistakable tradional bread and salt in
Ecaterinovca before presenting the real meaning of our coming: sharing our culture and knowing each other in a very special way...
La Ecaterinovca, Gints şi Ion au primit nelipsita pâine şi sare, chiar înainte de a prezenta semnificaţia sosirii noastre: contactul culturilor şi cunoaşterea reciprocă într-un mod foarte special...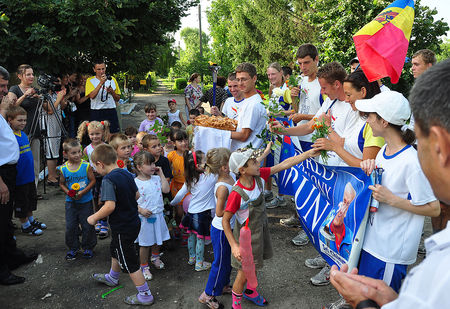 Meanwhile the cute kids offered beautiful flowers to each runner.
Între timp, copii drăgălaşi de la grădiniţă au oferit fiecărui alergător câte o floare.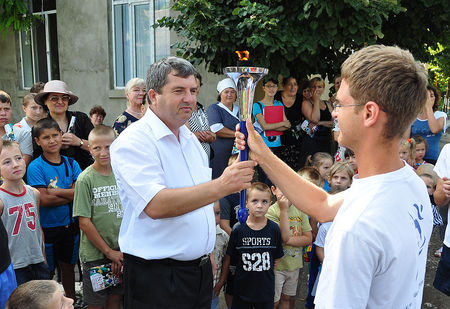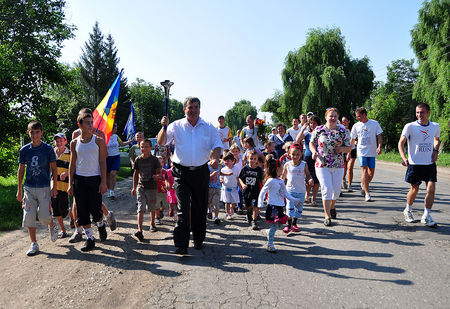 Running together, small or tall, it doesn't really matter. We are all indeed part of a big happy World Family, aren't we?
Alergăm împreună, mari şi mici fără deosebire. Cu adevărat, toţi suntem parte a unei mari şi fericite Familii Mondiale, nu-i aşa?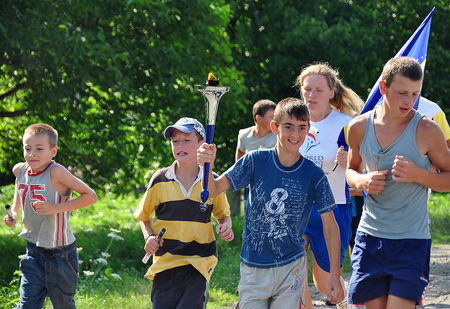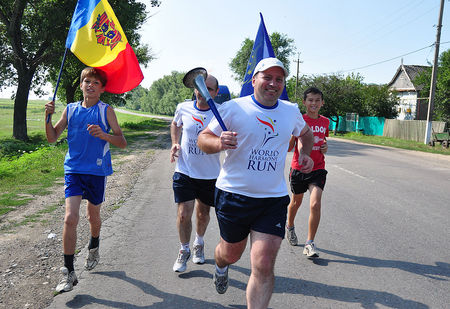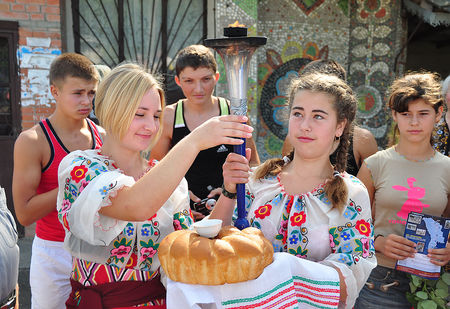 The representative of the sport community of Cimislia accompanied us all the district trough every village so we could share our goodwill. The sacred traditional bread and the sacred Flame which is part of our daily activity now. Thank you for this honour!
Sportivii cimişlieni ne-au însoţit prin toate localităţile raionului şi astfel am putut să împărtăşim bunăvoinţa noastră. Tradiţional, sfânta pâine cu sare şi Flacăra sacră, care acum fac parte din activitatea noastră zilnică. Mulţumim pentru această onoare!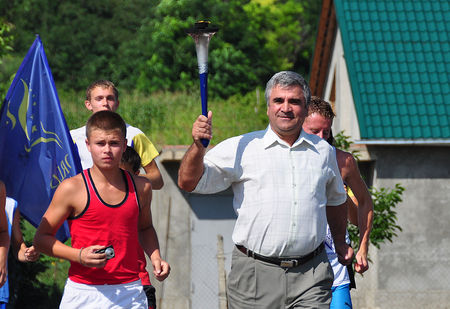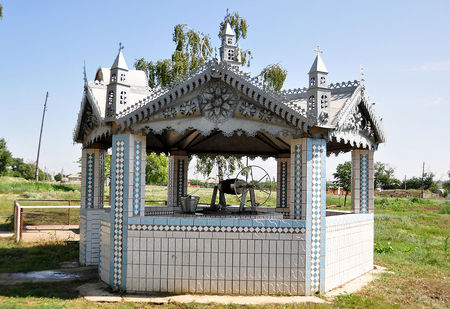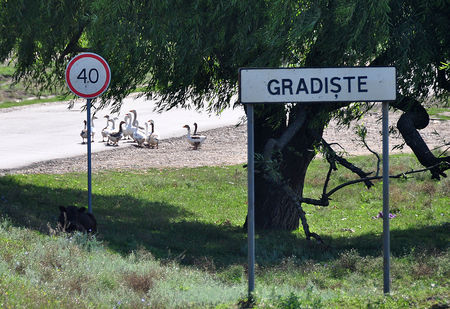 Tell me dear cousin... is it not on July 27th 2010... that the Harmony Run is supposed to pass by Gradiste?
Spune-mi, vere... oare nu pe 27 iulie 2010 Alergarea pentru Armonie trebuie să treacă prin Gradişte?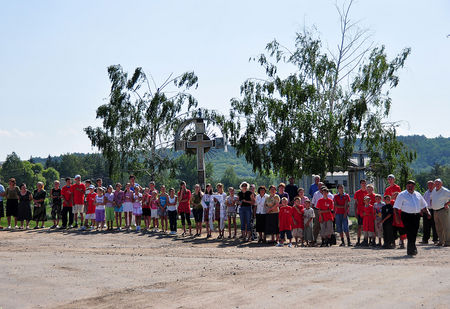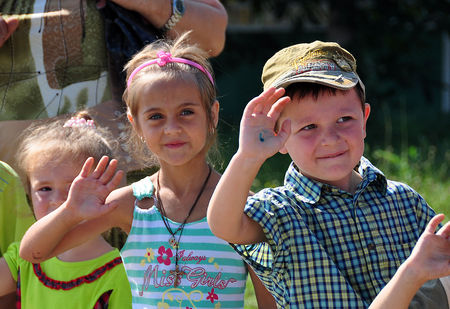 Yes they are coming!!!
Da! Uite-i că vin!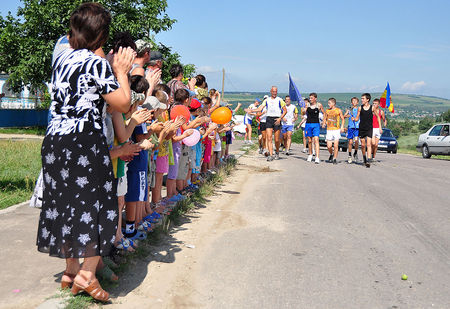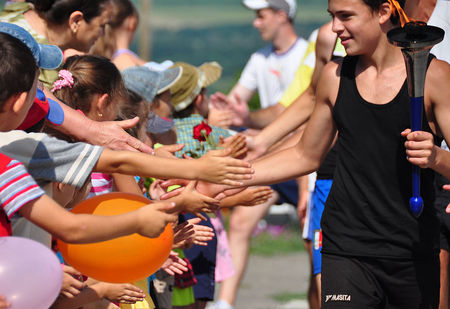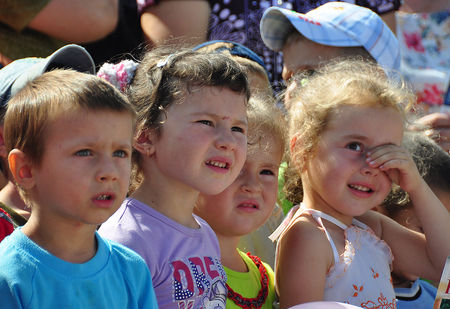 But where do they come from, they don't speak the same language!!!
Dar de unde au venit, toţi vorbesc limbi diferite?!!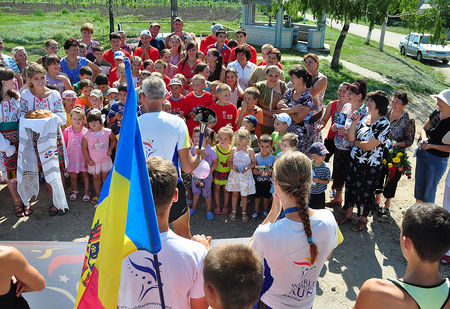 Our European coordinator presents the international team in a funny guess game to the kids which usualy they enjoy and love very much...
Coordonatorul european prezintă echipa internaţională sub forma unui joc vesel de ghicit, pe care copiii îl îndrăgesc imediat...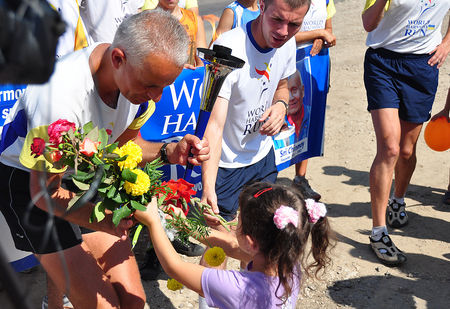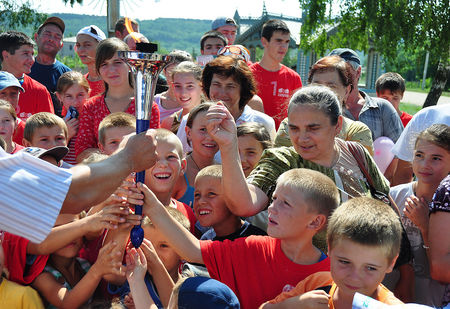 And everybody had the chance to hold the torch!!!
Fiecare a avut şansa de a ţine torţa!!!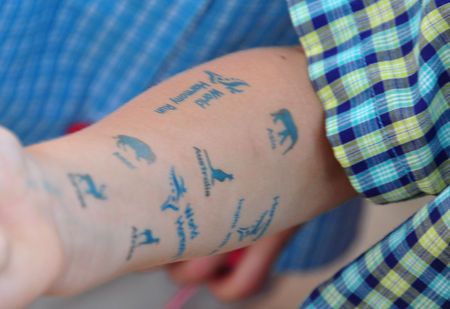 But to be part of our Team running is indispensable even for a few steps!
Însă pentru a fi parte din Echipa noastră alergarea este indispensabilă, măcar câţiva paşi!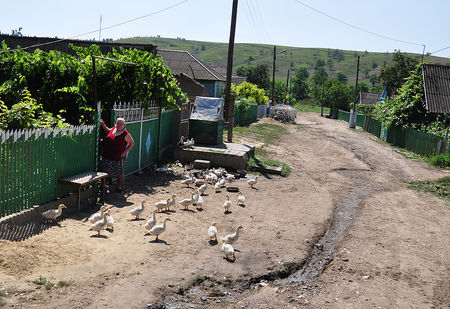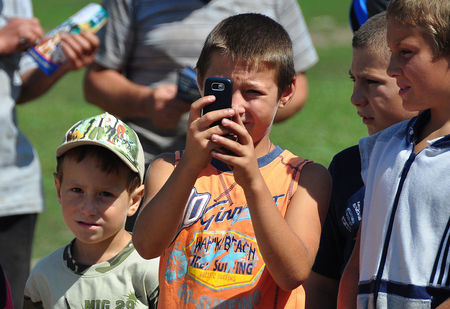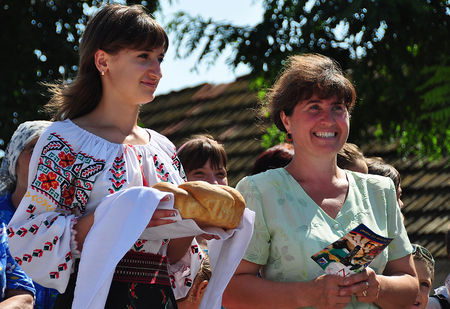 Hospitality, generosity and smiling faces are really part of the Moldavan qualities!
Într-adevăr, ospitalitatea, generozitatea şi feţele zâmbitoare se numără printre calităţile moldovenilor!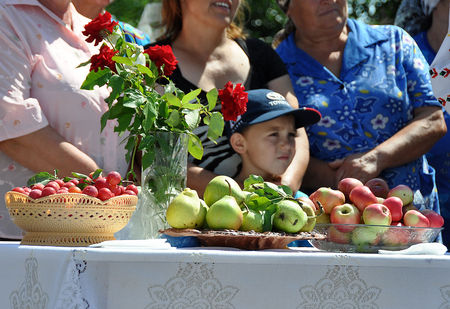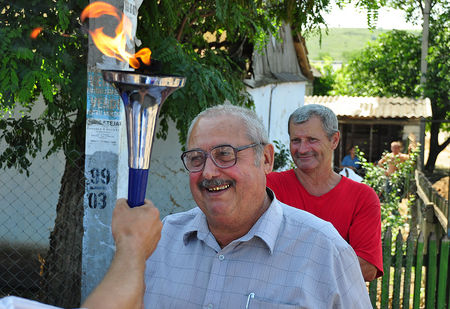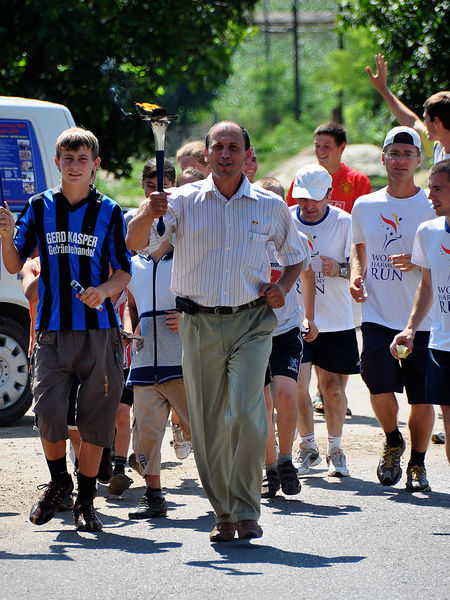 And the mayor of Iurievca running the first step shows us too that it is our responsibility to do something to contribute to make this world a better world.
Primarul de Iurievca aleargând primii paşi ne arată că este responsabilitatea noastră de a face ceva pentru a contribui la o lume mai bună.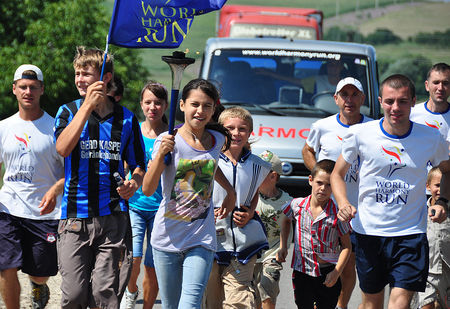 Run Run Run... World Harmony Ruuun...Children are our future...
Aleargă, Aleargă, Aleargă... Alergarea pentru Armonie în Lume... copiii reprezintă viitorul...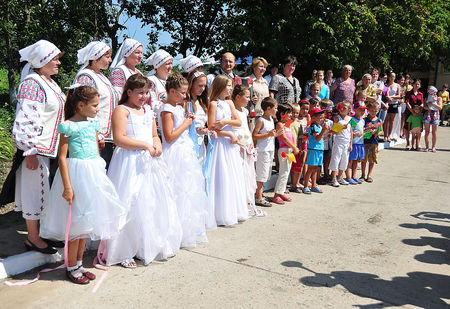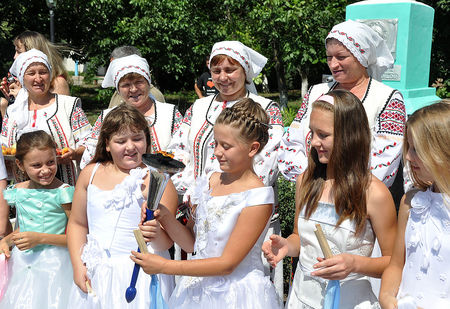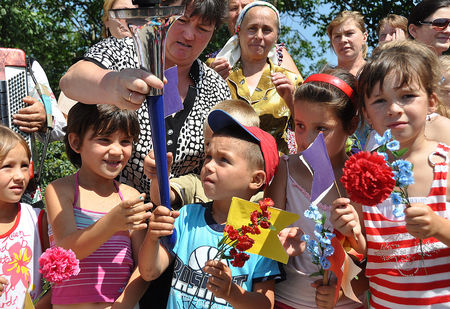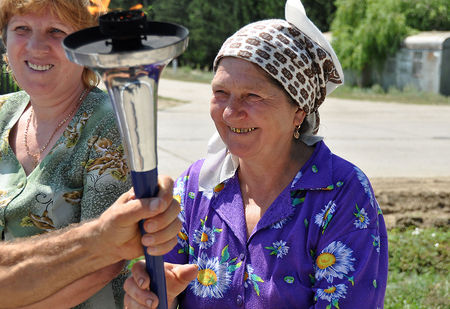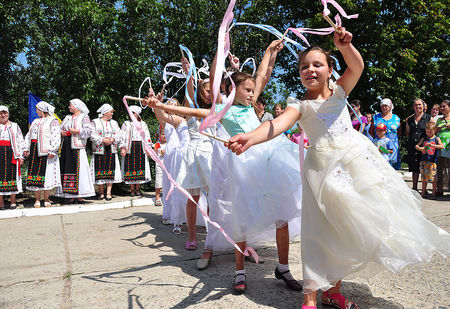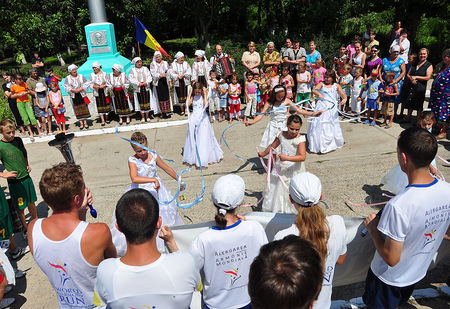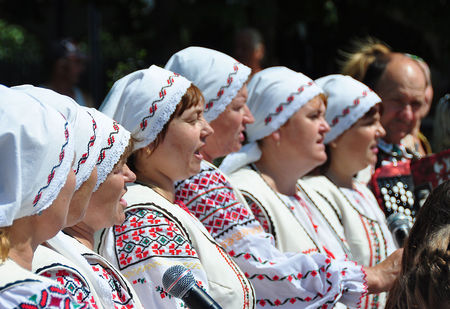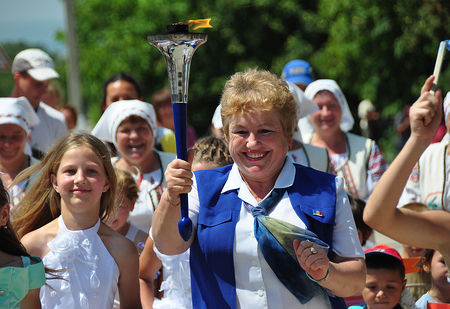 After nice performances of the kids the representative of the city of Porumbrei gladly carried the torch and run with a lot enthusiasm like a child...
La încheierea concertului oferit de copii, doamna primar de Porumbrei a luat cu bucurie torţa şi a alergat cu mult entuziasm inocent...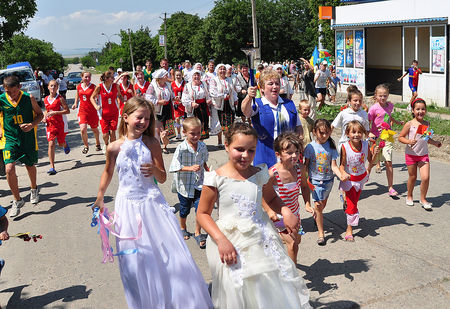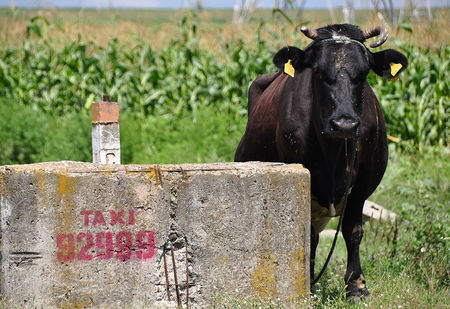 ...if you need this taxi, just call...
...ai nevoie de un taxi? Trebuie doar să suni...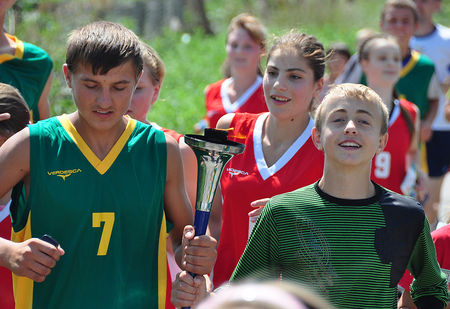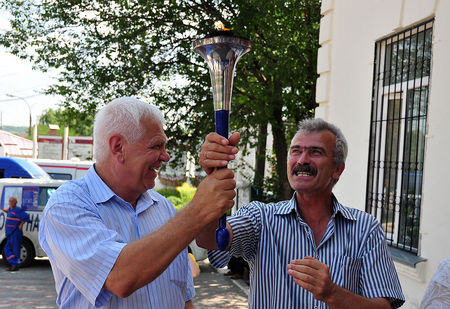 Arrived at Ialoveni. The volleyball team and the representatives of the city welcomed the torch.
Ajunşi la Ialoveni. Echipa de volei şi reprezentanţii oraşului au întâmpinat torţa.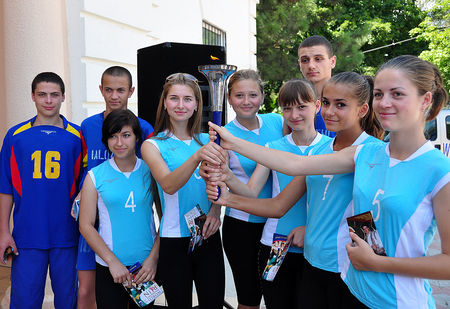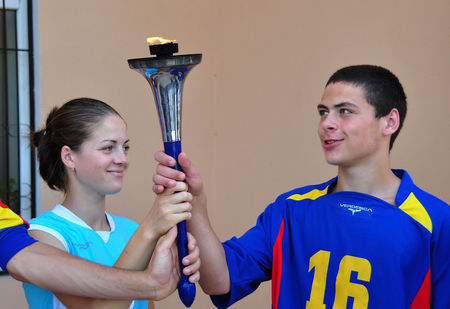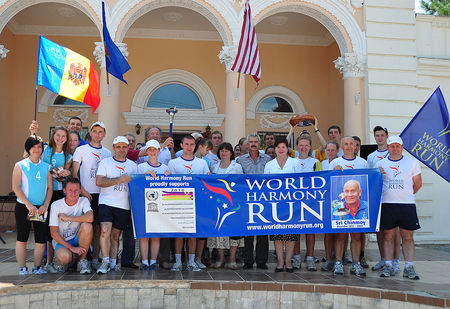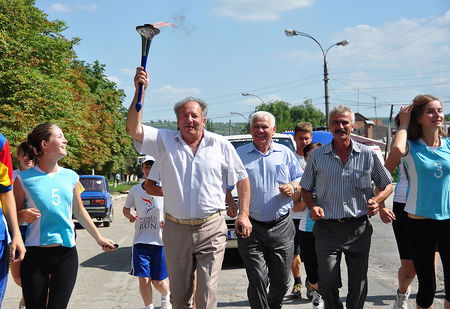 After offering us a nice lunch the governor and the mayor began the run under a hot sunny afternoon to bring all the good wishes to the next city.
După ce ne-au oferit un prânz minunat, preşedintele raionului şi primarul au început alergarea în această zi fierbinte şi însorită pentru a transmite cele mai bune dorinţe localităţii următoare.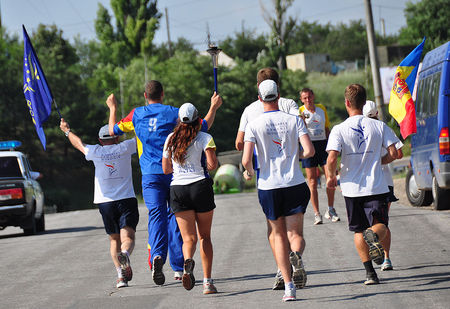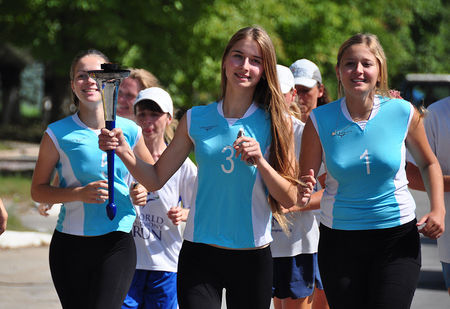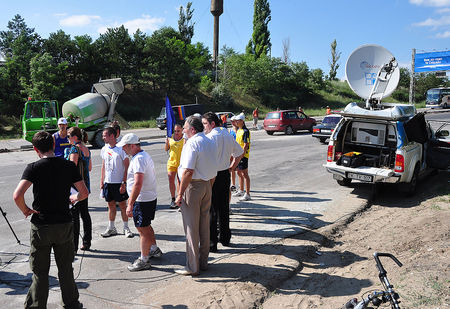 On our way to Chisinau lot of TV reporters were waiting for us.
La intrarea în Chişinău deja ne aşteptau reporterii TV.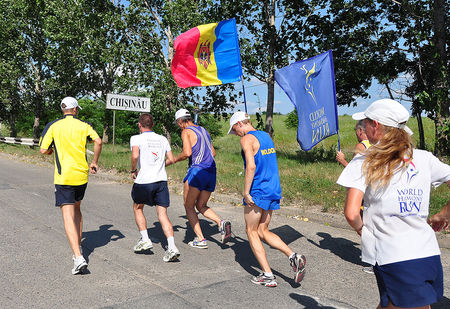 Brave local runners accompanied into the city of Chişinău during 10 km...
Bravi alergători locali ne-au însoţit până în Chişinău pe o distanţă de 10 km...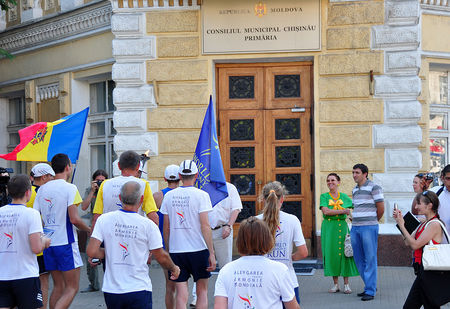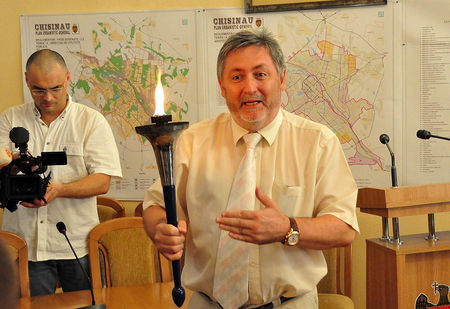 And the deputy mayor Nistor Grozavu after a warm welcome joyfully encouraged us with success to continue up to Moscow, our final destination for this year, on September 27th, in exactly 2 months...
Dl vice-primar Nistor Grozavu, după întâlnirea caldă, ne-a încurajat cu însufleţire să continuăm cu succes până la Moscova, destinaţia noastră finală pentru acest an, pe 27 septembrie, peste exact 2 luni...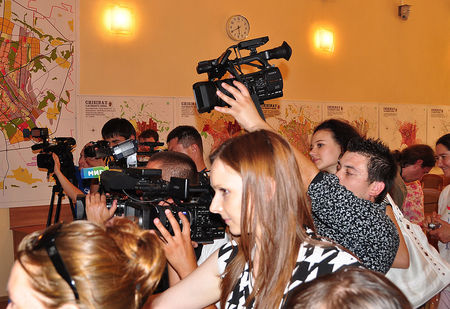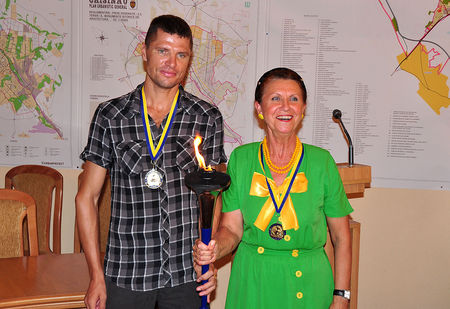 Famous Moldovan marathon runner Iaroslav Muşinschi and actress Ninela Caranfil received the Torch Bearer Award of the Harmony Run.
Maratonistul Iaroslav Muşinschi şi actriţa Ninela Caranfil, Artistă emerită, renumiţi în Moldova, au primit Premiul Purtătorul Torţei al Alergării pentru Armonie Mondială.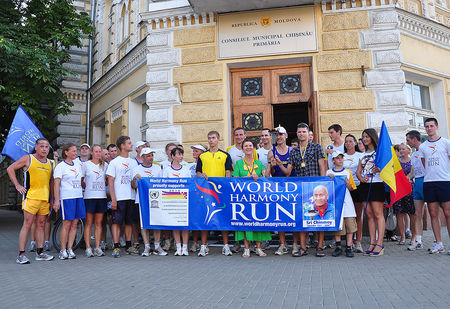 Thank you to all the citizen of Chisinau and see you tomorow, another promising day...
Mulţumim tuturor cetăţenilor Chişinăului. Ne revedem mâine, o nouă zi promiţătoare...
---
Distance: 80 km
Team Members:
Dipavajan Renner (Austria), Roos de Waart (Netherlands), Zach Saltzman (USA), Apaguha Vesely (Czech Republic), Manjula Lecordier (France), Zoltan Theobald (Hungary), Natalia Lehonkova (Ukraine), Dima Lehonkov (Ukraine), Ulvis Kassalietis (Latvia), Gints Peleckis (Latvia), Himadri Kavai (Hungary), Vera Balonishnikova (Russian Federation)
Harmonemail:
You can send a message to the runners or read the messages.
Gallery: See more images!