USA 16 May: Orlando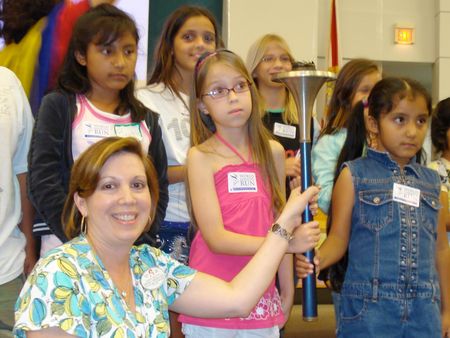 The World Harmony Run had the honor to be invited by Mrs. Minnie Cardona (holding the torch with her daughter) the coordinator of ESOL /World Languages Department of Education in Seminole County, Florida. The ESOL Dept. helps parents and children who have moved from other countries to learn English as a second language and teachers promote cross cultural understanding as well.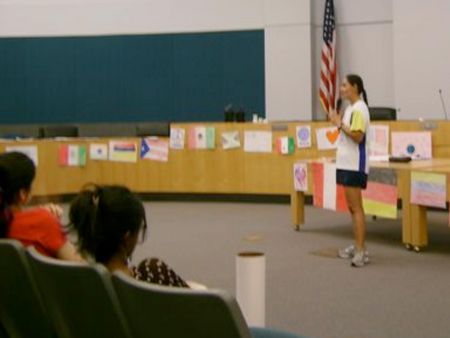 Around 60 people attended, most of them from Puerto Rico, Mexico, and Colombia. We told our friends a little history of the World Harmony Run; that it started over 20 yrs ago by founder Sri Chinmoy who thought one of the easiest ways to spread harmony was through sports. We also talked about the significance of the torch and how it travels to over 100 countries around the world spreading the message of peace and harmony.
Since most of the people were from Latin America, I had the privilage to speak in my native language, Spanish, and translated what the other members of the WHR Team wanted to share with our friends. I told them I had the honor to run in my country, Mexico, when the WHR started in 1987 and the importance of spreading harmony around us, since there are more things that unites us as human beings than divides us. If we feel harmony within our hearts we can transmit this to people all around us with a simple smile, positive thoughts and/or good deeds. We can make of this world a more harmonious world to live in.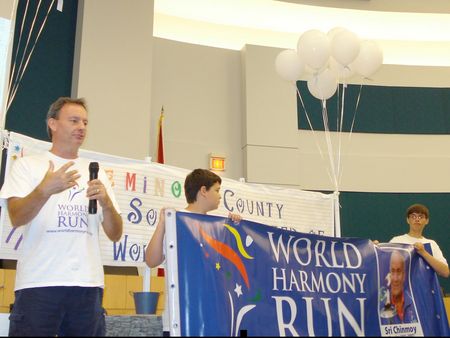 David Sr. spoke about the importance of harmony, how people from other countries come together and how we can be united regardless of language and culture just as we were united on this very special day. David Jr. talked about how we can find harmony in our hearts with an exersise putting our right hand on our hearts to feel harmony and repeating "Harmony Begins with Me". He also shared his experience with the USA WHR Team last summer running over 2,000 miles from Seattle to Chicago and told the children it was an experience he will never forget.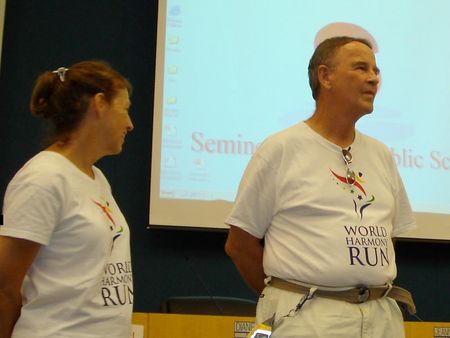 Drishti and Durjaya came all the way from Miami to share with us the importance of word harmony. Drishti complimented the children for doing such beautiful drawings and posters for world harmony and told us she has paticipated in the WHR in Guatemala, Costa Rica, and even China! Durjaya, her husband, shared with us all the different countries they have been with the WHR and every single place he has been he had the feeling that we are all one world family.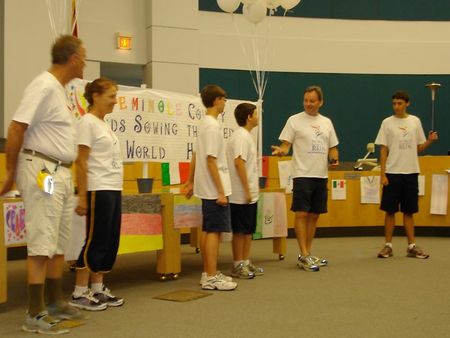 The WHR Team from left: Durjaya, Drishti, Jack, Kevin, David Sr. and David Jr.
After sharing the importance of word harmony and the knowledge of where we can find harmony in our hearts it was time to watch the WHR video. After the video, we wanted to show our gratitude to Mrs. Minnie Cardona for inviting the WHR into the last class this school year of ESOL by giving her a WHR certificate.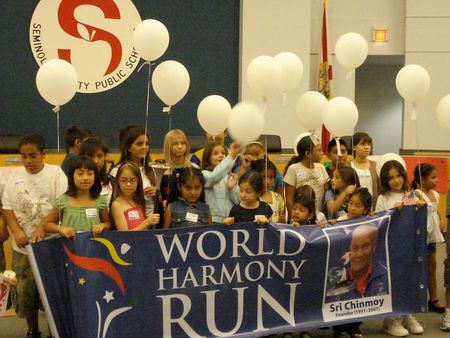 We gave white balloons and WHR stickers as a gift to the kids. The white balloons had a special aphorism with the theme of world harmony writen by founder of the WHR Sri Chinmoy.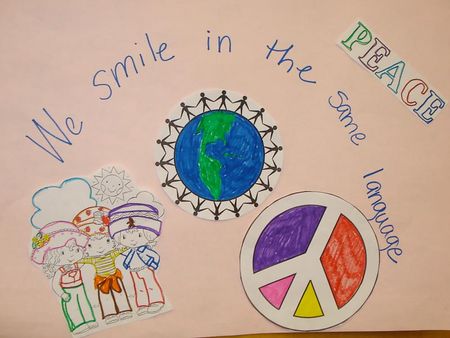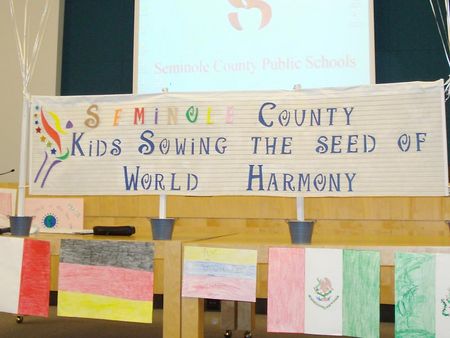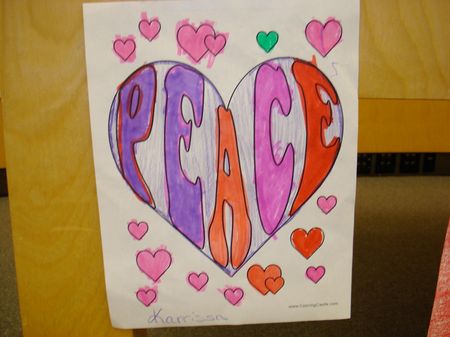 Here are some of the beautiful world harmony drawings, flags and posters the children drew that morning.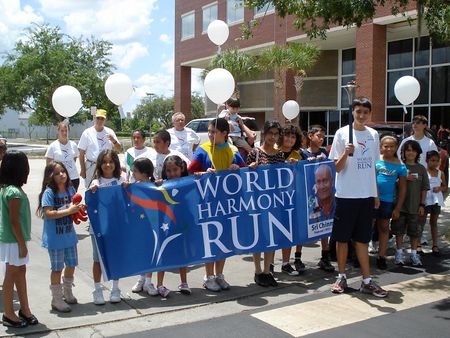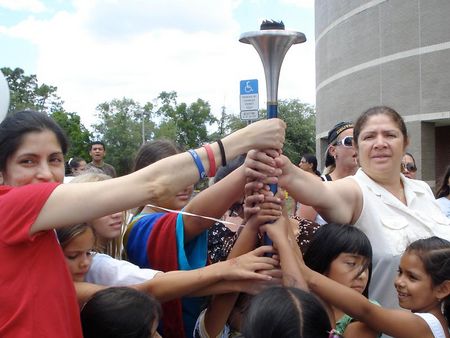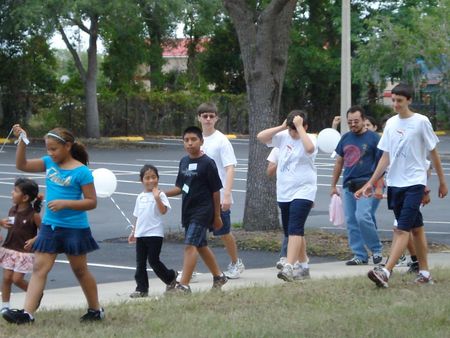 After sharing balloons, stickers and drawings it was time for some fun in the sun with our friends, so we headed outside in the beautiful Florida sunshine to do what everyone was waiting for: running with the torch!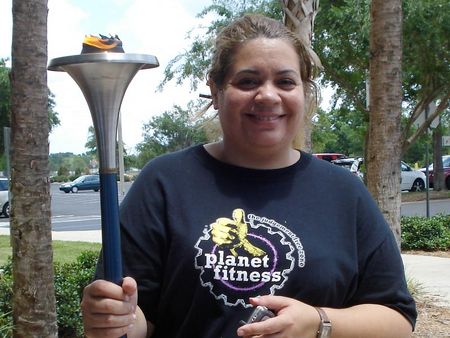 All our gratitude to Raisa Sifonte FICC Liaison and Instructional Coach for coordinating the event at Seminole County Department of Education. Thank you Mrs. Cardona, Raisa, Teachers, Parents and students for being part of the WHR!
Thank you to the World Harmony Run Team, especially Drishti and Durjaya for coming from Miami, my husband David, and children for participating and my father Ray for helping out!
"Try to better the world. How? By betterting yourself first."
- Sri Chinmoy, founder of the World Harmony Run.
Team members: Drishti Pliske (USA), Durjaya Pliske (USA), David Morrison Sr. (USA), David Morrison Jr. (USA), Jack Morrison (USA), Kevin Morrison (USA), Cynthia Morrison (Mexico).
---
Team Members:
Drishti Pliske (USA), Durjaya Pliske (USA), David Morrison Sr. (USA), David Morrison Jr. (USA), Jack Morrison (USA), Kevin Morrison (USA), Cynthia Morrison (Mexico)
Harmonemail:
You can send a message to the runners or read the messages.
Gallery: See more images!