Belgium 14 May: Chevetogne - Brussels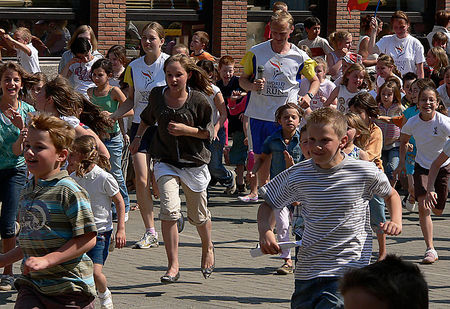 Who says high heels are no good for running? (Belgrade primary school)
After a refreshing sleep in the monastery of Chevetogne we left early in the morning in the direction of Dinant. We had to cover 25 kilometres in 75 minutes to arrive at our first school of the day: the Bellevue primary school. Yet when we arrived - well in time - the headmaster had quite a shock: he expected us tomorrow! Somehow the mistake had been made on his invitation (our fault), but he showed real spirit and immediately gathered all the school classes to listren to our presentation. A little improvisation goes a long way.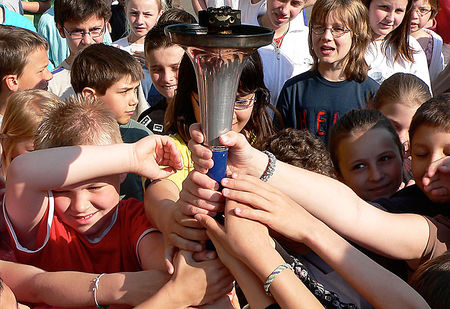 The kids were very kind and well-behaved and seemed to enjoy what we had to say. The torch worked its magic as usual.
From Dinant we had to muster another fine piece of planning and navigating to make it in time to our next meeting, which was at the Belgrade primary school in Namur.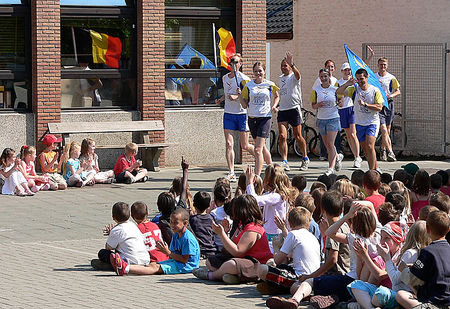 Fortunately they knew we were coming and were waiting for us in the schoolyard.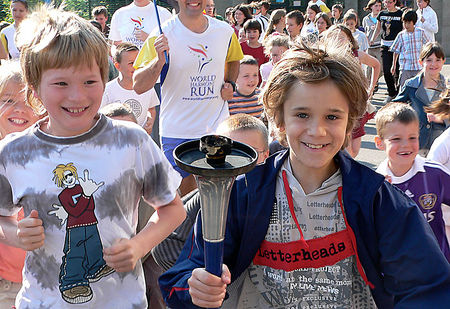 The children of the Belgrade school were very enthousiastic, eager and dynamic. They loved to run with the torch!
From Namur it was another 60+ kilometres to our final destination of the day: Brussels, the capital of Europe.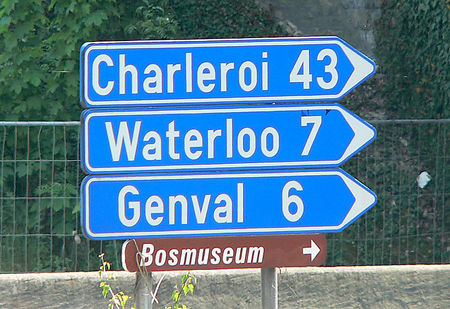 And here's where Napoleon met his end. As a matter of fact, within the last few weeks the World Harmony Run has travelled from the birthplace of the 'little emperor' - the town of Ajaccio in Corsica - to his deathbed in Waterloo. Not that we have any particular liking for Napoleon, but we just thought we'd mention it.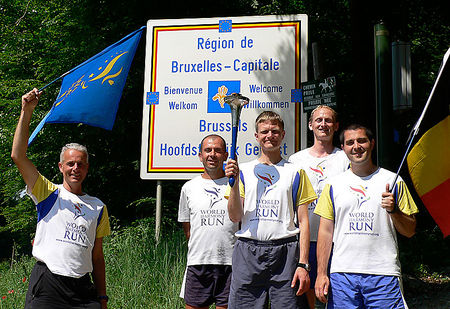 Tired but satisfied and sweaty but proud, we reached the sign to Brussels. Mission accomplished!
Yet after a quick shower and change of clothes we were off to another significant and uplifting ceremony, which took place inside the European Parliament.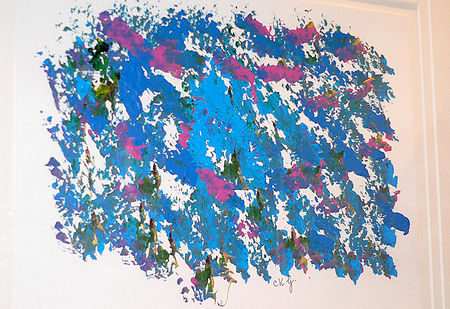 A "Jharna kala" painting by Sri Chinmoy. Jharna kala is Bengali for "fountain-art", the name Sri Chinmoy gives to his paintings.
Mr. Istvan Szent-Ivanyi, a Hungarian Member of European Parliament (MEP), had hosted a special exhibition of Sri Chinmoy's artworks inside the building of the European Parliament. As Sri Chinmoy is also the founder of the World Harmony Run we were happy and honoured to attend the opening of the exhibition.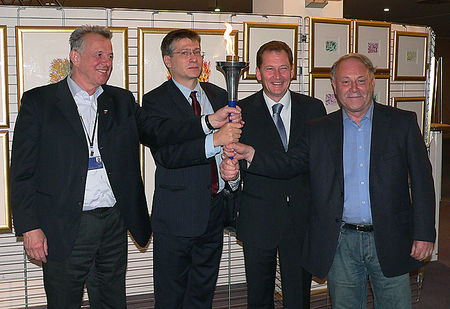 Mr. Szent-Ivanyi (second from the left) spoke very highly of Sri Chinmoy's art and his worldwide initiatives for world-harmony, like the World Harmony Run. Quoting one of Sri Chinmoy's aphorisms, Mr. Szent-Ivanyi said that politicians are often accused of valuing the love of power, yet it is the power of love which is of paramount importance in life.
---
Distance: 120 km
Team Members:
Dipavajan Renner (Austria), David Mouton (France), Csaba Kavai (Hungary), Namitabha Arsic (Serbia), Darya Soboleva (Russia), Ksenia Soboleva (Russia), Abhinabha Tangerman (Netherlands), Anita Borics (Hungary), Sabine Meyer (Belgium), Stephanie Thys (Luxembourg), Peter Zuidema (Netherlands)
Harmonemail:
You can send a message to the runners or read the messages.
Gallery: See more images!