Bulgaria 24 July: Sofia - Sandanski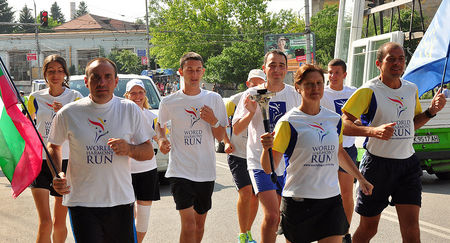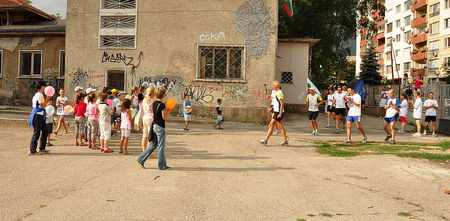 This morning we visited school Ivan Vazov in Sofia.
Тази сутрин посетихме училище "Иван Вазов" в София.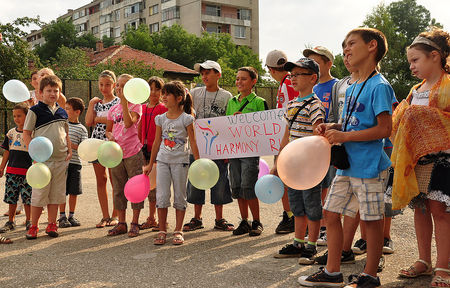 The kids and we had a lot of fun with the Harmony Run song.
И децата, и ние се забавлявахме с песента на Пробега.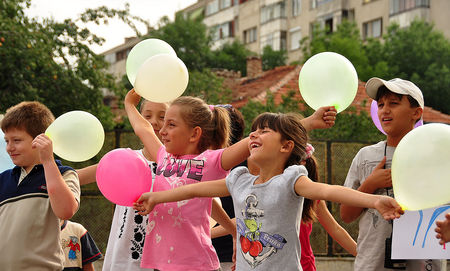 'I know the country...'
"Знам коя е тази страна..."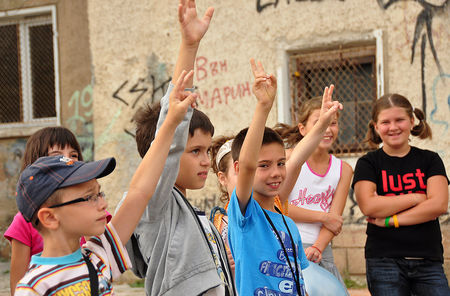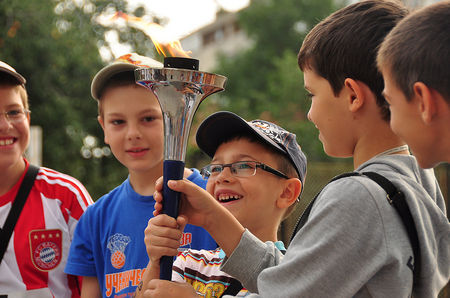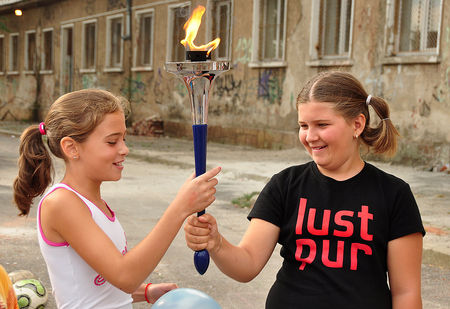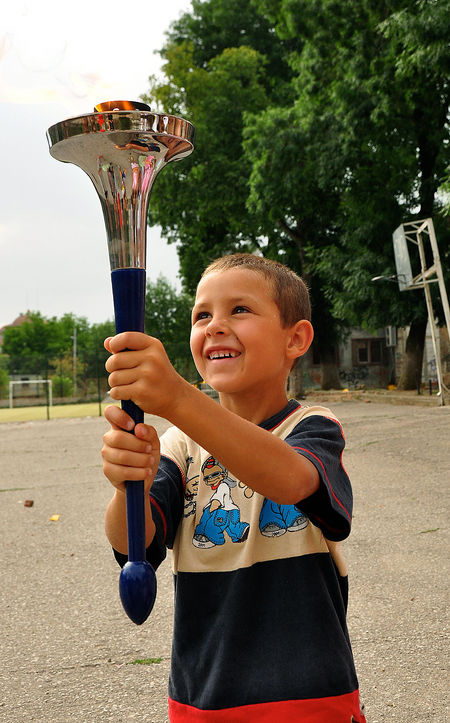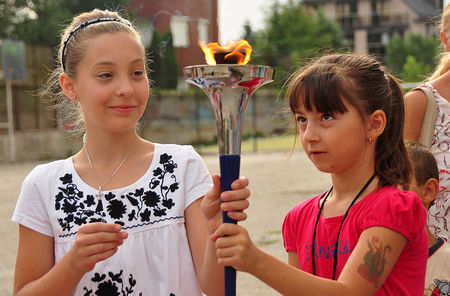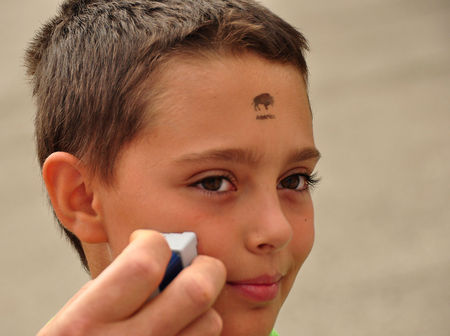 Running today...
Бягаме заедно...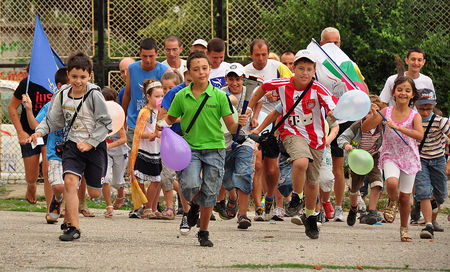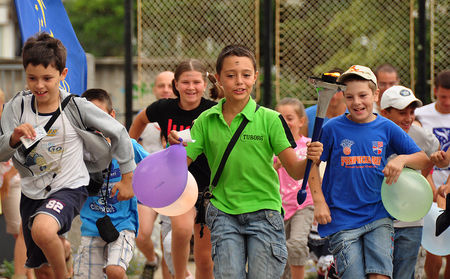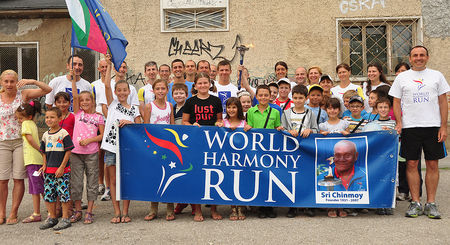 High five.
Дай лапа.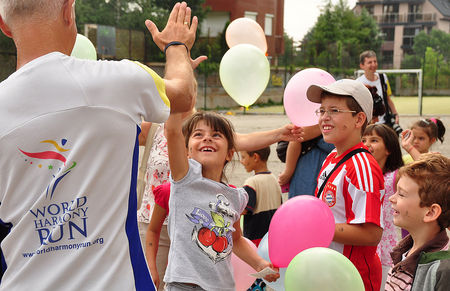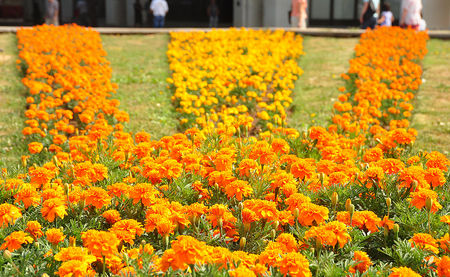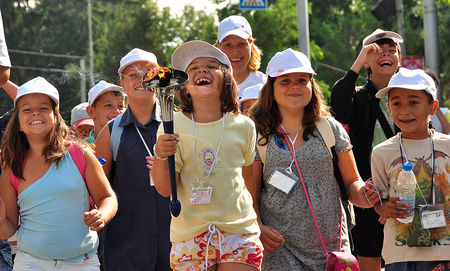 Pernik
Перник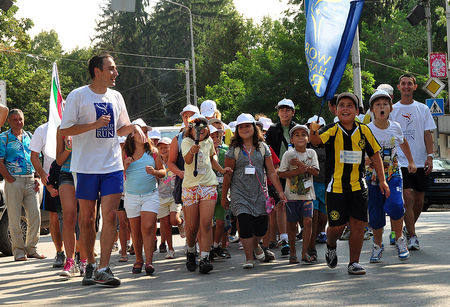 We had a great run with the local kids on the main street.
Бягахме с местните деца по главната улица.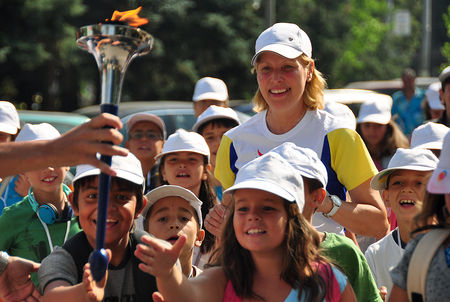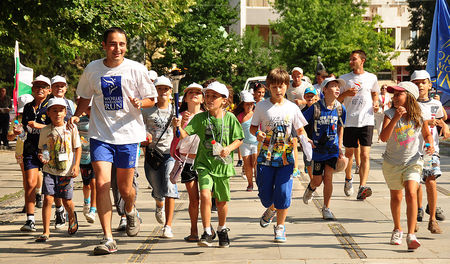 At the main square we were greeted by mayor Rosica Yanakieva.
На главния площад бяхме посрещнати от Росица Янакиева, кмет на Перник.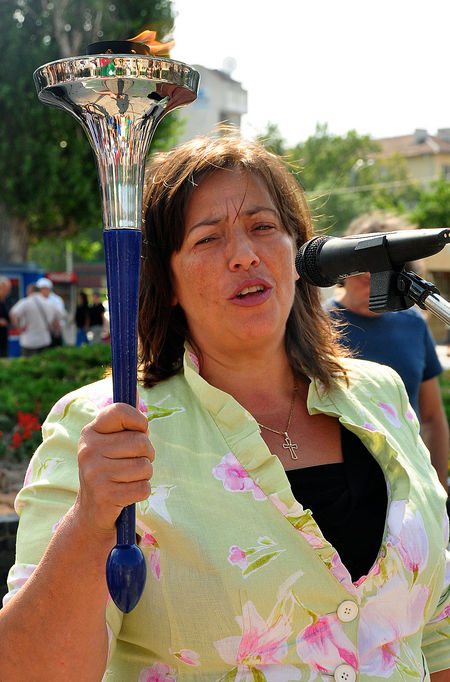 She said very kind and encouraging words about world harmony and peace. And she passed the torch to the kids.
Тя каза много мили и окуражителни думи за световния мир и хармония. И предаде факела на децата.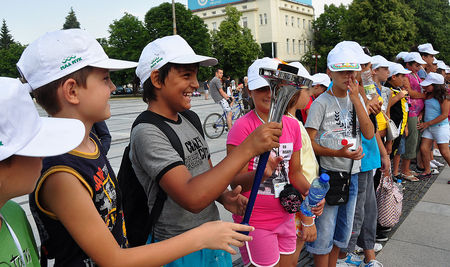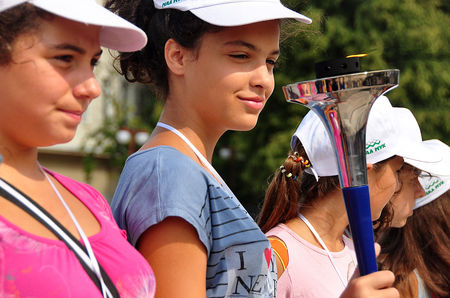 Thank you for the beautiful performance.
Благодарности за прекрасното изпълниние.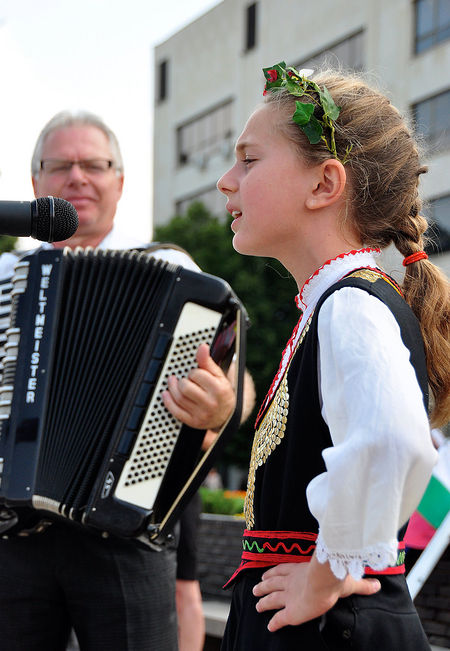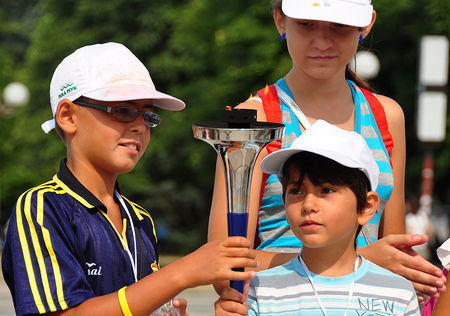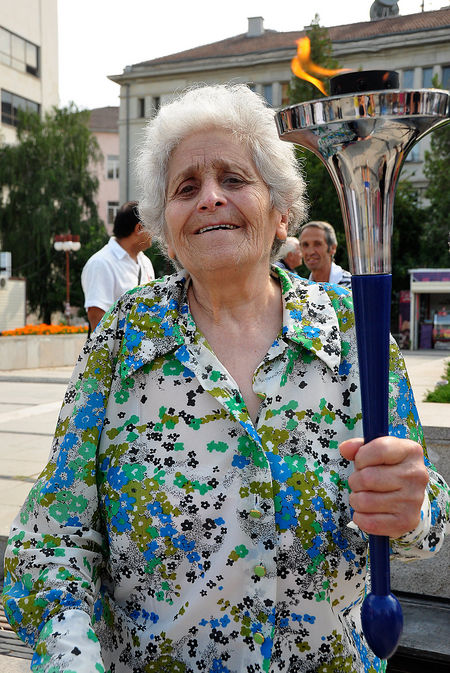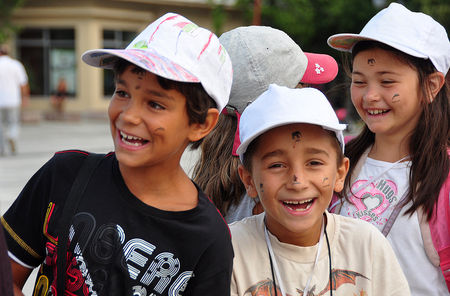 Thank you, Pernik, for the great meeting.
Благодарим, Перник, за чудесното посрещане.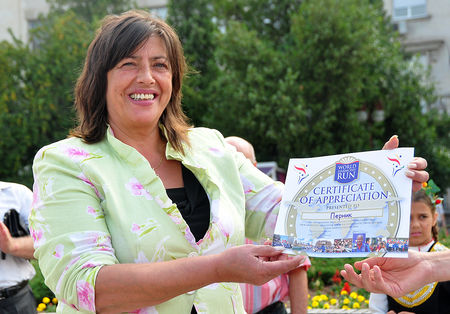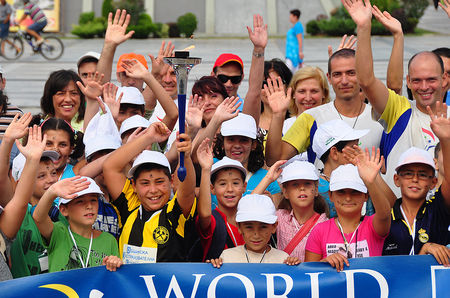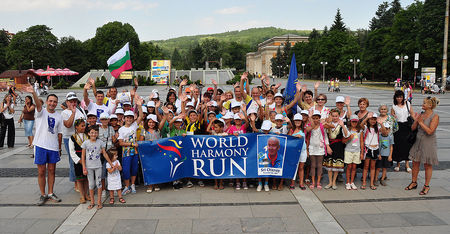 Entering Dupnica.
Пристигаме в Дупница.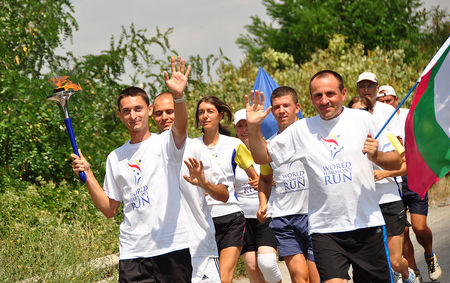 We were greeted by the martial artists from the Taekwon-do club Gladiator. 
Бяхме посрещнати от бойците от клуба по таекуондо "Гладиатор".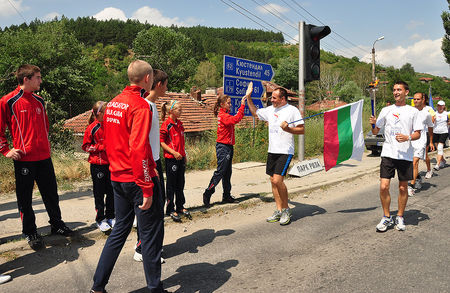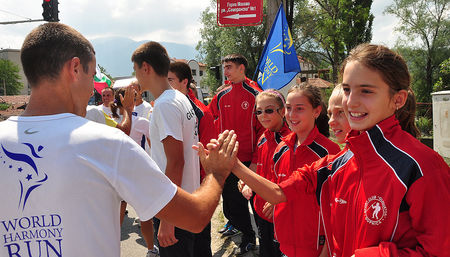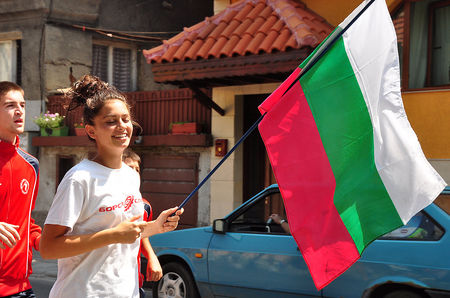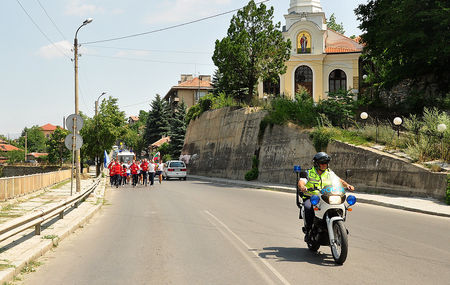 We had a nice run with them.
Чудесно побягахме с тях.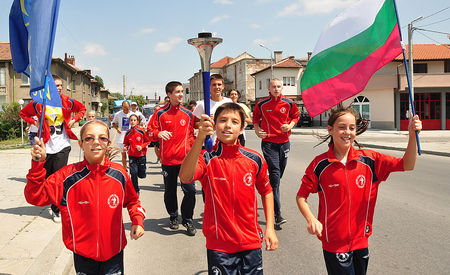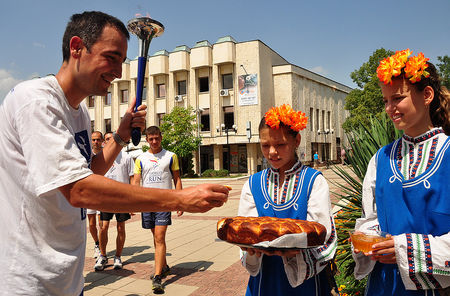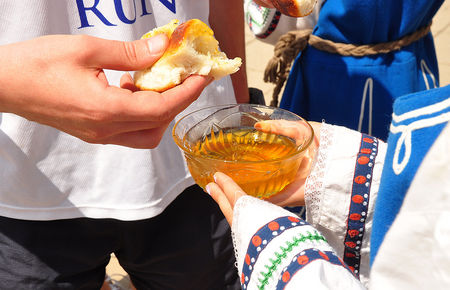 The meeting was in front of the city hall.
Срещата беше пред общината.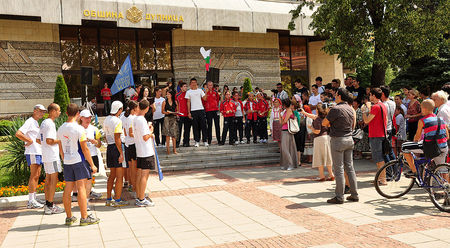 Deputy meyor Olga Kitanova accepted the torch on behalf of Dupnica.
Заместник-кмет Олга Китанова прие факела от името на гражданите на града.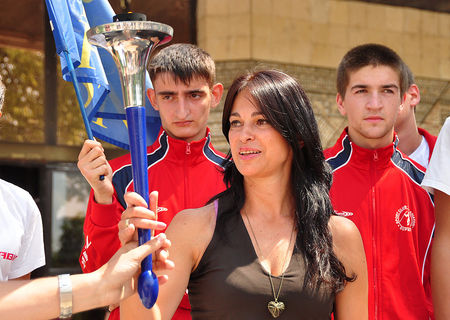 Part of the torch flame is staying in the city.
Частица от огъня остава в града.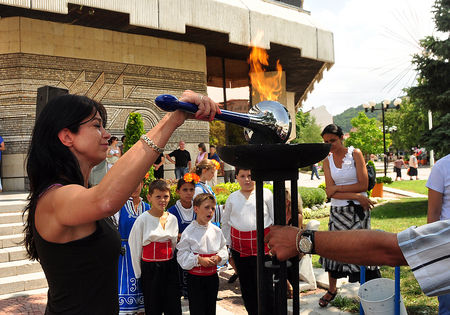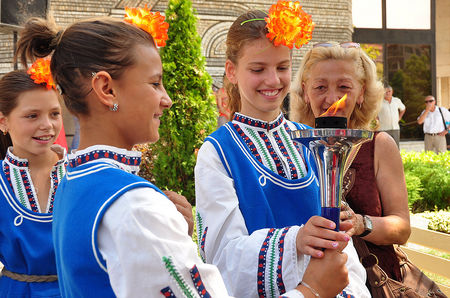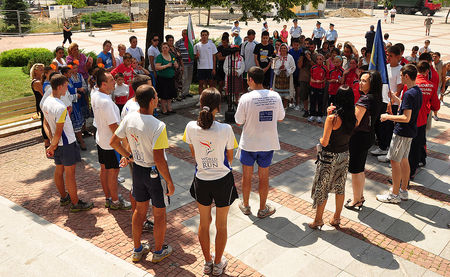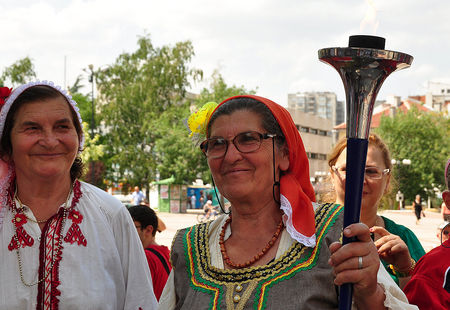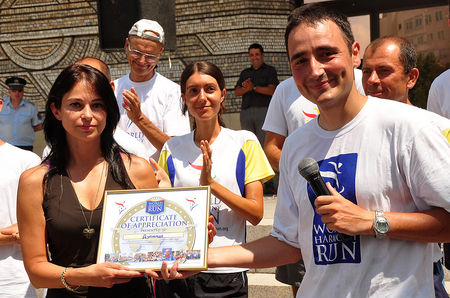 Musical performance.
Музикално изпълнение.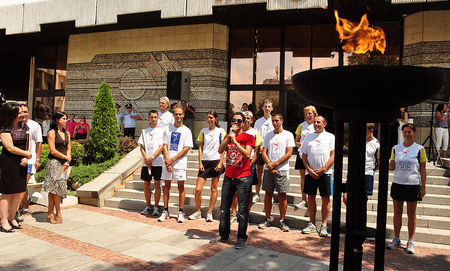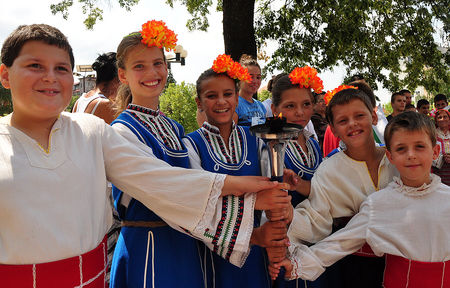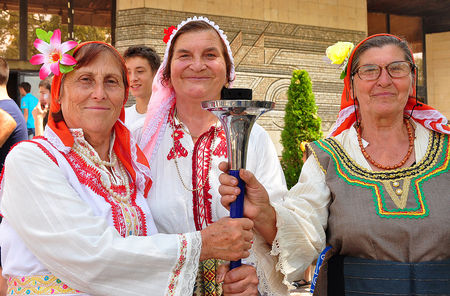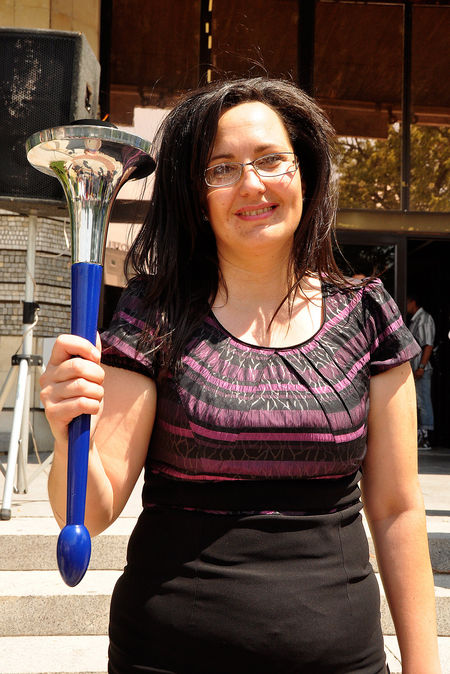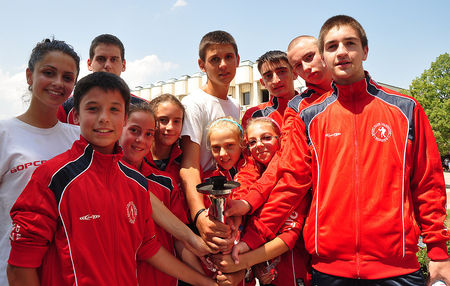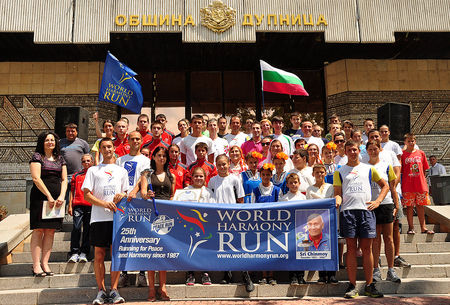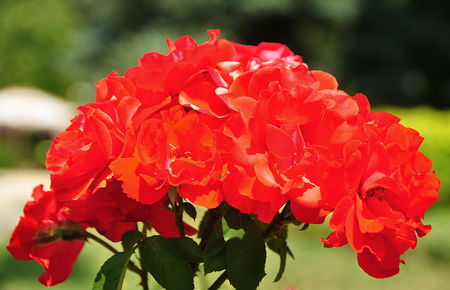 During the time of the ceremony we had to fix one of our vans. By accident we've got petrol instead of disel.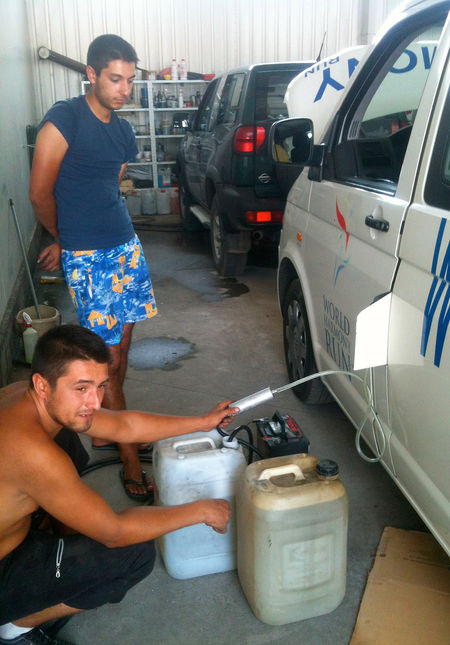 Thanks to the quick reaction and help we could continue.
Благодарение на бързата реакция и помощ, успяхме да продължим.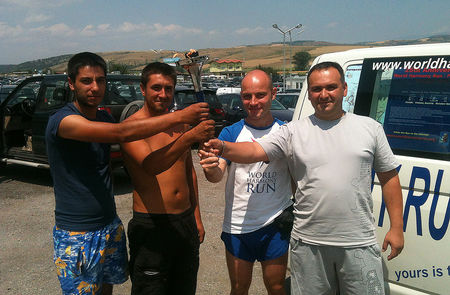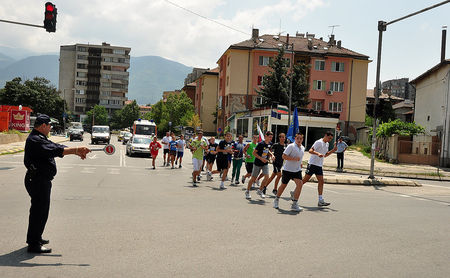 Our next meeting was in Blagoevgrad.
Следващата ни спирка беше Благоевград.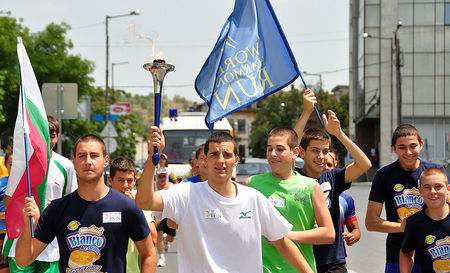 We ran with the local orientiring club and their coach Ludmila Gotzeva.
Бягахме с местния клуб по ориентиране и тяхния трениор Людмила Гоцева.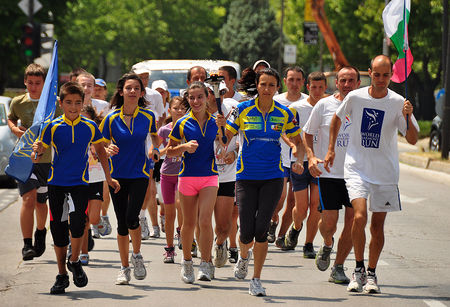 Yordan Yanchev - junior national champion in discuss.
Йордан Янчев - шампион по хвърляне на диск при юношите.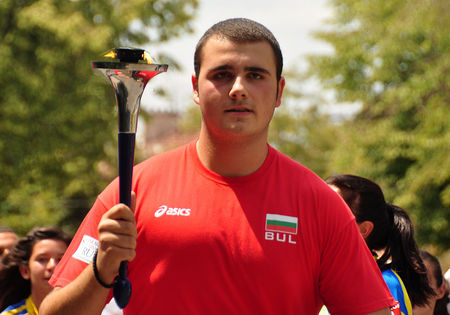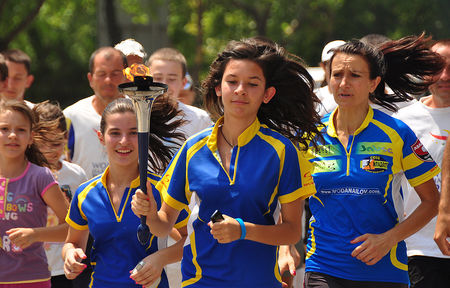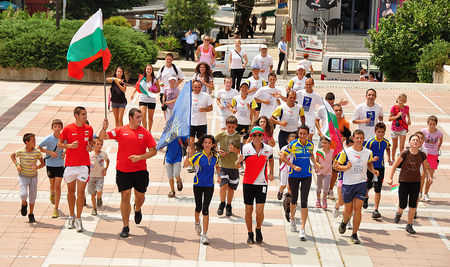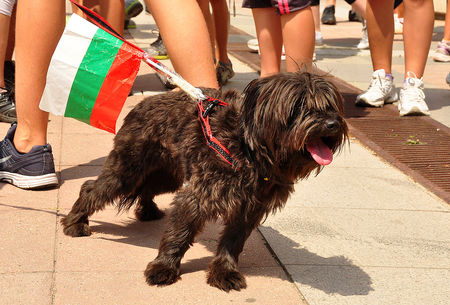 Borislav Kiprov and Atanas Sabev 
Борислав Кипров и Атанас Събев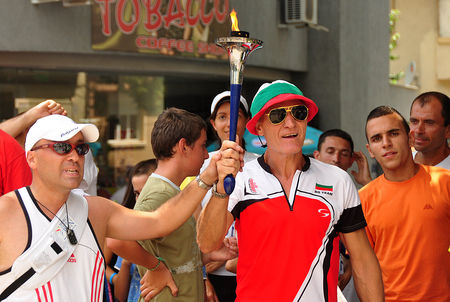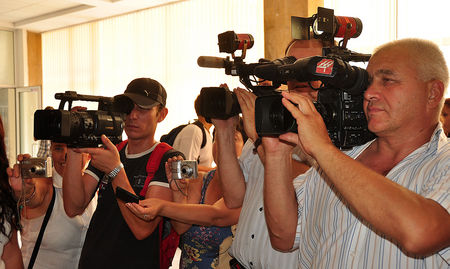 In city centre we were greeted by Governor Kostadin Hadzhigaev.
В областната администрация бяхме посрещнати от областния управител Костадин Хаджигаев.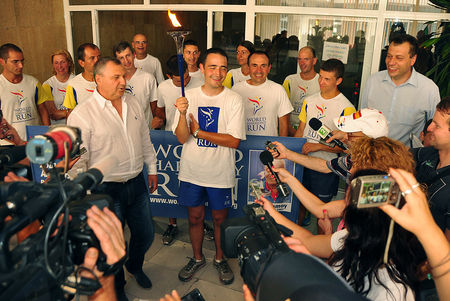 Mr. Hadzhigaev offered us his full support and encouragement. 
Г-н Хаджигаев ни изказа своята пълна подкрепа за целите на Пробега.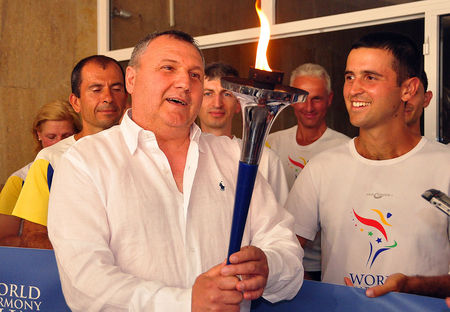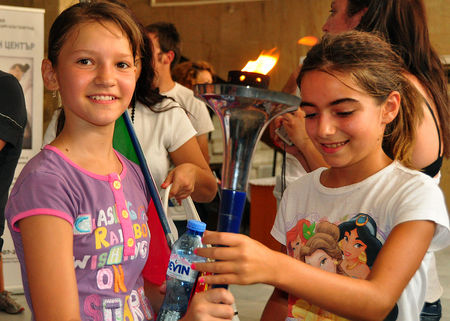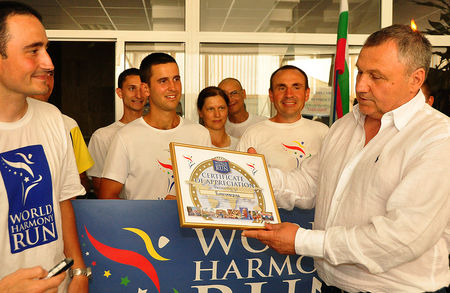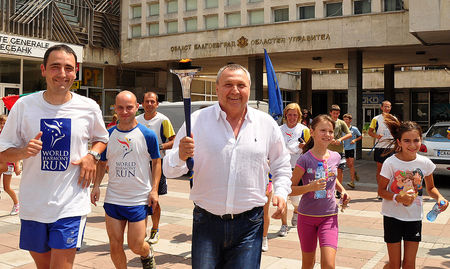 Who is stronger?
Кой е по-силен?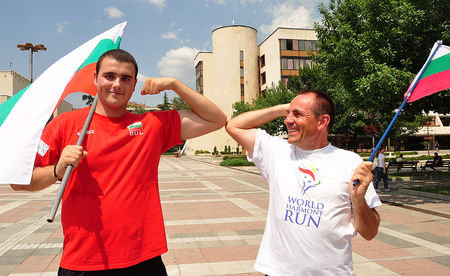 Thanks to the police.
Благодарим на полицията за помощта.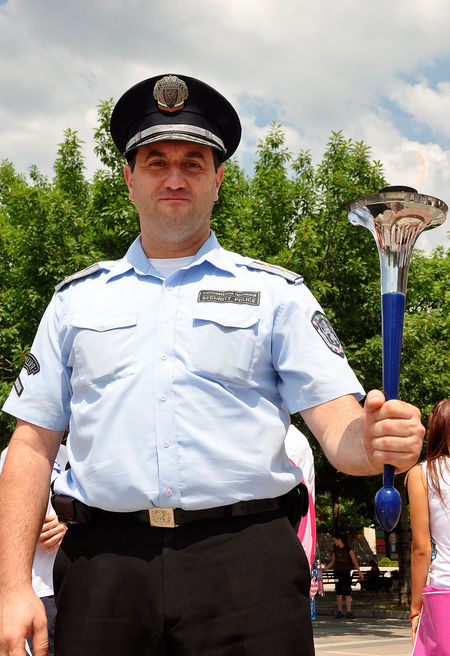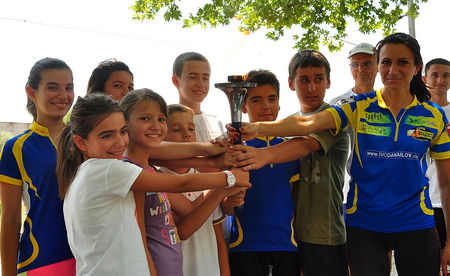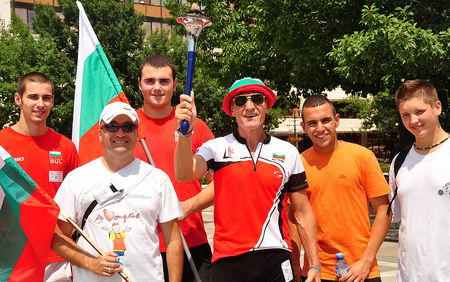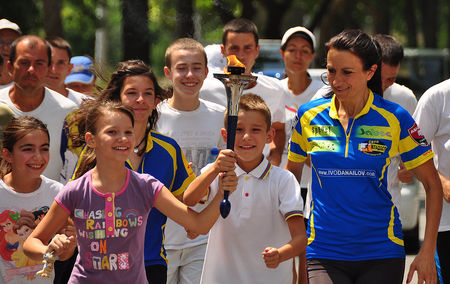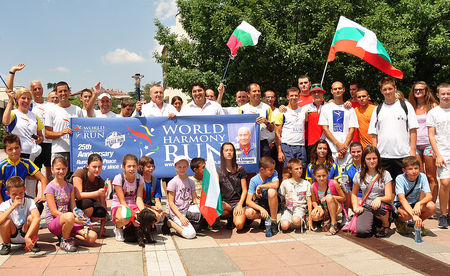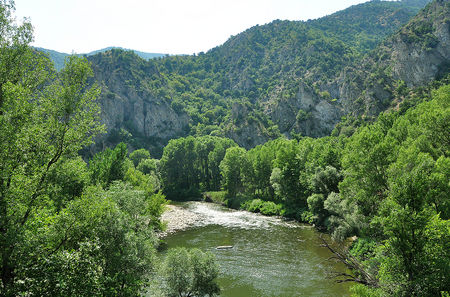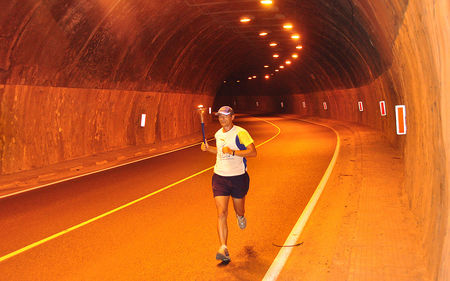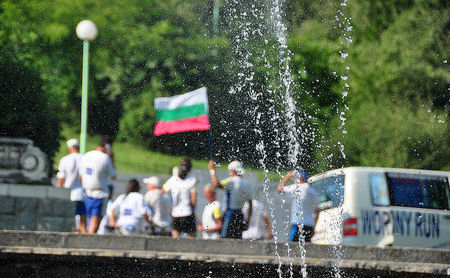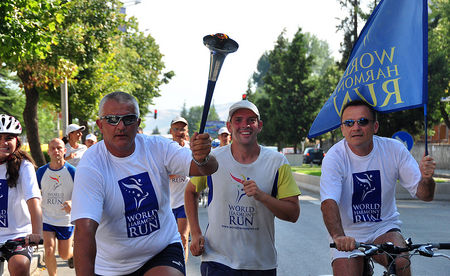 Our last stop for the day was Sandanski.
Последната ни спирка за деня беше Сандански.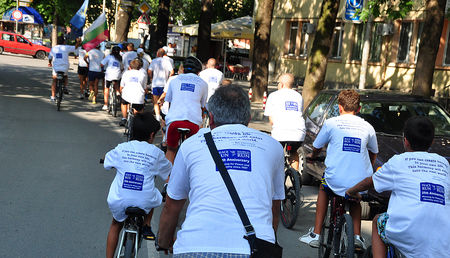 We had a very nice meeting in the city centre.
Имахме чудесна церемония в центъра на града.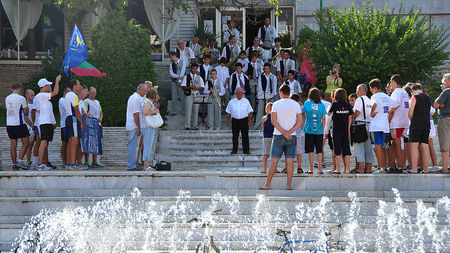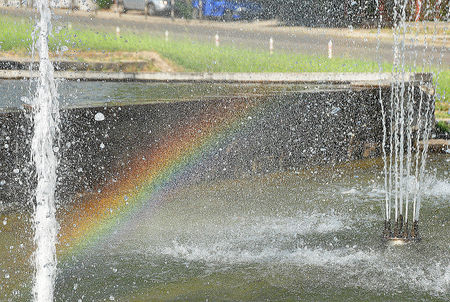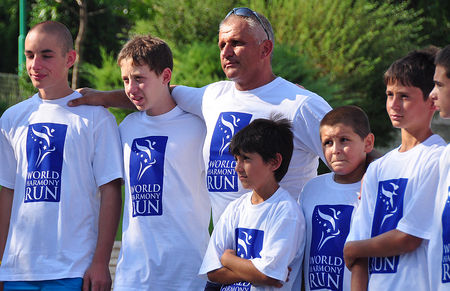 Mr. Toshev received the torch on behalf of Sandanski.
Г-н Тошев прие факела от името на общината.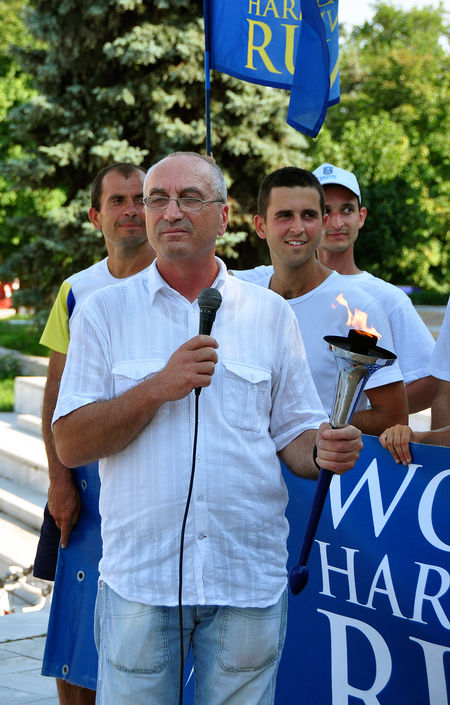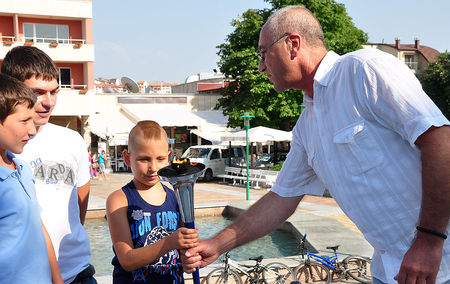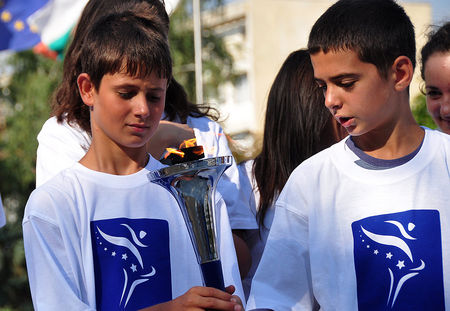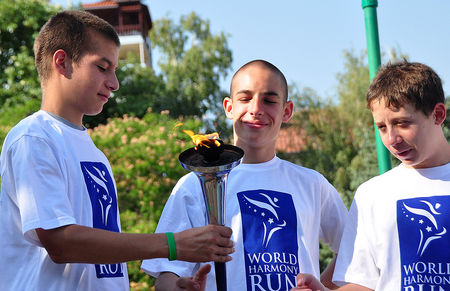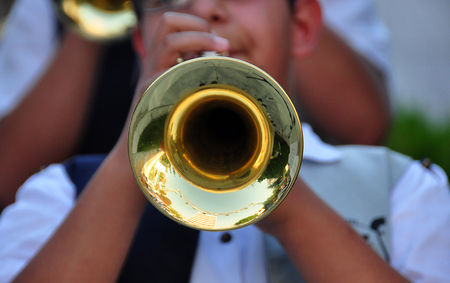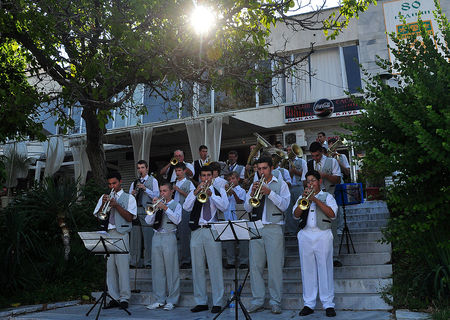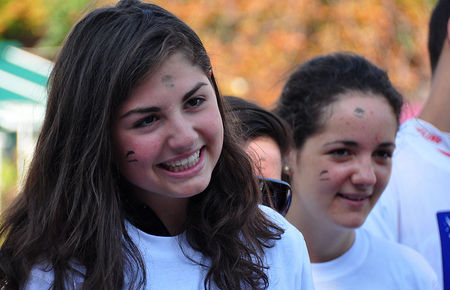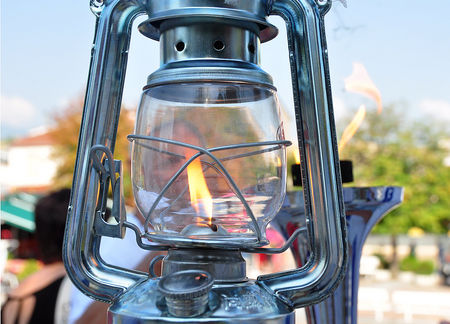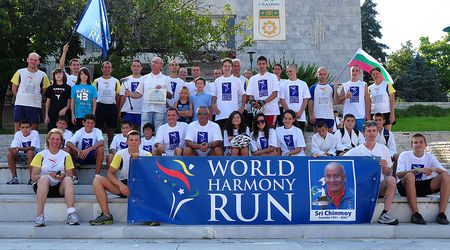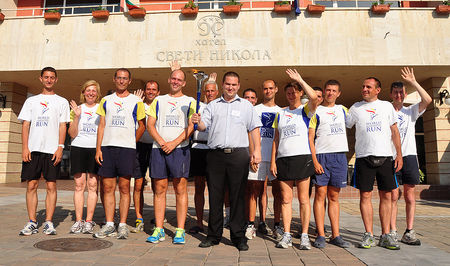 A big Thank You to the Hotel Sveti Nikola in Sandanski for hosting our team! It was a real pleasure to stay there!
Голямо "Благодаря" на хотел "Свети Никола" в Сандански, за това, че подслони отбора! Престоят ни там беше истинско удоволсвие!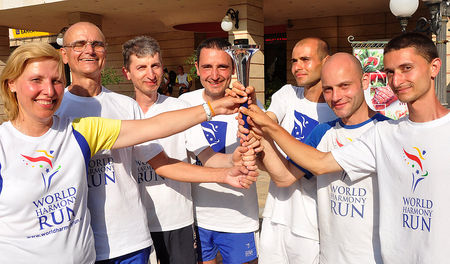 We said good bye to our Bulgarian team. We are very grateful for your hospitality and the great time we spent with you!
Казахме довиждане на нашия български отбор. Много сме ви благодарни за гостоприемството и чудесното прекарване. 
---
Distance: 205 km
Team Members:
Dipavajan Renner (Austria), Sandro Zincarini (Italy), Sumahat Strohn (Germany), Vladimir Ilyasov (Russian Federation), Barbora Tabackova (Slovakia), Mladen Vujaklija (Croatia), Dennis Gribok (Luxembourg), Namitabha Arsic (Serbia), Sukhada Korshunova (Russian Federation), Andi Schmitz (Germany), Bulgarian runners
Harmonemail:
You can send a message to the runners or read the messages.
Gallery: See more images!