Suomi-Finland
Join the World Harmony Run!
Vuonna 2012 soihtu kulkee Euroopassa kansainvälisen joukkueen viemänä 24 000 km, käyden 45 Euroopan maassa! Viesti alkoi 23. helmikuuta Portugalista ja päättyy 8. lokakuuta Wieniin, Itävaltaan.
Suomeen viesti saapuu 15. toukokuuta 2012. Reitti kulkee Turusta Helsingin kautta Vaalimaalle, josta soihtu jatkaa matkaansa Venäjälle 19. toukokuuta!
World Harmony Run on maailmanlaajuinen soihtuviesti, joka pyrkii vahvistamaan kansainvälistä ystävyyttä ja harmoniaa. Kansainvälisten juoksijoiden ryhmä kantaa soihtua kaikkiin maanosiin, yhteensä yli sataan maahan. Soihtuviesti järjestettiin ensimmäisen kerran vuonna 1987. 
Suomen World Harmony Run 2012 tapahtuman suojelija on ulkoministeri Erkki Tuomioja
Follow the runners on their journey through Europe! 
Interactive route WHR Europe 2012: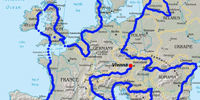 the update interactive route 2012 for Europe: which country is next?
*   *   *   *   *   *   *   *   *   *   *   *   *   *   *   *   *   *   *   *   *   *