France 20 March: L`Hospitalet – Carcasonne
This morning our Ukranian runner, Dima, started our journey to the cheers of our overnight hosts and the other guests. The road continued along the river in the shade of the tall peaks and down the valley with waterfalls either side and a blue sky above. Ominous clouds lingering over Andorra threatened to ruin our morning but the sun prevailed, creating a vivid rainbow over our path.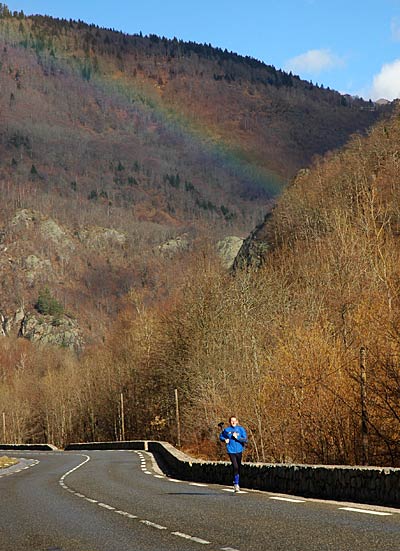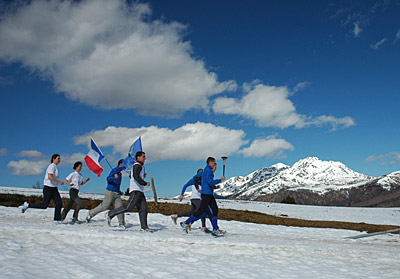 After 18 km we reached the town of Ax les Thermes, famous for its hot springs. From here we began a steep 10 km climb up a pass in warm sunshine, and as we reached the peak we were surrounded by snow once again.
A couple driving by in a black Porsche jumped out to find out about the run. The Swedish gentleman was extremely enthusiastic about our efforts and gave each member of the team a big bear hug! The lady was from St Petersburg in Russia but they live in Uppsala and will be looking out for us as we run through Sweden in the summer. We were also joined by some welcome reinforcements who arrived in the other Harmony Run vehicle. They are Annemijn from Holland, Szilvia from Hungary, Andrea from Italy, Dayalu and Uwe from Germany.
In the tiny village of Belcaire we stopped for lunch and were waiting for the local runners to join us when about forty children from the village kindergarden (ages 5 -6) appeared for their daily exercise and spontaneously joined us.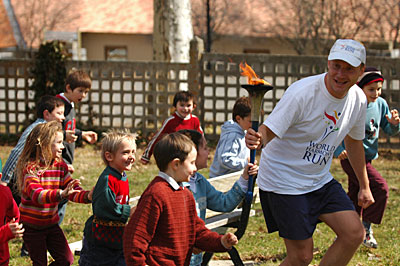 The route for the rest of the day was all downhill through spectacular countryside, accompanied by local runners. Dima was taking advantage of the downhill to increase his velocity to new heights and we had to warn him about radar controls and speed restrictions through the French villages.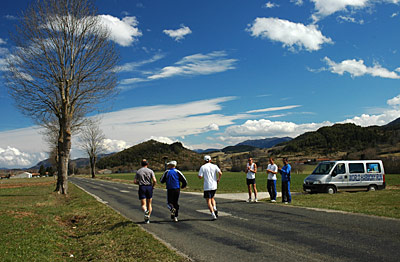 In this region the roads are often straight for long stretches and lined with tall silver platane trees.
Our journey finished in the magical medieval city of Carcassonne - in an appetising pizzeria!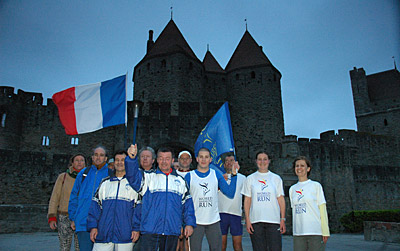 ---
Distance: 127km
Harmonemail:
You can send a message to the runners or read the messages.