France 22 March: Montpellier - Arles
We started our day from Montpellier, a city famous for one of the oldest medical universities in Europe. In the 12th century Jews, Muslims and Catholics lived and worked together in this university for the development of medical science.
We ran out of the historical town and after 10 km we reached the Mediterranean sea. A wonderful sight, but still too cold to swim! Our friends from Montpellier - Keyarie, Marylene, Marie and Eric - ran with us along the beach until we reached La Grande Motte. In summer it is crowded with people as it is a city built for beach holidays, but now we could pass through very peacefully.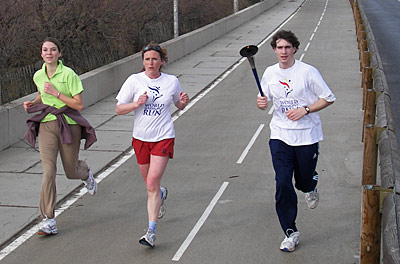 We continued our route through cities along la Camargue, an area famous for its marshes and wild horses. Two Swiss people on horses rode past us but they surely had their horses under control. After a short chat with them they rode off and we continued our route through this beautiful area where we saw bulls, horses and pink flamengos.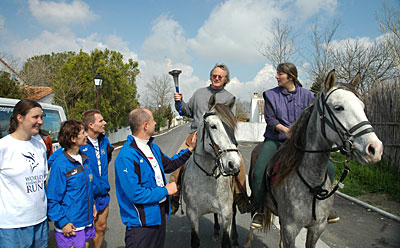 While one team continued running towards Arles, the other van drove back to Montpellier to meet with schoolchildren at the Saint Martin Gazelec soccer club. There were about 60 boys and girls from 6 to 12 years old ready to start their soccer training. Their trainer explained to them the meaning of the flaming torch we carry through all the countries and let the children hold the torch for themselves.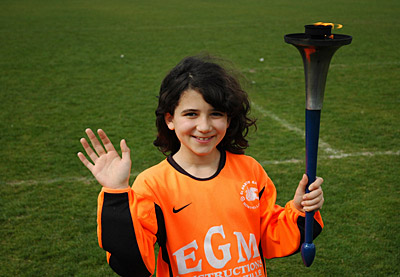 The whole group enthusiastically ran around the soccer field and finally squatted down to listen to us as we sang our Harmony Run song to them.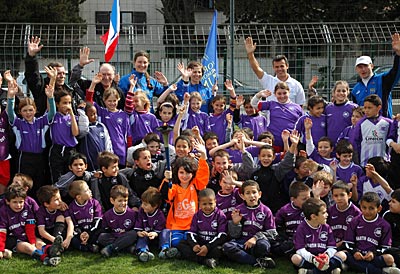 The part of the team that had stayed at the school then drove back to Arles and caught up with the other team members, who had met up with some great local runners from the ´Sprinter Club Arlesien´, an athletic team from Arles, and the president of their club. We ran towards their stadium, where the European Championships for the decathlon were held in the past. There we also met with the city representative of the Sports department in Arles, who is a member of the running club himself.
A fine day of running ended at this very inspiring stadium.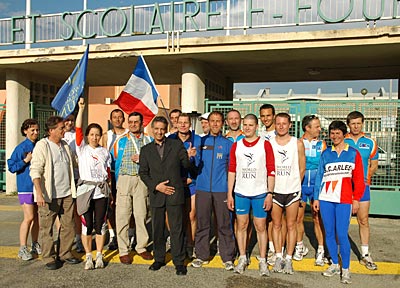 ---
Distance: 96km
Harmonemail:
You can send a message to the runners or read the messages.