Hungary 9 May: Kiskunmajsa - Subotica
Tuesday 9 May 92km, Kiskumajsa (Hungary) - Subotica (Serbia & Montenegro)
Today was our fifth and final day in Hungary, and the first day the World Harmony Run in a new country: Serbia and Montenegro. It was a glorious sunny morning and this perfect summer's day was to be with us for the rest of the day.
The day began by attending a ceremony in the gym at Kiskumajsa where we were welcomed by the mayor, and witnessed children's delightful dancing, sensational synchronised skipping and superb singing.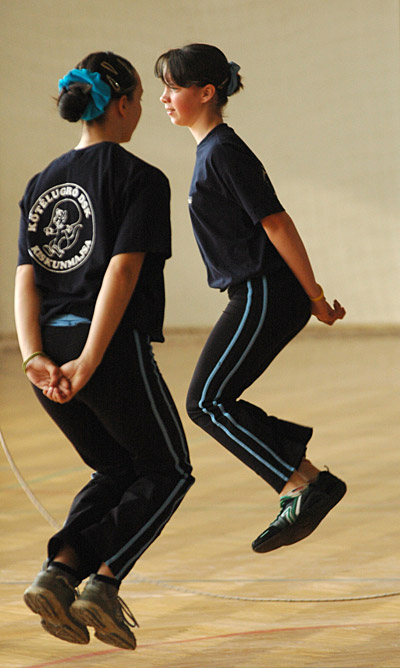 The children sang the World Harmony Run song firstly in English, then in Hungarian. It is always so moving to hear this song being sung by children.
As we have experienced so many times in Hungary, over 100 children ran with us the 2 km to the edge of the town.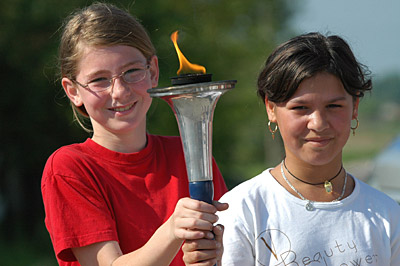 Along the way we met some great local old people with faces that exuded so much character.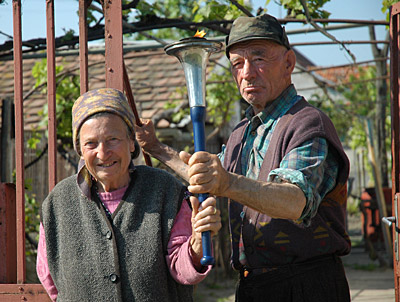 At Zsombo we met the Cultural Director of the town who spoke of how he appreciated the World Harmony Run visits so much (we were here last year). The whole school came out to run with us and by the end we had well over 200 children from ages 4 - 12.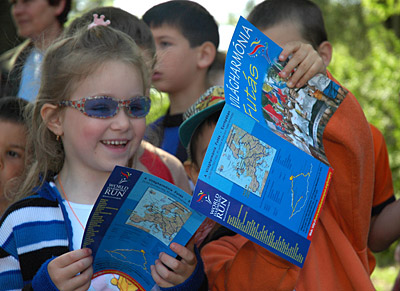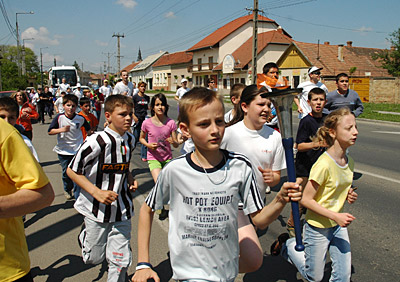 The children were extremely chatty, and were very eager to practice their English, and were continually asking the runners endless questions. We all thoroughly enjoyed and appreciated their sincerity, friendliness and openness.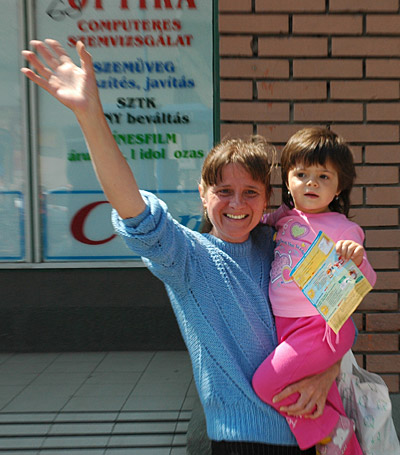 At Szeged yet more large numbers of children ran with us into the city's fountain square.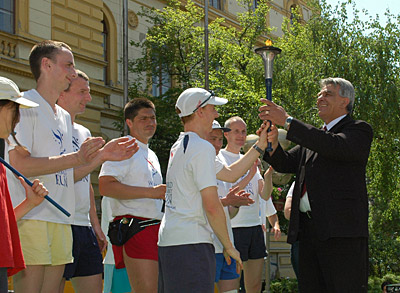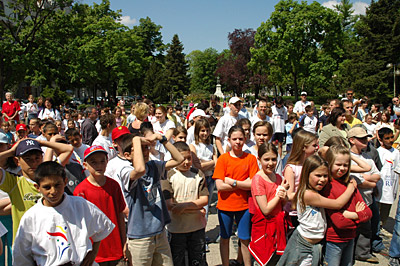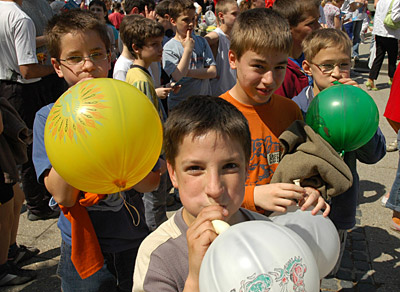 We watched a martial arts display, dancers, and listened to two girls who recited two of Sri Chinmoy's poems on peace.
A further meeting with older children was held at Roszke, 6 km from the border; they had designed a colourful placard of Hungary shaped as the planet Earth.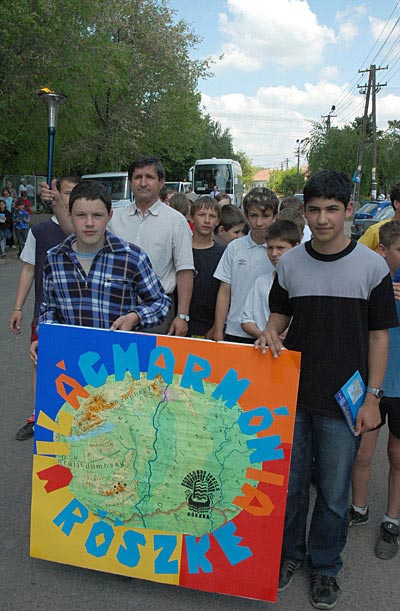 From Roszke the Team headed to the Serbian border where we were met by so many smiley faces of our Serbian runners. The Team thought that we were behind schedule, but Pedja, our Serbian country co-ordinator had allowed some extra time and in fact we were ahead of schedule. The Team spent this invaluable time eating, drinking much needed water, and chatting to our new Serbian friends, and for some of the International Team, renewing old acquaintances.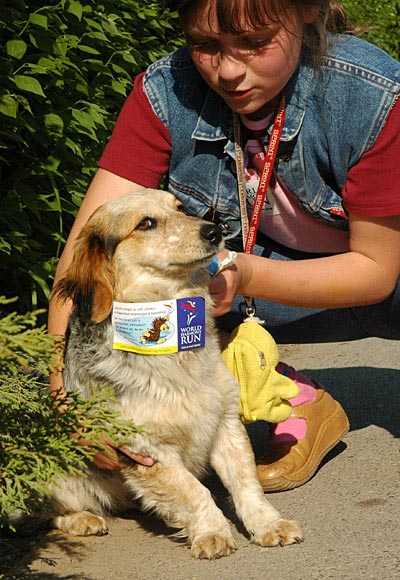 We met our first children from Serbian and Montenegro at Horgos. These young children greeted us by waving white flags. This was to be the start of meeting and running with so many children. We considered that we were very fortunate to bring the World Harmony Torch to so many children in Hungary, but Serbia and Montenegro was to completly astound us with the numbers of children lining the roads and running with the torch.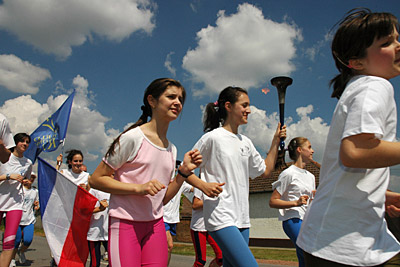 At Hadjdukovo and Palic children threw flowers onto the road as we passed and raced with us to hold the torch. Their friendliness and enthusiasm was extremely touching.
From the border to our final destination in Subotica (30km) we had children from Subotica Athletic Club running with us the whole way. Now and again some children would get in their transport for a rest whilst others replaced them. Their commitment and resilience was something to behold. They start training for ultra distance running very early here. One young boy aged 7, competes at half marathon distance. This is an amazing distance for a young child to run.
By the time we reached Subotica these children seemed still full of energy. Once again the streets were lined with in excess of 500 children welcoming us with flowers and spontaneous applause and hand slapping.
In the city, there is a commemorative plaque with one of Sri Chinmoy's poems:
"Nothing is as good in my heart and nothing is as perfect in my life as peace" Sri Chinmoy.
In the city's square we were greeted by the city's Minister for Sport. In the balmy summer's evening we enjoyed the applause of 500 people and children and adults equally enjoyed holding the torch aloft, whilst a brass band played.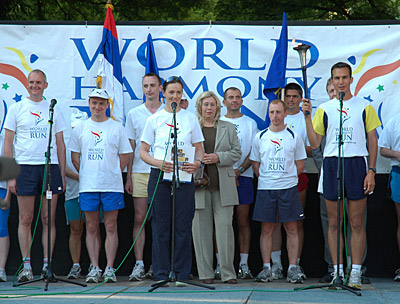 Today was a day of hellos and goodbyes. The Team said its fond farewells to our Hungarian runners and Szabolcs, the Hungarian country co-ordinator. A very big thank you must go to Szabolcs and the Hungarian runners for looking after us and watering and feeding us so well - we were never short of water or food. They patiently attended to our every need.
The Team also said goodbye to Sebastian from Subotica, Serbia and Montenegro. He will be spending tonight back in his own bed which he is no doubt relieved about. And finally, hello to a new International Team member, Andrea from Hungary.
---
Team Members:
Ondrej (Czech Republic), Mark (England), Andrea (Hungary), Frank (Holland), Petr (Czech Republic), Roberto (Germany), Sebastian (Serbia & Montenegro).
Harmonemail:
You can send a message to the runners or read the messages.