Hungary 6 May: Bicske - Sarkeszi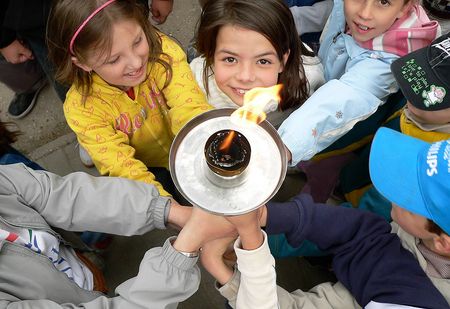 We started our journey today from a very interesting location, the Refugee Camp at Bicske, where we  too  received complimentary shelter in the guest house. The camp is the first  such camp in Hungary, and staff there try to help refugees find jobs and settle in. Although we are much luckier than most of the residents, who are from different war-torn parts of the world, we nevertheless felt very much at home in the international atmosphere, thanks to their kind hospitality.
A mai utunkat egy nagyon különleges helyszínről kezdtük, a Bicskei Menekült Befogadó Állomásról, amelynek vendégszállójában minket is befogadtak egy éjszakára. A tábor az első ilyen állomás Magyarországon, ahol menekülteknek és oltalmazottaknak segítenek munkát találni és letelepedni. Bár mi sokkal szerencsésebbek vagyunk, mint a tábor többi lakója, akik különböző háború sújtotta országokból érkeztek, mégis otthon éreztük magunkat a nemzetközi légkörben.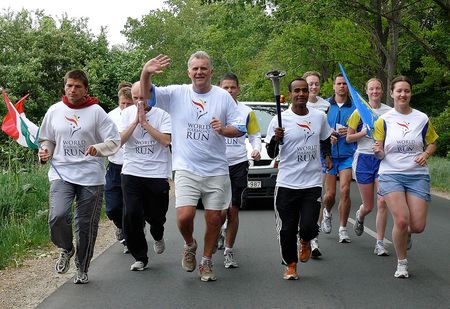 In the morning we met with the camp director, Sándor Hős, to thank him; in the course of conversation we learned that coincidentally, he is a runner too. Furthermore, he also introduced us to Ashanti, an Ethiopian reisdent of the camp who is a professional marathoner. We immediately invited them to come with us and, being serious runners, they could not resist. At first it was a bit scary trying to keep up with a runner of Ashanti's calibre, but he very kindly surrendered to our amateur rhythm.
Reggel találkoztunk a tábor vezetőjével, Hős Sándorral, hogy köszönetet mondjunk, amikor kiderült, hogy ő maga is futó. Sőt mi több bemutatta nekünk Ashantit, az etiópiai futót, aki a befogadó állomás lakója és egy profi maratonfutó. Ott helyben meg is hívtuk őket, hogy csatlakozzanak hozzánk, és vérbeli futóként nem is tudtak ellenállni. Először egy kissé félelmetes volt egy Ashanti-kaliberű futóval lépést tartani, de ő kedvesen átvette a mi amatőr ritmusunkat.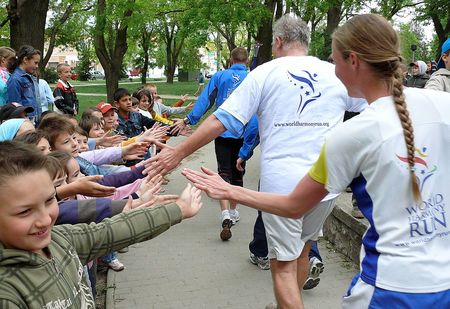 After a nice 8 kilometer-long jog we arrived at Bicske centre, where hundreds of kids were waiting for us in a state of great excitement.
Egy 8 kilométeres könnyű futás után megérkeztünk Bicske központjába, ahol gyerekek százai vártak már ránk izgatottan.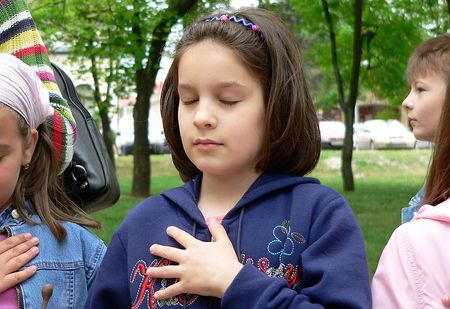 The children try hard to feel harmony in the heart and they always succeed.
A gyerekek komolyan próbálkoznak harmóniát érezni a szívükben, és ez nekik mindig sikerül is.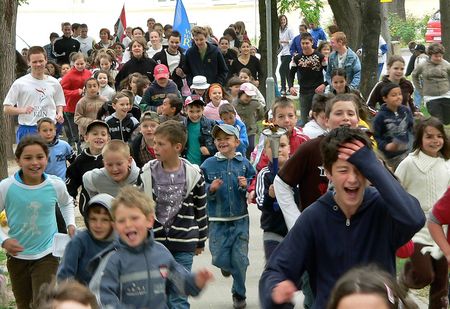 That's toooo funny!
Ez nagyon vicces!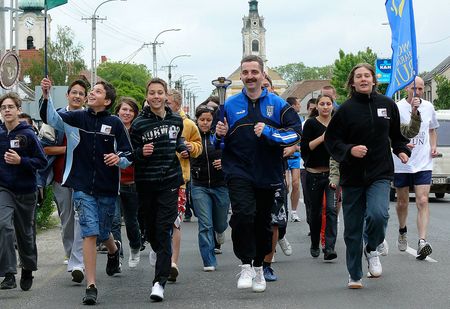 The sporty mayor of Bicske, Tessely Zoltán, leading local youth.
Bicske sportos polgármestere, Tessely Zoltán, a helyi fiatalok élén.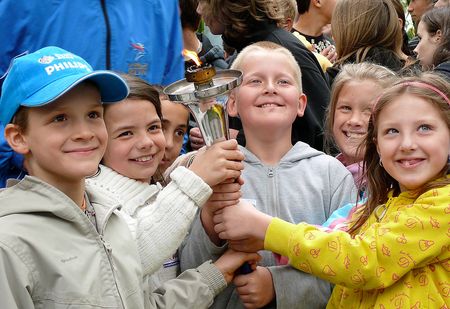 Friendship is harmony...
A barátság harmónia...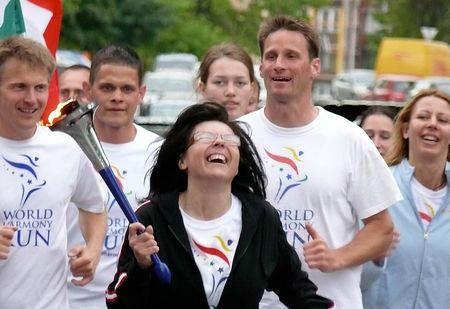 Having taken the torch from the ultrarunners, Zsóka is running in delight.
Miután átvette a fáklyát az ultrafutóktól, Zsóka gyönyörben úszik.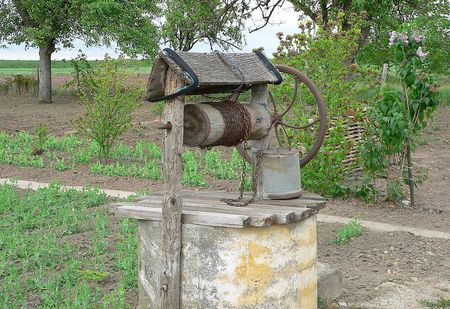 We love Hungary...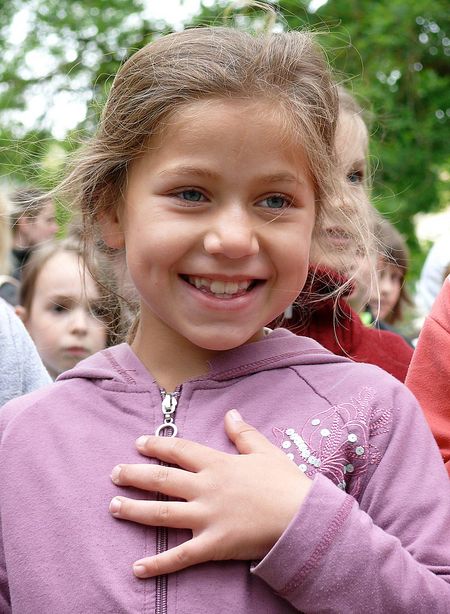 Yes, I can feel it in my heart!
Igen, érzem itt, a szívemben!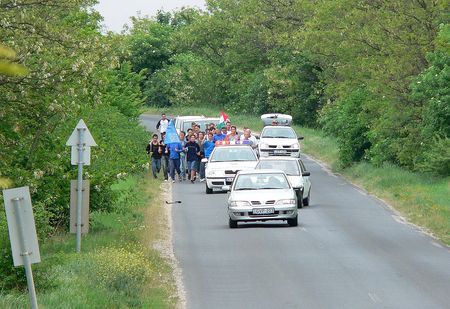 The kids are running long distances wirh us, from one place to the next.
A srácok hosszú kilométereken át futnak velünk egyik helységtől a másikig.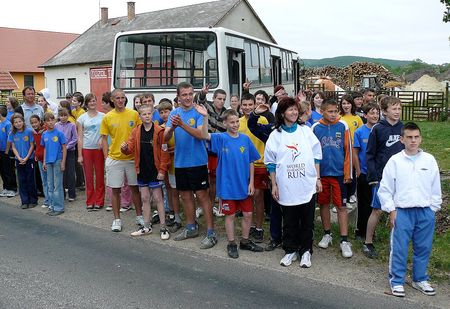 A most wonderful sight: the moment of our first encounter with the enthusiastic local runners.
A legcsodásabb látvány: a lelkes helyi futókkal való találkozás pillanatai.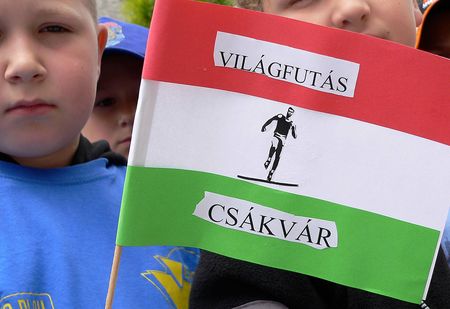 In Csákvár the whole school came out to greet us.
Csákváron az egész iskola kijött köszönteni minket.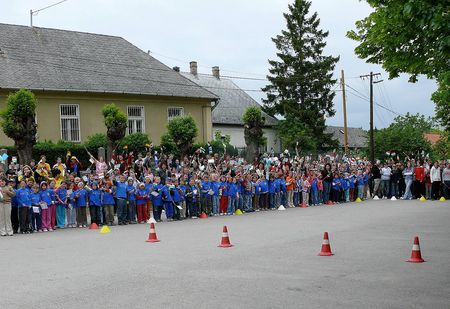 They really prepared a very nice program for us:
Egy igazán szép programmal készültek a számunkra: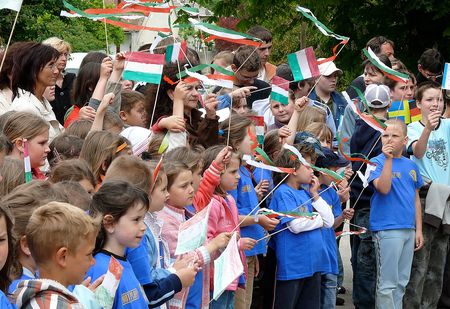 They made flags and drawings...
Zászlókat és rajzokat készítettek...
Girls wearing traditional costume sang nice folksongs...
A népviseletbe öltözött leánykák népdalokat énekeltek nekünk...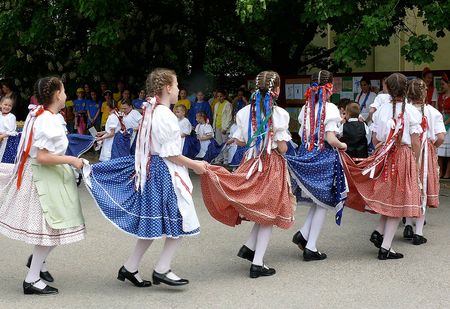 The little ones danced a cute folkdance...
A kisebbek egy kedves néptáncot adtak elő...
And played a funny folkgame.
És egy mókás népi játékot mutattak be.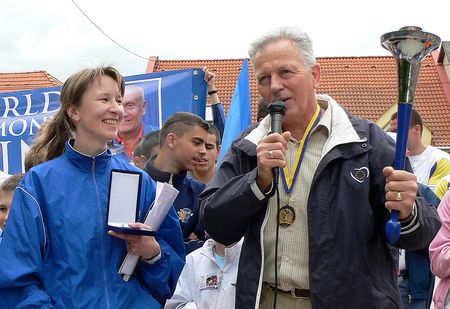 We gave our very special Torch Bearer Award to our very special host, János Giesz, the mayor and the former principal of the school. By his devoted service to the community he really embodies the heart and soul of this most welcoming village, Csákvár.
Átadtuk a mi nagyon különleges díjunkat, a Fáklyavivők díját, a szintén nagyon különleges vendéglátónknak, Giesz Jánosnak, aki a község polgármestere és az iskola korábbi igazgatója. A közösségnek nyújtott odaadó szolgálatának a köszönhetően személyében megtestesíti ennek a rendkívül vendégszerető falunak, Csákvárnak a szívét.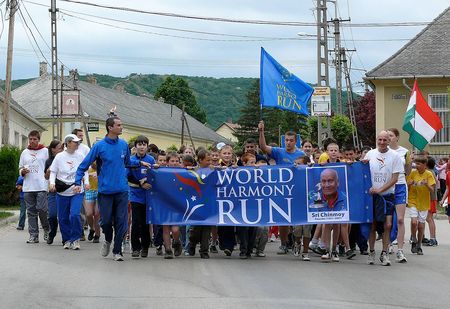 And finally the best part, eagerly anticipated by everybody: RUNNING!!!
És végre a legjobb rész, amire mindenki úgy várt: a FUTÁS!!!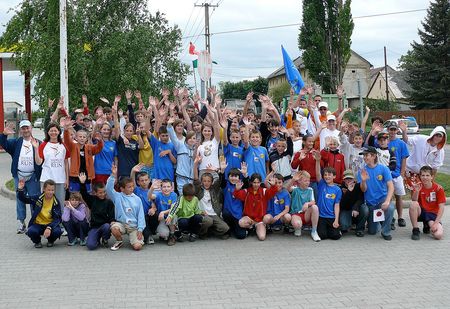 We have survived!
Ezt túléltük!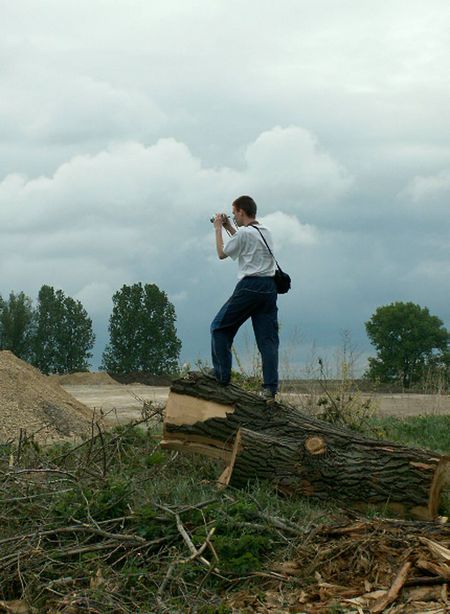 Our most "exotic" team member, the Icelandic viking Suren, taking a very artistic shot. He adds real colour (which is kind of red) to our team. We are very glad that he accepted our invitation and hope he will come back again.
A "legegzotikusabb" csapattagunk Suren, az izlandi viking, egy nagyon művészi fotót készít. Ő egy különleges színnel gazdagítja a csapatunkat (a vörössel). Nagyon örülünk, hogy elfogadta a meghívásunkat, és reméljük, hogy ezek után is visszatér.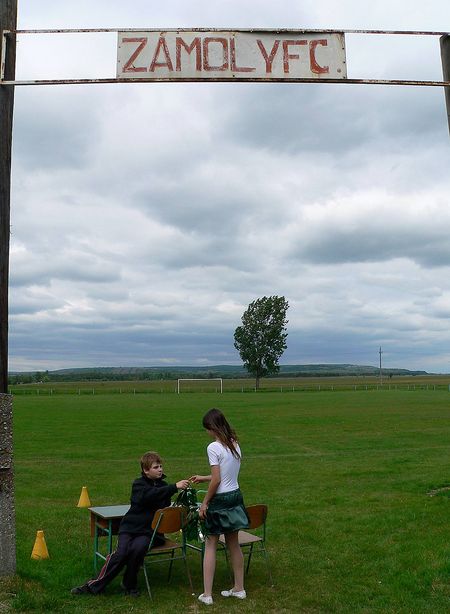 In the afternooon we arrived in Zámoly.
Délután megérkeztünk Zámolyra.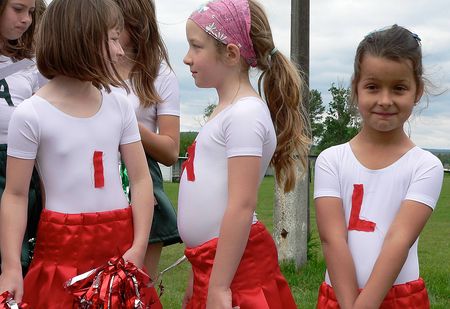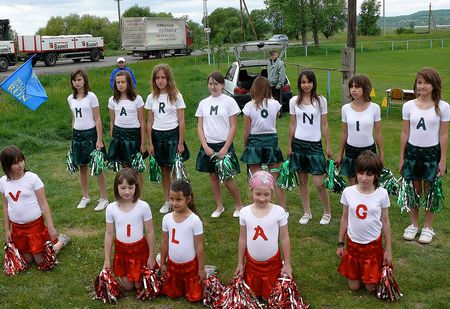 The young cheerleaders gave a very creative performance - they each had a letter written on their T-shirts, and at the end it read: VILÁGHARMÓNIA - World Harmony.
A fiatal pompom lányok egy nagyon egyedi produkciót adtak elő. Mindannyiuk polóján egy-egy betű szerepelt, melyek a végén a VILÁGHARMÓNIA-t adták ki.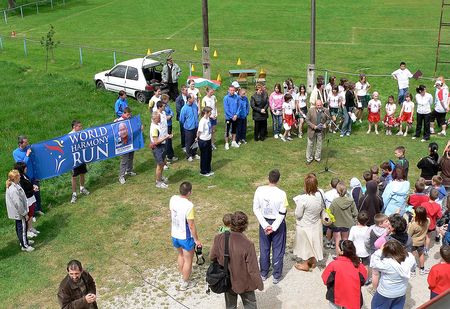 Bird's-eye view of the Zámoly ceremony.
A Zámoly ünnepség madártávlatból.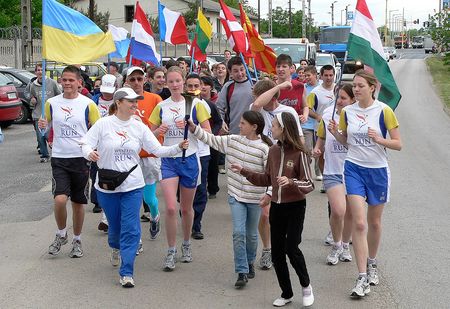 The ever-smiling Erika, our coordinator in Székesfehervár, passes the torch to the local girls.
Az örökké mosolygós Erika, a székesfehérvári koordinátor, átnyújtja a fáklyát a helyi lányoknak.
Award-winning aerobic and dance teams from several local schools amazed us with an outstanding show.
Különböző iskolákból díjnyertes aerobic és tánc csoportok érkeztek, és egy kimagasló előadással kápráztattak el minket.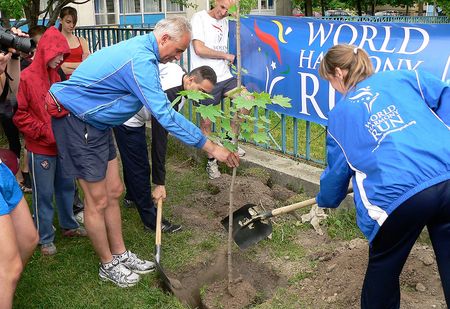 In the schoolyard, Dipavajan, European team captain, got strong hands planting a Harmony tree.
Az iskolaudvaron Dipavajannak, az európai csapat kapitánynak erős kezek segítettek a Harmónia fa ültetésénél.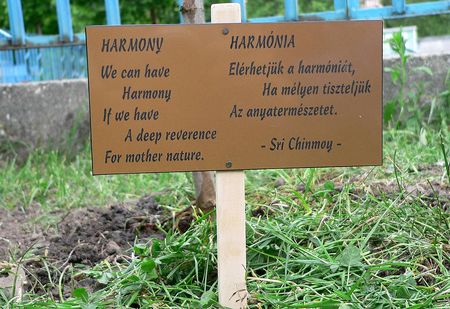 This way, the host Németh László Primary School has also joined the worldwide tree-planting initiative to inspire children and communities to live in harmony with nature.
Így a vendéglátó Németh László Általános Iskola szintén csatlakozott a világszerte zajló kezdeményezéshez, mely gyerekeket és közösségeket igyekszik inspirálni arra, hogy harmóniában éljenek a természettel.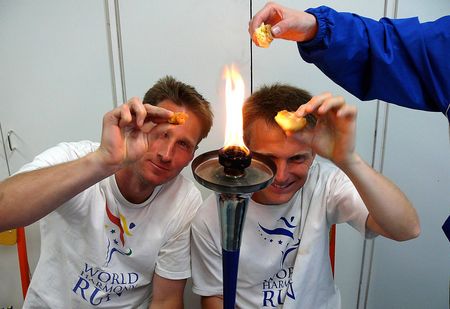 Our best runners, Girindra and Laci (running 50 km a day) are roasting the traditional Hungarian buns "pogacsa" over the torch.
Legjobb futóink, Girindra és Laci (naponta 50 km-t tesznek meg) éppen a jellegzetes magyar pogácsát sütögetik a fáklya felett.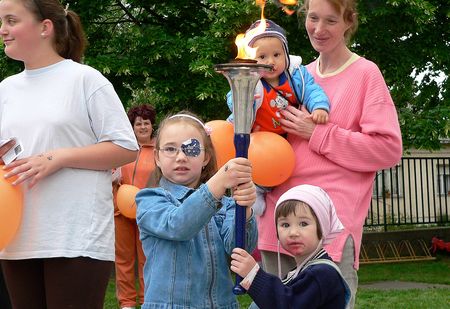 In Sárszentmihály we were received by the principal, Mrs. Szabó Éva Rápolti and the talented students of Zichy Jenő Elementary School, who recited poems about the beauty and values of sport.
Sárszentmihályon a Zichy Jenő Általános Iskola igazgatója, Szabóné Rápolti Éva fogadott minket, az iskola tehetséges tanulói pedig a sport szépségeiről és értékeiről szavaltak.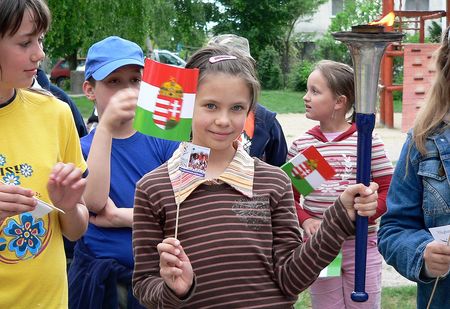 And made wishes for harmony.
És kívánhattak valamit a harmóniáért.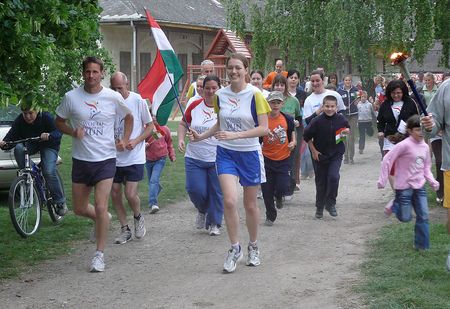 By running with us they all became official members of our team.
Miután futottak velünk, mindannyian csapatunk hivatalos tagjaivá váltak.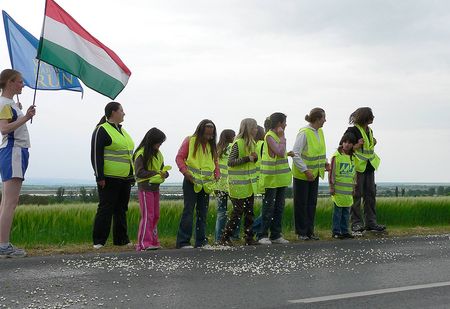 Our last stop for the day was in Sárkeszi, which has 516 inhabitants and some very eager flower-like runners.
Az utolsó állomásunk az 516 lelkes Sárkeszi volt, ahol néhány lelkes futó virágot szórt elénk.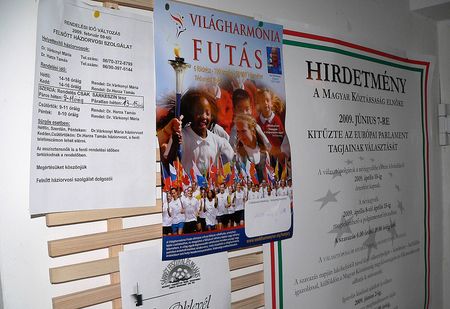 Our poster got the main spot on the billboard.
A mi plakátunk kapta a központi helyet a hirdetőtáblán.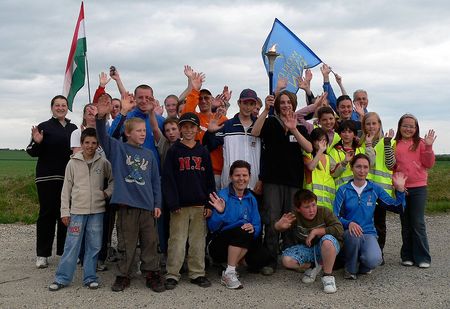 Thank you!
Köszönjük!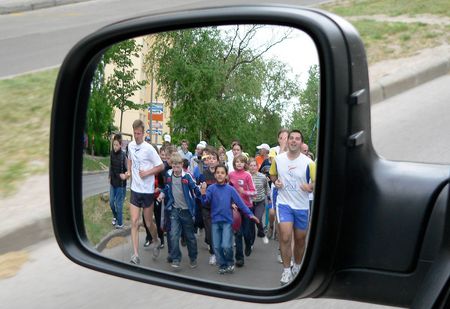 When we look back on our day we see only happy faces.
Visszatekintve erre a napra csak boldog arcokat látunk.
---
Distance: 71 km
Team Members:
Dipavajan Renner (Austria), Roos de Waart (Netherlands), Suren Suballabhason (Iceland), Dima Lehonkov (Ukraine), Natalia Lehonkova (Ukraine), Ksenia Soboleva (Russia), Daria Soboleva (Russia)
Harmonemail:
You can send a message to the runners or read the messages.
Gallery: See more images!