Iceland 31 August: Reykjavík - Hvolsvöllur
Our first day in Iceland, and what a place to be! We were greeted by the power of nature everywhere we turned.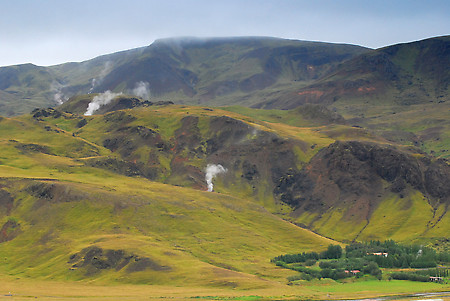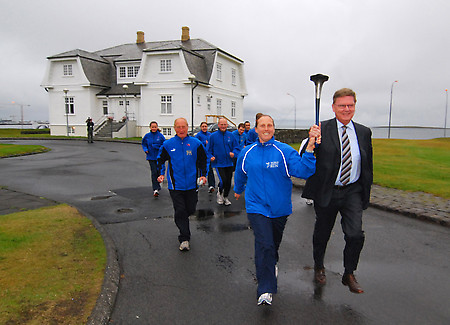 Our run started today at the Höfð house, with a warm welcome by the Mayor of Reykjavík on a cold Iceland morning. As the Mayor and I started the run, he set a great pace and the TV camera and photographers scrambled to keep up with us.
We eased off this pace a little as we started our run to Hveragerð town and the first school we would visit on our travels. But first we had to run through Hellisheið highlands, where hot springs abound.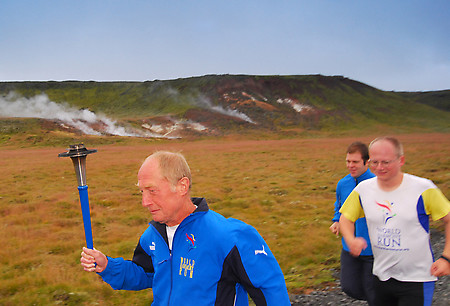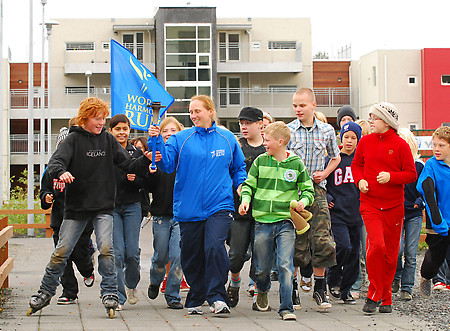 We were joined by students and teachers at Hveragerð elementary school, all of whom took the opportunity to run with us and become part of the World Harmony Team; the group included a couple of students on roller blades - quite a new and refreshing way to do our run but, sadly, I don't think it will catch on.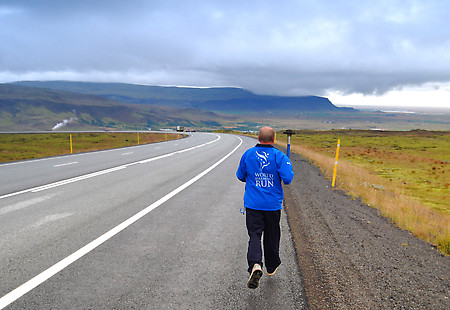 On a quiet Icelandic highway with beautiful nature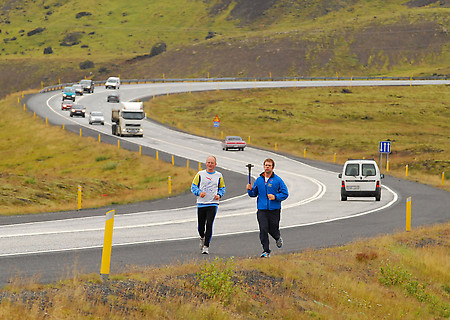 On a not-so-quiet Icelandic highway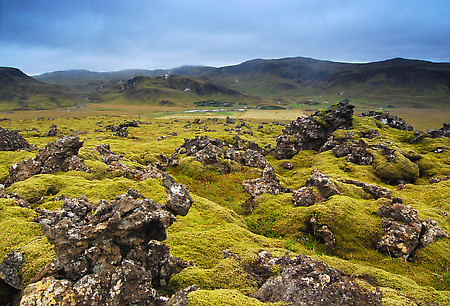 Moss-covered molten lava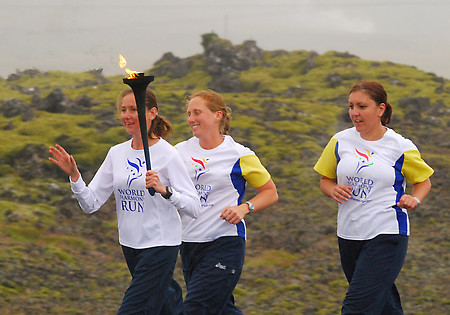 Maria, Stacey and Erika cruising....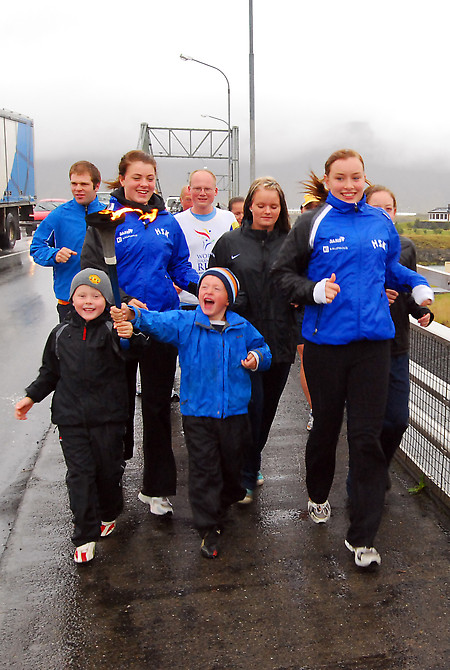 Our next port of call today was Selfoss, where we were greeted by girls from the local gymnastics team who ran with us through their city and left us at the outskirts, to continue with the 30 kilometres left of our run today. At this point, the weather made everything a little bit more interesting - the rain came, the wind greeted us, and the only thing left to do was to run faster to warm up! Meaning, we started to make good time. Well, we were soaked.....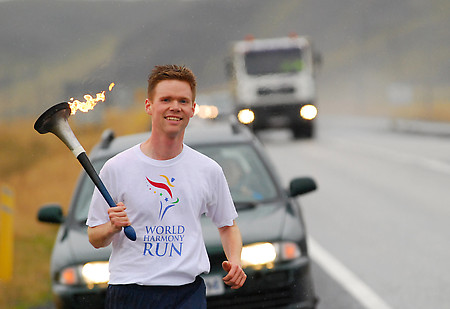 Suren, our fearless coordinator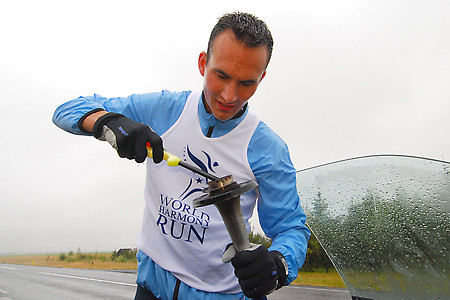 Ondrej, our fearless team captain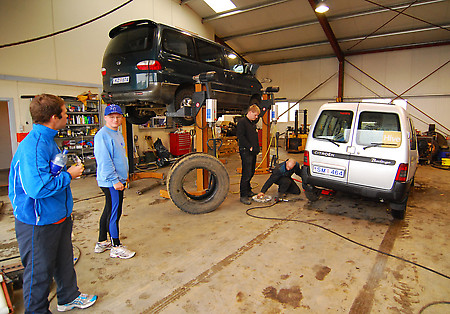 At this point, not only did the weather arrive, but our cars decided they needed a wee pick me up. One got itself a flat tire, giving us a slight reprise from the weather as we hung out in the shed of the tire store. Just as this car was up and going again, the other car's battery went flat, leaving us stranded with about twenty very energetic children from Hvolsvöllur who entertained themselves on this icy cold day by throwing each other off a small bank of grass, rolling down and drenching themselves from head to foot in the damp, dewy grass.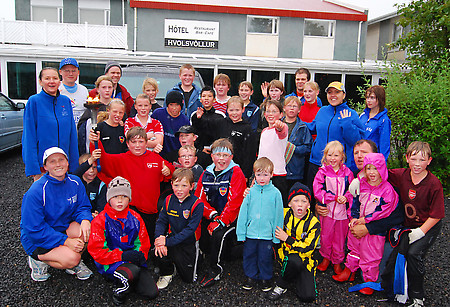 Once we got back on the road, we picked the pace up as we ran with a police escort into Hvolsvöllur town. We took over a back road and coasted the last 5 kilometres into the town. We finished at Hótel Hvolsvöllur with hot chocolate, organised by the members of Sports Club Dímon and the hotel. This was on the mind of all of the runners during these last 5 kilometres of the cold Icelandic evening, as it approached 7 p.m.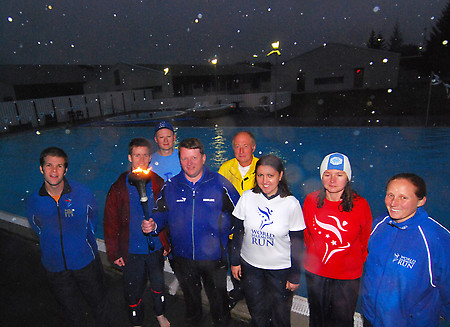 To bring some circulation back into our tired and cold legs, feet, hands... we very gratefully accepted an invitation into the local swimming pool, with three separate hot pools for us to warm up in before a feast at the local pizza place.
Stacey Marsh
---
Distance: 70km
Team Members:
Ondrej Vesely (Czech Republic), Klaus Schulz and Mathias Eckerle (Germany), Maria Horvath and Erika Pongracz (Hungary), Martin Prettenhofer (Austria), Stacey Marsh (New Zealand), Suren Leósson (Iceland).
Harmonemail:
You can send a message to the runners or read the messages.
Gallery: See more images!