Iceland 3 September: Reykjavík
Today we were back in Reykjavik, visiting schools in the city.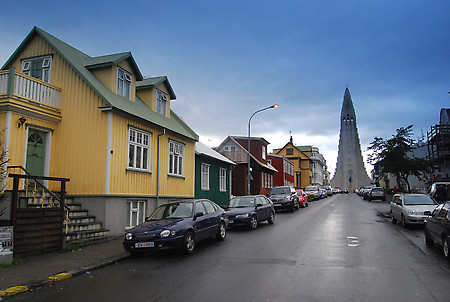 It is a nice city, built in typical northern style, with more than a hundred thousand inhabitants.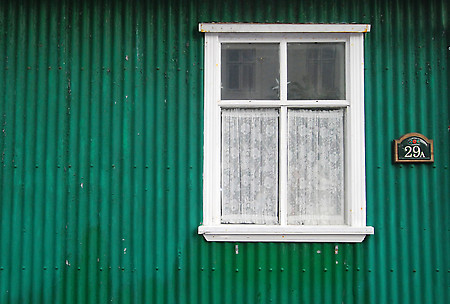 We met some very enthusiastic students at Ártúnsskóli, Breiðgerðsskóli and Austurbæjarskóli schools.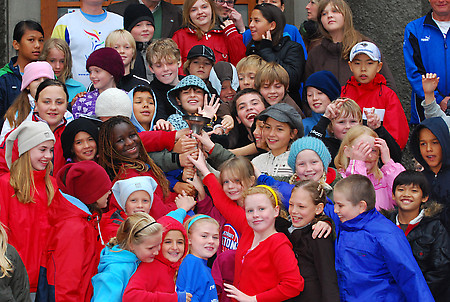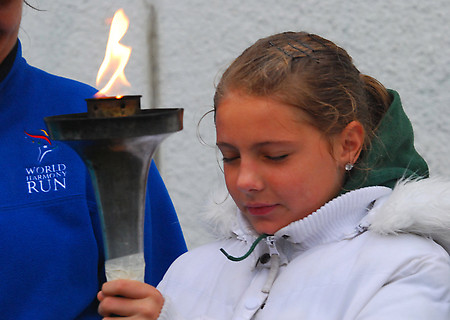 All of whom were more than eager to run with us, in the heavy rain and wind.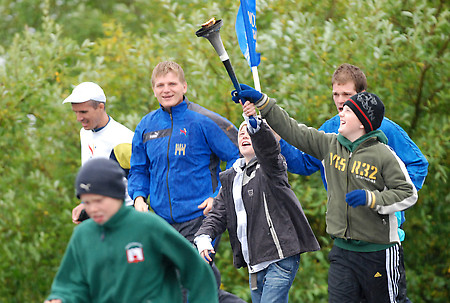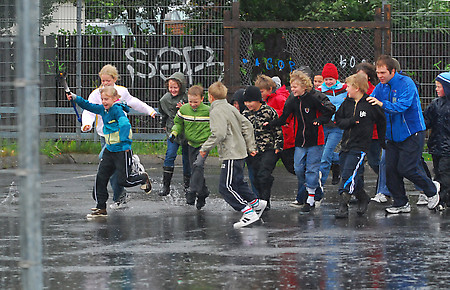 Kristin, one of the girls at our second school, told me that it was like taking a shower, and trust me you had to agree - it was like a very, very, very, very cold shower.
At Austurbæjarskóli, our final school for the day, all the students wanted to hold the torch and never let it go.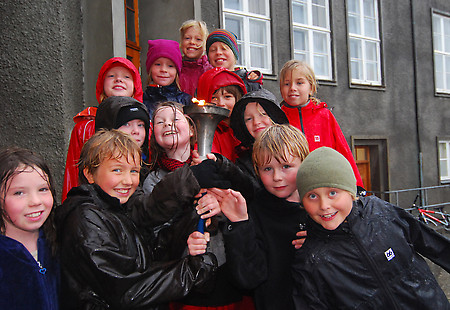 Making it very interesting when we all ran together. I have never seen so many hands touching the torch at one time. And trying to control a torch with what felt like 20 hands on it, is a workout in itself!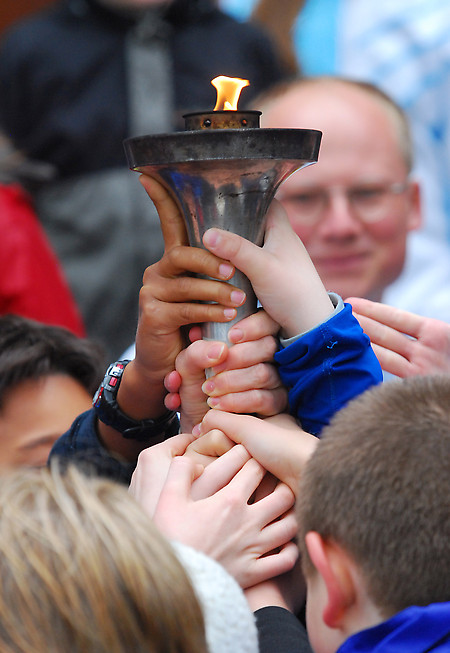 We ran like this all the way up to Hallgrímskirkja - the church named after Hallgrímur Pétursson, famous writer of psalms in Iceland.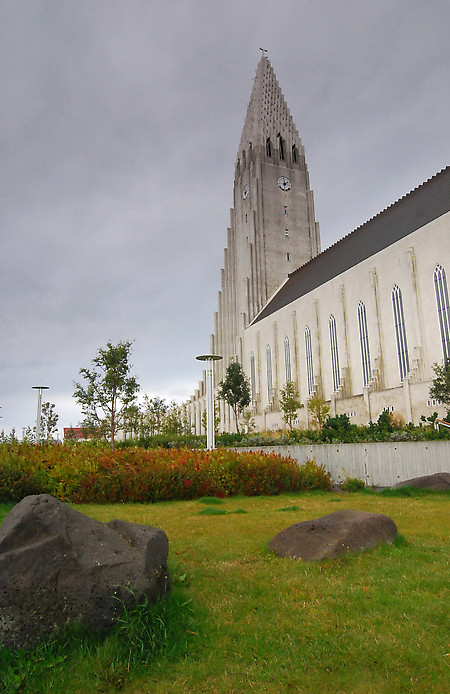 On arrival at the Church we were greeted by Reverend Birgir Ásgeirsson, who in a few short words was able to quieten down the overly-excited students by explaining how significant the World Harmony Torch was. Saying that any person who brings light into his / her house is not only bringing this light for himself but for his neighbors and community - couldn't have put it better myself.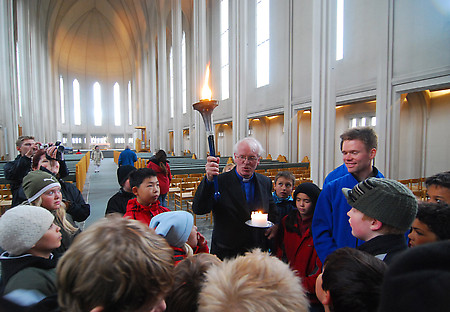 Reverend Birgir asked that we light an eternal candle in the church, so that the World Harmony Run flame will not be extinguished on Icelandic soil. This candle, as it burns low, will light another candle, keeping the flame and spirit of the World Harmony Run alive, until we once again start our journey in this special land.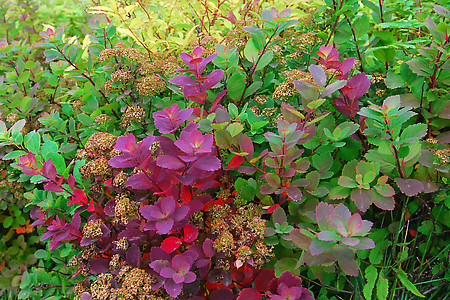 After this touching closing ceremony, the runners had some free time to see Reykjavik. The rain had stopped and clouds lifted giving us a chance to see the city and its picturesque views.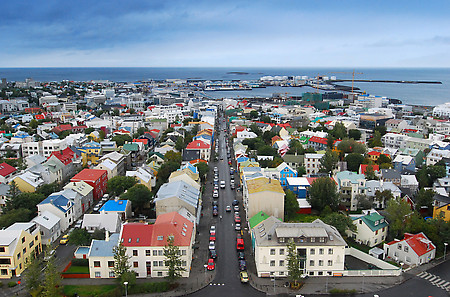 To rest our weary legs and fill our hungry bellies, we all descended upon Garðrinn - Ecstasy´s Heart- Garden. Here we were treated to a delicious lunch. Admittedly, I felt like the guest of honour as they had unknowingly made a New Zealand Beetroot soup. It felt a little bit like home on this cold Icelandic day.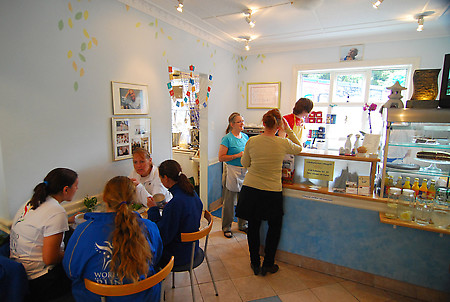 In the evening we were all invited for a farewell dinner at our friend's beautiful house on a lake shore.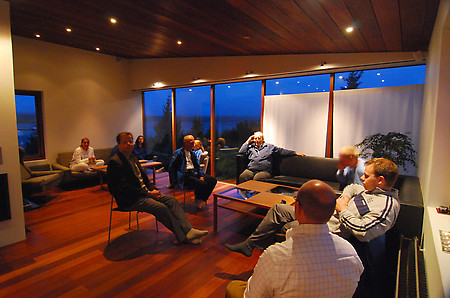 It is with a grateful heart that I write the final report for the Iceland World Harmony Run 2007. I am sure everyone on the team will agree with me that it has been an amazing trip. Even after spending such a short time in Iceland, you can start to understand why the viking Gunnar á Hlíðrenda could not bear to leave this land. We would like to thank all our friends in Iceland for their wonderful hospitality and help. Special thanks to Suren Leósson, our great co-ordinator for making this run an unforgettable experience.
Stacey Marsh
Distance: Local events
---
Team Members:
Ondrej Vesely (Czech Republic), Klaus Schulz and Mathias Eckerle (Germany), Maria Horvath and Erika Pongracz (Hungary), Martin Prettenhofer (Austria), Stacey Marsh (New Zealand), Suren Leósson, Viktoría Áskelsdóttir and Rúnar Páll Gígja (Iceland).
Harmonemail:
You can send a message to the runners or read the messages.
Gallery: See more images!