Ireland 28 September: Belfast - Drogheda
It was quite difficult for some of the runners to drag themselves out of bed this morning after a short night of sleep. This morning at 3.00am, after a minor ordeal the World Harmony Run finally arrived into the city of Belfast.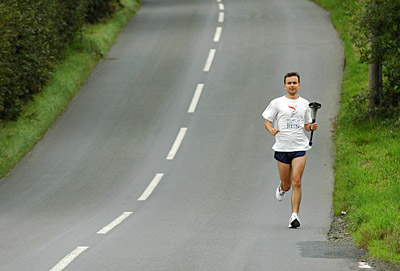 Yesterday evening, when the team arrived in Troon to get the ferry, we were informed that the sailing was cancelled. After some spontaneous planning we made our way, 50 miles south to Cairnryn where we hoped to catch the next ferry. Alas, we missed the ferry by 10 minutes! So it wasn't until 12 o'clock that we set sail for Ireland.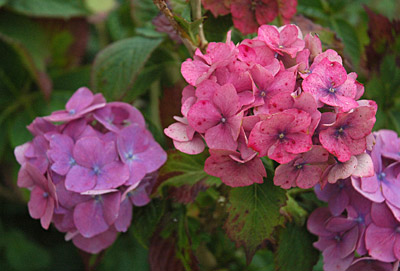 The team received a boost today as Hanka and Katka from Czech Republic, Edi from Austria and of course some Irish runners joined the team. After a continental style breakfast we departed from our accommodation for our first meeting of day at Finaghy Primary School.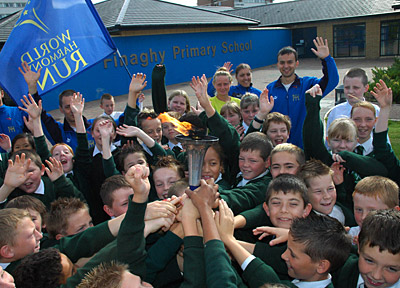 At the school gate children waving and cheering warmly greeted us. We received a thunderous welcome as we entered the school hall were three hundred enthusiastic children were waiting.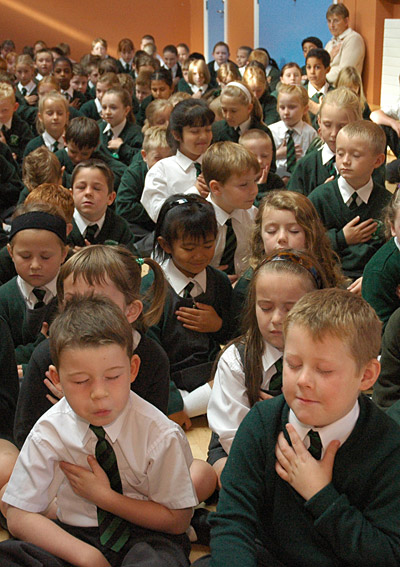 Ondrej and Bakul gave an engaging presentation and the children's eyes lit up with joy and delight. The noise level was incredible as they yelled the Run's motto 'Harmony begins with me'. Once outside, every single student made a wish for harmony while embracing the torch.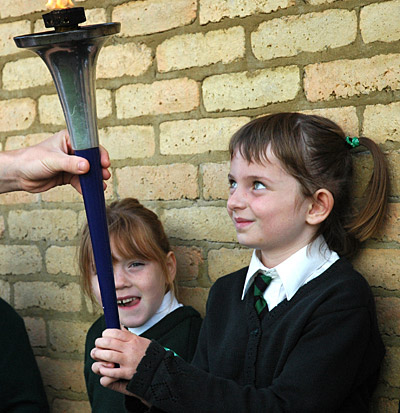 Afterwards we enjoyed a refreshing tea break in the teachers lounge and one teacher explained to us that this school had been involved in a harmony project of its own. Coinciding with different schools it had established a relation with teachers and students from different parts of the country and also abroad.
As low-lying clouds blew across the sky, the first runner leaped from the van, torch in hand, to begin the day's running.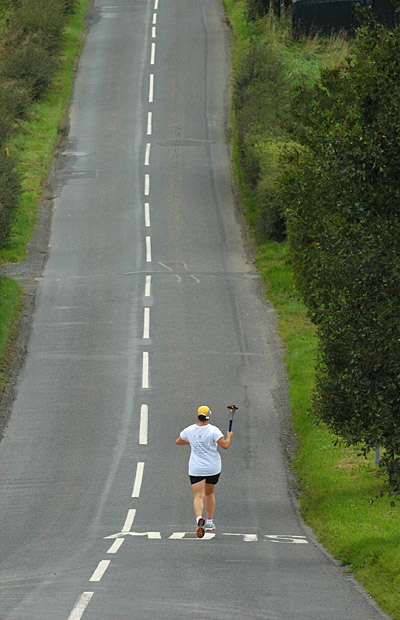 It wasn't long before we had passed through the suburbs of Belfast into lush green beautiful countryside. Ahead of us a landscape of forty shades of green and undulating hills as far as the eye can see.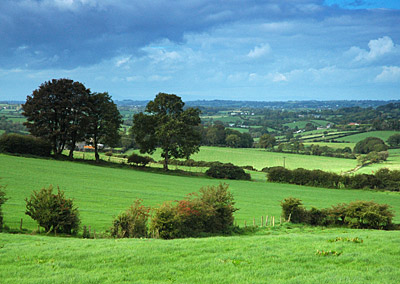 On the hillsides wooly sheep and agile horses grazed on fertile lands and every so often one would look up with curiosity to see a flaming torch pass by.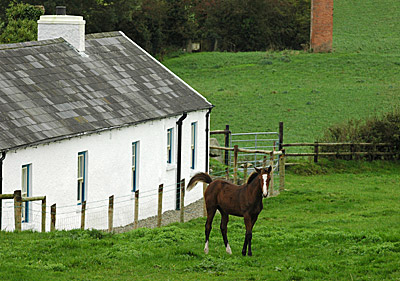 To sum up Irish weather is very easy: changeable. For quite some time the sky was dull and wind gave added resistance to the adamant runner. But the sun did appear and when it did it suddenly became warm.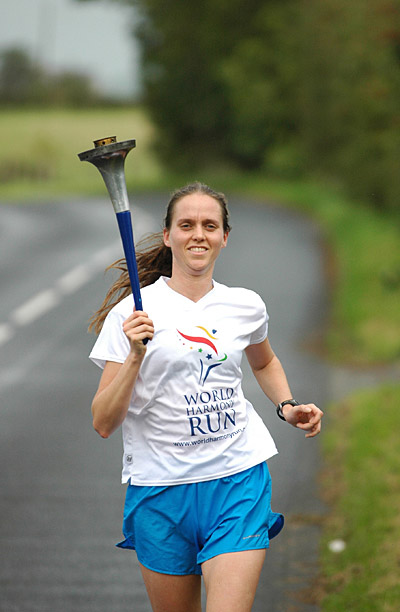 The south-facing hills became a vivid array of bright greens. As we ran throw small towns and villages we met many friendly locals who were delighted to hold the torch and learn about the Run.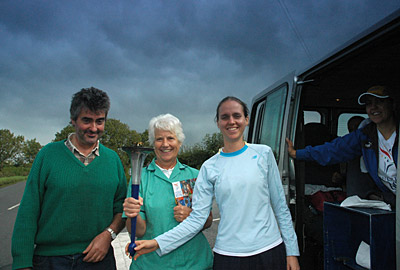 We made our way through the busy town of Newry and onwards to Dundalk. Along the way Andrea disappeared from the planned route and one of the vans spent quite some time trying to find her.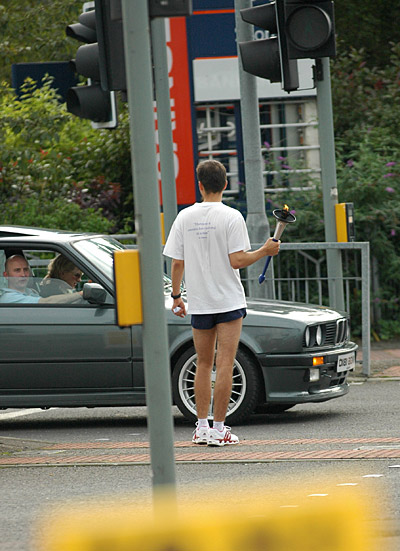 Of course it's always the last place you look that you will find a lost runner, but nobody expected to find her running on the motorway! Perhaps she was trying to take a shortcut to Dublin. One van drove on to our final destination of Drogheda because we were running behind schedule.
Just outside the town of Drogheda we were met by a Police escort who directed us to the town hall. The mayor of Drogheda, Michael O'Dowd greeted us and accompanied us inside. After sharing our message of the run the Mayor expressed how appropriate our visit is to this multicultural town. He presented us with a beautiful plaque and a crystal with engravings.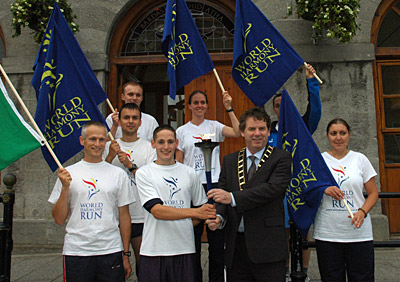 The town of Drogheda has a great history in greeting and embracing the World Harmony Run. We warmly thank the town council for their generosity in providing accommodation and a delicious dinner for the team.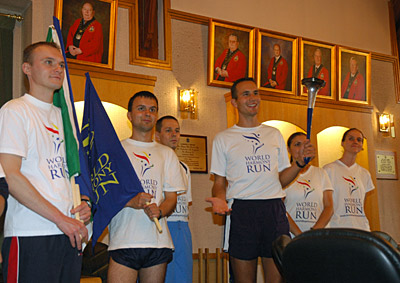 Due to the many events in Dublin tomorrow, the team split in two, one van departed to spend the night in Dublin and other stayed put in Drogheda, all runners looking forward to a restful night of sleep.
---
Distance: 74km
Team Members:
Andrea Fidrmuc (Austria), Erika Pongracz (Hungary), Colm Magee (Ireland), Dhavala Stott (Scotland), Miroslav Pospisek (Czech Republic), Nataliya Lehonkova (Ukraine), Ondrej Vesely (Czech Republic), Hanka Uchytilova (Czech Republic), Robert Senovsky (Czech Republic), Edward Brodtrager (Austria), Katka Prusova (Czech Republic), Bakul Keaney (Ireland), Marc Schrader (Germany), Vytautas Reinikis (Lithuania).
Harmonemail:
You can send a message to the runners or read the messages.