Ireland 18 September: Dublin
It was a windy and chilly morning in Dublin. Only the brave ran in t-shirts as we ran towards the first school of the day, Rathgar Junior School. We received a warm welcome from a classroom full of children singing cheerfully with songbooks in hand. It was immediately evident that the school shared many of the ideals of the harmony run.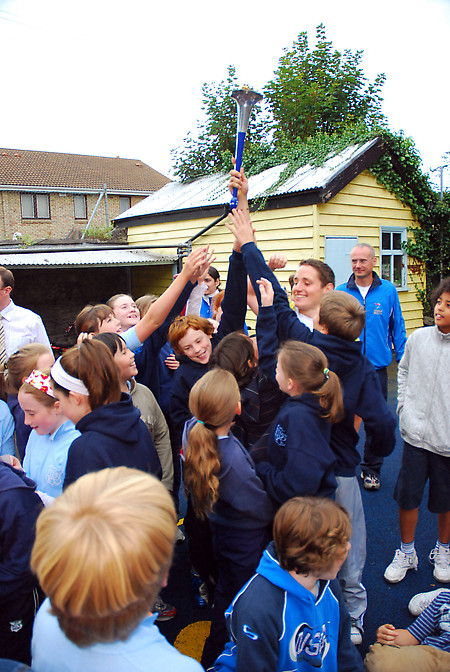 St. Brigid's National School next. From a distance, we could hear the excitement of the children as they anticipated the arrival of the Harmony Run. Cheering and laughter filled the air. The children had formed a guard of honour and as we passed under the archway entrance to the school the children and teachers sang our World Harmony Run Song accompanied by hand percussion and shakers! A crew from Den TV, a children's programme, filmed our arrival and interviewed Ondrej, our team captain for a broadcast later that day.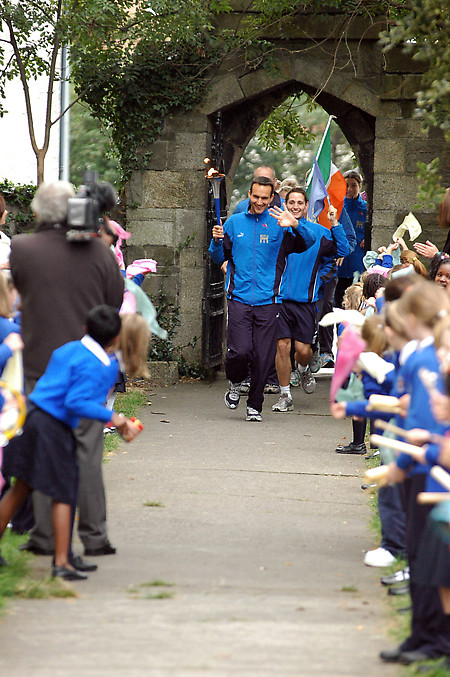 When we went inside the children were singing loudly and proudly! The children were so responsive and enthusiastic. They listened diligently and cheered and sang wholeheartedly.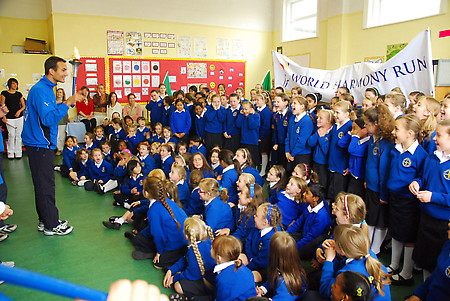 In this school there are children of over thirty nationalities all learning together in harmony: they are all in a nice 'flower garden' here....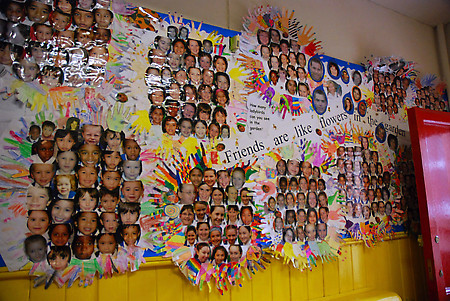 We then went outside to give everyone a chance to run along with us!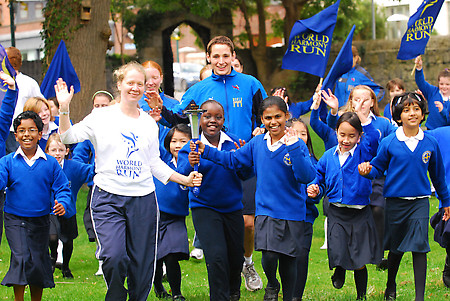 When we finally said farewell to all the smiling faces, the police were ready to escort us into the centre of town. Many intrigued people looked on and smiled or waved as we ran by. There was a sense of dynamism in the air, with gusts of wind blowing leaves on the ground and leaves on the trees and with big clouds moving quickly across a sky blue background.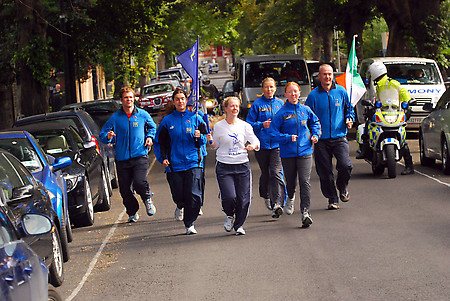 The Lord Mayor of Dublin gave the team a very warm welcome. After a short and sweet ceremony he invited us for refreshments. At one stage he disappeared, only to reappear with a handful of fancy pens for the whole team!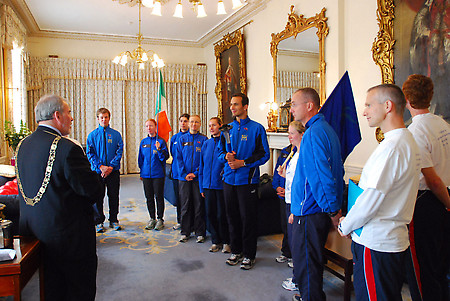 Once again we had an escort on our way out of the city centre. It was lunchtime and many people filled the paths as we ran by, hence there were lots of smiles, waving and cheering.
Our final meeting of the day was at Harold's Cross Primary School. We entered a playground full of children cheering with a tremendous amount of energy!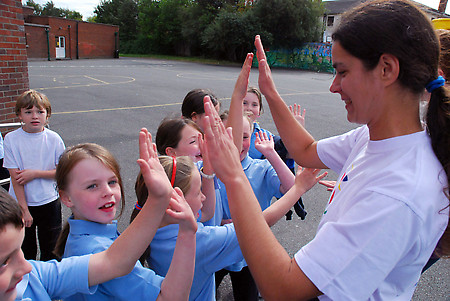 On our way back into town we stopped off at St. Patrick's Cathedral, a beautiful medieval Cathedral surrounded by rose gardens.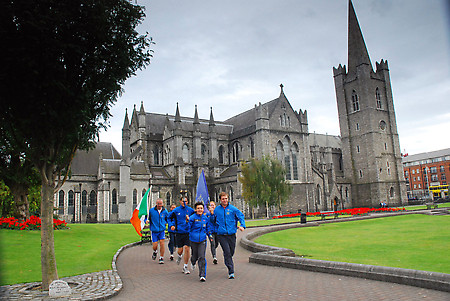 In the evening we met together for a delicious dinner, kindly sponsored by two restaurants. A selection of salads was sponsored by Cornucopia, one of our favourite vegetarian haunts and the main course was sponsored by Yamamori, where they gave us some of their delicious tofu steak!
---
Distance: 88km
Team Members:
Colm Magee, Shane Magee, Gary Foran and Ambarish Keenan (Ireland), Ondrej Vesely, Rosta Vagner and Katka Prusova (Czech Republic), Mathias Eckerle (Germany), Ieva Kurzemniece and Anette Klavina (Latvia), Vytautas Reinikis (Lithuania), Martin Leitner (Austria), Jarek Werner (Poland).
Harmonemail:
You can send a message to the runners or read the messages.
Gallery: See more images!