Netherlands 17 September: Enkhuizen - Amsterdam
On the World Harmony Run we sometimes having difficult and challenging situations. Unfortunately our start to today was one of them. During the night one of the vans had been broken into, the rear window removed, and they had stolen some bags - Ondrej's bag with running gear and much of the World Harmony Run clothing that included t-shirts and sweatshirts. We were very disappointed, but this type of event tests us and challenges how we cope, and in the long term makes us stronger.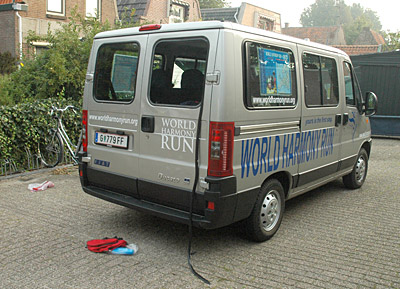 From our overnight accommodation at a local gym kindly provided by the city, we had a meeting by the harbour front next to the city's prominent landmark of the Dromedaris. There we met with the city official. In his speech he stated that throughout the world we all have the same values, but express them in a different way. There are many difficulties between people and it is a challenge to overcome them and we should celebrate our differences. Together we ran adjacent to the marina in the misty morning sunshine, cheered and applauded by people having their breakfast on their yachts.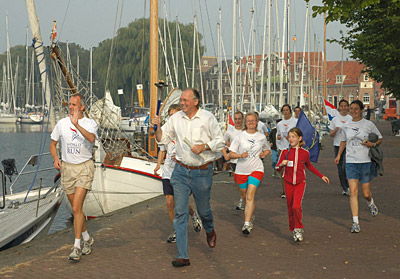 Today we were going to experience classic Dutch icons in the form of sheep…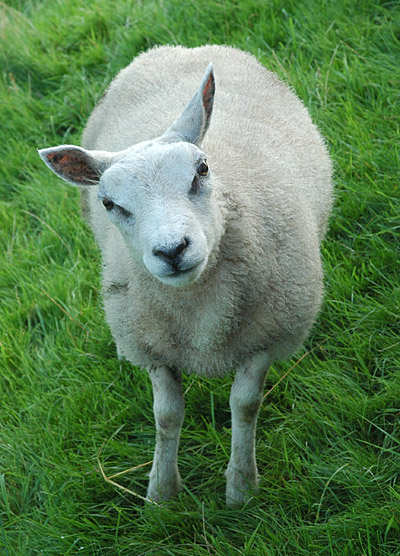 …sailing boats…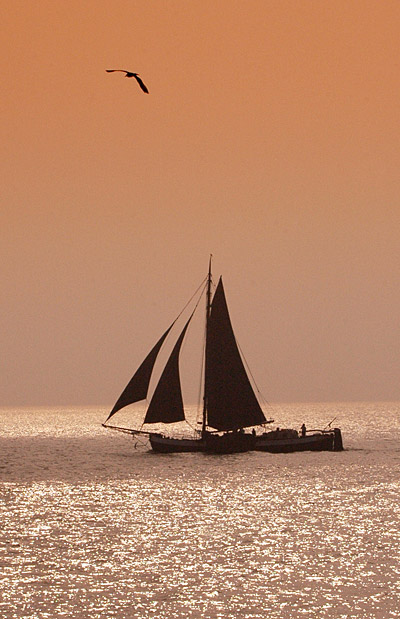 …dykes…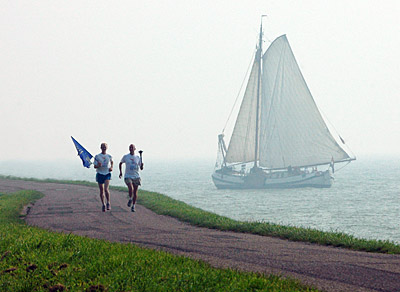 …windmills…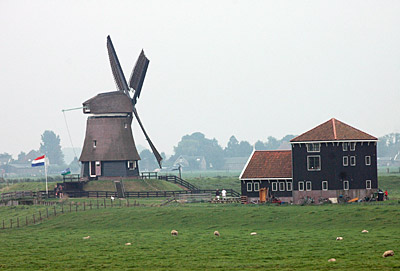 …cheese…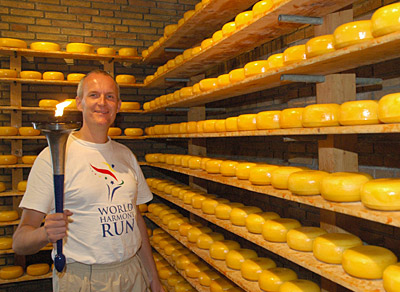 …and clogs. Big clogs!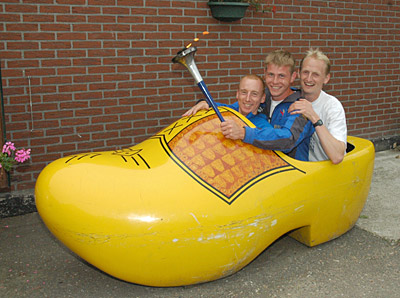 We ran along the dyke looking down on the Markermeer lake, and ran through the small village of Schellinkhout where we passed a windmill. The weather began to get cloudier and overcast, and the slight chill in the air reminded us all that autumn was just around the corner. We've recently noticed the days are getting markedly shorter, and the leaves from the trees are turning brown.
At the old city gate of Hoorn we met some runners from AV Hollandia athletic club. We ran through the cobbled streets of Hoorn and back along the dyke for a few kilometres.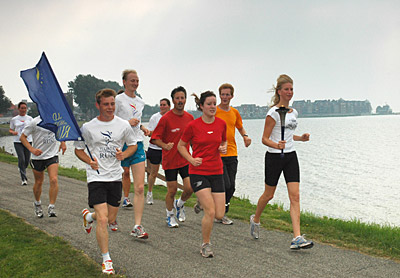 At the end of the dyke we entered the old town of Edam, famous for its cheese, and entered Volendam. Outside the football club RKAV Volendam we met the jovial mayor who was very glad that the World Harmony Run passed through the town.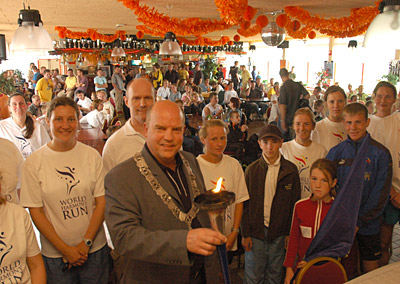 He mentioned that in 2001 the town experienced a tragic incident where 14 young people lost their lives at a terrible fire in a nightclub and a further 250 where seriously burnt. He said that this unfortunate tragedy brought the community closer together and something good came out of something bad. He presented us with an inspiring book about this incident, and how a community is becoming stronger and witnessing the recovery and small miracles of its young people.
In the afternoon we visited the cheese and clog factory Alida Hoeve . Our hostesses had a great time testing out their clogs as running shoes.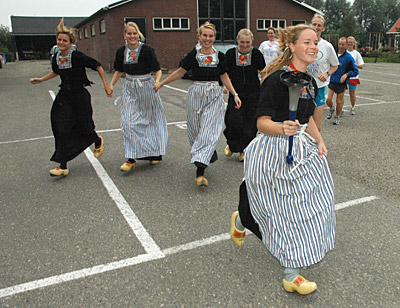 We were given a tour and offered an explanation of the cheese making process and the best part was tasting the different Gouda cheeses. They also kindly provided us with lunch. Later we visited the clog factory, where a Peruvian clogmaker told us all about Holland's famed wooden shoes. Here's a proud Dutchman posing with them.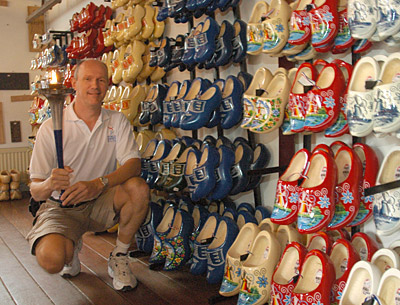 We also tried on their running models.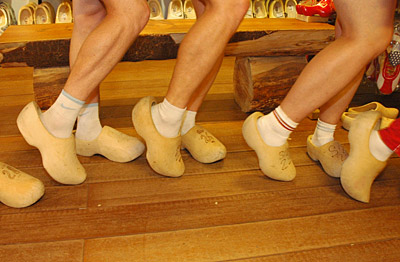 Our final meeting of the day was city Waterland in Monnickendam where we ran through the narrow cobbled streets to meet vice-mayor Mrs Buijs on the bridge of the city.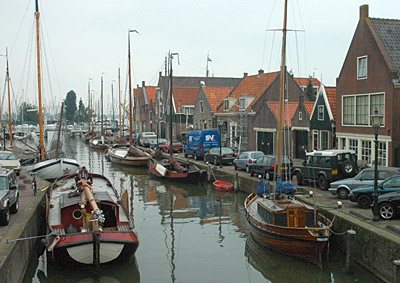 She made a heartfelt and thoughtful speech. The most poignant aspects of her speech were:
"People tend to see their differences, rather than what they have in common. And our commonalities are really much greater, like the need for safety, health, appreciation and love. What you are doing is of an unfathomable scale: to create friendship, harmony and mutual understanding on a global scale. I think that it is a beautiful goal and I'm proud to receive you in our community and to offer our contribution to that goal".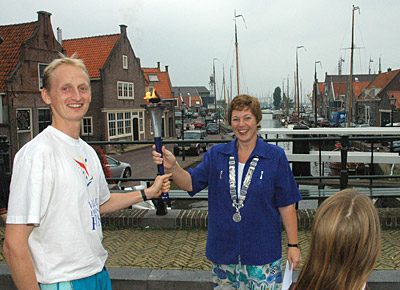 Afterwards she most generously provided us refreshments from the café, and most of us chose hot chocolate with cream on top.
In Amsterdam our Dutch hosts cooked us a superb meal, and together we planned our final day in Holland.
---
Distance: 70km
Team Members:
Abhinabha Tangerman (Holland), Annemarie Beumer (Holland), Annemijn Schuringa (Holland), Frank de Lange (Holland), Janneke Heitlager (Holland), Klaus Schulz (Germany), Mark Collinson (England), Mark Hoogakker (Holland), Marton Fekete (Hungary), Matthijs Jongepier (Holland), Nataliya Lehonkova (Ukraine), Ondrej Vesely (Czech Republic), Sabine Meyer (Belgium), Sanne Stricter (Holland), Unmukta Gerretsen (Holland), Vladimir Ilaysov (Russia).
Harmonemail:
You can send a message to the runners or read the messages.