Meeting the All Whites, 22 May 2010
New Zealand Football Team meets World Harmony Run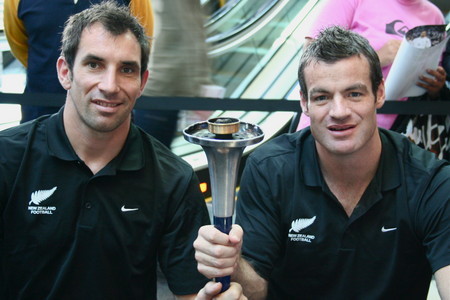 On Saturday the 22nd of May the World Harmony Run team had the opportunity of meeting with the New Zealand Soccer team also known as the All Whites, just before they left New Zealand shores for their bid for World Cup glory in South Africa. The team had gathered at a posh 5 star hotel lobby for their final meet and greet of their fans and were in a very relaxed and friendly mood signing posters and soccer balls and football memorabilia.

The New Zealand soccer team has been highly sought after in recent months following their qualification into the World Cup after an absence of 28 years. This has lead to a rejuvenated interest in soccer in a nation that has historically been ardent supporters of their more illustrious and perhaps more successful rugby team the All Blacks. Having already met the All Blacks a few years ago and speaking to them about the WHR and its goals it was particularly rewarding to meet and wish the All Whites, at a time when the whole nation is rallying behind this young and dynamic team.
It probably took most of the team by surprise when we approached them with a torch in hand dressed in WHR attire and told them briefly about the run. I guess after spending more than an hour signing autographs they were relieved that they had some variety to their afternoon. They were all curious about the run and were happy to pose with the torch. We fielded questions about the distance the torch would travel around the country to the average daily mileage expected of the runners etc. We wished them good luck for the World Cup and especially for their friendly against Australia the following week.
Muslim Badami