Meeting with Prime Minister of New Zealand, 1 September 2010
Meeting with Prime Minister of New Zealand
the Right Honourable John Key.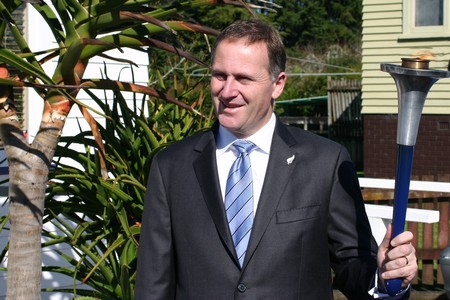 As the first day of spring appeared, members from the New Zealand World Harmony Run team were deeply fortunate and honoured to meet the New Zealand Prime Minister, the Right Hon John Key. Mr. Key is the first New Zealand Prime Minister to hold the World Harmony Run torch while in office, and joins a distinguished list of world leaders from around the globe. He continues New Zealand's proud history of leading the world on issues of world peace, stability, cultural understanding and nuclear disarmament.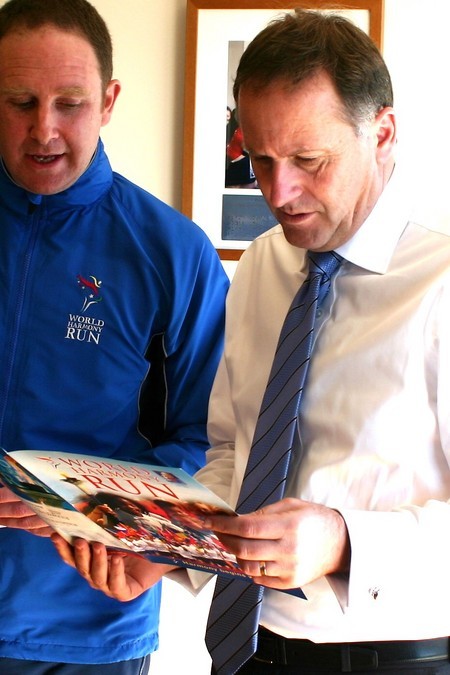 We met at his electorate office in Kumeu, and his first remark was how good we all looked in our World Harmony Run uniforms. An extremely personable leader, he immediately made us all feel very relaxed as he asked questions about where we would be running in New Zealand, how the teams were made up and how far each person would run each day.
A very keen and passionate follower of New Zealand's national sport of rugby, Prime Minister Key talked about his conversations with the captain Ritchie MaCaw, who has also held the World Harmony Run torch, and in particular the kind of training and fitness work they do. He also talked about how he had met another of the World Harmony Run supporters and torch holders Muhammad Ali, and how massive he was in person. The Prime Minister also told us that he had taken up jogging in an effort to stay trim and fit, and despite his busy schedule he tries to find time to run four times per week.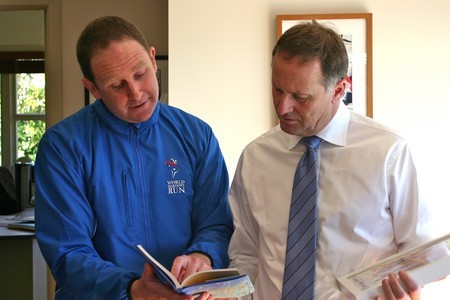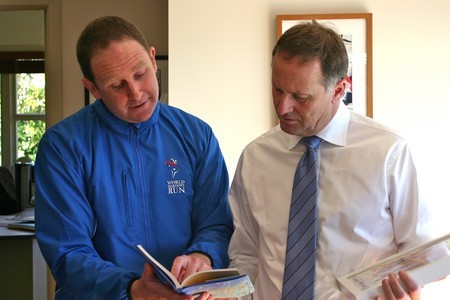 We presented the Prime Minister with a series of gifts by the founder of the event Sri Chinmoy. A framed Jana-Kala artwork from a series on World Harmony, and a book written by Sri Chinmoy titled 'Heart Garden' containing short inspiring aphorisms on wisdom, courage, love and happiness. Mr. Key seemed very taken by this book and took a little time to read a few of the inspiring words. He was also very intrigued by another book about the history of Sri Chinmoys global activities for peace and harmony.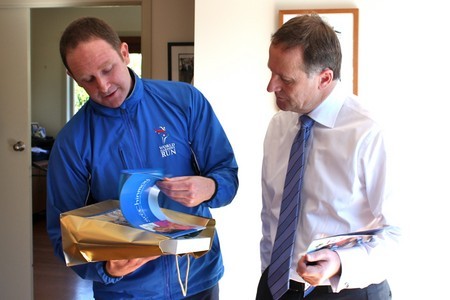 We then steeped outside in the bright sunshine of the spring morning for a series of photos with the World Harmony Run torch. Here we asked the Prime Minister more about his own running and talked about the longest foot race in the world the Sri Chinmoy 3100 mile race in New York, which he said was incredible.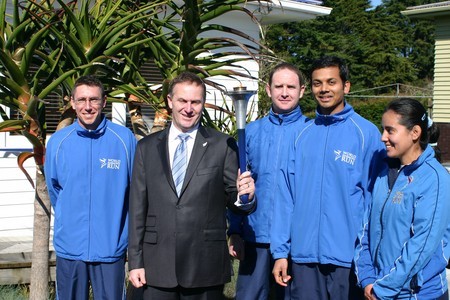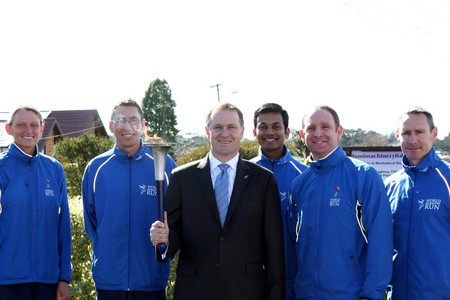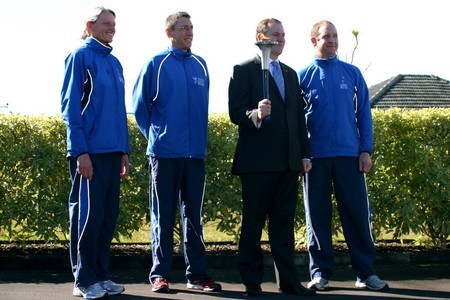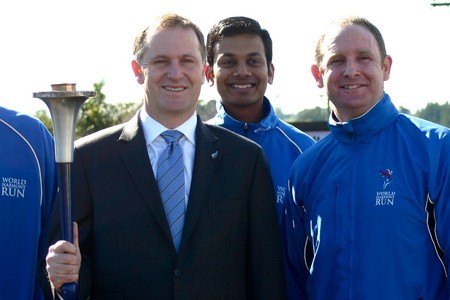 We would like to thank the Prime Minister for his generous support and words of encouragement; we felt very honoured to be given this inspiring opportunity. He exemplified to us all the kindness, openness and oneness of the kiwi heart and all that is wonderful about this beautiful country. We would also like to thank his personal assistants for making this meeting possible. We sincerely wish the Prime Minister all the best for the future and we look forward to the opportunity of meeting with him again.