Portugal 4 May: Aveiro - Figueira da Foz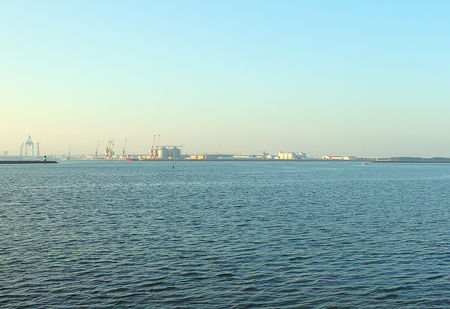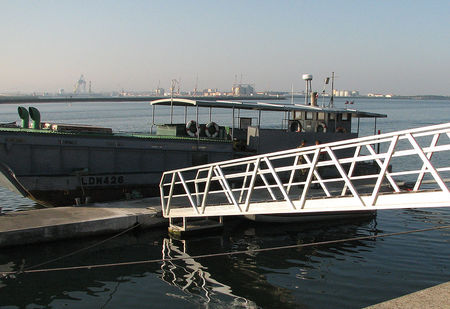 After a good night's rest at the military base in Aveiro we took a military boat to get back to land, as the base is located on an island. Thank you for your hospitality!
Depois de uma boa noite de sono na base militar de Aveiro, apanhamos um barco militar para voltar para terra, pois a base está localizada numa ilha. Muito gratos pela hospitalidade!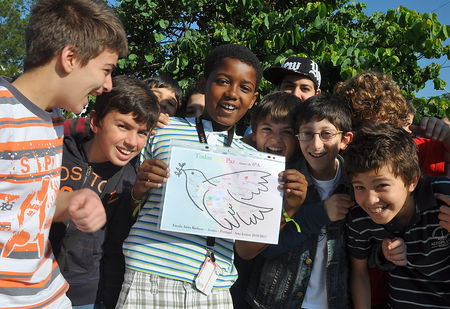 We started in Aveiro, at the Dr. Jaime Magalhães Lima School.
Começamos em Aveiro na escola Dr. Jaime Magalhães Lima.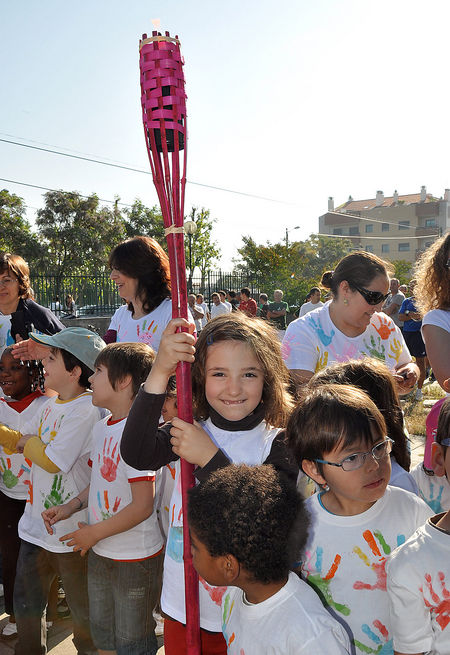 Kids greeted us with self-made t-shirts of their hand prints...
As crianças agradeçeram-nos com t-shirts com as suas mãos impressas...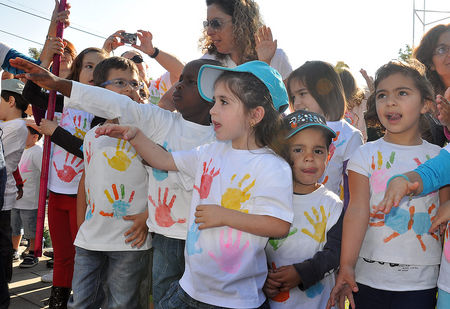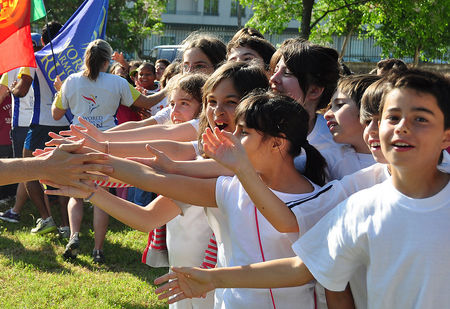 High Fives...
Dá cá cinco...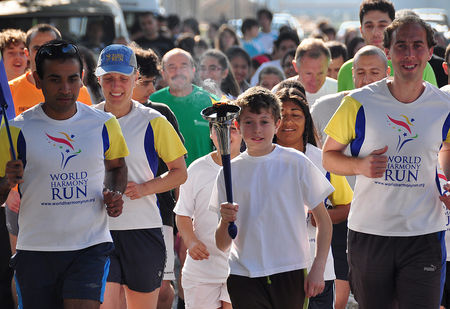 ...running...
...correndo...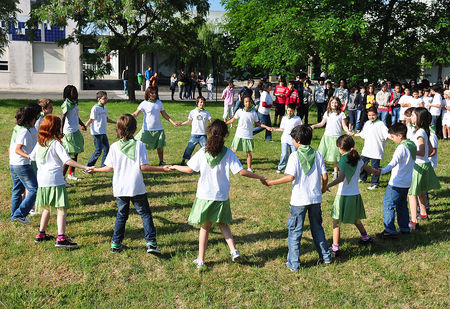 ...and nice performances...
...e lindas actuações...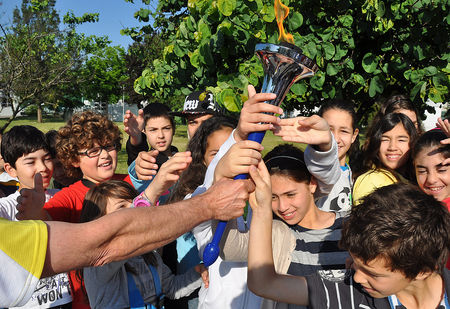 A group of GNR policemen joined us on a run through the scenic town.
Um grupo de polícias da GNR juntou-se a nós numa corrida pela cidade.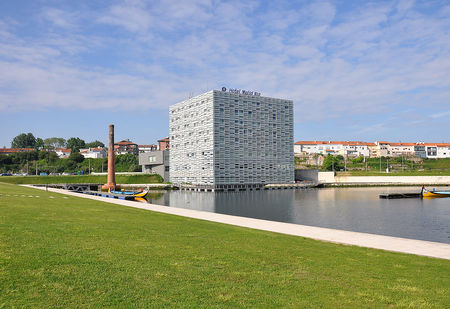 At the harbour we had another meeting.
Tivemos outro encontro na marina.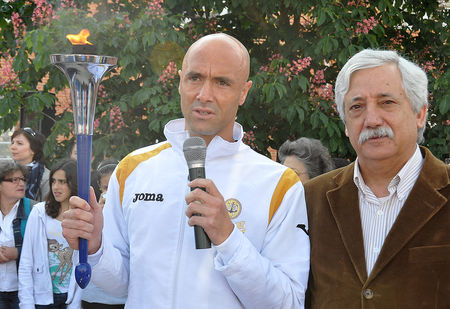 The captain and the vice-president of Beira Mar Football Team received the torch...
O capitão e o vice-presidente do Beira Mar receberam a tocha...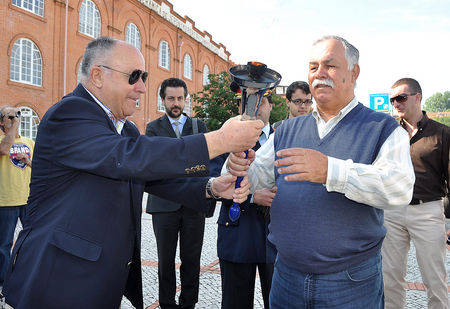 ...and more city representatives...
...e também outros representantes da cidade...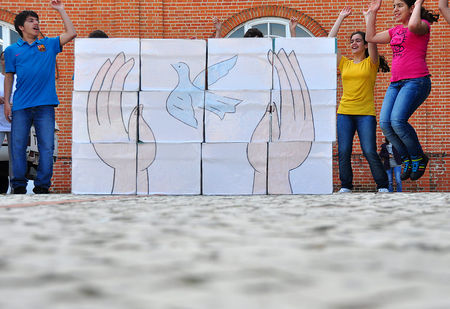 ..a very artistic performance...
..uma performance muito artística...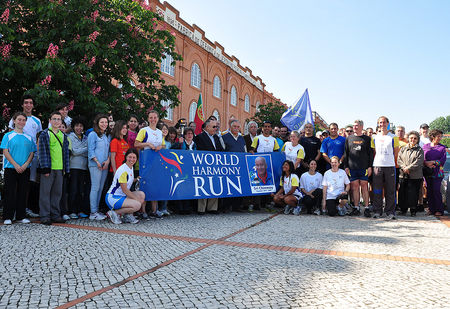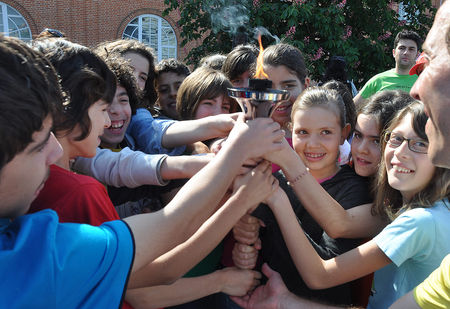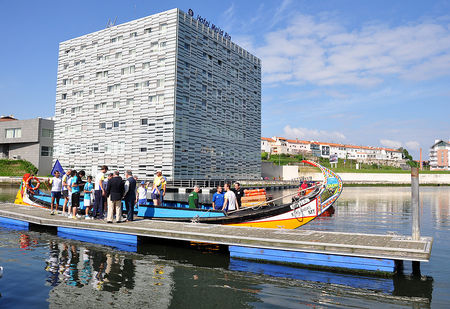 After the meeting our international team boarded a small ship for a tour through the city.
A seguir ao encontro a nossa equipa internacional embarcou num pequeno barco para uma visita guiada à cidade.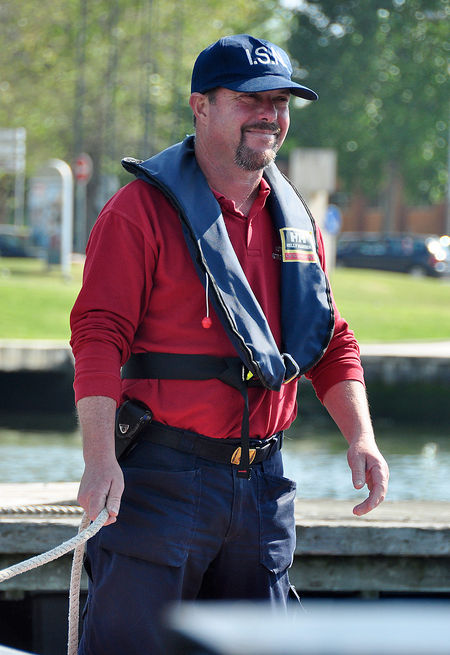 ..our skipper...
..o nosso capitão...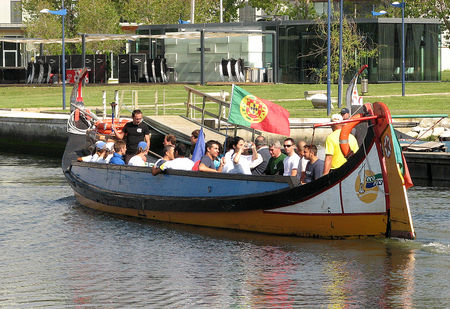 ...we should do this more often. Much more comfortable than running....
...temos que fazer isto mais vezes. Muito mais confortável do que correr...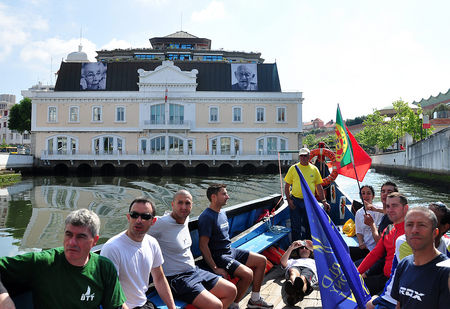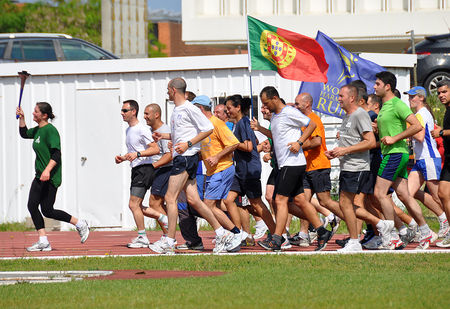 ...nevertheless, we continued the Run and stopped for another short meeting on a sport field...
...mesmo assim nós continuamos a Corrida e parámos para outro pequeno encontro num campo desportivo...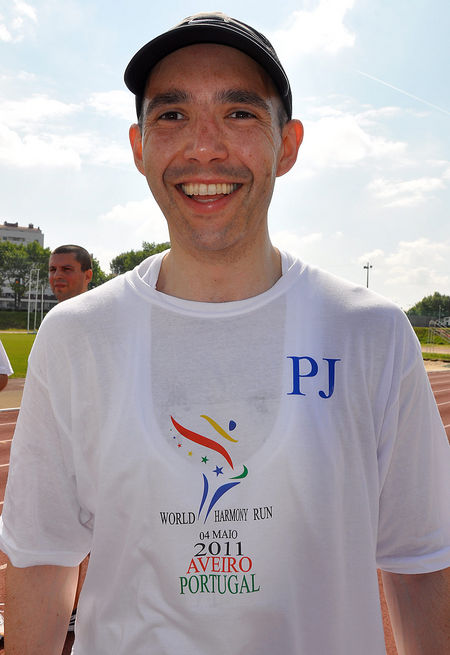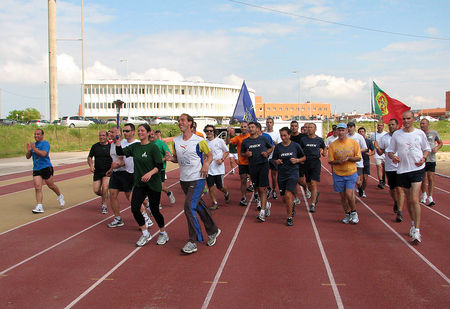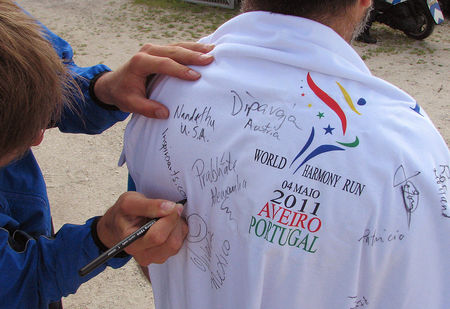 Thank you Aveiro for the great time!
Obrigado Aveiro pelo grande momento passado!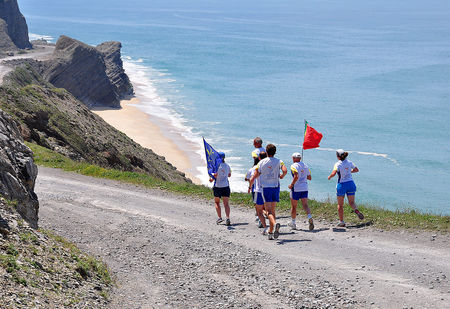 ...we reached the coast and took a stunning route along the sea shore...
...nós chegámos á costa e fomos num trajecto deslumbrante junto ao mar...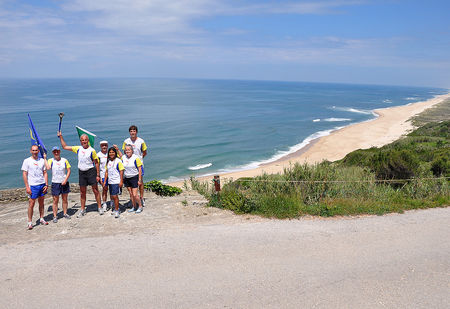 ...beach as far as you can see...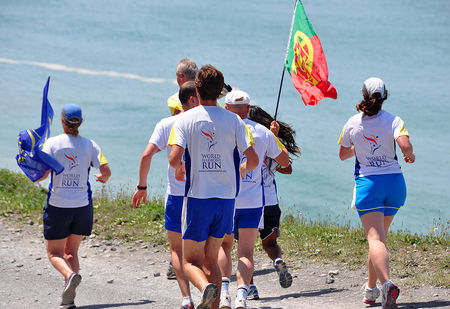 ...on the way to Figueira da Foz...
...a caminho da Figueira da Foz...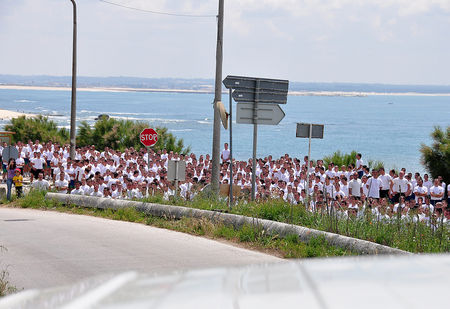 ...as we reached the city entrance, 650 GNR police students were waiting for us!
...quando chegámos à entrada da cidade, 650 cadetes de polícia da GNR estavam à nossa espera!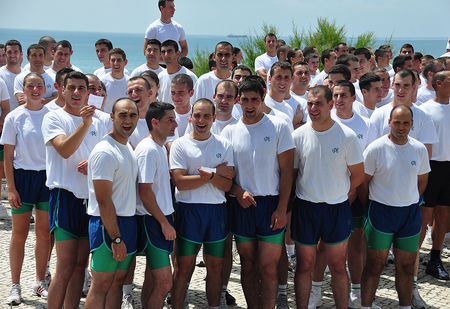 ...they greeted us enthusiastically with a WHR-song arrangement...
...eles saudaram-nos entusiasticamente com um arranjo musical do Hino do WHR...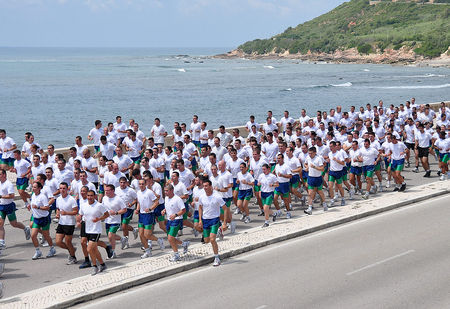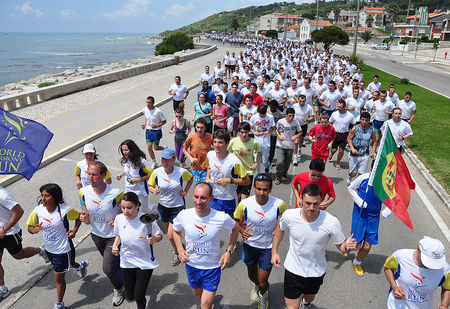 ...a human avalanche on its way along the beach!
...uma avalanche humana a caminho da praia!!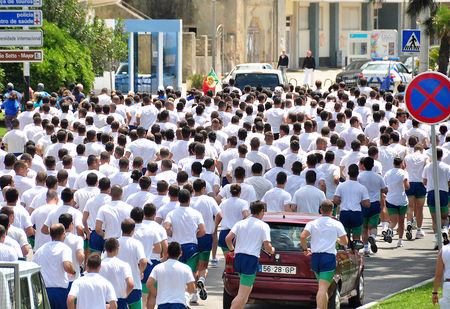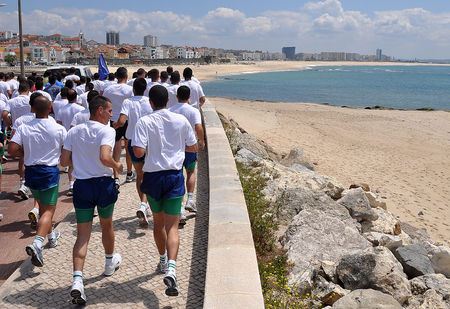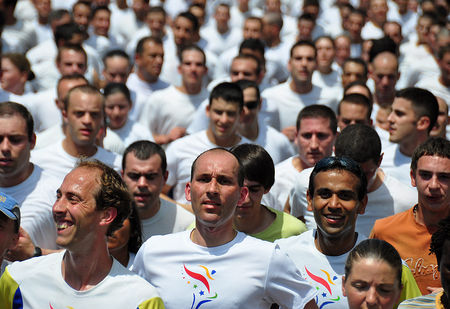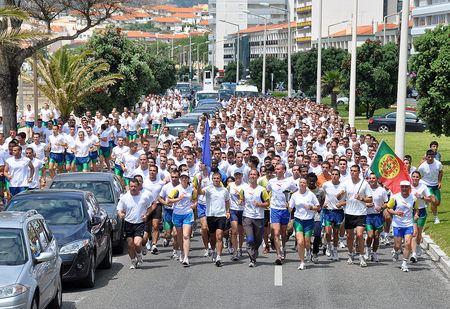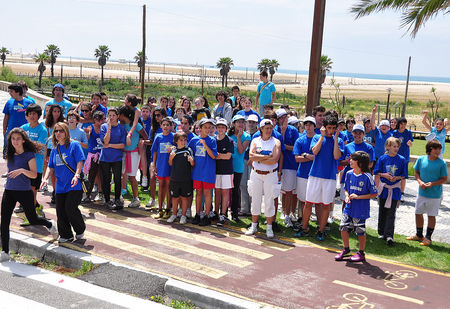 Figueira da Foz declared May 4th a Harmony Day! Kids joined in along our way...
A Figueira da Foz declarou o 4 de Maio como o Dia da Harmonia! As crianças foram-se juntando ao longo do percurso...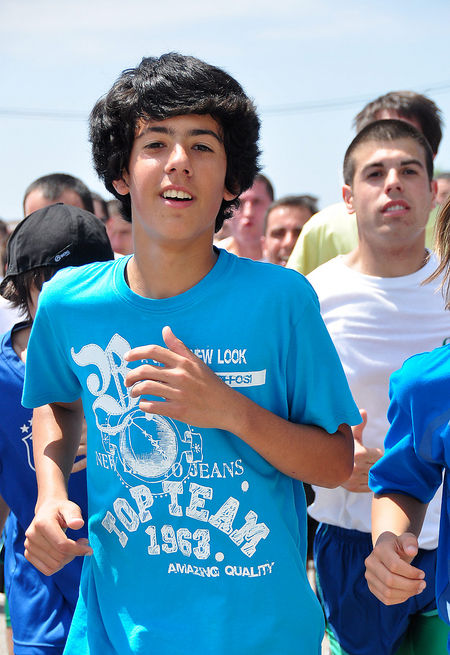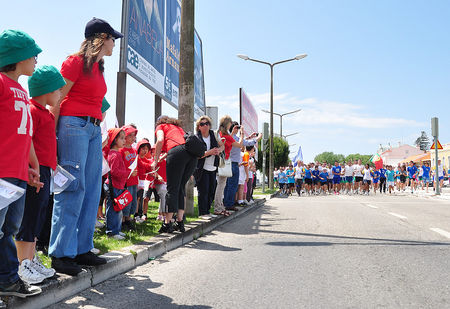 ...and more kids!
...e mais crianças!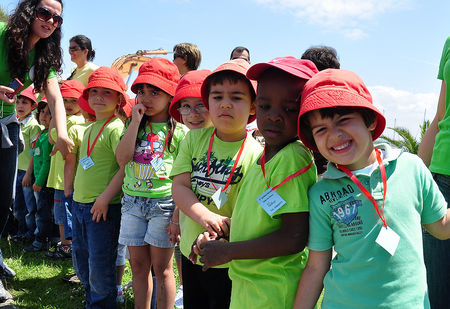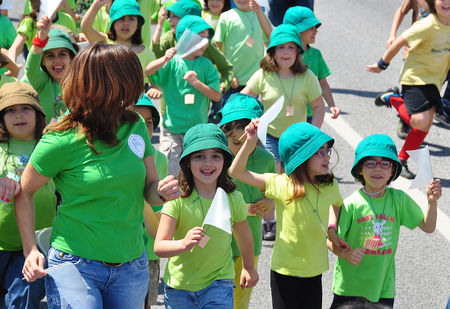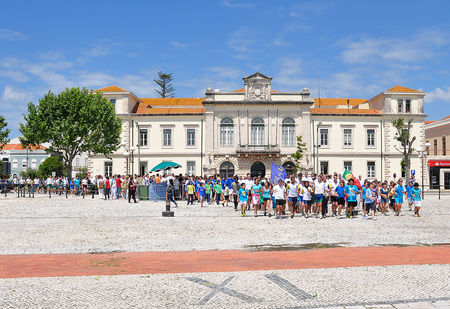 ...we reached the city hall!
...chegámos à câmara municipal!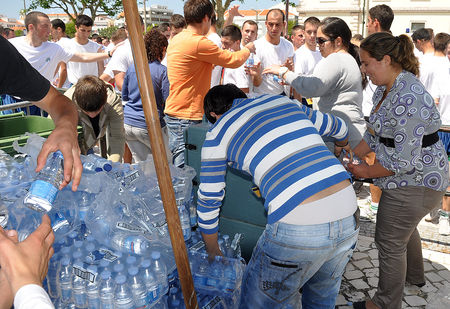 ..thousands of water bottles disappeared in a minute!
..milhares de garrafas de água desapareceram num minuto!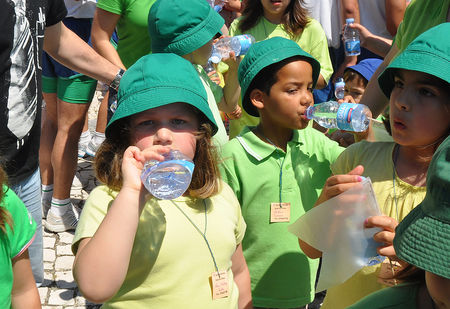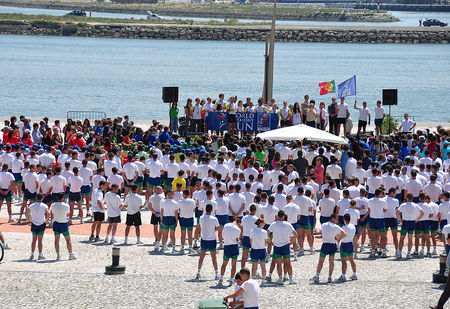 ..the stage was set...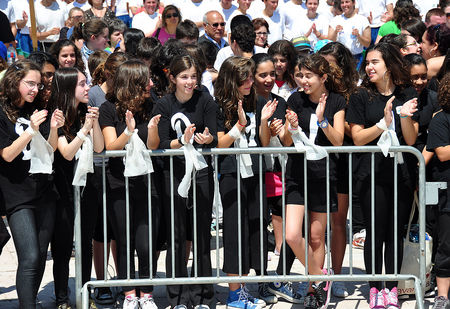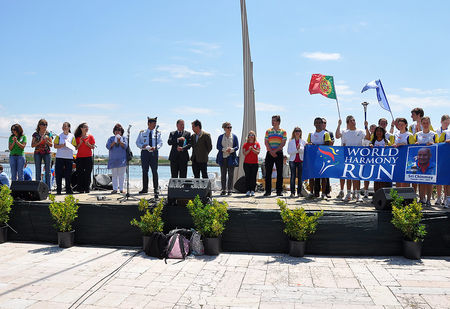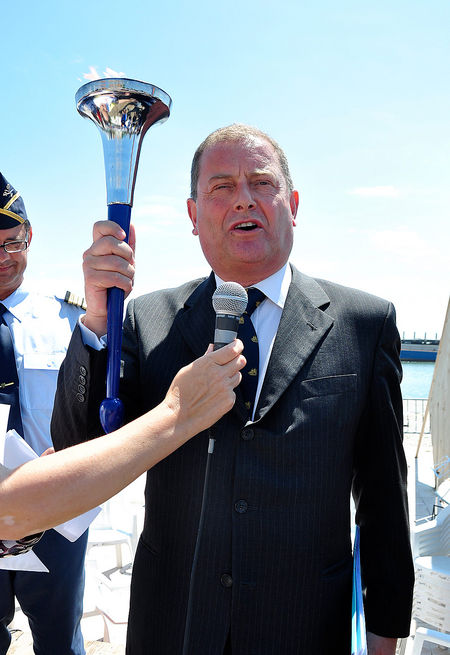 ...the mayor of Figueira da Foz received the torch and gave a hearty speech, along with other city representatives!
...o presidente da Câmara da Figueira da Foz recebeu a tocha e ofereceu um discurso caloroso juntamente com os outros representantes da cidade!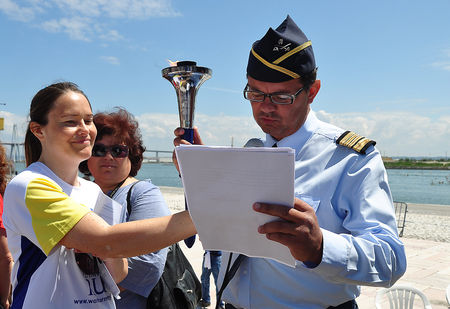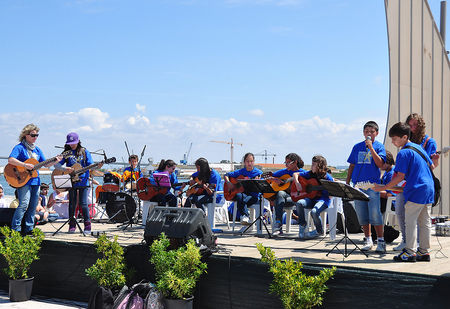 ...and performances...
...e actuações...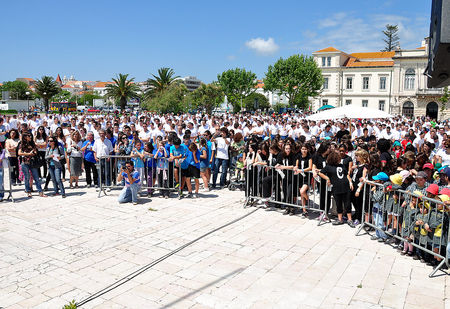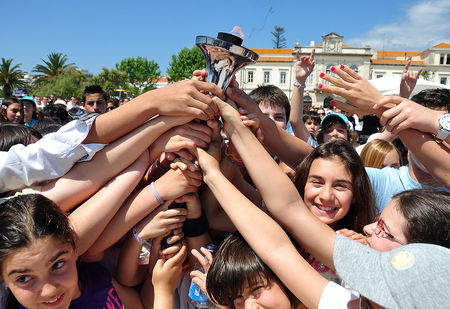 Thank you Figueira for this amazing organisation and all the enthusiasm!
Obrigado Figueira por esta organização espantosa e por todo o entusiasmo!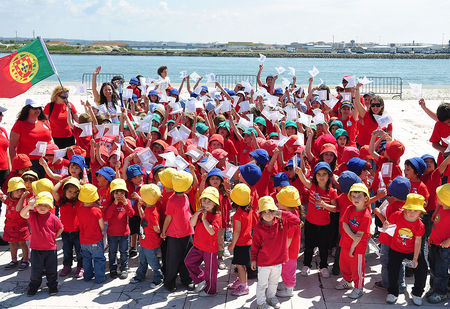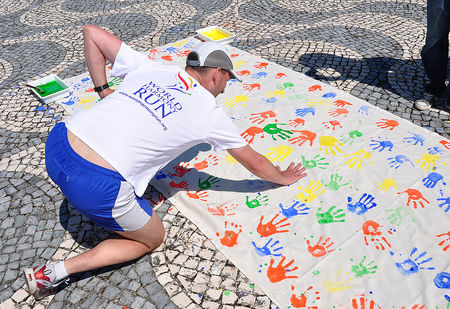 ...we left our hand prints on a big banner...
...deixámos as nossas mãos impressas num grande cartaz...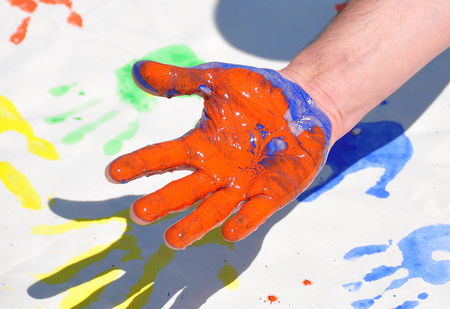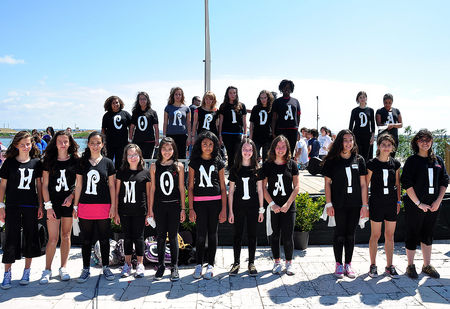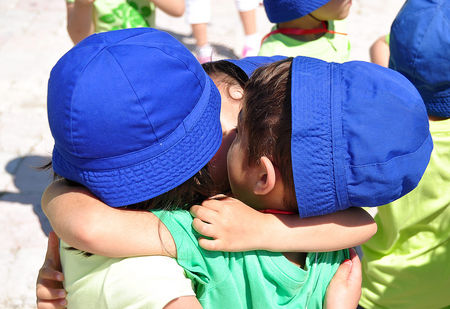 Happy Harmony day in Figueira da Foz!
Feliz dia da Harmonia na Figueira da Foz!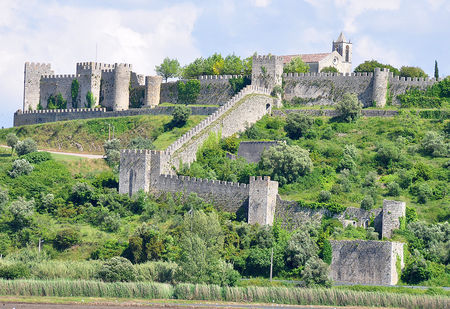 ...a scenic route all the way to Coimbra...
...um roteiro cénico até Coimbra...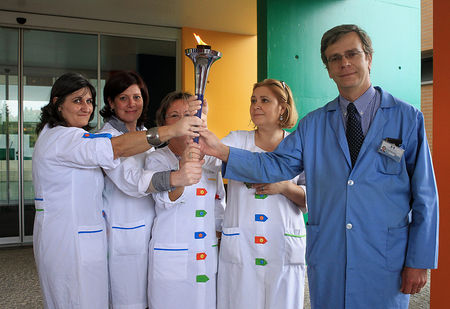 In the afternoon we reached Coimbra. As the main meeting was scheduled for the next day, we had time to visit a children's hospital.
À tarde chegámos a Coimbra. À medida que o grande encontro do dia seguinte se aproximava, ainda tivemos tempo para visitar um hospital pediátrico.
...we went to 15 different rooms!
...fomos a 15 quartos diferentes!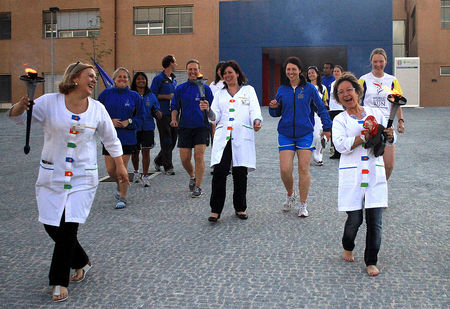 ...the enthusiastic nurses...
...as enfermeiras entusiásticas...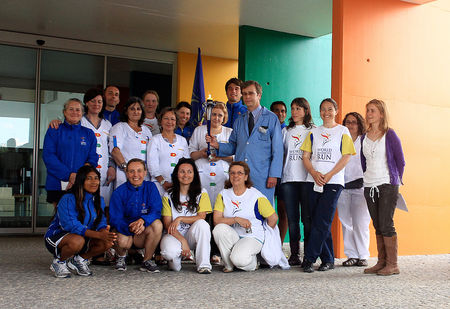 a great finish for a perfect WHR day!
um grande final para um dia WHR perfeito!
---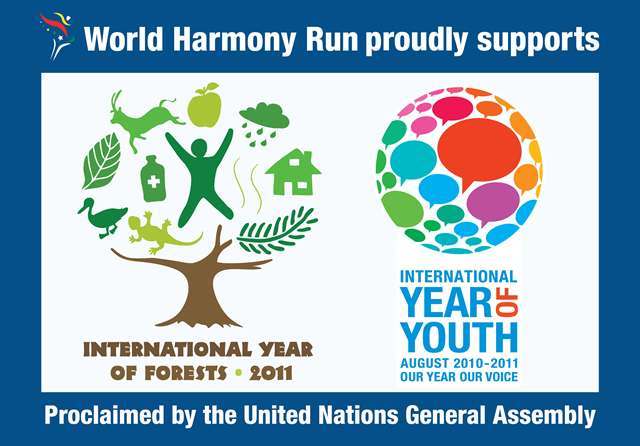 The World Harmnoy Run proudly supports the International Year of Youth (IYY) and the International Year of Forests (IYF) proclaimed by the United Nations General Assembly.
See also recent Youtube video which illustrates IYY slogan "Our Year Our Voice"  International Year of Youth - Zambia World Harmony http://www.youtube.com/watch?v=w6qehMiIWuYRun
Português Text of Video Message from Davidson Hepburn,  President of the General Conference of UNESCO (2009 - 2011)

25º Aniversário da Corrida Mundial da Harmonia:  Em direcção a 2022 e a um Mundo-Unicidade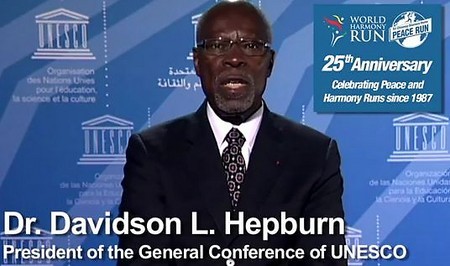 ---
Distance: 65 km
Team Members:
Dipavajan Renner (Austria), Zach Saltzman (USA), Atul Arora (India), Roos de Waart (Netherlands), Albena Margaritova (Bulgaria), Angela Muhs (Germany), Katrina Uddyogini Hall (Australia), Olivia Lopez Cortes (Mexico), Daniel Spiro (Norway), Marc Schrader (Germany), Patricio de sa da Rocha (Portugal), Joao (Portugal), Dulce (Portugal)
Harmonemail:
You can send a message to the runners or read the messages.
Gallery: See more images!