Serbia and Montenegro 11 May: Novi Sad - Belgrade
This rainy day began by leaving Novi Sad and running over the bridge that spans the River Danube. The rain did not dampen our spirits, as everyone was full of joy and smiles and looking forward to running to the capital. The girls from Novi Sad ran with us until Srem Karlovci.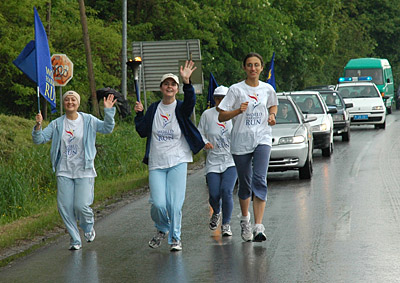 The Team's first meeting was at Srem Karlovci where we were met by children who ran with us to greet the mayor. The mayor stated that Srem Karlovci was a town where history, culture and spirituality combined. He said that the World Harmony Run spreads a ray of light as you run towards the sun and that our feet are bigger than the sun. The mayor was in a rather poetic mood. He also drew a simile between the World Harmony Run and an Olympic achievement where the moment eternally lasts. We all were quite touched by his heartfelt words.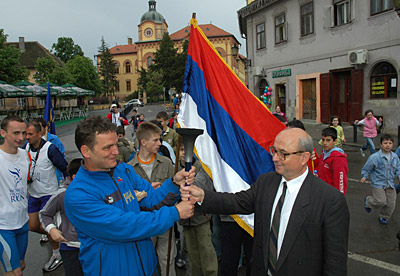 Our next stop was at Indija where the regional television filmed the runners and interviewed a few of the Team members. We met an athletics coach called Mirko Vujaklija, who used to run marathons and middle distance races. He said that he had raced against Dave Bedford (a famous middle distance British runner) at an international cross-country event in the 1970s and came second to him. We were treated to some tasty sandwiches and warm tea at the local café. Afterwards, our waitress from the café ran with the torch out of the city with us.
As we were slightly ahead of schedule and had a about 8 km to the next meeting, two of the runners decided to run a Self-Transcendence 2 Mile race. The rule was that we had to run with the torch and that we had to start and end with a flame, otherwise the times would not count. The road was long and straight, and we had a police car in front of us - perfect race and running conditions. Their times were very fast and both set personal bests - although we measured it as 3.2 km, it is possible that the van measuring the distance maybe slightly inaccurate - we will have to check this and will run the races again in another country next week.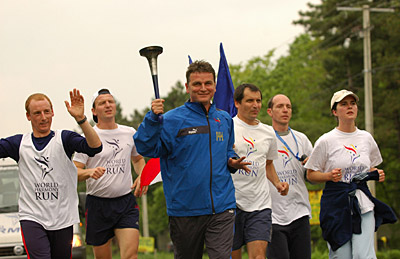 At N. Pazoua the children greeted us euphorically and quickly gathered around us as we talked to them about the Run. They listened patiently and applauded our rendition of the World Harmony Run song. In return they sang 'If You're Happy and You Know It', and even we joined in with the children to much hilarity.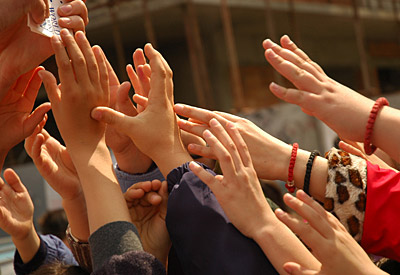 As we approached Zemun, about 18k from Belgrade, dark clouds gathered overhead, and like a whip cracking, the thunder echoed all around us and sheet lightening flashed as the rain poured down. As the runners smiled through the rain the people smiled back and encouraged us along our way. By the time we reached Zemun it was torrential rain and we were rather wet. We met the Vice President of Zemun who heartily agreed with the philosophy of the Run and said that tolerance between nations and people was the key to international understanding.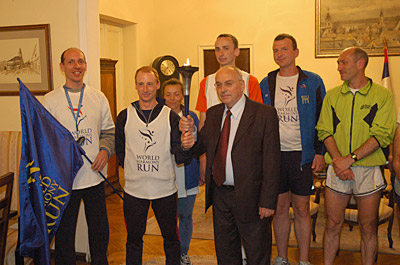 We had wished we could have spent more time with him as he was so likeable and kind and offered us great hospitality, but time was pressing and we had a final ceremony of the day in the centre of Belgrade.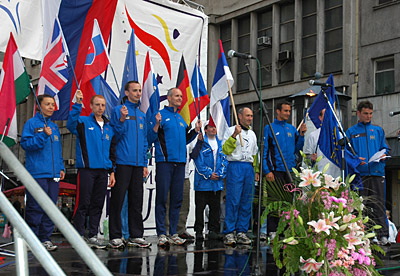 As we ran the final 7 km into Belgrade we had amazing reception from car drivers as they were negotiating rush hour. Cars, vans, buses, and lorries, all sounded their horns in support. People avidly waved and one woman leaned out of her car window and asked where were we running. We all shouted back, "London!!" She was quite puzzled as you can imagine; but, after all, London is the World Harmony Run's final destination.
In the centre of Belgrade we had a wonderful ceremony with traditional Serbian dancing, music, a clown singing with children (they were very amusing with balloons on their heads), and recitations.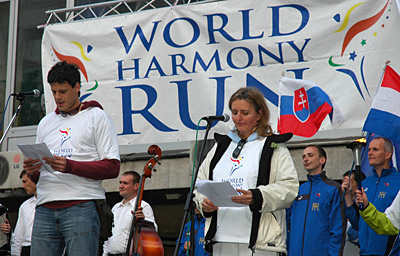 At the ceremony some wonderful people attended to offer their support.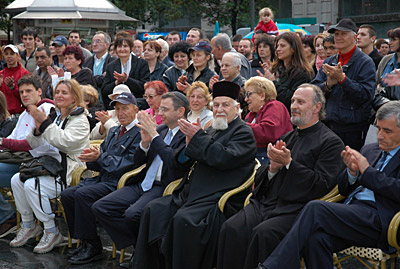 Many thanks must go to Franjo Mihalic (an 87 year old former marathon runner and Olympic gold medallist), Dejon Koturovic (National Team, World Champion basketball player), Sneska Jandrlic (singer), Cedomir Vuckovic (Bishop of Serbian Orthodox Church), Asiel Jsak (Rabbi of Belgrade Synagogue) and finally Koca Govedarica (representative of Bosnian embassy to Serbia) for all their heart felt and deeply moving speeches.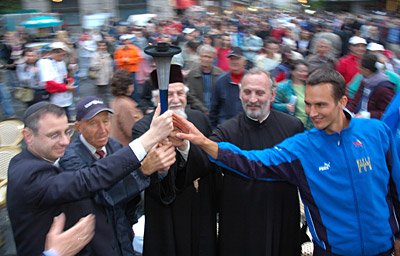 The International Team gladly welcomed Tihomir from Croatia. The Team is now growing, and getting stronger.
Everyone relaxed in the evening over a superb feast, or you could call it banquet, prepared by Jadranka. The food was delicious, especially the sweet dishes. At the end of the evening, everyone totally full, we said our goodbyes and thanks to some of the local Serbian runners who made the kilometres over the past three days pass faster. Hopefully we will all meet again in the near future.
---
Distance: 76km
Team Members:
Andrea (Hungary), Frank (Holland), Mark (England), Ondrej (Czech Republic), Petr (Czech Republic), Roberto (Germany), Tihomir (Croatia)
Harmonemail:
You can send a message to the runners or read the messages.